Some posts on this site contain affiliate links, meaning if you book or buy something through one of these links, I may earn a small commission. Read the full disclosure policy
here
.
---
Winter is sometimes called the "secret season" at the Grand Canyon.
It's the season when the skies are the clearest, the temperatures are the coolest, and the tourist numbers are at the lowest – meaning it's an excellent time to visit!
So when a friend of mine decided that she wanted to go see the natural wonder over her Christmas break, I was all in for the Grand Canyon in December.
Many people don't realize that the majority of the US national parks remain open throughout the winter months; very few of them close, even when they get hit with snow and ice. And I think that winter might be my favorite time to visit the popular parks like the Grand Canyon.
RELATED: 4 Reasons to Visit the American Southwest in Winter
Winter trip to the Grand Canyon
The first thing to know about visiting Grand Canyon National Park in winter is that the North Rim is NOT open to vehicles between October and May. But the South Rim (where the majority of people go anyway) is still fully operational.
Winter brings colder temperatures (and even snow!) to the Grand Canyon, along with shorter days. But it also brings less people; in fact, the National Park Service reports that fewer than 10 percent of the total annual visitors to the Grand Canyon (of which there are usually more than 5 million) visit in December, January, and February.
This means there are more chances to take your time and truly appreciate the awesome power of Mother Nature that's on display if you visit in the winter.
Things to do at the Grand Canyon in winter
If you're going to visit the Grand Canyon during the winter months, I think that 2 days is ideal to see the highlights. Here are all the things I recommend doing:
1. Stop in at the Visitor Center
Start at the main Visitor Center, closest to all the parking lots and Mather Point. Here you can find maps, talk to park rangers, explore some exhibits about the canyon, and watch a 20-minute video called "Grand Canyon: A Journey of Wonder." (The visitor center is open from 10 a.m.-4 p.m. every day.)
Across the plaza from the visitor center, you'll also find the main park store, which is always worth a browse.
You'll also find Bright Angel Bike Rentals in this main plaza. You might not want to rent a bike or go on a bike tour if it's cold or snowy out, but you can stop in to the shop's cafe for a coffee or hot chocolate – they have the best coffee at the Grand Canyon!
Pro tip: Check the NPS' alerts/conditions for the Grand Canyon before you visit so you'll know about any closures before you get there.
2. If it's snowy: Visit viewpoints via park shuttle
Next up, it's time to actually see the canyon! You can walk to Mather Point from the main visitor center in about 5 minutes, so I recommend starting there. Afterwards, you can hop on a park shuttle to see more of the canyon.
The Grand Canyon has 4 different free shuttle routes, but only 2 of them run during the winter (AKA from December 1 through February). These routes are the Village (Blue) Route and the Kaibab Rim (Orange) Route. The Orange Route is the one you want to hop on to get free transport to some viewpoints.
I recommend the shuttle option simply because it beats driving in the snow*. Shuttles run at least every 30 minutes, but sometimes come more often if it's a busier day at the canyon.
Viewpoints worth stopping at along the Orange Route include Yavapai Point, which is also home to the Yavapai Geology Museum (definitely worth popping inside to look at the exhibits); Yaki Point; and Pipe Creek Vista.
Once you get back to the Visitor Center, you could swap over to the Blue Route, which will take you into Grand Canyon Village. OR you could hop back into your own vehicle to drive out to some of the viewpoints that the shuttles don't service in the winter.
More info on the park shuttles can be found here.
*Note: You don't HAVE to take the shuttles in the winter. As long as the roads are open, you are welcome to self-drive in the snow, and can visit most of the spots on the Orange and Blue routes with your own vehicle. But if you're not used to winter driving, I do NOT recommend driving in the park if there's snow on the roads.
3. If there's no snow: Self-drive to other viewpoints
You have two options when it comes to self-driving at the South Rim. You can head east towards Desert View and the Grand Canyon's East Entrance, or west through Grand Canyon Village and out towards Hermit's Rest.
If you go east, you'll see some of the viewpoints you can access by shuttle like Yaki Point. Other viewpoints I really like along this route include Grandview Point and Moran Point. And you'll reach Desert View at the end, where you can climb 85 steps to the top of the Desert View Watchtower for fantastic views out over the canyon.
If you go west, go through Grand Canyon Village and onto the Hermit's Rest road. During the summer months, private vehicles aren't allowed on this road, and the viewpoints can only be accessed by park shuttle. But it's the opposite in the winter.
All the viewpoints on the way to Hermit's Rest are excellent, including Maricopa Point, Hopi Point, Mohave Point, The Abyss, and Pima Point.
4. Have lunch in Grand Canyon Village
After a morning of sightseeing, stop in for lunch at Grand Canyon Village. You could eat at the classic El Tovar Dining Room, the Bright Angel Restaurant, or the Maswik Food Court (a popular budget option).
My friend and I ate lunch at the Arizona Steakhouse, which is part of Bright Angel Lodge. The dining area has a view of the Grand Canyon near the Bright Angel Trail trailhead, and is surprisingly affordable considering where it is!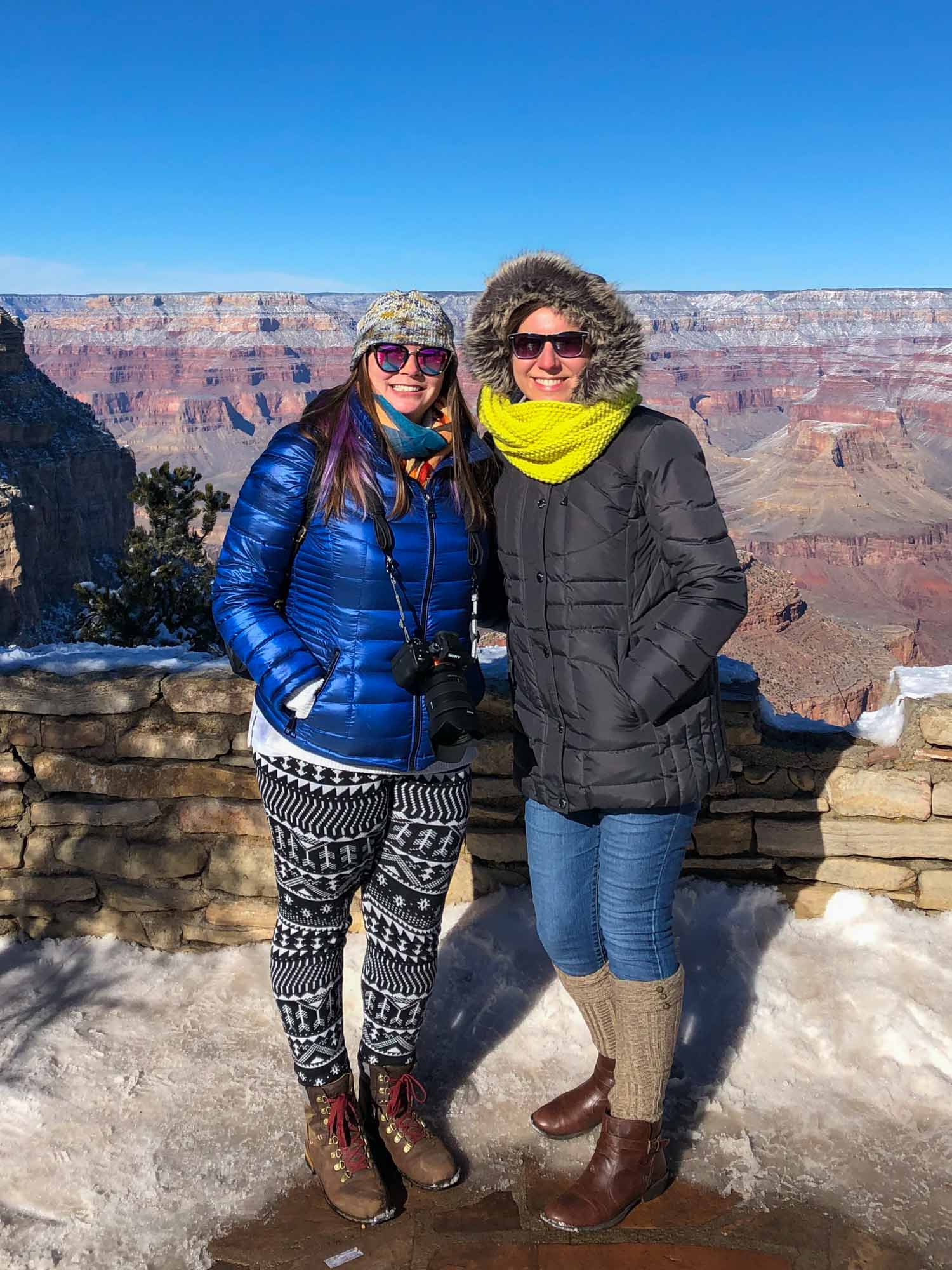 5. Do a short hike*
If you want to stretch your legs at the Grand Canyon, you absolutely can, even in the winter.
The easiest hike is to do a section of the Rim Trail, which stretches more than 12 miles from Hermit's Rest all the way to the South Kaibab Trailhead. Pick a viewpoint to start at, and start walking; the trail follows the canyon edge and is relatively flat.
Another popular short hike is to hike part of the South Kaibab Trail. Starting at the South Kaibab Trailhead (located on the Orange shuttle route), you can hike down to a place called Ooh Ahh Point, which is a 2-mile round-trip hike (though note that this is a very steep and strenuous hike!).
Some people will also venture a little ways down the Bright Angel Trail, which begins near the Bright Angel Lodge in Grand Canyon Village.
*The reason I don't recommend any tougher/longer day hikes is because the Grand Canyon trails are not shoveled or salted or anything during the winter, meaning they can get snowy and very icy. I would not recommend any long hikes to anyone who isn't a seasoned cold-weather hiker, as it can be very dangerous this time of year. If you're going to hike at all, pack some ice crampons like this!
6. Watch sunset at the canyon
Lastly, you'll definitely want to catch a winter sunset at the Grand Canyon. Days are shorter during this season, so you can easily catch the sunset and then go have dinner.
On my most recent Grand Canyon trip, I watched the sun set at Mather Point. This is the most popular sunset spot simply because it's close to the visitor center and parking lots – but it also has a great view!
Other popular sunset spots include Hopi Point and Yavapai Point.
Whatever you do, just make sure you stick around for a little while after the sun officially dips below the horizon. This is when the winter sky is often painted pretty shades of pink and purple.
And check out this Grand Canyon with kids guide for tips on visiting with little ones!
---
Helpful times to keep in mind:
The Grand Canyon is open 365 days a year, though some roads may close due to weather or snow removal. (For example, one of the days I was there, the Hermit's Road was closed because of snow.)
Visitor Center winter hours: 10 a.m. to 4 p.m.
Park Store winter hours: 8 a.m. to 6 p.m.
Yavapai Geology Museum: 8 a.m. to 6 p.m.
Sunrise/sunset times: In December, the sun is rising around 7:30 a.m. and setting between 5:10 and 5:25 p.m.; in January, the sun rises between 7:30 and 7:40 a.m. and sets between 5:30 and 6 p.m.; by February, you're looking at sunrise time between 7 and 7:30 a.m., and sunset between 6 and 6:20 p.m.
---
Where to stay near the Grand Canyon
First things first: I recommend staying as close to the Grand Canyon as possible for your winter visit. That way, if you run into snow or ice, your plans won't be affected quite as much.
There are basically two options I recommend:
Staying inside Grand Canyon National Park
Staying in Tusayan
Staying inside Grand Canyon National Park
Staying at one of the Grand Canyon's historic South Rim lodges is nearly impossible during the busy summer season unless you book months (sometimes up to a year!) in advance.
But if you're visiting in the winter (and especially if you're visiting on a weekday and not during a school break), you can often find open rooms at the Grand Canyon – sometimes even at the last minute.
Lodges to consider within Grand Canyon Village include:
Staying in Tusayan, Arizona
If you don't really care whether you stay IN the national park or not, I recommend staying in Tusayan, Arizona. This little town is only a couple of miles from the South Entrance of Grand Canyon National Park; you can easily reach the Visitor Center in 15-20 minutes in good weather, but the hotels are often far more affordable.
I stayed at the Best Western Premier Grand Canyon Squire Inn in Tusayan on New Year's Day and paid $160 for a large double queen room. And that's during one of the busiest weeks of the winter season!
The Best Western is a large, resort-like hotel complete with restaurants, bars, a swimming pool, and even a bowling alley. It's the top-rated hotel in Tusayan on TripAdvisor, has plenty of parking, and is a great option for families. (Book your room here!)
Other similar hotels in Tusayan include:
Another option is to stay in the town of Williams, Arizona, which is about an hour away from the Grand Canyon. If you're interested in taking the historic Grand Canyon train to/from the canyon, it runs from Williams. Compare Williams hotels here.
What to pack for the Grand Canyon in winter
I can't stress this enough: the Grand Canyon gets COLD in the winter. Grand Canyon weather can vary in the winter, but the canyon sits 7000+ feet above sea level, meaning it's always much colder on the South Rim than lower-elevation spots in northern Arizona. On the 2 days I was there, it was 9 degrees Fahrenheit one evening, and only about 20 degrees F the following day.
It DOES snow at the Grand Canyon in the winter, too, and some of the trails and even sidewalks can be slick – I saw multiple people fall during my visit, mostly on paved trails.
Keeping this in mind, here are the things I'd say are essential for a winter trip to the Grand Canyon:
Warm layers – I'm talking at least a base layer under your normal clothes and a warm outer layer on the coldest days. When I went to the Grand Canyon in January, I wore a merino top and thermal leggings under a sweater and thicker leggings, and then wore a down coat on top.
Hat and gloves – Keep those ears and fingers warm! I also recommend a scarf.
Warm boots with good grip – Winter boots are not a bad idea – just make sure they have good grip on the bottom. (Winter hiking boots would be ideal – I like these.)
Ice crampons – I wore my Kodiak Surrey hiking boots, which are great boots but not necessarily *winter* boots. As I was slipping along the trail to Mather Point, I was wishing I had brought my Yaktrax with me, which fit over shoes/boots and act as mini ice crampons. These are 100% worth the investment for winter hiking.
Hiking poles – If you're going to do any winter hiking at the Grand Canyon, you might also want to bring some hiking poles along with good boots and Yaktrax. Most come with tips that are perfect for snow/ice.
Sun protection – This one may seem strange, but winter is actually a very sunny season at the Grand Canyon! And because you're up at a higher elevation, you're more likely to burn faster. Be sure to pack sunglasses and sunscreen!
Tours to the Grand Canyon
If you don't feel like driving to the Grand Canyon yourself, there ARE tours that will take you to the South Rim in winter. Some to check out include:
---
So there you have it: a couple thousand words to prove that you can definitely visit the Grand Canyon in winter! Hopefully these tips will help you plan an amazing trip during the Grand Canyon's "secret season."
READ NEXT: Everything You Need to Know About Visiting Zion National Park in Winter
---
Would you like to visit the Grand Canyon in winter?
Pin it for later: