Some posts on this site contain affiliate links, meaning if you book or buy something through one of these links, I may earn a small commission. Read the full disclosure policy
here
.
---
Like many countries in Asia, Vietnam used to be ruled by dynasties of families; by feudal lords and ladies; by emperors with harems and grand palaces.
Chances are you've heard of the Forbidden City in China — a city built just for the Emperor and his entourage. But did you know that Vietnam had a similar city?
From 1802 to 1945, Vietnam was ruled by the Nguyen Dynasty, a powerful family who had its capital in the city of Hue (pronounced "Hwhey") for more than 100 years. They would become the last ruling family of this sort in Vietnam, since the Emperor abdicated in 1945 in favor of the new communist government being set up in Hanoi under Ho Chi Minh.
But, since the Nguyen Dynasty was based here for so long, Hue is often still referred to as "Vietnam's Imperial City."
And the things you can do here largely reflect this interesting history.
Check out: Hue City Sightseeing Tour with Perfume River Cruise
1. Visit the Imperial Citadel
This sprawling complex in Hue was where the Emperors of old would have lived and conducted all their business. There was even a part of the citadel known as "The Forbidden Purple City," which, much like China's Forbidden City, was reserved for only the most important people in Vietnam.
Unfortunately, the Imperial Citadel today is just a shadow of what it once was. The temples, pavilions, walls, and gates were damaged first during skirmishes with the French in 1947, and then most of what was left was destroyed by American forces during the Tet Offensive (a major military campaign during the American-Vietnam War) in 1968.
Today, only a handful of buildings within the citadel still stand; at one point, there would have been more than 160.
The Imperial Citadel is still well worth a visit, though, even if the restoration process has been slow. You can still see some of the imposing city gates and walls, beautifully restored halls (like the one pictured below), and the ancient moat that's fed by the Perfume River.
2. Go to some imperial tombs
Since Hue was an imperial capital for well over a century, many of the former Emperors have elaborate tombs dedicated to them here. Most are located along the Perfume River south of Hue (meaning most survived the war), and you can make a full day of it if tombs are your thing.
Popular tombs to see in Hue include the tombs of Tu Duc, Khai Dinh, and Minh Mang.
I visited to tomb complex of Tu Duc, which was actually built between 1864 and 1867 while the Emperor was still alive. It's a sprawling complex set around a lake that the Emperor basically treated like a summer home. Tu Duc's story is a rather sad one (he died without an heir), so it's worth taking a tour here if you can.
3. Visit Thien Mu Pagoda
Overlooking the Perfume River, the Thien Mu Pagoda with its 7-tiered tower is akin to the "symbol" of the city of Hue. The complex dates all the way back to the early 1600s, though the buildings within it have been burned down and rebuilt several times since then. The current tower dates back to the mid-1800s.
Along with admiring the pagoda, you're also sure to see young monks in training here going about their duties and studies. Visit early in the morning to beat the crowds.
4. Go to a "Royal Banquet" dinner
If it's kitsch you're looking for (and especially if you're traveling in a larger group), book an evening at a royal banquet. You'll dress up like Vietnamese royalty, enjoy traditional music, and dine on traditional "royal" dishes that often come out with intricately-carved garnishes shaped like birds.
This is not something I would usually be into, but since I was traveling with a really great group on my Intrepid Travel tour of Vietnam, it ended up being an incredibly fun evening. (Plus, the food was delicious!)
If you're not traveling with a group and are looking to book one of these, the one at Ancient Hue (one of the better restaurants in the city) comes highly recommended.
5. Take a bike ride through the countryside
Lastly, if you only do one thing in Hue beyond the citadel and tombs, go on a countryside cycling tour. I love bike tours a lot because they give you such a different perspective on a new place – and it was no different in Hue.
The tour I went on had us riding through rice paddies, visiting a countryside market, and having lunch at a local family's home. It was probably my favorite part of my time in Hue because I felt like we were seeing the "real" Vietnam. (Book a similar tour here.)
This of course is not an exhaustive list. You can also take a dragon boat cruise down the Perfume River, or wade through the chaotic central market. You can even book day tours from here to the Demilitarized Zone not far from Hue that marks where the border between North and South Vietnam used to be.
Whatever you do though, don't skip Hue if you're traveling through Vietnam!
KNOW BEFORE YOU GO
Getting there: You can fly to Hue from either Hanoi or Ho Chi Minh City, but I would suggest taking a train instead. You can catch a train from either Hanoi or HCMC – I took an overnight sleeper train from Hanoi, which I think is an essential Vietnam travel experience!
Where to stay: There are plenty of hotel options in Hue. Some worth checking out include the Jade Hotel (budget), the Orchid Hotel (mid-range), and the Saigon Morin Hotel (higher end).
Compare Hue hotel prices here.
Tours to take: If you're interested in seeing some of Hue's highlights in one day with a local guide, check out Urban Adventures' Hue Discovery tour. Or these tours might also be of interest:
Travel insurance: And don't forget to pick up some travel insurance before you go – you never know when you might need it! My go-to is always World Nomads for basic (and really affordable) travel insurance.
Grab a good guidebook before you go, too:
Pin it for later: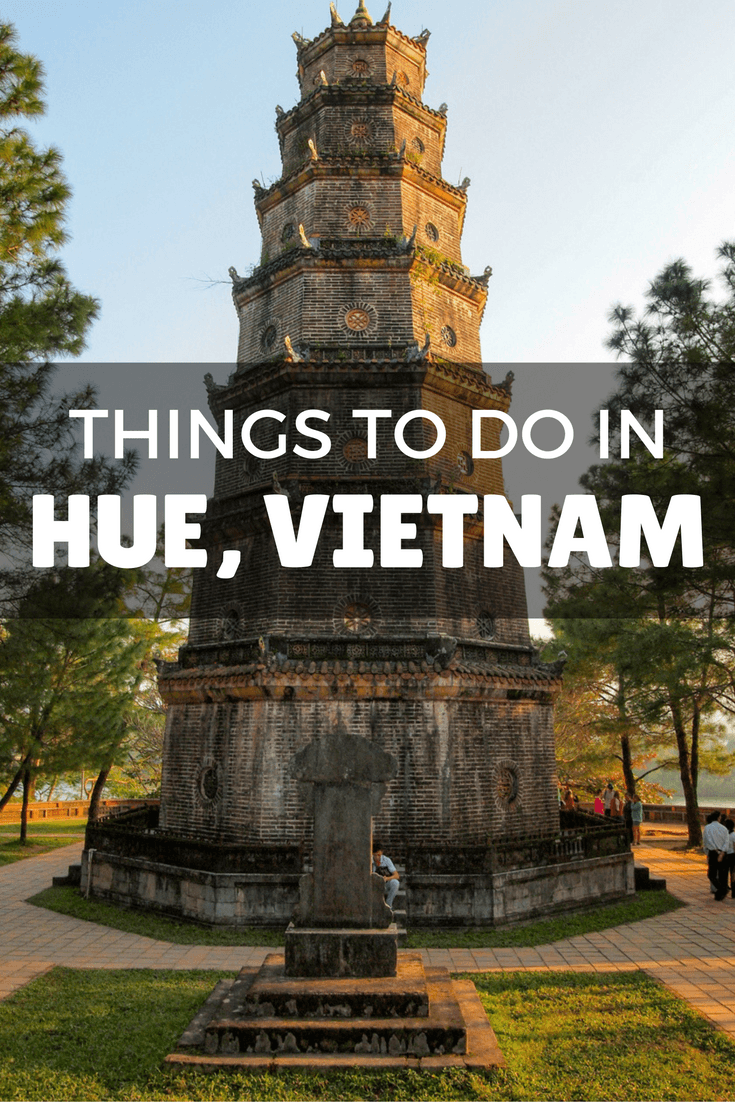 Is Vietnam's "Imperial City" on YOUR travel radar?
*Note: I visited Hue as part of a complimentary tour of Vietnam and Cambodia with Intrepid Travel. As always, though, opinions are completely my own.
If you'd like to book this same tour, check it out here.