Some posts on this site contain affiliate links, meaning if you book or buy something through one of these links, I may earn a small commission. Read the full disclosure policy
here
.
---
Dublin is the capital and largest city of the Republic of Ireland, being home to nearly a quarter of all Irish people living in Ireland. And since Dublin is also home to the country's main international airport, it's the city the majority of visitors are going to encounter first.
Dublin is the Irish city that feels like a proper "city," with tons of museums and attractions, plus no shortage of restaurants, pubs, and nightlife opportunities. Dublin is a university city, too, meaning it's got a young vibe that can be a lot of fun.
If you're headed to Dublin for the first time, here's how I would spend 3 days there.
I most recently visited Dublin as part of a paid partnership with Globus Journeys. I did a new Choice Touring trip with them called Green with Envy: Ireland By Design, which was a lot of fun! I've previously visited Dublin 5 other times in the last 15 years.
When to visit Dublin
When is the best time to visit Dublin? Honestly, I don't think there's a bad time to visit this European capital! You'll find the warmest weather during the summer months of July and August – but that's also when it's busiest and when prices are highest.
In Europe, traveling April/May and September/October is often the best in terms of decent weather but less crowds. Of course, with Dublin being a university city, it's almost always bustling, and you can experience wet, chilly weather any time of year!
3 days in Dublin itinerary
Do you really need three whole days in Dublin? I actually think you can fit the main Dublin highlights into 2 days if you plan carefully, but with 3 days you'll be able to squeeze in some unique things that I think will help you enjoy the city even more.
Feel free to steal this itinerary to help plan your own trip to Dublin!
Day 1 in Dublin
Today you'll hit up some of the most famous sites in Dublin like the Guinness Storehouse, a cathedral, Temple Bar, and more.
Morning: Guinness Storehouse
You may as well start your visit to Dublin at the city's top attraction: the Guinness Storehouse.
To call the Guinness Storehouse a brewery would be doing it a great disservice. It's a full-on visitor experience, with 7 whole floors to explore. The lower floors walk you through the history of Guinness (including the famous 9,000-year lease signed by Arthur Guinness in 1759) and the brewing process, while the upper floors cover everything from historical advertising to how to properly taste Guinness.
Every visit to the Guinness Storehouse comes with a ticket so you can enjoy a pint at the Gravity Bar on the 7th floor, which offers 360-degree views of Dublin. (And no, it's never too early to drink a pint of "the black stuff" in Ireland!)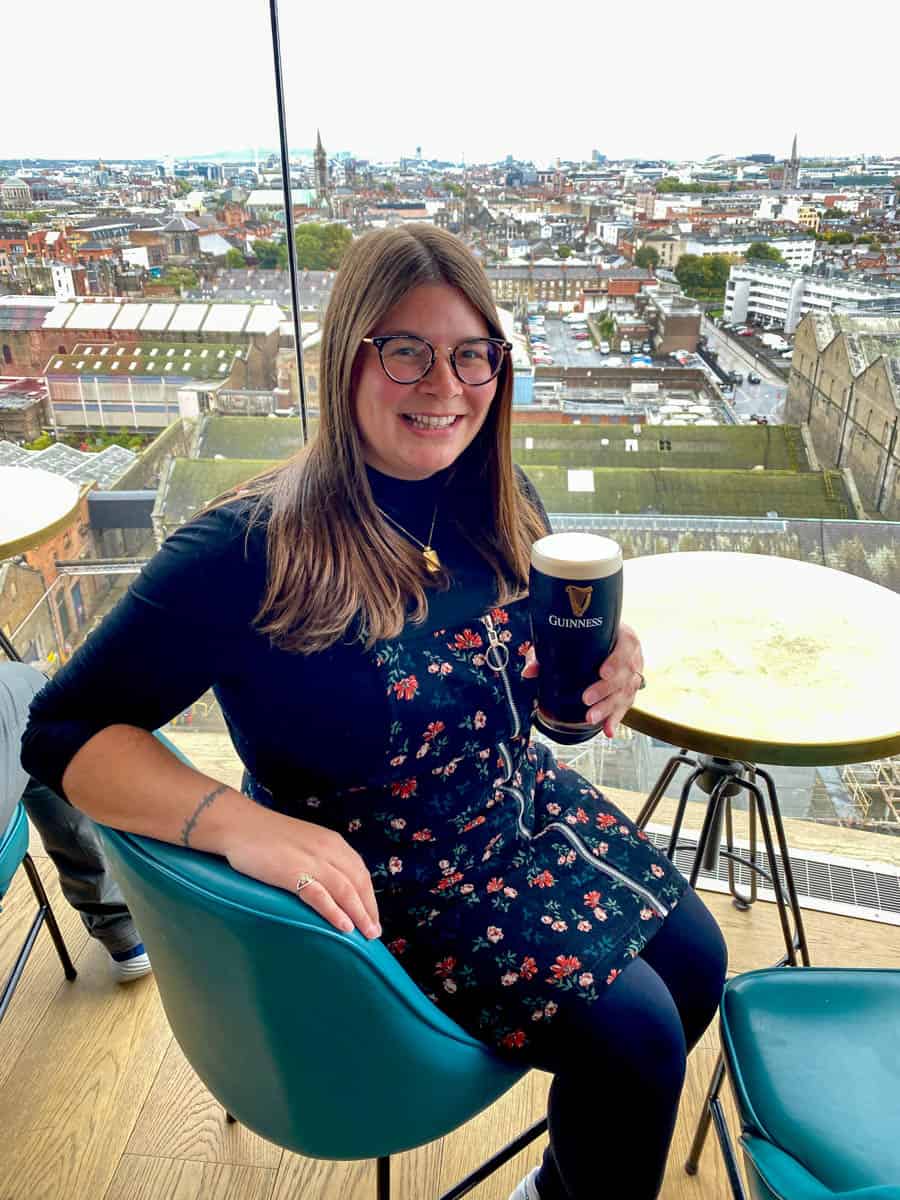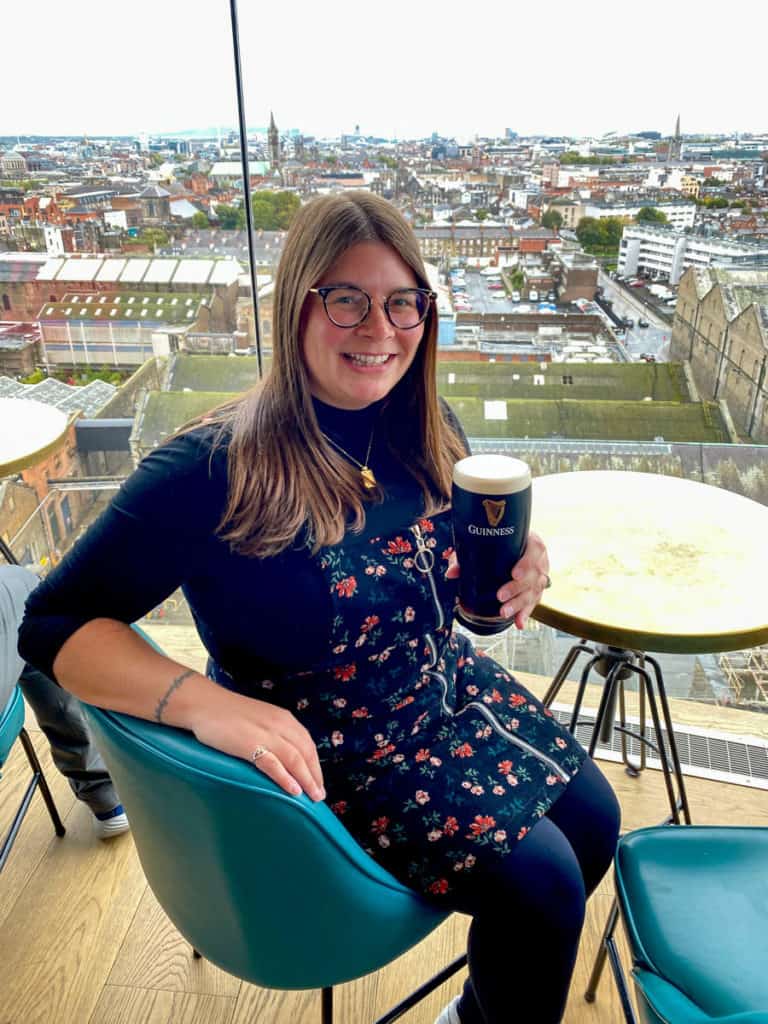 I recommend starting here because the Guinness Storehouse is a little bit out of the way in St. James's Gate, and also can get very busy later in the day.
You'll want to allow about 2 hours for the self-guided tour here, and you can book your ticket here. (And while you do need to be 18+ to enjoy a pint at the Gravity Bar, kids CAN still go on the tour.)
Afterwards, you can either grab lunch at one of the restaurants inside the Guinness Storehouse, or head to The Liberties neighborhood nearby, where there are lots of dining options along Thomas St. and Meath St.
Afternoon: Visit a cathedral
The Liberties is within walking distance to both of Dublin's cathedrals. (And yes, you read that right: Dublin has two cathedrals!)
Both cathedrals are medieval, with Christ Church being the older of the two. It was founded by a Viking king in the year 1030, and is known for its neo-Gothic nave, medieval crypt, and copy of the Magna Carta. Christ Church is also connected to Dublinia, a history museum with exhibits on Viking Dublin, Medieval Dublin, and the archaeologists who were responsible for uncovering Dublin's past.
Nearby St. Patrick's Cathedral was originally founded in 1191, and is said to be built on the site of a well that St. Patrick used to baptize people into Christianity. It's both the largest and tallest church in Ireland, and is known for its stained glass windows, and for being the resting place of author Johnathan Swift.
Both cathedrals still have religious services and are open to the public for tours. You can pre-book tickets for either St. Patrick's Cathedral or Christ Church, and you probably want to allow up to an hour for a visit.
Late afternoon: Dublin Castle
Next you might want to visit Dublin Castle, which is close to Christ Church Cathedral.
Dublin Castle dates back to 1204, when it was built as a fortress under the orders of King John of England. It's gone through some renovations since that time (after a fire in the late 1600s, it was rebuilt as a Georgian Palace, which is what you can see today), but was used as the seat of British rule in Ireland until 1922.
Today, the castle is mostly a tourist attraction. You can visit the former state apartments and Gothic Chapel Royal, and also see where they've excavated past the history of the current castle into some Viking ruins.
The castle is open for both self-guided and guided tours, and you'll want to allow up to an hour to visit.
Evening: River Liffey and Temple Bar
You'll be close to the famous Temple Bar district at Dublin Castle, so it'll only be a short walk over to this lively part of the city.
Start with a walk along the River Liffey to see the iconic Ha'penny Bridge. This intricate iron footbridge was built in 1816 as an alternative to a ferry that used to cross the river. Both the ferry and the bridge required the same toll: a ha'penny (or half penny). Today, the bridge is one of the most photographed sights in Dublin.
After that, it's time to delve into the pub scene in Temple Bar. Yes, this area is super touristy. And yes, there are plenty of other (perhaps better) places to go out for a pint. But most first-time visitors to Dublin want to see the famous red pub in Temple Bar, and that's totally okay!
You'll find lots of historic pubs in this area ("the" Temple Bar Pub dates back to 1840!), many of which serve up food and live music alongside pints of Guinness and Irish coffees. A few worth checking out that offer it all include The Auld Dubliner, Oliver St. John Gogarty, and The Quays Bar.
I also love The Bank in this neighborhood, which is an elegant restaurant inside an opulent former bank building on College Green. (Reservations highly recommended for dinner.) You can always hit up a famous pub afterwards.
---
A note on getting around in Dublin
You'll be able to manage most of this itinerary on foot, as Dublin is a very flat and walkable city. But there are plenty of other ways to get around if you don't feel like walking, or in case you run into some bad weather (it is Ireland, after all; there's a reason it's so green!).
Other options for getting around Dublin include:
Bus – Dublin has good bus services throughout the city – and they're bright yellow, so you can't miss them! You'll find timetables listed at every bus station, and you'll want to have some change on you to make paying easier. (Or you can also purchase a pre-loaded Leap Card that you can use to pay easier AND get reduced fares.)
LUAS train – The LUAS is Dublin's tram system (with "luas" meaning "speed" in Irish). There are two lines of the LUAS running, with the Red Line being the one that runs east-west through the city center. There are ticket machines at every tram stop, or you can also use a Leap Card to pay for these. (There are also regular rail services, as well as a commuter train called the DART for anyone staying further outside of town.)
Taxi/Uber – Uber technically exists in Dublin (you can use the app), but Ireland does not allow people to hire out private cars, so if you use Uber you're going to get a taxi anyway. The most popular app locals use in Dublin for taxis is called Free Now – download it before you go!
I generally do NOT recommend a rental car in Dublin, as parking in the city center can be tricky.
---
Day 2 in Dublin
Today you can soak up more history at Trinity College, see Grafton Street and some pretty parks, and go on a unique tour (or two).
Morning: Trinity College
Remember how I said earlier that Dublin is a university town? I meant it! There are no less than FOUR universities in Dublin, Ireland. And today I suggest visiting the oldest and most well-known one, Trinity College.
The university that would eventually become Trinity College dates all the way back to 1592, when it was created by royal charter under Queen Elizabeth I. The university has an iconic historic campus in Dublin's city center, and visitors are welcome!
You can take a campus tour at Trinity, but most non-student visitors go specifically to see the Book of Kells inside the Old Library at Trinity*. This illuminated manuscript (that means it contains elaborate illustrations and ornamentations) contains the four Gospels of the New Testament, and dates back to sometime around the year 800 AD.
The Book of Kells is considered to be one of Ireland's greatest cultural treasures, and thousands of people come to see it each year. Visiting includes going through a small museum about the book, and then you get to see a couple pages of the Book of Kells itself. (No photos are allowed of the manuscript.)
Afterwards, you also get time to wander around the Long Room inside the Old Library, which is an incredible space that dates back to the early 1700s and is filled with 200,000 of the Library's oldest books. It's a book-lover's dream!
You need to book timed tickets online in advance, and you can expect to spend up to an hour or so going through the exhibit and library. I recommend booking one of the first time slots of the day!
*Note: A massive restoration/redevelopment project is set to begin at the Old Library in October 2023. They will be performing preservation upgrades to the Long Room, and reimagining the Book of Kells exhibition. The project is set to take 3 years, meaning if you're visiting Dublin between October 2023 and late 2026/early 2027, you won't be able to visit any part of the Old Library. I'd recommend another museum or a walking tour this morning, or perhaps just have a later start!
Late morning: Afternoon tea bus
I've done afternoon tea bus tours like this in both London and Edinburgh, and they're so much fun! You board a vintage double-decker bus and ride it around Dublin. But along with getting to see the sights, you also get to enjoy a full afternoon tea!
The 90-minute tour runs three times per day (at 11 a.m., 1:15 p.m., and 3:30 p.m.), and either the 11 a.m. or 1:15 tour should work, depending on when you visit Trinity College. You'll get plenty of food to cover you for lunch!
You can book the tea bus tour here.
Afternoon: Molly Malone and Grafton Street
The afternoon tea bus tour begins and ends in Temple Bar, and from there it's a quick 5-10 minute walk towards the corner of Suffolk and St. Andrew's to visit the famous Molly Malone statue. "Molly Malone" is an Irish song that's become sort of the unofficial anthem of Dublin.
The statue of Molly and her cart of cockles and mussels is a popular photo spot – and I'll bet you can guess from the photo which part of Molly you're supposed to touch for good luck.
From the statue, it's a short walk down Suffolk Street to Grafton Street, the main pedestrianized shopping street in Dublin. You'll find all the major shops here if you're interested in doing some shopping. If you'd rather stick to sightseeing, it's still a street worth strolling down.
Afternoon: Visit a park
At the bottom end of Grafton Street, you'll find St. Stephen's Green, a lovely city park with walking paths, an ornamental lake, and several statues and monuments.
Not far away, Merrion Square Park is a smaller park with leafy pathways that's surrounded by beautiful Georgian buildings. It's worth walking around to see all the pretty colorful doors here, and Merrion Square is also where you'll find the Oscar Wilde Memorial (the poet was from Dublin).
Optional: Museum visit
St. Stephan's Green and Merrion Square are both close to several of Dublin's notable museums. If you skip shopping on Grafton Street, you might find yourself with enough time for a museum visit this afternoon.
A few within close proximity include:
The National Museum of Ireland – Natural History (free admission)
The National Museum of Ireland – Archaeology (free admission)
National Gallery of Ireland (free admission)
The Little Museum of Dublin
MoLI – Museum of Literature Ireland
From here, you're also close to a ton of restaurants and pubs in the Grafton Street area. (My tip: Hit up the side streets off Grafton Street for better options.)
Evening: Optional pub tour
It's been a long, busy day already, but if you're up for a night out, Dublin has a couple fun pub crawl options, with the most famous one being a literary pub crawl.
This 2-hour-long tour includes lively guides who meld performance with a dose of Dublin's literary history as you visit four historic pubs. Drinks are not included in the tour price, so you can imbibe as much or as little as you'd like.
You can book this tour here (and note that it starts on Duke St., just off Grafton Street).
Day 3 in Dublin
Today wraps up your time in Dublin, and features more great museums, a distillery tour, and options for another fun night out.
Morning: EPIC museum
Did you know that roughly 70 million people worldwide today claim Irish heritage or ancestry? That's a staggering number, especially when you consider that Ireland's current population is only about 5 million.
Since the 1800s, millions of Irish people have been forced to leave Ireland. Everything from war to famine to job opportunities have spread Irish people far and wide around the globe. And EPIC The Irish Emigration Museum shares a lot of their stories.
This multimedia-heavy museum in Dublin's Docklands area is really excellent, covering first the history of emigration from Ireland and all the things that caused it. The second half of the museum covers Irish peoples' contributions around the world in everything from the arts to sports to politics.
You need at least 2 hours to fully explore everything here, and you can either book a ticket in advance, or just buy one at the door.
Late morning: Another museum
Yes, this morning is museum-heavy, but there are so many good ones to choose from in Dublin! After EPIC, I'll let you decide which kind of museum experience you'd prefer to have next. A few that I'd personally recommend include:
1. Jeanie Johnston Tall Ship
Located right across the road from EPIC, the Jeanie Johnston Tall Ship is a replica of the original ship of that name, which made 16 journeys from Ireland to North America between 1847 and 1855. During this time, people were fleeing Ireland due to famine; 2,500 people emigrated on the Jeanie Johnston alone.
Visiting the replica "famine ship" includes a tour where you'll learn about the ship, the famine, and the people who made the harrowing journey to North America. Tours last 50 minutes and run on the hour.
Not far away down Custom House Quay you can also visit the haunting Famine Memorial. The skeletal statues created by artist Rowan Gillespie are in remembrance of the Great Famine from 1845-1849.
2. GPO Museum
Found on O'Connell Street, the GPO (General Post Office) Museum is indeed inside a large (still-working) post office. But the museum here is an immersive and interactive one telling the story of the 1916 Easter Rising, the uprising against British rule in Ireland that would shape the trajectory of modern Irish history.
The GPO served as the headquarters for the leaders of the Easter Rising, and the GPO Museum is a must for any Irish history buffs.
Just outside, you can also stop to see the 120-meter-tall Spire sculpture.
3. Leprechaun Museum
Want something that's less depressing than famine and uprisings? Then you need to book a tour at the National Leprechaun Museum of Ireland on Jervis Street. Don't let the name fool you: this isn't (just) a silly kids' museum. It's a museum that celebrates the folklore and oral storytelling tradition in Ireland.
A guide will take you on a magical journey, underneath Giant's Causeway, to the top of a fairy hill, and even through a rainbow! You'll stop in various themed rooms to listen to tales about everything from leprechauns to giants to more nasty beasties from Irish folklore.
This is a really delightful museum that would be my personal choice for today! (You do need to book tickets online in advance, and tours last a little under an hour.)
Note: If you don't mind a really busy day, you technically could squeeze in a visit to more than one of these museums this afternoon! But I know not everyone is as museum-happy as I am.
Late afternoon: Jameson Distillery
You've already visited the home of Guinness, so it's only fair that you visit an ode to Ireland's other famous drink: whiskey! My pick is to visit the Jameson Distillery on Bow Street, which is the location of the original Jameson Distillery in Ireland, dating back to 1780.
The building is no longer a working distillery (Jameson is now made elsewhere in Ireland). Today it's an immersive visitor experience where you'll hear about John Jameson and the history of Irish whiskey, learn how the "water of life" is made, and of course enjoy a guided tasting!
The standard tour here is excellent, and includes not only a handful of whiskey tastings, but also a ticket for a whiskey cocktail that you can enjoy after your tour.
It is recommended that you book your ticket in advance, and the tour lasts about an hour.
Evening: One last night out
If it's your last night in Dublin, then you'll probably want to have one more night out. I have two different suggestions for you, based on your travel style.
Option 1: Capel Street
For another dinner and pub night combo, head over to Capel Street tonight, which is on the north side of the Liffey. This street was turned into a pedestrian-only zone during the pandemic, and was so popular that Dublin City Council made it a permanent car-free zone with outdoor eating areas in May 2022.
The buzzy street is home to lots of shops, restaurants, and pubs, and a local told me it has become the new "it" spot for a night out among younger people in Dublin. There are lots of international restaurants on the street, and everything from traditional Irish pubs like McNeill's to Dublin's most famous gay bar, PantiBar. There's even an alcohol-free bar serving only mocktails called The Virgin Mary.
Option 2: Irish cabaret
The other option is a little tricker to get to, as it's outside of Dublin city center. You can take a taxi, but it would be easier to get here if you're renting a car (not needed in Dublin itself, but handy if you plan to see more of Ireland, like maybe on an Ireland road trip).
The attraction is Taylors Irish Night & Cabaret at Taylors Three Rock, an Irish cabaret show that includes a multi-course dinner (with whiskey included, of course) and a show celebrating Irish music and dance. Yes, it's a bit kitschy, but in the most fantastic way.
I went to this show as part of my Ireland tour with Globus, and can definitely recommend it. (You can book in advance here.)
If you have more time…
If you're going to be in Dublin longer than 3 days and don't plan on traveling elsewhere in Ireland, then I'd recommend taking a day trip (or two). Ireland is fairly small, meaning you can get to a lot of places in just a couple of hours.
Popular day trips from Dublin include going to the Cliffs of Moher, seeing Giant's Causeway and Belfast in Northern Ireland, and even going to visit Blarney Castle in the south.
Check out these day trips:
RELATED: The Best Day Trips to Take from Dublin
Where to stay in Dublin
There are lots of hotel options in Dublin, but here are some of my personal picks:
Budget-friendly: Holiday Inn Express Dublin City Centre – "Budget-friendly" can of course be relative in a major city, but this Holiday Inn Express can be a steal when compared to other hotels in Dublin. It's centrally located on O'Connell Street, and includes the usually Holiday Inn trappings like free breakfast. (Read reviews on TripAdvisor | Book a room here!)
Upscale mid-range: The Grafton – With an excellent location in central Dublin, the Grafton is one of the top-rated hotels in the city. The rooms are modern and quiet, and you can enjoy great cocktails at the on-site Bartley's Bar. (Read reviews on TripAdvisor | Book a room here!)
Upscale mid-range: Hyatt Centric The Liberties – Located in the slightly quieter Liberties neighborhood near St. Patrick's Cathedral, you can often find rooms at this luxury hotel for a mid-range price. Rooms are large and contemporary, and you can still walk to most things in Dublin. (Read reviews on TripAdvisor | Book a room here!)
Luxury: The Shelbourne – Looking for historic luxury in Dublin? Then check out the Shelbourne on St. Stephen's Green. The 5-star hotel dates back to 1824 and has played host to famous guests, from diplomats to actors. (Read reviews on TripAdvisor | Book a room here!)
READ NEXT: 10 Days in Ireland: The Perfect Irish Road Trip Itinerary
---
Who's ready to plan a trip to Dublin now?