Some posts on this site contain affiliate links, meaning if you book or buy something through one of these links, I may earn a small commission. Read the full disclosure policy
here
.
---
A man is singing on a street corner outside a bustling café. He's strumming a guitar that's slung over his shoulder, and a harmonica is hanging around his neck. He is also hula-hooping.
This is The Busker King.
This street performer — whose real name is Emery Carl — is one of the many buskers that take to the sidewalks and covered arcades of Seattle's famous Park Place Market each day. From ukulele-toting hippies to a capella gospel singers, buskers of all shapes and sizes set out their guitar cases and collection tins in this crowded through-fare in attempts to make a living.
They're not the only ones trying to make a living in the crowded public market, however.
Each day, hundreds of local farmers, fishermen and craftspeople spread out their wares at Pike Place Market as droves of tourists and locals alike meander through to pick up everything from souvenirs to jewelry to fresh produce and seafood for that night's dinner.
Perhaps one of the most famous markets in the northwest — maybe even in the United States — Pike Place is also one of the nation's oldest farmer's markets, having been in operation in its spot next to Seattle's Elliott Bay since 1907.
It must be doing something right to have lasted for that long.
You can hear and smell the market before you can see it.
Even a block away, the scents of catch-of-the-day seafood and fresh-cut flowers mingle with the sounds of customers chatting and artisans promoting their wares. The neon "Pubic Market" sign draws you in, and then it's difficult to pull yourself away.
Once inside Pike Place's arcades, your senses won't know what to focus on first. The brightly-colored flowers arranged into pretty bouquets? How about freshly-baked donuts with gooey frosting? Hand-made leather jewelry? Gigantic pink, fresh-caught prawns? Colorful displays of peppers? Honey-based lip balm and hand cream? Comic books? Salmon? Artwork? Dream-catchers?
Each thing attacks your senses, making you feel like a kid with ADD in a toy store.
You eventually find yourself in front of the Pike Place Fish Market — a deli-like counter where fresh, gutted fish and seafood is neatly displayed atop shaved ice. The intense smell of the raw seafood might be enough to convince you to keep walking.
But then the employees begin throwing three-foot salmon at each other in a slimy game of catch.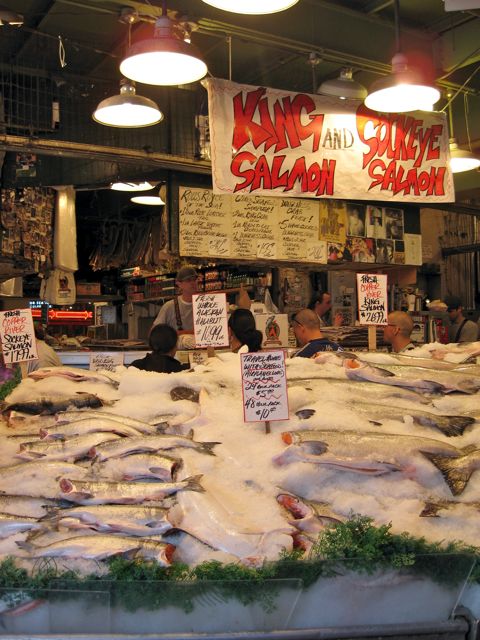 It's become a tradition at the Pike Place Fish Market — a tradition borne out of sheer laziness that now translates to large crowds gathered around the stand at all times. When someone orders a fish, an employee grabs one from a display and whips it at another employee behind the counter while reciting a little chant.
The crowd is always impressed. (See if you can see the flying fish in the video below.)
If raw fish gets you craving some of the cooked stuff, there are plenty of cafes and restaurants in and around Pike Place Market to satisfy just about any palate, from high-end to low brow. If you're just in the mood for a snack, grab a panini and a beer, or maybe just a bag of warm mini donuts.
If you're willing to stand in a line that often stretches down the street, visit the world's very first Starbucks, right across the street from the Pike Place arcade. Though you can find a Starbucks on nearly every Seattle street corner (no, I'm not really exaggerating much), this one is the real deal.
And, once you've made one pass-through of the market, do it again. I guarantee you missed something the first time. Maybe the little Asian woman at one of the flower stands distracted you, and you missed the blown glass jewelry on the other side of the aisle. Perhaps the flying fish made you walk right by "Rachel," the gigantic bronze piggy bank. Maybe the Native American man weaving a bracelet out of leather strips kept you from noticing Tenzing Momo, the herbal apothecary.
Or maybe you just want to see, hear and smell it all again.
Whatever the motivation, Pike Place Market should definitely make it onto any Seattle itinerary. From the buskers to the seafood to the hand-made crafts, it's a sensory experience you won't soon forget.
READ NEXT: A First Timer's Guide to Seattle
Have you been to Seattle's Pike Place Market? If so, what are some of your memories from there?