Some posts on this site contain affiliate links, meaning if you book or buy something through one of these links, I may earn a small commission. Read the full disclosure policy
here
.
---
Pearl Harbor.
Chances are you've heard of it – and no, I'm not talking about the 2001 movie starring Ben Affleck and Josh Harnett.
I'm talking about the real, physical Pearl Harbor; the Hawaiian naval base that was the site of a Japanese air attack on December 7, 1941, that catapulted the United States into World War II.
For many, a trip to Honolulu, Hawaii, is not complete without visiting Pearl Harbor. In fact, this site is easily Hawaii's top tourist destination, with millions of people visiting each and every year to soak in a bit of history and pay their respects at the USS Arizona Memorial.
If you're thinking of adding Pearl Harbor to your Hawaii itinerary, here's an idea of what to expect, as well as a few travel tips that might make your visit run more smoothly.
This post is aimed at people who want to visit Pearl Harbor independently. But if you're looking for a tour to Pearl Harbor that will allow you to skip the lines and see all the highlights, check out this USS Missouri, Arizona Memorial, and Pearl Harbor Tour.
(Find more suggested tours at the end of this post!)
Pearl Harbor quick facts
Here are some things to know about Pearl Harbor before your visit:
Located a handful of miles west of the city of Honolulu, Pearl Harbor serves as the home of the U.S. Navy's Pacific Fleet.
When the Japanese attacked on an otherwise peaceful Sunday morning in early December 1941, they caught the base completely off-guard.
The attack – which came in two waves beginning just before 8 a.m. local time – lasted approximately two hours.
Over 3,500 Americans were killed or wounded that morning, including 1,177 who went down to watery graves when the USS Arizona exploded and then sank in the shallow harbor.
350 aircraft were destroyed or damaged, but luckily the aircraft carriers that were based at Pearl Harbor were not around that morning, and therefore suffered no damage.
21 vessels were sunk or badly damaged, including all 8 battleships of the U.S. Pacific Fleet. The USS Arizona and USS Utah still sit at the bottom of the harbor.
Tips for visiting Pearl Harbor
Pearl Harbor makes for a great day trip out of Honolulu, but there are certain things you should know and be aware of before you go, especially if you're traveling there independent of a tour.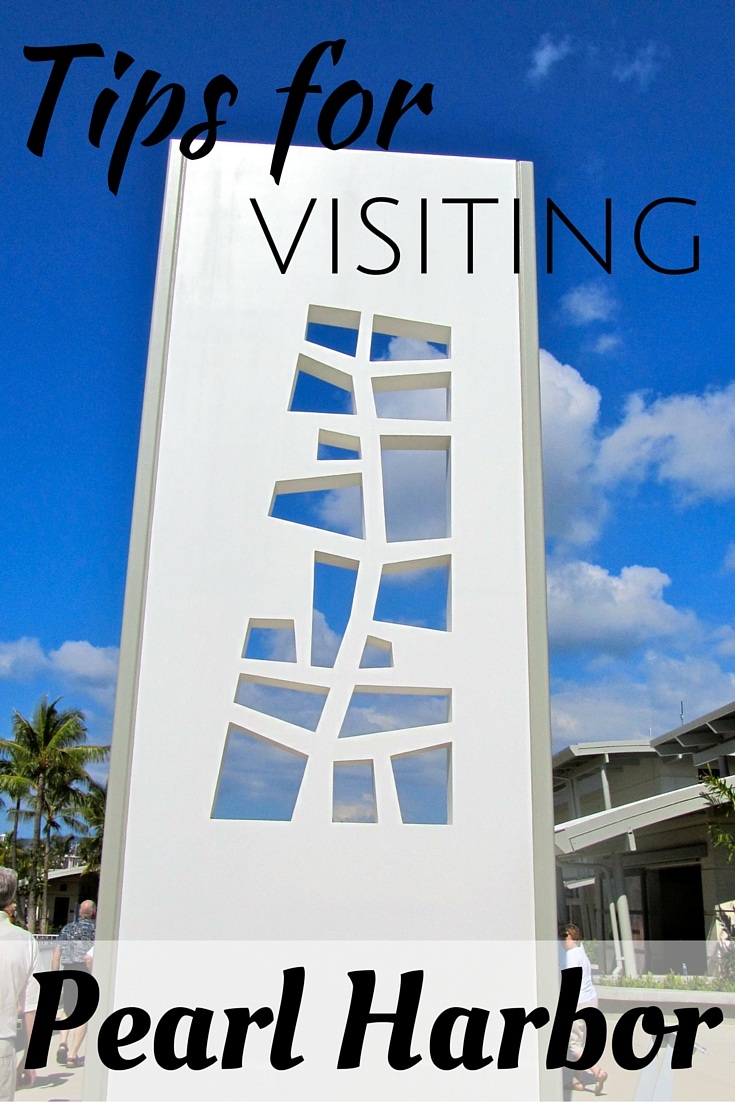 1. Know that visiting is free – mostly
Pearl Harbor is actually the Pearl Harbor National Memorial, now managed and operated by the National Park Service. The grounds, visitor center, museums, and memorials are all free to visit – but you do need a timed ticket to go out to the USS Arizona Memorial.
Other things to see at Pearl Harbor do come with admission fees (more on this later), but there's no general fee to enter the site.
2. Go to Pearl Harbor early
Seriously. Pearl Harbor can be crowded, especially on weekends and nice-weather days. If you want to visit the USS Arizona Memorial (which, you definitely do) and don't already have a ticket, try to get there as early as possible.
Tours out to the USS Arizona begin at 8 a.m. and run every 15 minutes until 3 p.m., though you can start getting tickets at 7 a.m. There are 1,300 free walk-in tickets available daily for the USS Arizona, but they are given out on a first come, first served basis.*
The walk-in tickets available each day are often fully allocated by mid-morning. For example, when I went to Pearl Harbor, I arrived at about 10:45 a.m., and the earliest I could go out to the Arizona was 1:15 p.m.
*Note: During the COVID-19 pandemic, the walk-up first-come, first-served ticket program has been discontinued. Tours out to the USS Arizona are operating every 30 minutes from 8 a.m. to 3 p.m., with 50 people allowed on each boat. You CAN reserve tickets ahead of time online here.
3. Don't take a purse or backpack
In order to enter the Pearl Harbor Visitor Center, you have to go through security. No bags of any sort are allowed through. You are permitted to take in a wallet, camera, and water bottle, but you have to carry them all.
If you do bring a bag with you, you'll have to store it in a locker and pay a per-bag rate. My advice? Wear something with pockets! I failed to plan ahead for this, and ended up paying for a locker, and then buying some postcards at the Visitor Center gift shop so I could get a plastic bag to put my things in.
4. Bring sunscreen
This tip is applicable for anything you do in Hawaii. When the sun shines here, it SHINES. A lot of the Pearl Harbor attractions will have you outside for at least part of the time, so be sure you're prepared.
It's best to put the sunscreen on BEFORE you arrive, even if it's cloudy. Hawaiian weather can change rapidly, so a cloudy morning could easily turn into a beautifully sunny afternoon.
5. Leave the bikini at home
While there is no formal dress code at Pearl Harbor, visitors should remember that it is a memorial – in some cases, a graveyard – for those lost during the 1941 attacks. Be respectful when choosing your outfit for the day.
Things to see at Pearl Harbor
*Note: All info/prices updated April 2021.
While Pearl Harbor still operates as a U.S. naval base, the base itself was recognized on January 29, 1964, as a National Historic Landmark district. Visitors to Pearl Harbor don't actually enter the working areas of Joint Base Pearl Harbor-Hickam, but instead visit the landmarks and memorials that have been erected in the decades since the attack.
When you arrive at Pearl Harbor, you will enter near the Pearl Harbor Visitor Center off Kamehameha Highway. Here, you can decide what you want to see and do.
Like I mentioned above, the Pearl Harbor visitor center, museums, and memorials are managed by the National Park Service and are free to visit. But other sites are "Pearl Harbor Historic Partners," which are separate and independent sites not managed by the NPS.
1. USS Arizona Memorial
The destruction of the USS Arizona battleship and the immense loss of life associated with her sinking came to symbolize the reason the U.S. was fighting in WWII in the months and years following the attack on Pearl Harbor.
Today, the USS Arizona Memorial, operated by the National Park Service, easily sees the most visitors each year.
The memorial is free to visit, but you must have a ticket to do so. You can pre-book tickets and tours, or try to get one of the 1,300 daily walk-in tickets. Tickets are on a first come, first served basis, and programs run from 8 a.m. to 3 p.m. each day.
If you're visiting Pearl Harbor on a group tour, your ticket will be included in your tour package. If you're just visiting on your own, you'll have to go up to the ticket counter when you arrive and get an assigned time to visit the Arizona Memorial. The earlier you arrive, the better the chance you'll have of getting a ticket.
The USS Arizona Memorial program lasts roughly 75 minutes, and includes a 23-minute video, and then a boat ride to visit the Memorial itself, which sits out in the harbor, suspended above the wreckage of the Arizona. Audio tours are also available.
Tours gather roughly every 15 minutes outside the memorial theater, and you're asked to line up there 5 minutes prior to your program's starting time.
The ride out to the Memorial is on a covered shuttle boat operated by the U.S. Navy, and you're given plenty of time at the Memorial itself.
Be aware that the Memorial is just that – a site erected in memory of the 1,177 sailors who lost their lives when the Arizona blew up, and then sank. Most of them are interred in the water beneath you, so be respectful.
The Memorial itself is not large, but it's large enough to accommodate everyone on your tour. The rusty hulk of the Arizona can be seen just below the water's surface, and, if you watch long enough, you can still see droplets of oil leaking out of the ship and bubbling up to the surface.
At the back of the Memorial is a room in which the names of all those lost on the USS Arizona are engraved on a wall of memory.
It is a somber, yet beautiful place.
2. USS Bowfin submarine
Right next to the Visitor Center sits the USS Bowfin submarine. This sub, dubbed "the Pearl Harbor Avenger," was launched on December 7, 1942, a year to the date after the attacks on Pearl Harbor.
The Bowfin would go on to sink 44 enemy ships during the course of her nine war patrols.
A ticket to tour the USS Bowfin can be purchased at the Visitor Center (or online before your trip), and will cost you $20. Your ticket gets you onto the sub, and comes complete with an audio tour.
There is no assigned time for Bowfin tours, so you can go any time between 8 a.m. and 5 p.m. and work through at your own pace.
Allow roughly an hour to tour the submarine, adjoining Bowfin Park, and the Waterfront Memorial, which stands in silent tribute to the 52 American submarines and the more than 3,500 subs worldwide lost in WWII.
Be aware that the Bowfin is just as narrow and confining on the inside as it looks on the outside. If you are prone to claustrophobia, you might want to think twice about this one.
That being said, however, it's pretty fascinating to get inside a submarine and learn about how sailors live.
3. Battleship Missouri Memorial
The USS Missouri was launched on January 29, 1944, and went on to participate in operations in the final months of WWII. The ship was the site of the formal signing of the "Instrument of Surrender" on September 2, 1945, in Tokyo Bay by representatives of both Japan and the Allied Nations, thus officially ending WWII.
You can purchase a ticket to tour the Missouri at the Pearl Harbor Visitor Center, and then catch a shuttle bus over to Ford Island, where the entrance to the battleship is located. The Missouri is open to visitors from 8 a.m. to 5 p.m., and shuttles operate until 5:15 p.m.
A $30 general admission ticket will get you a shuttle ride over to Ford Island, and your choice of tour – a 35-minute guided tour, or a self-guided walking tour.
It's recommended that you allow at least 2 hours on-site to explore the USS Missouri, including the 30-minute round-trip shuttle ride to and from Ford Island.
4. USS Oklahoma Memorial
While you're on Ford Island, stop to see the USS Oklahoma Memorial, which recognizes the 429 Marines and sailors who lost their lives on the battleship during the attack on Pearl Harbor.
The Oklahoma Memorial is operated by the National Park Service and is free to visit, but requires a shuttle ticket to get to Ford Island.
5. Pacific Aviation Museum
Also located on Ford Island is the Pacific Aviation Museum, which is a must-visit for any aviation buff. Inside are many exhibits and over 50 aircraft to see.
Tickets can be purchased at the Visitor Center (or online), and will cost $25, with a shuttle ride to Ford Island included. It's recommended to allow at least 2 hours to explore to museum.
6. Pearl Harbor Visitor Center museums
If you don't feel like paying for any of the other tours, but still have some time to spend at Pearl Harbor before your USS Arizona tour, don't worry – there's still plenty to do.
Take a walk along the waterfront, where a memorial walkway has been erected with facts, photos and diagrams about the attacks on Pearl Harbor.
Be sure to also allow some time to explore the free museums at the Visitor Center. While small, these two museums are chock full of interesting facts, maps, artifacts, and videos about the attacks on Pearl Harbor and the vessels and people affected there.
A video about the attacks that plays in the second museum easily rivals the 23-minute film you'll watch before the boat ride out to the USS Arizona Memorial. There are also some interactive (and incredibly moving) video displays here where you can hear stories from both civilians and veterans who survived the December 7 attacks.
I wish someone had told me about these museum exhibits beforehand, because I didn't allow nearly enough time here.
Pearl Harbor Passport
If you plan to visit quite a few of the attractions at Pearl Harbor, consider looking into the Passport to Pearl Harbor, which covers admission to the USS Missouri, the Pacific Aviation Museum, certain tours, and more. The passport is $80 for adults
In order to see everything included, at least 7 hours is recommended, if not more.
Getting to Pearl Harbor
You can book one of a number of guided tours from Honolulu, which will pick you up from your hotel and drop you off at the Pearl Harbor Visitor Center.
The cheaper tours will include a ticket for a specified time for you to visit the USS Arizona Memorial, while the all-inclusive day tours will include tickets to many of the Pearl Harbor sites, including the Arizona Memorial, the USS Missouri, and the USS Bowfin.
Some tours I'd recommend include:
If, however, you want to go to Pearl Harbor on your own, it's incredibly easy – and you don't need to take a cab or rent a car. You can easily get to Pearl Harbor using a Honolulu city bus.
Routes 20 and 42 will take you from downtown Honolulu or Waikiki to Pearl Harbor, though the service is not direct. The ride will take roughly an hour each way, but will only cost a couple dollars per ride. (For some tips on using TheBus in Honolulu, check out this post.)
Where to stay to visit Pearl Harbor
Staying in Honolulu is easiest for visiting Pearl Harbor. Many people like hotels near Waikiki Beach, but there are plenty of others to choose from, too.
READ NEXT: Paying My Respects at the National Memorial Cemetery of the Pacific
---
Have you been to Pearl Harbor before? If so, tell me about it! If not, is it somewhere you ever plan to visit?
Pin it for later: