Some posts on this site contain affiliate links, meaning if you book or buy something through one of these links, I may earn a small commission. Read the full disclosure policy
here
.
---
South Padre Island in Texas tends to have a bit of a reputation – a reputation of being a party-happy Spring Break destination.
But before you assume that visiting South Padre Island is bound to resemble a rowdy movie about the American college experience, know that there's plenty to do on SPI that has nothing to do with partying. Things like dolphin cruises and paddleboarding and horseback riding and even a sea turtle rescue center.
So even though I don't party (I don't even drink that much!), I said yes to a trip to South Padre Island with Texas Tourism. Because one of the things I love most about what I do is being able to dispel misconceptions and set the record straight about destinations that have a lot more to offer than people assume.
South Padre Island is definitely one of those destinations.
After spending four days there, I concluded that not only is it a great destination for people who love the heat and the outdoors, but it's also a year-round destination that can appeal to everyone from Spring Breakers to families with kids.
Take a moment to read my SPI to-do list and discover what there is to do on South Padre Island OTHER than hang out on the beach and drink.
10 things to do on South Padre Island
1. Rent a paddleboard
I'm so happy that paddleboarding has taken off and become as popular as it has. Not only is it a great way to be out on the water, but paddleboarding can be a great workout, too!
There are quite a few rental options when it comes to getting a board and heading out to explore South Padre's canals and Laguna Madre. You can rent a paddleboard from spots like Parrot Eyes and SPI Sessions Watersports. SPI Sessions even offers SUP lessons and tours in case you're not confident to explore on your own.
We rented boards for two hours and enjoyed paddling around in the Laguna.
Tip: I would go paddleboarding early in the morning, as it can start to get really hot (and sometimes windy) in the afternoon.
And for the more adventurous, you can also rent jetskis, or even try kiteboarding with Air Padre. (Kiteboarding requires a lot more physical strength and coordination than paddleboaring, though!)
2. Go horseback riding on the beach
Another great morning activity is a horseback riding tour with Island Adventure Park. To get there, you have to leave the town and drive down South Padre Road 100, a road surrounded on both sides by sand dunes, which in itself is pretty cool.
Once you get there, you're paired up with a horse and are ready to ride in no time.
The riding tour lasts about 90 minutes, and has you riding along the quiet beach and up into the dunes.
I LOVE horses and horseback riding a lot, and this was therefore one of my favorite things I did on South Padre Island.
Island Adventure has a lot of horses to choose from, and the guides will match you up with one that fits your riding experience. This is something that's suitable for the whole family, too, as prior riding experience is not required. (Their minimum age requirement is 6, though.)
3. Explore the island in a scootcoupe
It may look a bit weird, but driving around in a little scooter car called a scootcoupe was another of my favorite activities on South Padre Island.
These tiny little cars may look a little ridiculous sharing the road with huge pickup trucks, but I assure you that they are SO fun to drive – and they can actually go more than 40 mph!
While most people visiting SPI probably have a vehicle, spending an afternoon zipping around in one of these is still worth it simply because it's so fun and unique*.
*It actually looks like most of the golf cart rental companies have phased out the scootcoupes, though you could still try contacting companies like SPI Fun Rentals or Paradise Fun Rentals to see if they have them. (Paradise Fun Rentals rents Slingshots now, which are also super fun!)
If you're renting anything motorized that drives on the road like a regular car, know that a valid driver's license is required to rent/drive here
4. Learn about turtles at Sea Turtle Inc.
While driving around in our scootcoupes, we made sure to stop at Sea Turtle Inc., a facility on the Laguna Madre that aims to rescue, rehabilitate, and release injured sea turtles. They also protect sea turtle eggs and release hatchlings back into the wild.
Visiting the facility, you can see some of the turtles currently in rehab, as well as a few permanent residents that can't be released because of amputations and other disabilities.
This is a great place for anyone – kid or adult – who is interested in learning more about sea turtles. It's one of the top South Padre Island attractions for a reason!
5. Look for birds on the boardwalk
Want to go on a nice walk that doesn't include sand? Head over to the Laguna Madre Nature Trail near the South Padre Island Convention Center.
This 1500-foot boardwalk criss-crosses marshland near the Laguna Madre, and is a great place to spot lots of different bird species. It's also an incredibly beautiful and peaceful place for a walk.
6. Cook your own catch
For the fishermen (and women) among you, South Padre Island offers up many opportunities to fish for trout and redfish in the Laguna Madre.
If you go out in the morning, you can bring your catch back, clean it, and then take the fish to a couple of different restaurants to get it cooked up for lunch.
I didn't go fishing myself, but Craig from Stay Adventurous did and brought back a bunch of fish that we got cooked up at a new restaurant at Jim's Pier. It doesn't get much fresher!
You can book a bay fishing group tour like this one, or book a private fishing tour for your family or group.
Note: In order to go fishing, you'll need a valid Texas Saltwater Fishing License. You can get one online in advance from the Texas Parks and Wildlife Department.
7. Take to the skies in a parasail
Parasailing is really fun, and just the right amount of adventure for many people. It's a a great way to see South Padre and the Laguna from above, while also getting a bit of an adrenaline rush.
Check out the video of my parasailing trip here:
I did the tandem parasailing option, which I think is actually more fun than going solo since you can share the experience with a friend or loved one.
The views from up in the air are pretty amazing!
>> Book your own SPI parasailing adventure here. <<
8. Go on a dolphin-watching cruise
One of the most popular family-friendly activities on South Padre Island is going on a dolphin-watching cruise. The cool part is that you don't have to go far at all – there are hundreds of bottlenose dolphins that call the Laguna Madre home.
This also means that you're almost guaranteed to see some dolphins on your cruise, which makes it great value.
While out with Osprey Cruises, we also learned that the Laguna Madre is one of just six hypersaline (i.e. saltier than the ocean) lagoons in the world. What a fun fact!
>> Book your own dolphin eco-cruise here. <<
9. Take a sandcastle building class
Another fun and unique thing you can do with the whole family on SPI is take a sandcastle building class! Building sandcastles is a popular pastime on South Padre, and this sandcastle-building class will teach you the art of shaping and sculpting sand.
Classes last 1-2 hours, and the tools you learn with are yours to use through the duration of your stay on South Padre Island.
>> Book a sandcastle building class here. <<
10. Watch fireworks at Louie's Backyard
Lastly, if you're visiting South Padre during the summer months (Memorial Day through Labor Day), you can catch fireworks over the Laguna Madre every Friday night at 9:15 p.m. at Louie's Backyard.
This restaurant/sports bar complex is the perfect place to have dinner and watch the fireworks. Louie's is known for its seafood buffet, and is also a popular spot for music and nightlife later in the evening.
---
And look at that: not one mention of drinking or laying on the beach! There are even more things to do on South Padre, too, from shopping to renting a jet ski to of course just hanging out on the beach.
It's totally possible to plan a vacation to this little slice of Texas and never get bored.
Where to stay on South Padre Island
Looking for suggestions on where to stay on South Padre? Here are my top picks:
OR, you can also search for SPI vacation rentals here.
The best South Padre Island tours
Check out some of these tours on South Padre Island:
More essential SPI info
Looking for packing suggestions for South Padre Island? Head over to my Amazon shop to see all my favorite travel gear!
Pick up a Texas travel guide before you go.
READ NEXT: Blooms, Balloons, and BBQ: An East Texas To-Do List
---
What would be at the top of YOUR South Padre Island to-do list?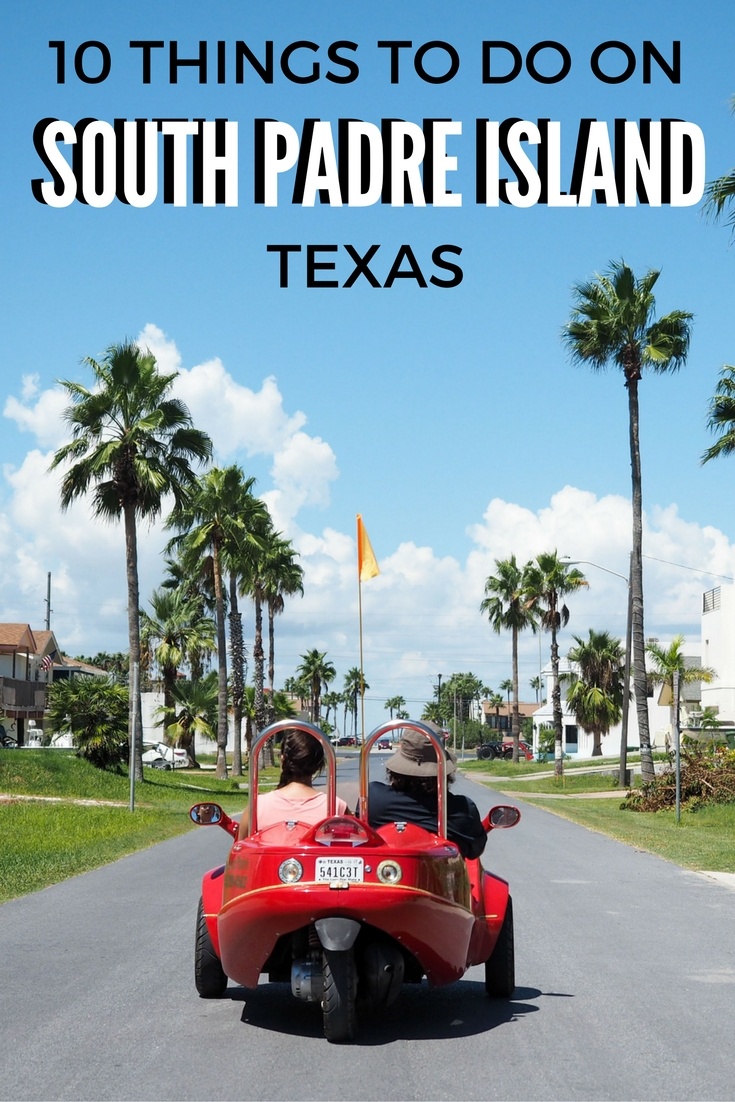 *Note: I was a guest of South Padre Island and Texas Tourism on this trip. But, as always, all opinions are 100% my own!