Some posts on this site contain affiliate links, meaning if you book or buy something through one of these links, I may earn a small commission. Read the full disclosure policy
here
.
---
Fun fact for you: Did you know that, at its widest point, Texas stretches for more than 700 miles? If you wanted to drive from widest point to widest point, it would take you roughly 15 hours.
There's a reason why they say everything is bigger in Texas.
With Texas being such a large state, it also means that there are a lot of nooks and crannies to explore. Prior to this year, I had only even driven across the very top section of Texas, stopping in Amarillo to (legally) spray-paint some cars and watch people eat really big steaks. It took my sister and I nearly four hours to cross that little section of Texas – and I knew then that we had barely even scratched the surface.
So when Texas Tourism and East Texas invited me to come down for a few days this year in March, I was immediately intrigued. I knew absolutely nothing about East Texas other than its rough location, and I was interested to learn more about the Lone Star State.
I was surprised to find everything from barbecue to elaborate flower festivals to hot air ballooning.
After that trip, here are my must-dos for any trip to this side of Texas.
East Texas To-Do List
Longview, Texas
Longview is a city of about 80,000 people two hours to the east of Dallas. If you find yourself there, you'll want to be sure to:
Eat breakfast tacos at Mi Casita
You may have had a breakfast burrito before, but let me tell you: breakfast tacos are where it's AT. Mi Casita is a small, locally-owned joint in Longview that serves Tex-Mex food at any time of day. Their breakfast tacos are especially delicious (my favorite had egg, cheese, and potatoes), and I have since dreamed about eating these again.
Take flight in a hot air balloon
Each summer, Longview plays host to the Great Texas Balloon Race. The race draws dozens of balloon pilots each year, and they compete in a series of challenges spread out over a couple of days. The race was begun by Longview local Dr. Bill Bussey, who also owns Balloon Adventures USA. If you've ever wanted to go up in a hot air balloon, Longview is a great place to do it!
We did a tethered ride with Dr. Bill Bussey himself – you can contact him via his site if you're interested in booking a flight for yourself. And check out video of this balloon adventure here.
Have pie at The Butcher Shop
Another locally-owned restaurant, The Butcher Shop began as a bakery and is now a burger staple in Longview. Food is served on plastic trays a-la school cafeteria, and there's a "fixins" bar where you can load up your burger (and/or fries) with everything from pickles to chili. But the real star here is the bakery – and especially the pies. They have everything from key lime to strawberry cream, and they are all delicious.
Visit the World's Richest Acre in Kilgore
Kilgore is a small town about 10 minutes from Longview. During the oil boom in the 1930s, Kilgore was absolutely covered in oil derricks – there were more than 1,000 oil wells in the tiny town at one point, marking the greatest concentration of oil wells anywhere in the world. This is how the area got the name "The World's Richest Acre." Today, some replica derricks still remain to commemorate Kilgore's history and it's a cool historical stop if you're already in the area.
Tyler, Texas
About an hour from Longview, Tyler is a slightly larger city with a population right around 100,000. The city is known especially for its flowers and beautiful homes. When in Tyler, be sure to:
Trace the Azalea Trail
Every spring, Tyler's azaleas bloom in brilliant shades of pink and red. The city has created a "trail" that visitors can follow to see some of the best blooms outside of some of the prettiest houses. Some homeowners also open up their private gardens to visitors – the Pyron garden was my absolute favorite – and there's even a shuttle that will take you around the trail.
A unique tradition that goes along with the Azalea Trail is that of the Azalea Belles. These are high school girls who go through an application and interview process in order to act as the faces of the Azalea Trail. You'll find them dressed in debutante-style dresses complete with parasols outside many of the homes and gardens along the trail. They are happy to pose for photos, as well as answer any questions visitors have about the Azalea Trail or the city of Tyler.
The Azalea Trail stretches over three weekends each spring in Tyler, usually in late March/early April. If you decide to go, you won't be alone – roughly 100,000 people travel the trail each spring!
Enjoy brunch, Tyler style
Tyler does brunch – and Tyler does brunch well. Don't miss a Sunday brunch in the city, complete with mimosas, of course. My favorite was brunch at Cork Food & Drink, where I had pulled pork eggs benedict – YUM!
Go back in time at the Goodman-LeGrand house
Tyler has lots of beautiful, historical old homes, but many of them are not open to the public on a regular basis. If you want to get a peek into Old Tyler, though, head over to the Goodman Le-Grand House and Museum. This home used to be owned by the well-to-do Goodman family, and was donated to the city after the death of Sallie Goodman-LeGrand in 1939. Sallie wanted the house, which was built in the 1800s, to be open to the public and all of her family's effects to be on display inside. Taking a tour here really is like stepping back in time, and you really get a sense of the family that used to call this place home.
Plus, the house is gorgeous in the spring when all the azaleas are in bloom.
The Goodman-LeGrand House is listed on the National Register of Historic Places, and is also a Texas Historic Landmark. Allow at least an hour to explore the house, and feel free to bring a picnic as the grounds around the home are public parkland.
Learn about rose royalty
Even though I visited Tyler during the Azalea Trail, Tyler is actually better known for its roses. In fact, the city's nickname is "the Rose Capital of the World," owing to the number of rose bushes that are processed in Tyler. The city is also home to the largest rose garden in the U.S., as well as the annual Texas Rose Festival.
The Texas Rose Festival is an over-the-top event full of pomp and circumstance and elaborate gowns for the Rose Queen (always a local Tyler college student) and her Rose Court. You can see some of these amazing gowns on display in a small museum at the Tyler Rose Gardens.
The Rose Festival takes place each year in October, so if you're in town then keep an eye out for the big parade.
Have BBQ at Stanley's
Stanley's Famous Pit Bar-B-Q was Tyler's very first restaurant, opening in 1958. Today, it's still going strong in its original location, serving up delicious barbecue and live entertainment. If you're in Tyler, you definitely can't skip Stanley's.
There are plenty of other things to do in East Texas, too, from shopping to biking to canoeing on Caddo Lake. It's a laid-back slice of Texas, full of the friendliness and charm you expect when you hear the phrase "Southern hospitality."
It's a far cry from the Midwest where I grew up, but East Texas is worth a visit and would make a nice stop on any southern road trip.
Have you ever been to this part of Texas? If not, is it somewhere you'd like to visit?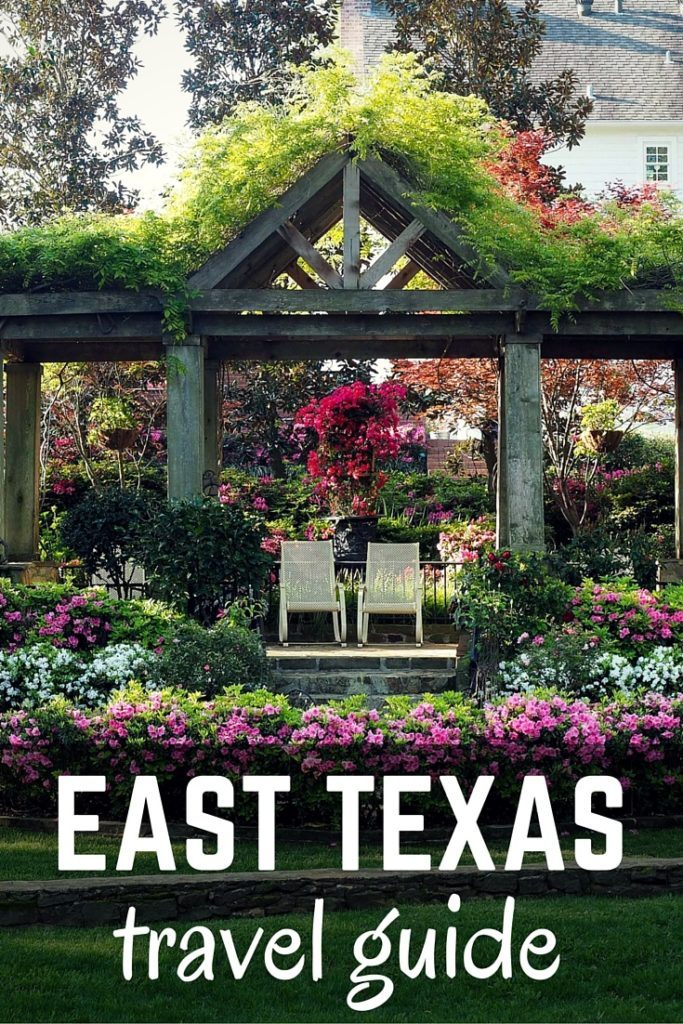 *Note: Thanks to East Texas and Texas Tourism (along with the cities of Longview and Tyler) for hosting me on this trip. As always, opinions are 100% my own.