Some posts on this site contain affiliate links, meaning if you book or buy something through one of these links, I may earn a small commission. Read the full disclosure policy
here
.
---
After our jam-packed day in Juneau, we had little time to rest. Because, the very next morning (another bright and sunny one), we were docked in the tiny port town of Skagway, Alaska.
With a population of less than 1,000, Skagway seems equipped to be solely a town for cruise ship tourists, and little else.
We arrived in Skagway early in the morning – before 8 a.m., in fact – and I was amused to find us moored in the midst of a small boat harbor. Our gigantic cruise ship seemed woefully out of place. But, from our docking point just outside of town, I could already tell that Skagway had a charm about it, and definitely some character.
A rather bare mountain rose out of the bay on the right side of our ship, and the swatch of rock reachable from the decks was graffitied with cruise line logos, painted flags, and other mottos and scribblings.
Riding the White Pass and Yukon Route Railway
My family disembarked with others in an orderly fashion and walked less than 100 feet to where the White Pass and Yukon Route Railway train was waiting to ferry us up into the mountains and over the Canadian border. I had been looking forward to this 3-hour train journey because it would take us up through White Pass, along the route that men setting out to seek their fortune during the Klondike Gold Rush would have walked.
The leisurely ride (the train only traveled at a clip of about 35 mph) was a beautiful one. We started out on low ground, with tree-lined, snow-topped mountains rising up on all sides around us.
Eventually, we began an ascent that incorporated a sweeping horseshoe turn, with views down into a green valley with a fast-moving stream coursing through it.
We learned a little about the railroad as we chugged along – it was built over the span of two years, beginning in 1898 at the height of the Klondike Gold Rush. Today, it is considered an International Historic Civil Engineering Landmark, right up there with the Eiffel Tower and Statue of Liberty. It consists of 110 miles of track, tunnels, trestles and bridges that link Skagway to the Yukon and beyond.
The ride –which covers only about 20 miles, but takes you nearly 3000 feet up into the mountains – was stunning. Every new turn we rounded or bridge we crossed afforded another amazing view into the true Alaskan wilderness.
We passed places with names like Bridal Veil Falls and Dead Horse Gulch, all the while being able to look down on the rocky "trail" that the miners of yesteryear would have tackled on foot.
Halfway through our journey, we crossed the Canadian border and reached White Pass. Here, the train stopped, and the engine did a shuffle – moving from the front of the train to the back, so we could go back down the mountain the way we'd come.
After our ride back down the mountain and a quick lunch back on the Rhapsody of the Seas, my family decided it was time to check out what Skagway had to offer.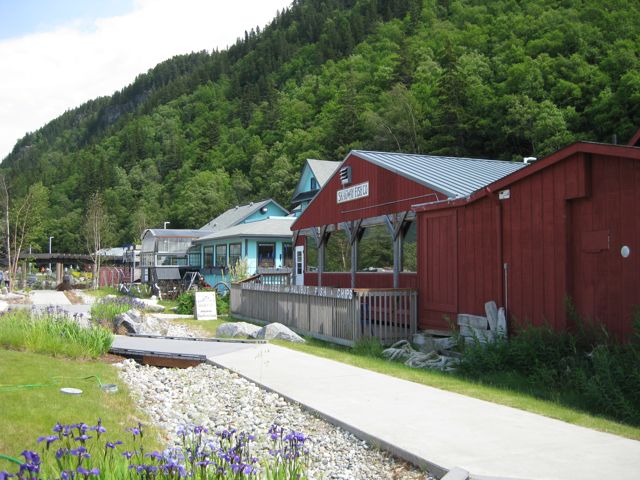 Exploring Skagway, Alaska
It turns out that Skagway is, in fact, just as tiny as it looks from the harbor. The town consists of two main streets that intersect, and a handful of side streets. The main streets are lined with colorful buildings that make you wonder if perhaps you really are in 1898 Alaska.
We walked around "downtown" for a little while, popping into a few souvenir shops for some Alaskan gifts. Skagway consists of mostly tourist shops, including countless souvenir and jewelry stores.
My favorite find: The Sarah Palin Store. Yes, that was its name, and yes, it consisted of all sorts of Sarah Palin memorabilia. I couldn't tell if it was serious or not, but it seemed like it catered to Sarah fans and foes alike.
My family popped into the Red Onion Saloon for a brothel tour ($5 for 15 minutes, just like back in the gold mining days), where we learned all about the saloon and its history as everything from a brothel to a pharmacy. Our tour guide – dressed for the part – mixed just the right amount of fact with raunchy word play to make the short tour both informative and amusing.
Going beyond Skagway
But after a couple of hours in town and with no intention of shopping for gold or diamonds or any more souvenirs, we found ourselves – dare I say it – a little bored. My dad wandered off, and called the rest of us a bit later, announcing that he'd rented a car for the rest of the evening. He was very proud to inform us that he'd talked the guy at Sourdough Rentals down from $80 to $60. So we decided to go adventuring.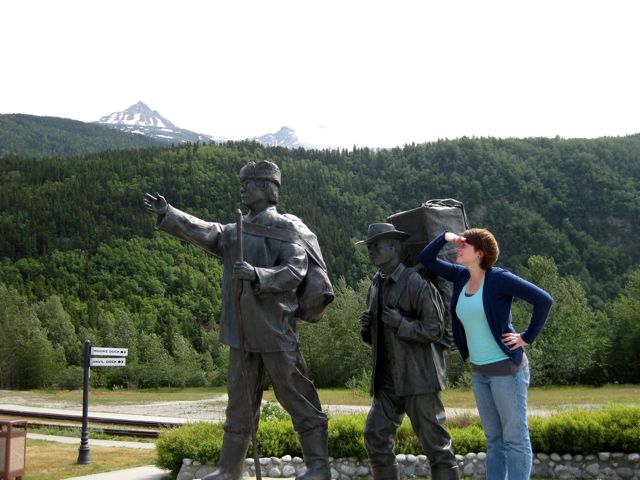 The acquiescing man at the car rental company gave my dad suggestions on where to go, especially if we wanted to see some wilderness and possibly some wildlife. Our first stop was just outside of town, at Yakutania Point. Rife with bike trails and scenic vistas, the Point was a perfect spot to begin.
My sister and I clambered out onto the rocks jutting into the bay, and watched a lone sea otter rolling and diving in the small white caps forming near shore. A storm was blowing in quickly, darkening the sky to the south and kicking up a stiff wind.
After Yakutania Point (which my mom declined to hike out to due to uneven ground and her penchant for rolling her ankles), we decided to do a little driving that we all could enjoy. We hopped onto the Klondike Highway, and headed out of Skagway.
The town ended before we even realized it. The scattered houses soon gave way to forest and mountains, and soon we were winding our way along a 2-lane highway that had avalanche warning signs posted every couple of miles. My dad wanted to drive all the way to White Horse (the capital of the Yukon Territory), but we didn't have the four hours to make it there and back. (Though, we learned, White Horse harbors the closest movie theater and Walmart to Skagway; I wonder what date nights are like in town?)
We opted instead to drive just a few miles into British Columbia, Canada, taking in the scenery as we went.
We didn't drive far enough in to hit Canadian Customs (both the U.S. and Canada have their customs stops a handful of miles in from the actual border), but we went far enough to get a good idea of the kind of stunning landscapes this part of the world has to offer.
The customs officer at the U.S. checkpoint on our way back into Alaska seemed confused when we told him we had only spent about half an hour across the Canadian border, and did not seem to find any of my dad's attempted jokes about Canada amusing.
We crossed back into Alaska, making sure to pose for photos at the "Welcome to Alaska" sign along the side of the road.
On our way back to Skagway, we veered off onto Dyea Road, and drove out to the tidal flats toward the head of the Chilkoot Trail. The tide was out, making for a pretty breathtaking drive along a twisty, unpaved dirt road. We were searching for bears, and it was easy to imgaine them plucking salmon out of the water at the appropriate time of year. We weren't lucky enough to spot any, however, even though we took a detour into a dense forest.
After bear hunting, we headed back into Skagway in our now dust-covered car, passing my favorite road ever: Ragged Ass Road. (Come on, it made you chuckle, too.) My dad then stopped at the lone gas station in Skagway to fill the car up before the station closed at 7 p.m.
Our last stop of the day was at the Gold Rush Cemetery, on the outskirts of town. Here, various people who died in the late 1800s and early 1900s are buried, including the Skagway town scoundrel Soapy Smith, and the man who brought about his demise – a man named Frank Ried. Reid was gifted with a large stone monument at the cemetery, as well as his name on the waterfall that spills down the mountain behind the graves. You can hear it rumbling from the parking lot.
My sister and I spent time looking at the old headstones (some of which are original, others which have been replaced over the years), and then my dad and I made the short (but steep) hike up to Reid Falls.
We made our way back to the ship soon after with aching feet, but also a sense of satisfaction. We had gotten somewhat off the beaten cruise ship path in Skagway, experiencing some of the true wilderness Alaska and Canada have to offer. And it was awesome.
Have you ever been to Skagway?