Some posts on this site contain affiliate links, meaning if you book or buy something through one of these links, I may earn a small commission. Read the full disclosure policy
here
.
---
I was fully expecting to explore Juneau, Alaska, under a cloud-laden sky. Every weather report I had looked at before embarking upon my cruise ship predicted rain – and lots of it – for Alaska when we were scheduled to be there.
So imagine my surprise when I stepped out on deck early Sunday morning to find the ship bathed in sunshine. Even though the sun had risen around 4 a.m., the light still had that early-morning weakness to it as it tried to burn off the haze drifting over the peaks of the Inside Passage that surrounded us.
I stood on deck with my dad as we glided through the calm waters of the Inside Passage south of Juneau. We could see the city itself when we were a few miles out, nestled at the base of a mountain under a clear blue sky. I could not believe our luck.
We were docked and off the ship in no time, and, as my family stood on the pier waiting for the trolley that would give us a 45-minute guided city tour, I realized something: Juneau is tiny. I'm not talking just small. But actually tiny. You could probably walk from one end of downtown to the other in 15 minutes or so. I guess I was expecting a little more from the capital of our largest state.
Juneau highlights
We boarded our trolley, and were soon trundling into Juneau, winding up steep streets that lend the city countless comparisons to San Francisco. The city's population sits right around 30,000, though this number increases significantly when the cruise ships are in port.
And the city is surprisingly cut off from the rest of the world. Our driver joked that there are only three ways to get to Juneau: By boat, by plane, and by birth canal. It's true, though – Juneau isn't connected to any major highways. Their main road is literally referred to as "The Road," and it stretches less than 50 miles.
They do have a Walmart and McDonalds, however, and are very proud of this.
We took a bridge spanning the Gastineau Channel, and headed over to Douglas Island. From a scenic outlook, we could see Juneau – all of it – from across the channel. It really IS small. But beautiful, too.
We were dropped off "downtown," amid various kitchy souvenir shops and countless jewelers. Alaska seems to have a thing for jewelry stores, I noticed. Or, at least, tourists to Alaska must have a thing for jewelry stores.
Deciding we had no desire to shop or check out the Red Dog Saloon (which apparently is quite the centerpoint in Juneau), my family and I made our way to the Mount Roberts Tramway station, where we soon boarded a large red gondola car that lifted us 1800 feet up the side of Mount Roberts.
At the top, along with more shops, a theater, and a restaurant that we were told serves very good fish, there were also hiking trails, a visitor's center, and the Juneau Raptor Center, which consists of one female bald eagle named Lady Baltimore.
There is also a lookout at the top of the mountain, which gives great views of the mountains, channel, and very edge of Juneau. On such a bright, clear (and warm!) day, I couldn't stop snapping photos. My mom and I sat at the lookout while my dad and sister went on a short hike.
After riding the gondola back to sea level, my family made the trek back to the pier in order to catch our final tour of the day. It was a decent 20-minute walk from the tram station, and I was pleasantly surprised to work up a sweat. It was a sunny, 75-degree day in Juneau, which I definitely wasn't complaining about. The walk would only get us warmed up for our whirlwind tour of the Mendenhall Glacier.
Visiting Mendenhall Glacier
Located roughly 12 miles outside of town in the Mendenhall Valley, the Mendenhall Glacier and accompanying Nugget Falls are a must-visit if you're going to be in Juneau. We took a bus tour out to the glacier, driving along a street that would have been covered in ice thousands of years ago.
We were given a little less than an hour and a half to explore, which was not nearly enough time.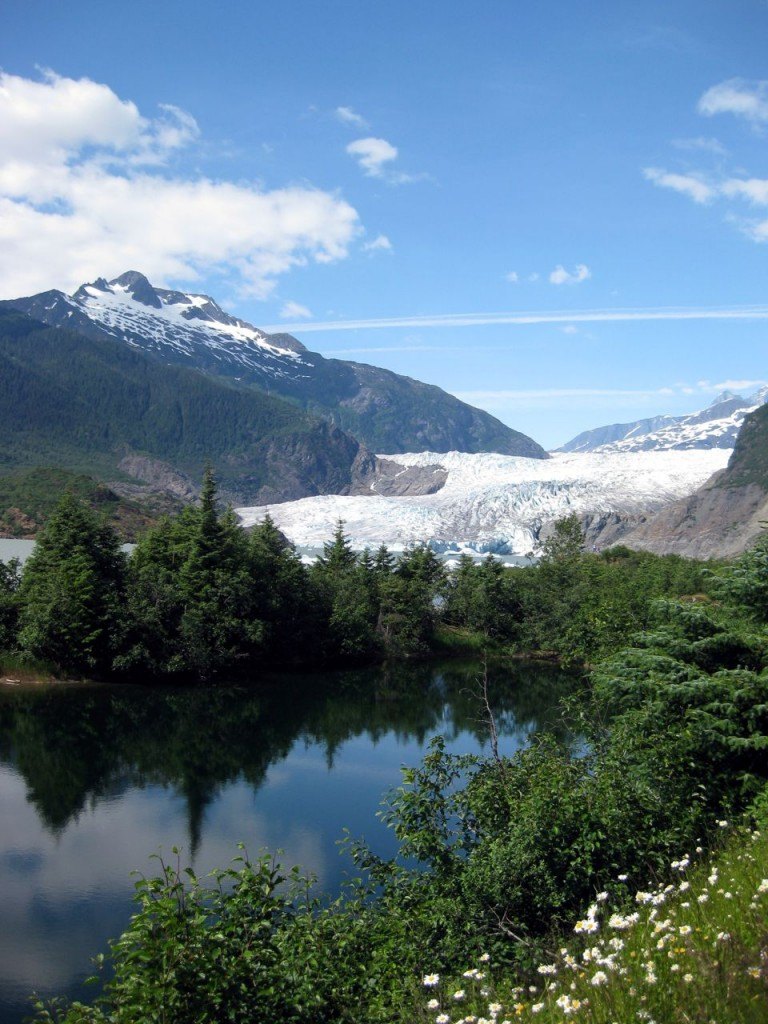 There are various walking tracks available around the glacier, along with a visitor's center that's maintained by the U.S. Forest Service (since the glacier is within the Tongass National Forest). We first set off for one of the viewing platforms near the visitor's center, but then my dad, sister and I decided we wanted to make the hike out to Nugget Falls.
If you have the time to do this flat-land trek, then I highly recommend it. Note that it could take you up to half an hour or more each way, though, especially if you stop to take pictures every five feet like me.
On such a nice day, there were many people out and about, some of them clearly locals out enjoying the weather. We came across a number of people with towels and swimsuits splashing in the glacial water, including one little boy who preferred to run around wearing nothing at all.
It was warm out, yes, but I'm not sure if it was warm enough to be in this frigid water. Then again, I suppose we did see more people just lazing around on the sand as opposed to actually IN the water.
We finally reached Nugget Falls, and the chilly mist floating around it was welcome after the quick hike (we had to make it quick, in order to be sure we got back to the bus on time).
My sister splashed around near the shore, and it looked like you could probably climb out onto the rocks directly under the pounding water if you really wanted to. This would probably not be advisable, however; that's a lot of water.
After admiring the falls for a few minutes, we were forced to turn right back around and hike back the way we'd come. I would have loved more time to spend at the glacier; there are trails you can take to actually walk out onto the ice that I would have liked to hike, too. Next time, I suppose. Though hopefully "next time" won't take too long, because the Mendenhall Glacier is receding fast (as far as glaciers go, that is).
Even though we rushed back to the bus, I still managed to take some photos under the late-afternoon sun. All the bits of blue ice jutting out of the water fascinated me.
Sadly, none of these photos even begin to do this place justice. It's gorgeous.
We did not arrive back at the pier with any time to spare, meaning we never did get to explore the town of Juneau itself. I regret this, but am glad that we were able to fit in everything that we did.
One last fun Juneau fact: There is one school district in Juneau, and the high school football team was named the "toughest" by Sports Illustrated. Why? Because, since grass doesn't grow very well in Juneau's climate, the team practices on gravel. Badass.
After bidding Juneau farewell, we reboarded the ship and sailed back out into the Inside Passage. After dinner that night, I snapped this last photo — of the sun setting after 11 p.m.
I love Alaska.
Have you ever been to Juneau?