Some posts on this site contain affiliate links, meaning if you book or buy something through one of these links, I may earn a small commission. Read the full disclosure policy
here
.
---
You all know by now that I'm a massive Midwest fangirl. I was born in the Midwest, grew up in the Midwest, and have spent most of my life living in the Midwest. And, in recent years, I've made a point to explore more of the Midwest, too.
Whether it's been driving across the Dakotas, beach hopping along the Great Lakes, or leaf peeping in Michigan's Upper Peninsula, I've really loved all the Midwest adventures I've had in the last few years.
And now I can add another favorite Midwest experience to my list: exploring Madison, Wisconsin during the summer months.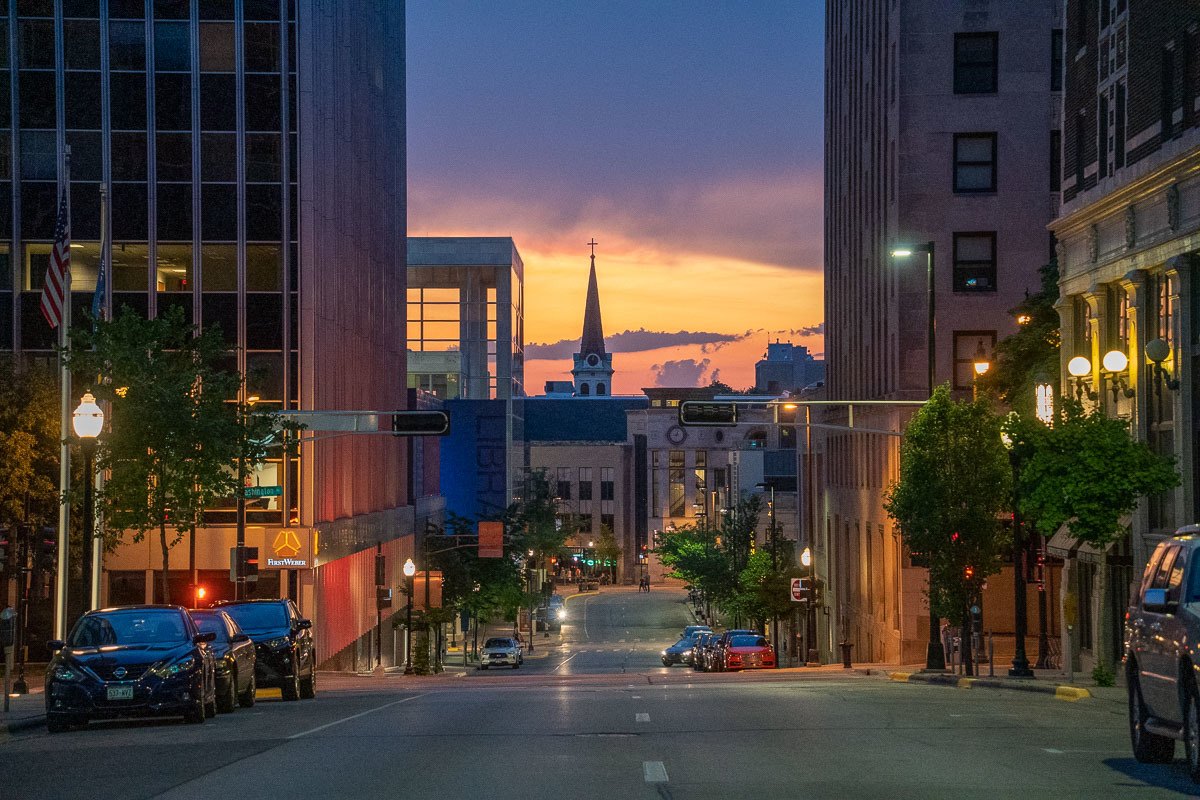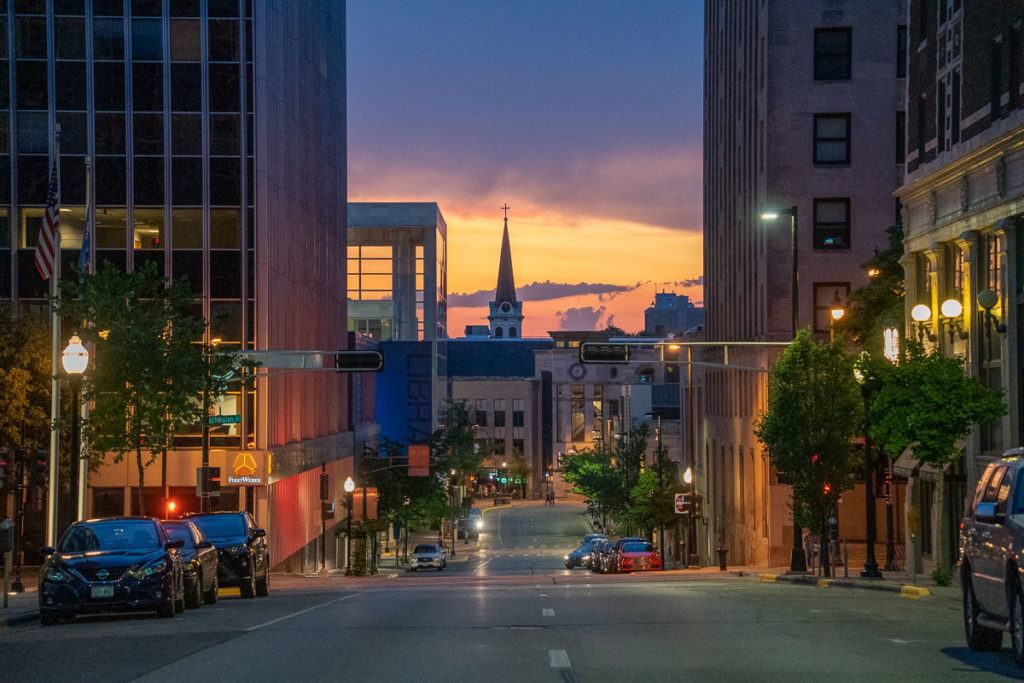 Madison is exactly the kind of city that I tend to fall in love with: it's a university town with a young vibe; it's full of trees and lakeside views; and of course it's got that Midwestern sense of hospitality where people you've never met before will smile at you and say hello because that's just what you do here.
In short, Madison is my kind of city.
I visited Madison back in June, which is arguably one of the best times to be there. Madison – like many other Midwestern cities – is very much a summer city. Even on days where it was above 90 degrees and incredibly humid, people were outdoors biking, kayaking, and enjoying meals on patios.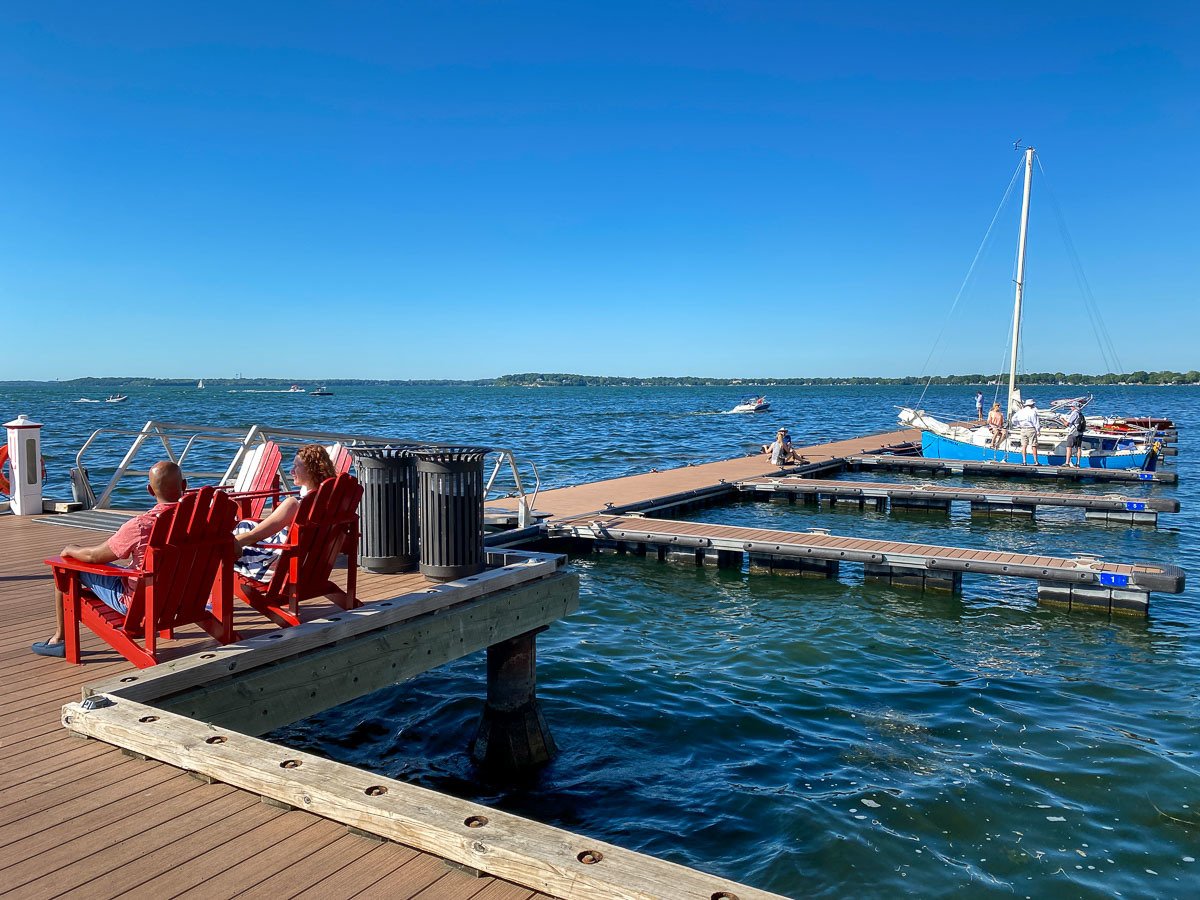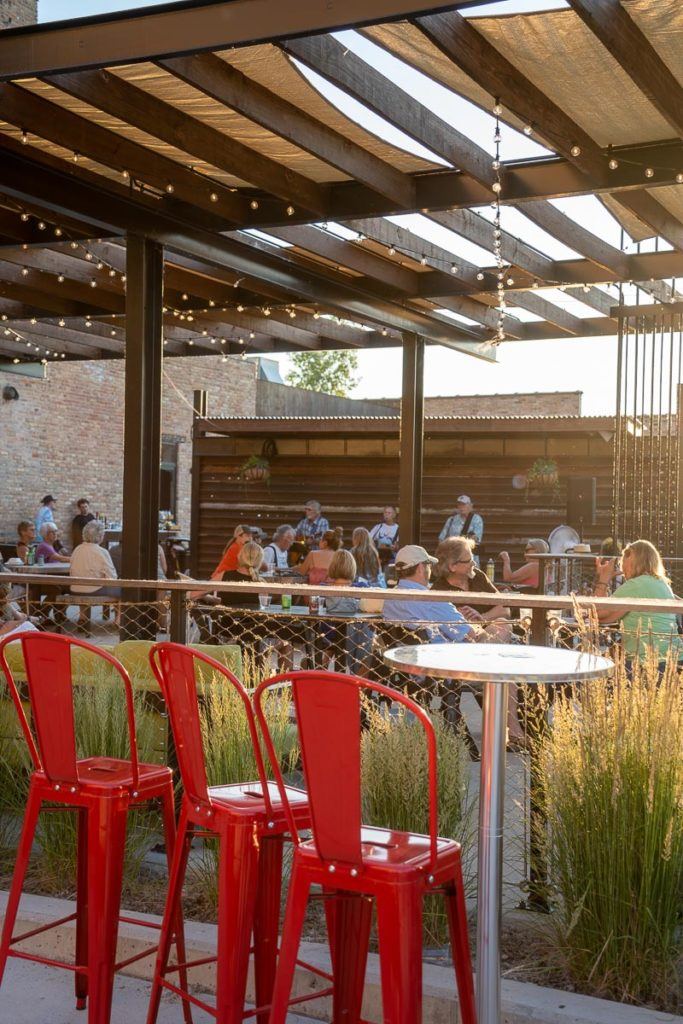 In the past year, I feel like we've all become a little more appreciative of the freedom that the outdoors can afford us, so I, too, spent most of my time in Madison outdoors, discovering all the best the city has to offer in the summertime.
If you're thinking of visiting Madison anytime soon, here are the top things you definitely have to do there.
Note: This post was written as part of a paid partnership with Destination Madison. But, as always when I work with brands and destinations, all the opinions you find here are 100% my own!
Things to do in Madison if you love the outdoors
1. Get out on the water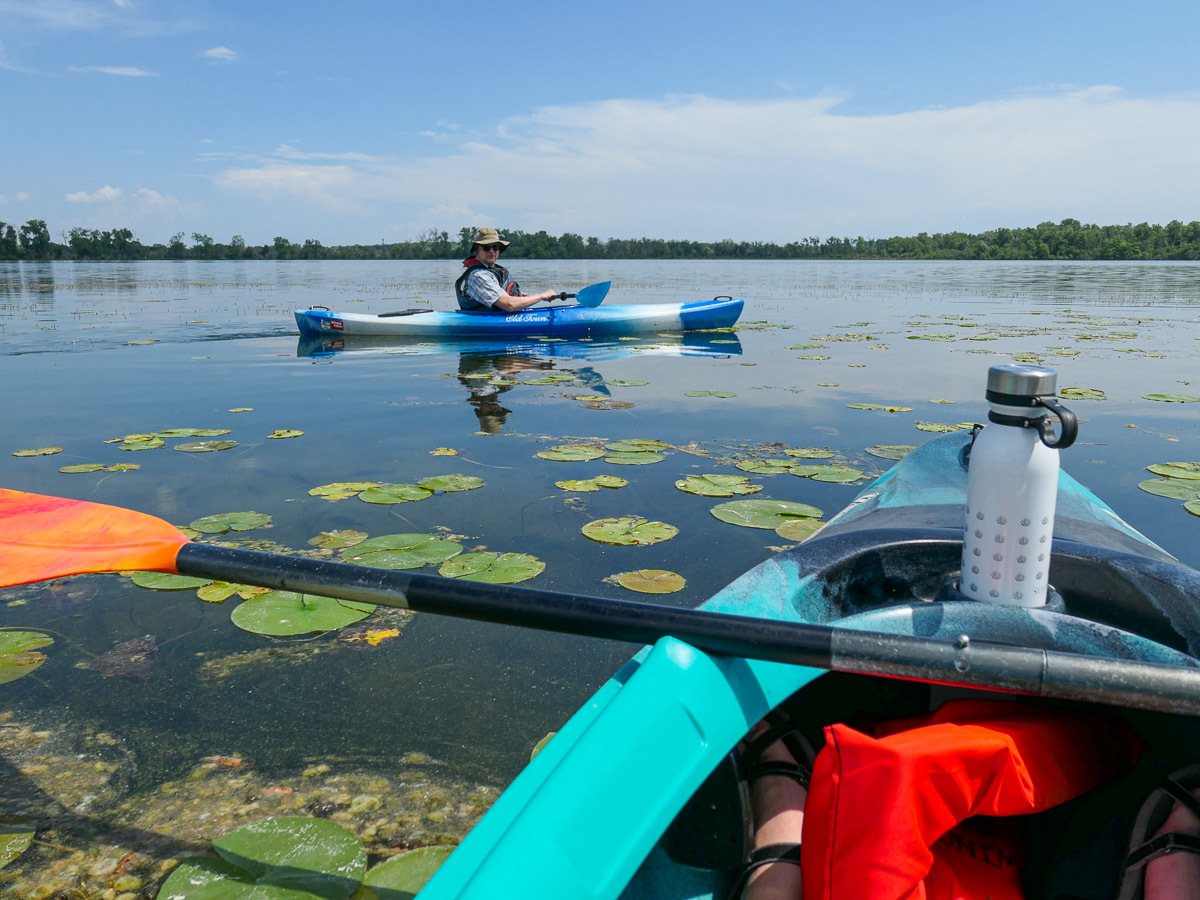 Madison, Wisconsin has a total of five lakes, including three that frame the downtown area. (Fun fact: because of the lakes, Madison actually sits on an isthmus!)
The three lakes surrounding the city are Lake Mendota, Lake Monona, and Lake Wingra. All three were lively with kayakers, paddleboarders, fishermen, and other boaters the whole time I was there.
I rented a kayak one afternoon on the smallest of the lakes (Lake Wingra) and had a lovely paddle.
It's easy to rent everything from pontoons to canoes to jet skis on all of the lakes. More info on boat rentals here.
2. Visit Olbrich Botanical Gardens
Located on the shore of Lake Monona, the Olbrich Botanical Gardens are such a gem in Madison. There are 16 acres of manicured outdoor display gardens here, plus a 10,000-square-foot conservatory.
One highlight you don't want to miss is the golden Thai Sala (pavilion), which is the only one of its kind in the continental United States, and the only one outside of Thailand surrounded by a garden.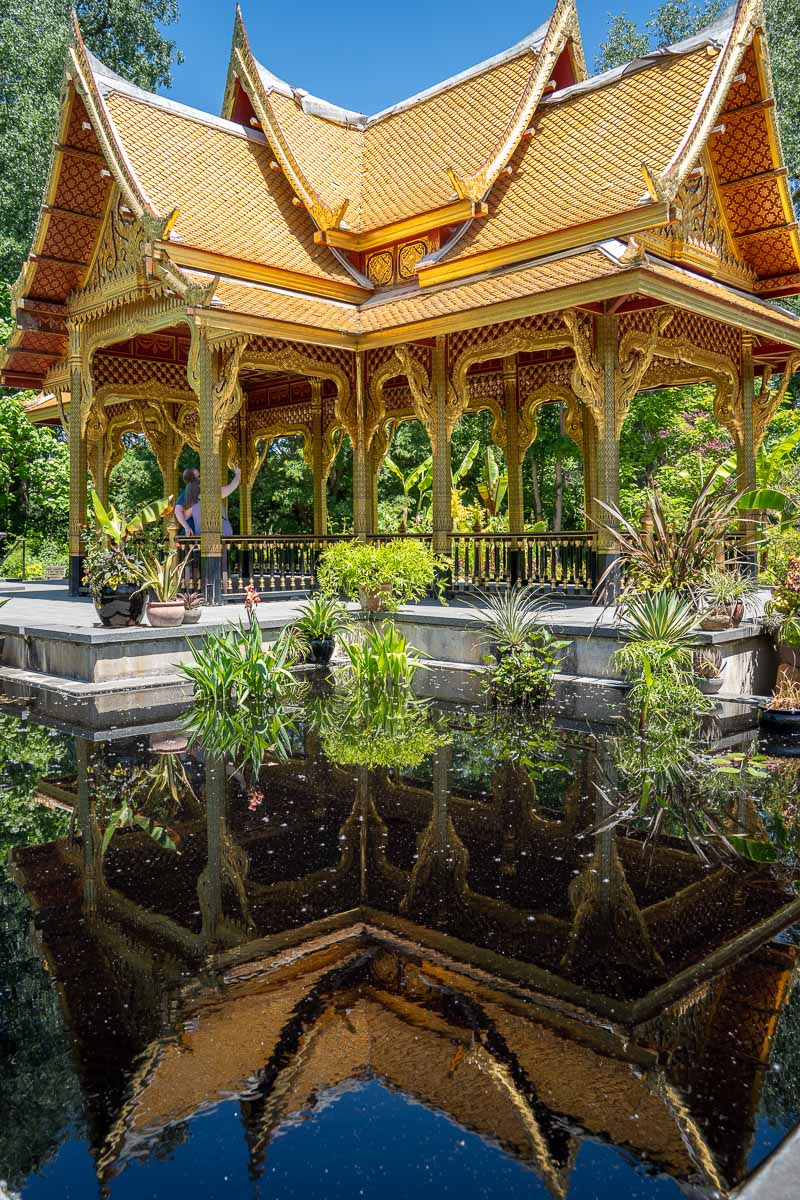 The outdoor gardens are completely free to visit, meaning you can spend as much or as little time here as you want (but, fair warning, you'll probably want to spend a lot).
3. Hang out at Memorial Union Terrace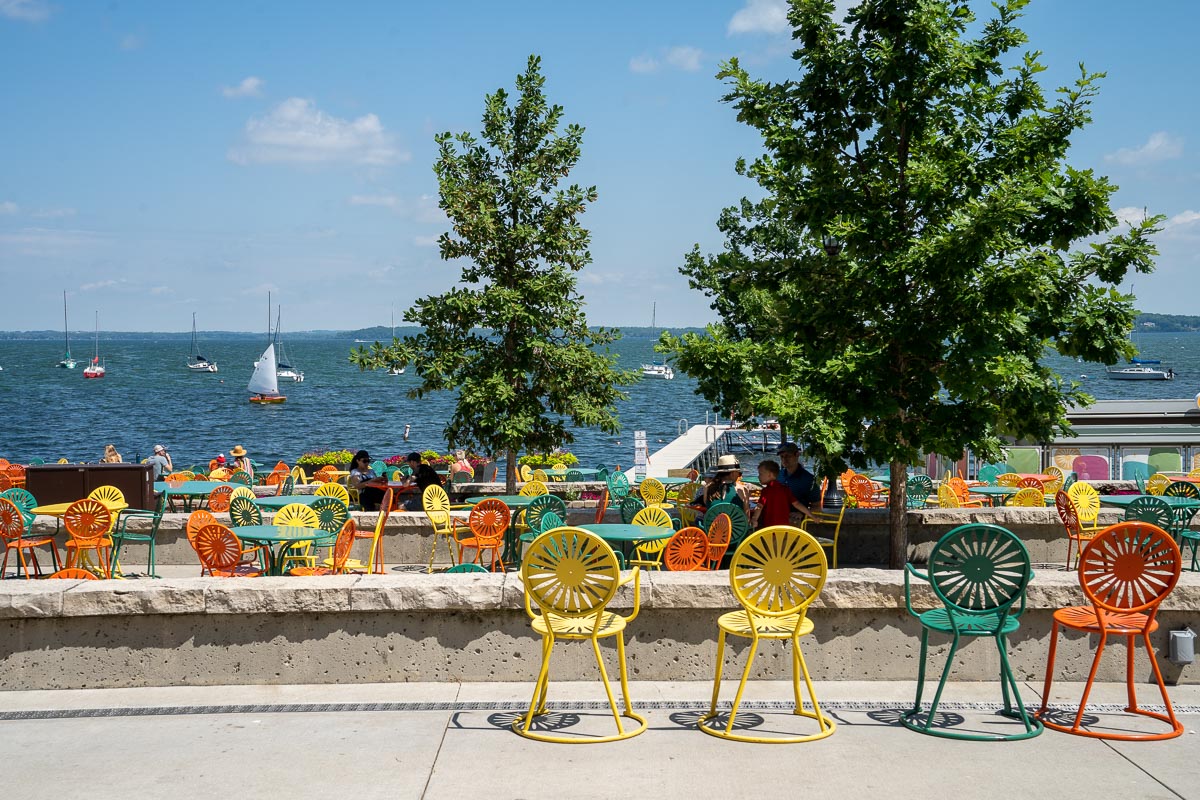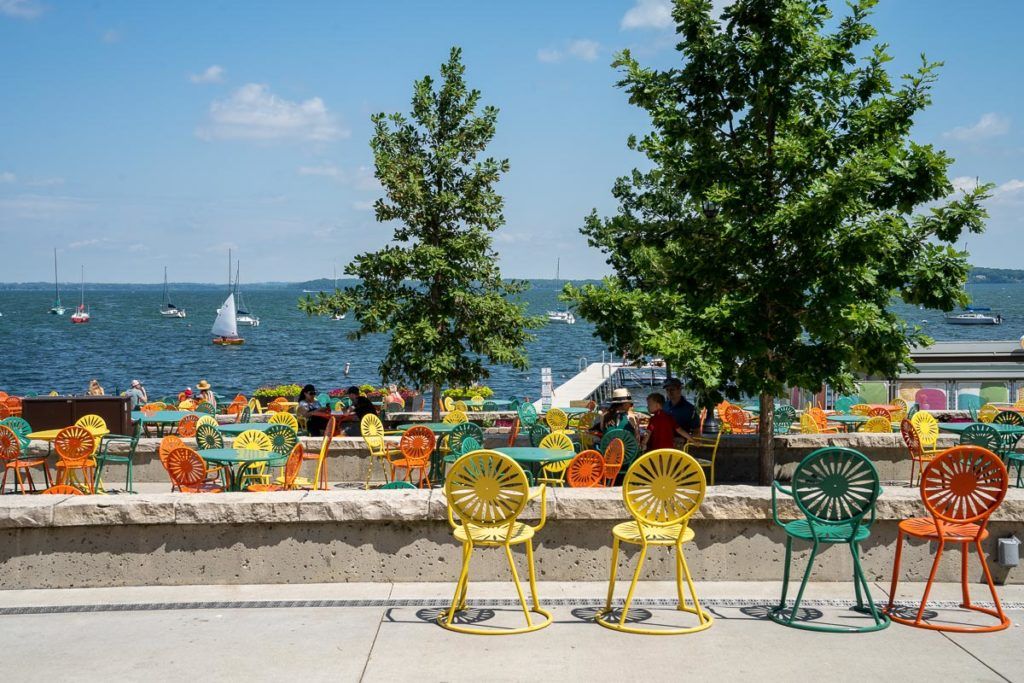 Madison is home to the University of Wisconsin-Madison, which has an enrollment of more than 40,000 students. The university was founded back in 1848, and its beautiful old buildings and campus are integrated into Madison quite nicely.
I personally love wandering around college campuses when I travel, but even if you don't there's one campus spot that you don't want to miss: the Memorial Union Terrace.
This lakeside terrace is outside of the student union of the University of Wisconsin-Madison, and is known for its colorful sunburst-back chairs (which are actually trademarked!). This is a great spot to grab a drink or some ice cream and watch the activity on Lake Mendota.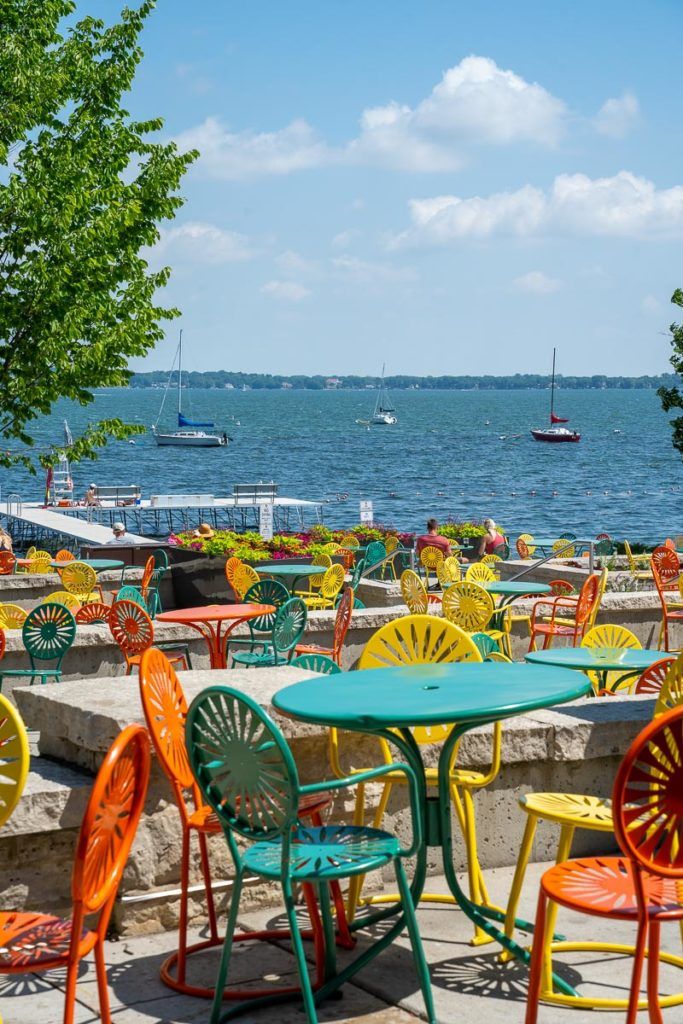 This is also great spot to go and people-watch; it was the top place Madison locals kept recommending to me over and over again, and it definitely lived up to the hype on a sunny summer afternoon. (Though as you can see in my photos, there's not a whole lot of shade here!)
From the terrace, you can cross Liberty Mall and go for a wander up State Street, which is lined with shops and restaurants all the way up to the Wisconsin State Capitol building.
4. Stroll Monona Terrace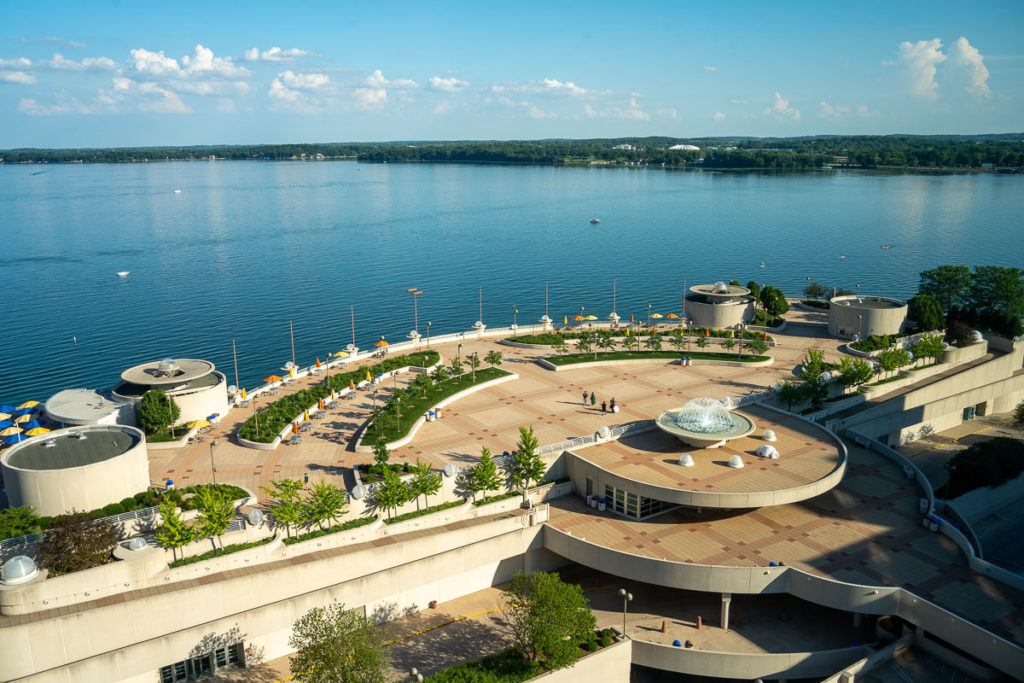 On the other side of the Madison isthmus is another lakeside terrace to visit. This one overlooks Lake Monona, and is actually the rooftop of the city's Community and Convention Center.
Monona Terrace is interesting from a historical and architectural standpoint, as the whole complex was designed by Frank Lloyd Wright in 1938, but not actually built until the 1990s. The building boasts Wright's famous organic design style, which extends to the rooftop garden.
I spent a good amount of time hanging out on this rooftop one evening, which is a great spot from which to photograph the Capitol at night.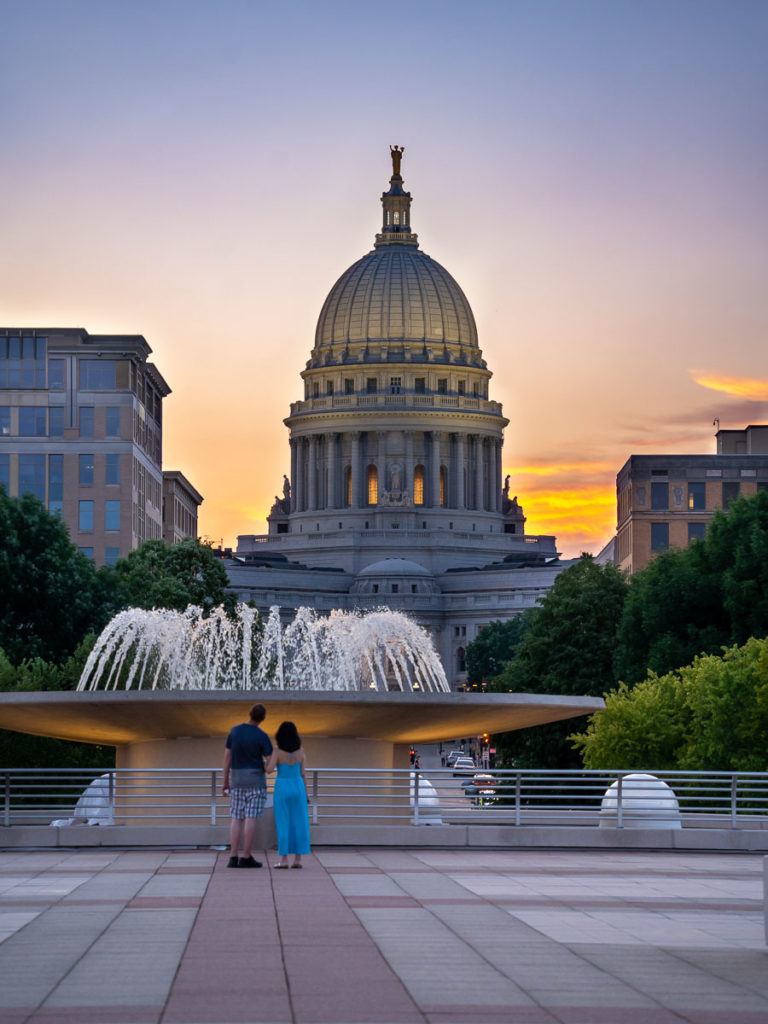 5. Shop at the Dane County Farmers' Market
I mentioned above that the Memorial Union Terrace was the top-recommended place to me by Madison locals, but another spot people will tell you you HAVE to visit in Madison is the Dane County Farmers' Market.
This market is the largest producers-only farmers' market in America, and during the warmer months takes place outdoors on Capitol Square.
The market sadly wasn't up and running yet for the season when I visited (it was set to return from its pandemic-induced hiatus the week after I was there!), but it definitely deserves a spot on this list.
The market usually runs on Capitol Square on Saturdays from April-November.
6. Head out on a bike
Madison is a very bike-friendly city, with bike routes and trails to suit all skill levels and styles.
Within the city, you can borrow a Bcycle from a number of stations and explore the urban center at your leisure. (And, even though Madison is pretty flat, I was delighted to learn that all the Bcycles here are electric!)
If you want a longer ride, the Lake Monona Loop is flat and family-friendly; the Lakeshore Path takes you around Lake Mendota to the popular Picnic Point; and there are also great bike paths at the UW-Madison Arboretum.
Want to try something more exciting? Madison has the Quarry Ridge Trail System, too, which consists of a few miles of off-road mountain biking trails.
7. Visit the UW-Madison Arboretum
Madison really has no shortage of green space, but if you crave even MORE, you'll want to head to the UW-Madison Arboretum. Covering a whopping 1,260 acres along one shore of Lake Wingra, the Arboretum has walking and biking trails and lots of green space.
And while to the naked eye this just looks like a big park, the arboretum is actually a teaching and research arm of the University of Wisconsin-Madison. They do research focusing on ecological restoration here, which is pretty fascinating.
Be sure to stop by Curtis Prairie (near the arboretum's Visitor Center), which is the oldest ecologically-restored prairie in the world.
8. Take a day trip to a state park
And, even though this is a post about Madison, I'd be remiss if I didn't also point out that there's even more nature to enjoy just outside of the city!
There are several state parks within an hour's drive that offer up hiking, swimming, boating, camping, and all sorts of other outdoor things.
A few to check out include:
Devil's Lake State Park
Natural Bridge State Park
Governor Dodge State Park
Blue Mound State Park
Aztalan State Park
You can also visit the Cave of the Mounds near Blue Mound State Park, which is a National Natural Landmark and well worth the admission fee. (And, as a bonus, this is a great spot to escape the summer heat for a while, as it's always a cool 50 degrees inside the cave.)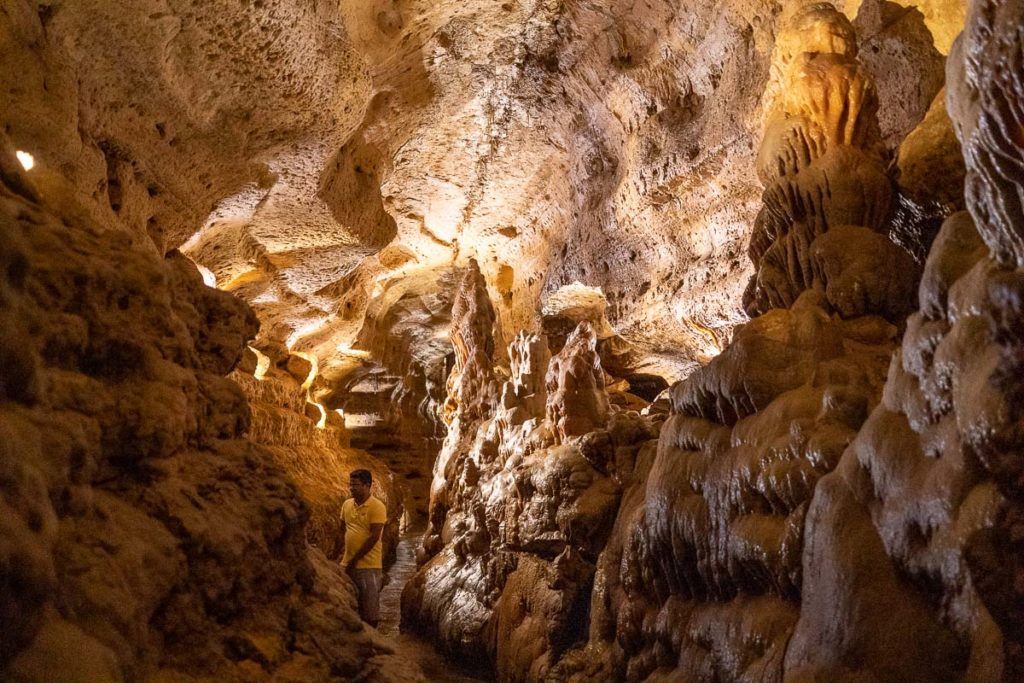 Ways to beat the heat in Madison
Speaking of escaping the summer heat… just because Madison is in a northern state like Wisconsin doesn't mean it has cool summers. The week I visited, temperatures were in the low 90s and the humidity was high!
And so, while I did spend a lot of time outdoors in Madison, I also found myself seeking indoor (AKA air conditioned) refuge a few times, too.
If you're looking for breaks from the heat, here are a few things you can do:
1. Explore the Capitol building
The Wisconsin State Capitol Building is a central fixture in the city of Madison; you can't go very many places in the city without being able to see that beautiful white dome. (It is, after all, the tallest thing in the city!)
The current Capitol building dates back to 1917 after the previous building was damaged in a fire, and it's perhaps even more stunning on the inside than the outside. The building is open to the public and free to visit, and there are free guided tours you can take throughout the day.
If you wander around on your own like I did, be sure to keep an eye out for all the different types of stone used inside (some of which even have fossils in them!), visit the observation deck, and of course look out for all the badgers (which are the state animal/mascot).
2. Cool off inside a museum
Madison has several great museums all within a short walk of the state capitol. Some are even free to visit, which makes them a perfect spot to pop in when you need a break from the sun.
I stopped into the Madison Museum of Contemporary Art one afternoon, and it was the perfect respite from the sun.
Some museums to check out include:
Chazen Museum of Art (free to visit!)
Wisconsin Historical Museum (the second floor focuses on the Indigenous peoples of Wisconsin)
Madison Museum of Contemporary Art (also free to visit)
Madison Children's Museum
Wisconsin Veterans Museum (another free museum)
3. Hang out at Garver Feed Mill
I'm a big fan of disused buildings being repurposed and given new life, and that's exactly what happened with the Garver Feed Mill.
The turn-of-the-century mill building is on the National Register of Historic Places, and over the last couple of years has been transformed into a multi-purpose space that is home to food producers, artisans, wellness studios, and more.
The indoor space at Garver includes event space and a bar, the delicious Ian's Pizza, plus a yoga studio, spa, and more! This is definitely a fun place to spend some time.
Outside, they have patio space and even live music on certain nights.
Where to stay in Madison
Whatever your budget or travel style, Madison has a hotel that's perfect for you. I stayed at two different hotels during my time in Madison – one on each side of the isthmus! – and loved them both.
1. Hilton Madison Monona Terrace
This Hilton property is located right beside the Monona Terrace, meaning many rooms have Lake Monona lake views. It's also just a couple blocks away from the Capitol building and many great restaurants, and has convenient parking right under the hotel.
My room here was large and comfortable, and I'm always a fan of the Hilton brand of hospitality.
Read reviews on TripAdvisor | Book a room here
2. The Edgewater
If fancy, historic boutique hotels are more your jam, then you can't go wrong with The Edgewater. Situated right on Lake Mendota, this hotel is absolutely gorgeous – it's not hard to understand why it's a popular wedding venue.
The hotel has two great restaurants along with a spa, and even has its own dock on the lake.
Read reviews on TripAdvisor | Book a room here
Some other hotel brands I love that have a presence in Madison include:
Graduate Madison – Channeling collegiate vibes, I love the Graduate chain of hotels. The one in Madison is just a block away from the UW-Madison campus.
Hotel Indigo Madison Downtown – This brand new hotel is very highly rated already.
Where to eat in Madison
In a city famous for things like cheese curds and Old Fashioneds, I would be remiss if I didn't talk at least briefly about FOOD in Madison!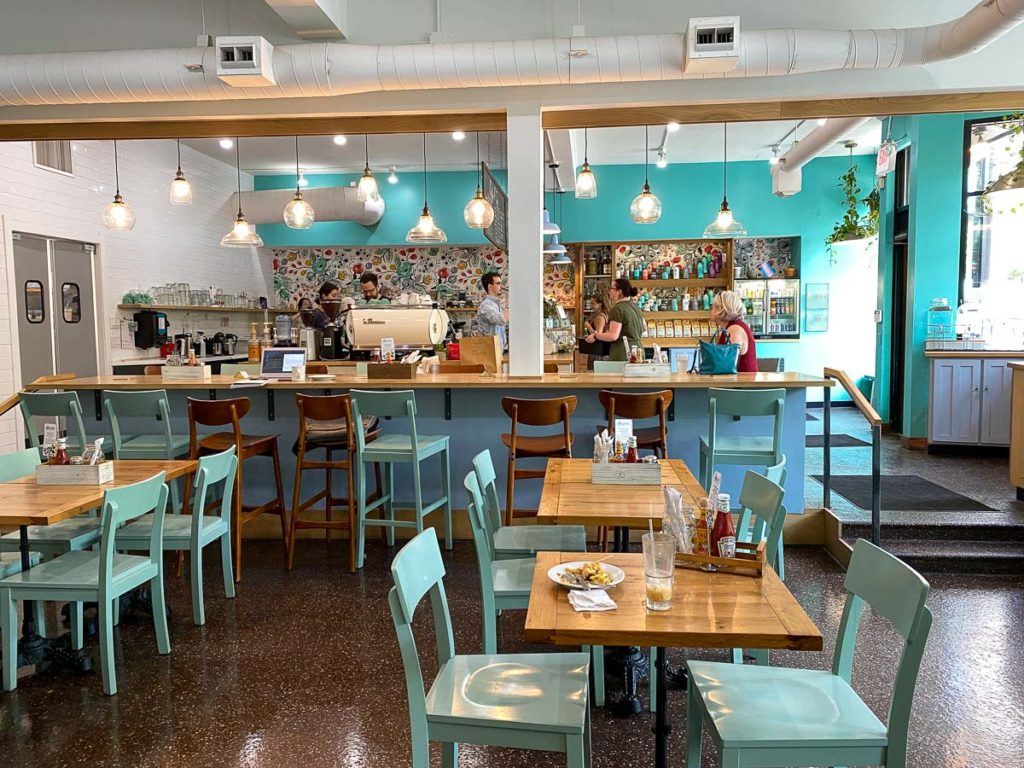 Some of my favorite spots I ate included:
Ancora Cafe + Bakery – For coffee and breakfast
Daisy Cafe + Cupcakery – A great breakfast/brunch spot
The Old Fashioned – For cheese curds and a brandy Old Fashioned (which is the traditional way to make them here in Wisconsin)
Everly – An eclectic spot with lots of veggie-forward dishes to choose from
Ian's Pizza at Garver Feed Mill
Bar Corallini – For really excellent Italian food
Tornado Steak House – For a taste of Wisconsin's supper club culture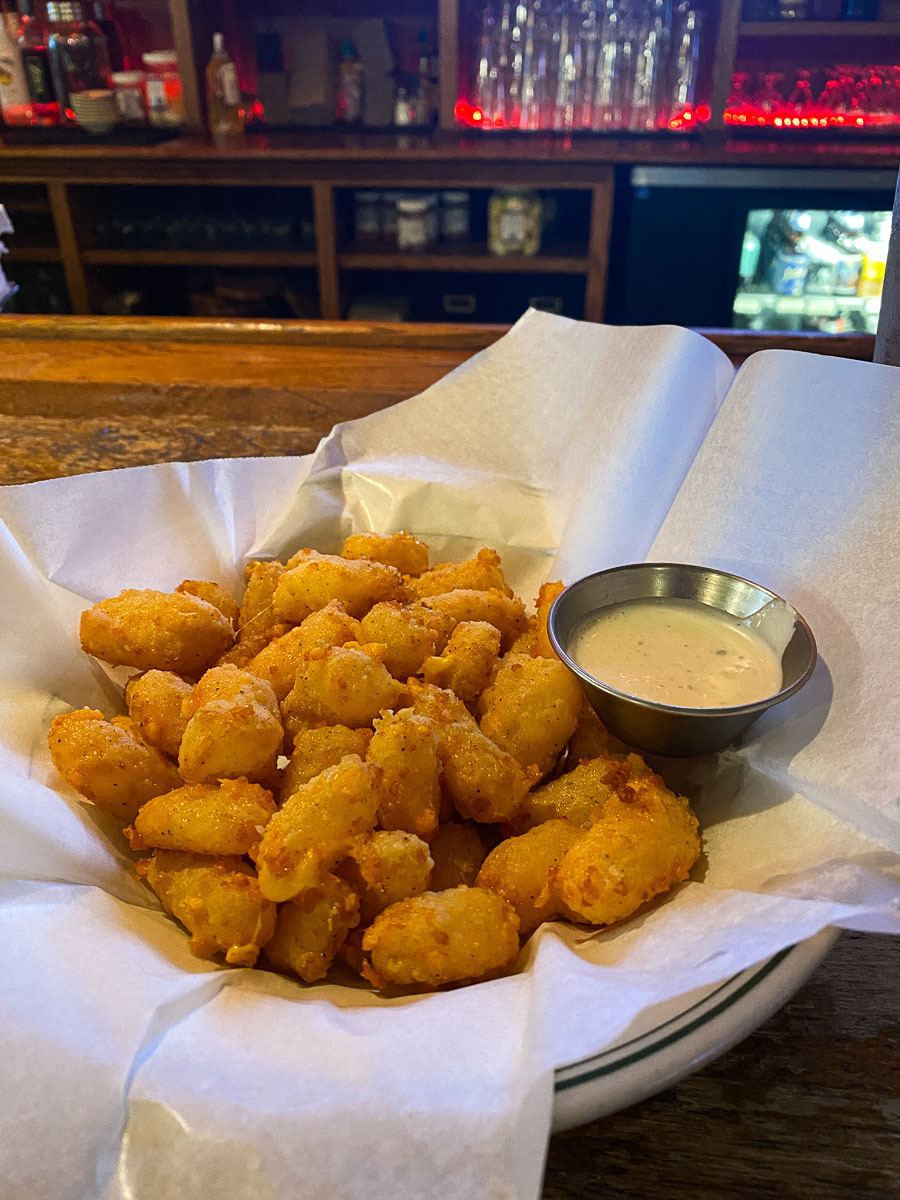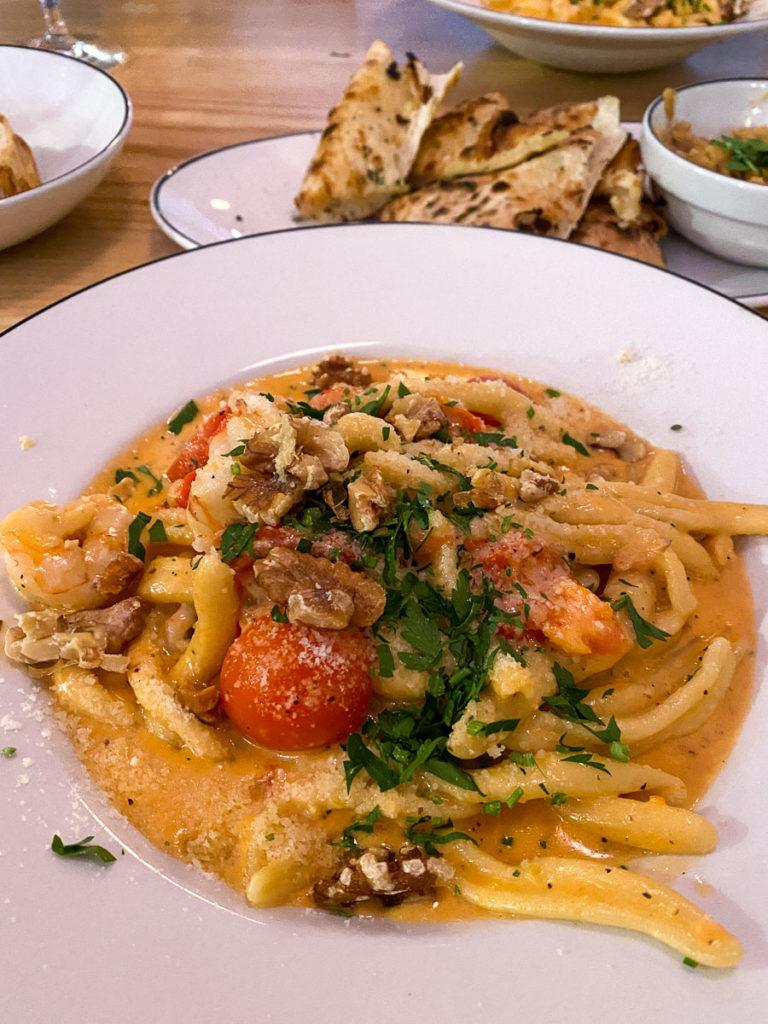 A note on supper clubs: Supper clubs aren't just a Wisconsin thing, but they certainly are more popular here than in other parts of the Midwest. In the simplest of terms, a supper club is a restaurant. But not every restaurant in Wisconsin is a supper club.
Supper clubs tend to be older, with decor that may take you back in time a handful of decades. They usually have a bar and separate dining room, both of which are usually dark yet cozy; wood paneling and circular booths are not uncommon.
Menus at supper clubs feature things that you probably aren't likely to be cooking at home (think: fancy steaks and lobster), but there's no pretentiousness here; supper clubs have a familial, welcoming atmosphere.
Read more about supper clubs on my friend Sherry's site: Exploring the Culture of Wisconsin's Supper Clubs
The Tornado Steak House (also known locally just as the Tornado Club) is a great place in Madison to experience supper club vibes. Try the venison. It's amazing.
---
I hope that you've enjoyed this intro to Madison – it's definitely a city worth putting on your US bucket list!
Have you ever been to Madison? If not, is it a city you'd like to visit?