Some posts on this site contain affiliate links, meaning if you book or buy something through one of these links, I may earn a small commission. Read the full disclosure policy
here
.
---
Travelers (and travel bloggers), I've learned, can be a pretty judge-y bunch sometimes.
Think about it.
When you meet a new traveler on the road, what are some of the first things you talk about? Where you've been. Where you're going. Maybe how many countries you've visited.
And sometimes these conversations can turn into a pissing match. "Oh, you backpacked solo through Myanmar? Well I lived for a month in a ger with the locals in Mongolia."
This impulse to one-up fellow travelers is just natural for some of us. Of course we want to talk about our own adventures — especially if they were really epic. And especially since friends and family back home often just don't get it.
But sometimes travelers take this one-upmanship too far.
Not long ago, I had someone tell me that I travel too "safe." In fact, I've heard this more than once. People ask why I haven't been to Africa yet; why South America isn't filled in on my Destinations map. I even had a reader ask why I've used partnerships with travel companies like Intrepid Travel to go to "easy" places like Eastern Europe and Southeast Asia. Why wasn't I going to more adventurous destinations?
On the one hand, I get this mentality. Yes, there are certain parts of the world that are "easier" to travel to than others, and it probably would make sense for me to use partnerships to get to some of those off-the-beaten-path destinations.
But you know what? Maybe I don't WANT to go to those places.
I've only been traveling seriously for a few years. And, instead of planning my travels around the craziest destinations I can get to, my travel decisions are made simply based on where I really want to go the most.
I went to Eastern Europe because it was the number one region of the world I wanted to visit. I went to the Greek Islands on a tour because the opportunity arose and I really wanted to spend some time there. Could I have traveled around the Greek Islands on my own, or tackled Hungary solo? Sure. Absolutely. But if I want to travel with a group and have a good guide, why should I be judged for that?
I look at other bloggers sometimes and know I could never undertake the adventures that they have. I could never travel solo across Russia. I could never live in India. I could never teach English in China.
Actually, the "I could never" isn't entirely true. Sure, I *could* do those things. But I know, after learning about my travel style over the past couple of years, that I wouldn't *enjoy* those types of travel experiences.
And here's the thing; here's the main message of this post: you shouldn't let ANYbody tell you where you should be traveling.
If you're like most Americans, you probably have 2-3 weeks of paid vacation time a year. If you want to go on a cruise or spend a week in Paris or go visit the Grand Canyon, then you should do it. It doesn't matter how "mainstream" or "touristy" a destination or experience is — if it's what YOU want to do, then you should do it.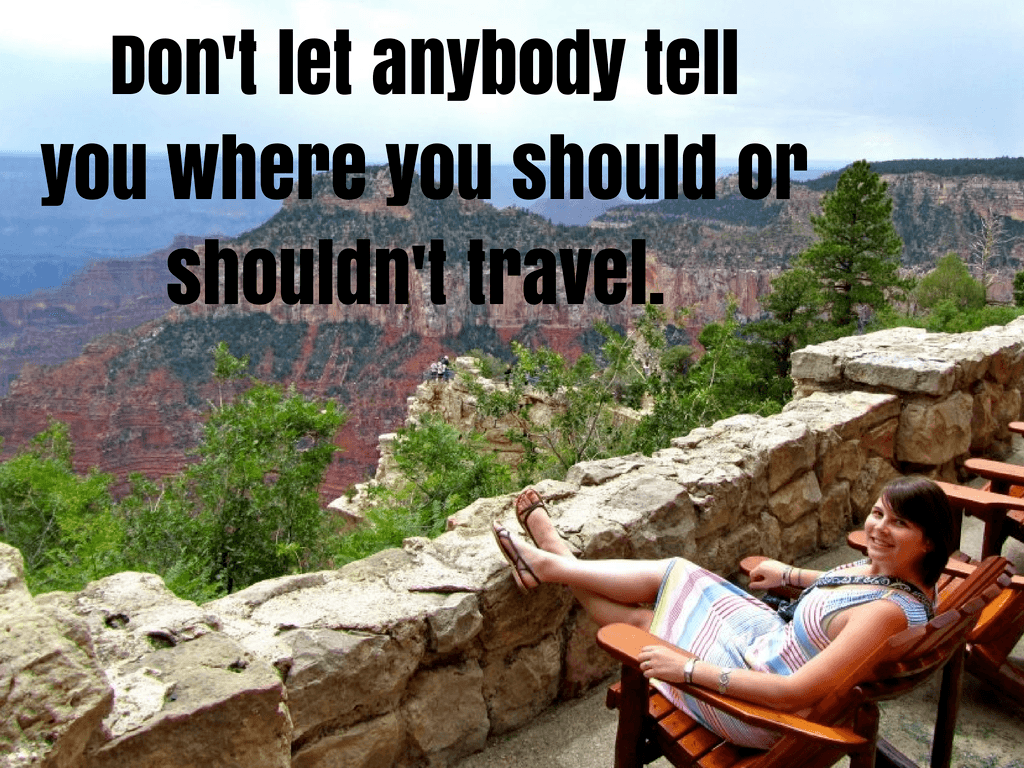 Does the fact that I've never driven a scooter the length of Africa or hitchhiked across America make me a lame traveler? Am I LESS of a traveler because I go on guided tours or enjoy returning to destinations that others consider "easy"?
I definitely don't think so. I'm true to myself in my travels. I go where I want, when I want, how I want.
And I think, in many cases, my travel style mirrors the styles that a lot of YOU, my readers, have.
Do I WANT to go on a safari in Africa, enter the Mongol Rally, or travel overland through Central America? YES, I would love to do those things. Someday. It's just that there are so many other destinations and experiences on my to-do list that I want to do just a little bit more.
I want to see the fjords in Norway, pretend I'm a hobbit again in New Zealand, road trip down the West Coast of the US, and introduce my mom to the UK.
And, as far as I'm concerned, there's nothing wrong with that.
——
What do you think? Do you let others influence your travels?