Some posts on this site contain affiliate links, meaning if you book or buy something through one of these links, I may earn a small commission. Read the full disclosure policy
here
.
---
Let me share a little fun fact with you guys about myself: I LOVE Christmas, and especially love picking out the perfect gifts for all the people in my life. I shop year-round for the people I love, and usually have a stash of "oh, this would be perfect for [insert family member name here]" gifts come Christmas time. (Tell me I'm not alone here?)
If you've got a picky traveler or travel-lover in your life (or if you're like me and never seem to need or want anything specific around the holidays), this gift guide may help you find the perfect present.
This list is full of items that I personally use and love, and that I think other travelers will enjoy, too. Most of them are things I've purchased with my own money – nobody has paid me to include an item here, so you can trust that the recommendations are real!
So, without further ado, I give you the 2021 edition of Amanda's Holiday Gift Guide for Travelers (and Travel-Lovers)!
USEFUL TRAVEL GIFTS
Here are some things that you can use at home now, but that will also be useful for travel once we can get back out on the road.
1. Speakeasy hidden pocket travel scarf
It's true: I'm a liiiiiittle bit obsessed with these hidden pocket infinity scarves from Speakeasy Travel Supply. Not only do they come in soft fabrics and cute patterns, but they also come complete with a hidden zippered pocket that's the perfect size for a passport, credit card(s), and some cash.
These are perfect for travel days – just put everything important in your scarf, wear it like normal, and skip the part where you worry about your essentials getting stolen in-transit.
And when you're not traveling? Well, these scarves are still incredibly cute and comfy! I have 4 or 5 in different patterns, and wear them from fall into early spring.
Buy a hidden pocket scarf here!
**And save 10% when you use the promo code DANGEROUSBUSINESS.
2. Convertible Pacsafe backpack
For the past two years, I've been traveling with this convertible backpack/purse from Pacsafe – and I never fail to get compliments on it from other travelers! The bag is made with Pacsafe's signature slash-proof material, has lockable zippers to make it fairly theft-proof, and I love that it can easily transform from this cute daypack to an over-the-shoulder purse.
I have an embarrassingly large amount of bags in my closet, but this one has become my go-to when I'm traveling.
3. Packing cubes
No gift guide or packing list of mine would be complete without a mention of packing cubes. I use packing cubes to organize whatever bag I'm traveling with, be it a carry-on-sized backpack, or a larger suitcase.
I usually use about 3 cubes: one for tops, one for bottoms, and one for miscellaneous things like sweaters or dresses. This makes picking out an outfit SO much easier, since you don't have to dig through every article of clothing in your bag.
I also sometimes use my cubes to help keep my clean and dirty clothes separate on a trip, and they can even double as small laundry bags in a pinch!
4. Personalized passport cover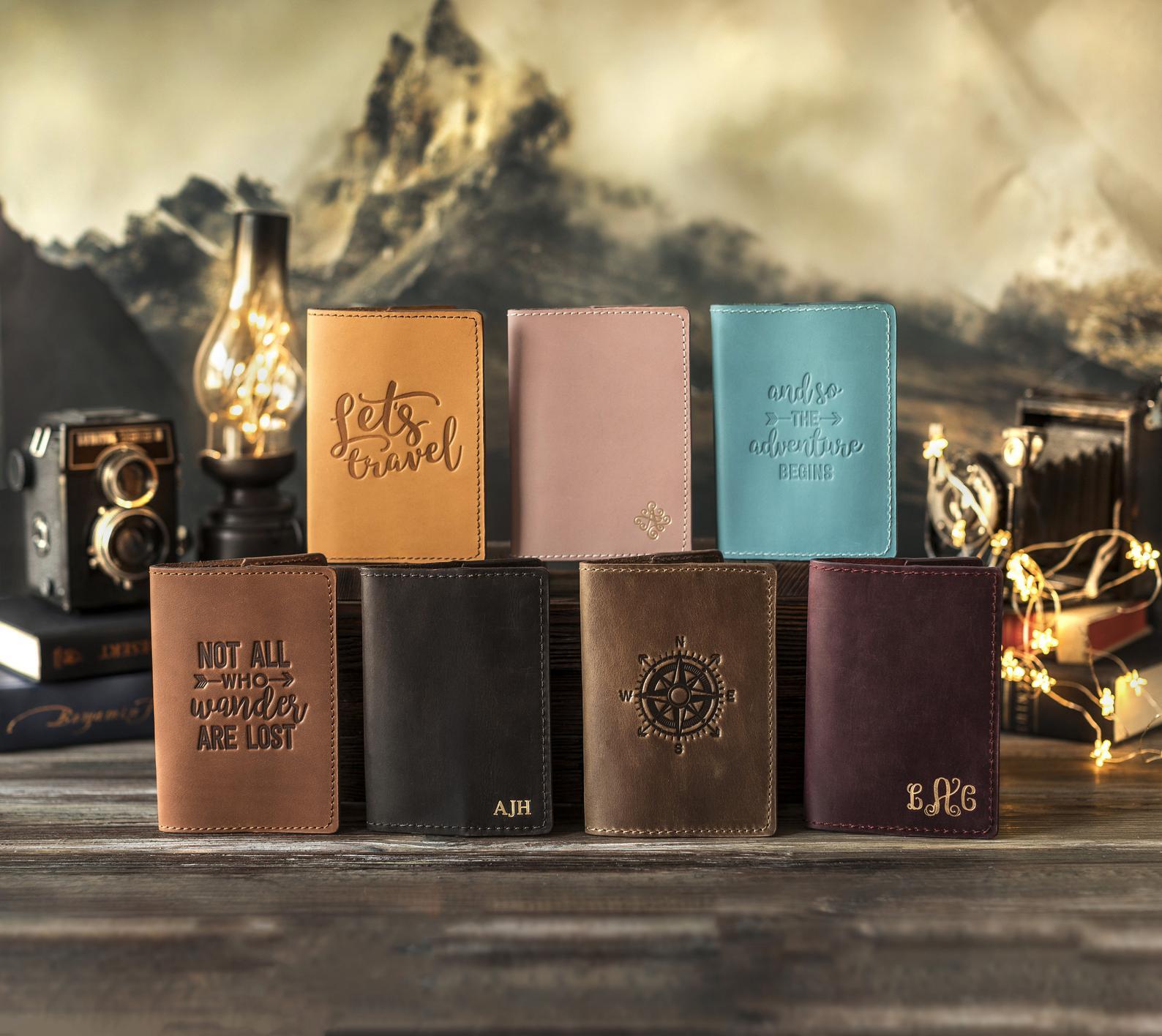 A little personal touch can go a long way. And an easy gift to get a travel-lover that is guaranteed to be the right fit is a personalized passport cover. These hand-made leather passport covers can be stamped with a travel quote, and your loved one's name or initials. They come in regular or wallet versions, and can be paired with matching luggage tags.
This certainly isn't something every traveler would purchase for themselves, but that's why it would make a great gift! (For the record, I love my own passport holder; it holds my passport, Yellow Fever (and now COVID) vaccination certificate, extra passport photos, and my travel insurance info for every trip!)
Buy a leather passport holder here!
WEARABLES FOR TRAVEL OR HOME
A few things I'm loving to lounge around in, but that would also be nice as gifts this year.
1. SUAVS shoes
I'm always on the lookout for my next perfect travel shoe. I've found flats that I love, and also have go-to walking sandals. And now I FINALLY have a pair of sneakers that I adore. (So much so that I currently have 4 different pairs of SUAVS in my closet…)
SUAVS makes shoes that feel and fit more like socks. My SUAVS shoes are soft, breathable, and flexible. I can throw them in the washing machine if they get dirty or smelly, and they take up basically no room in a suitcase.
I also love that the company is based in the US and run by women, which is an added bonus in my book! (They also offer these same shoes in men's sizes – my husband has two pairs of his own!)
SUAVS will most likely run a Black Friday sale, but I also have a discount you can use year-round! Use code DB15 to save 15% off.
2. Cozy slipper socks
I'm a big fan of cozy socks and slippers – and not just at home! I often pack slipper socks when I travel, too. They're great on planes and in hotel rooms, and generally don't take up a whole lot of space in a suitcase or carry-on.
I like my slipper socks to have a semi-solid bottom, and discovered these knit slipper socks from Azerbaijani Socks and fell in love! They're called jorab, and have been a part of Azerbaijani culture for centuries. These are knitted with Azerbaijani patterns by women in rural Azerbaijan, meaning your purchase is helping keep a unique tradition alive.
They have all sorts of patterns and styles to choose from; check them out on Etsy here, or visit their website.
3. Coordinates bracelet or rings
Jewelry is always a great gift idea, and why not make it custom? You can order a pretty bracelet or set of rings with custom map coordinates on them; perfect for a travel-lover, or anyone who has moved around a lot.
I have a set of coordinate rings with the coordinates of where I grew up, and of Wellington, New Zealand, where I lived for a while during college. They're great for stacking!
Here are some Etsy listings that I love:
4. Map jewelry
Can you call yourself a travel-lover if you don't also love maps? There are so many lovely map-related gifts out there. I really like this silver world map bracelet, and this world map necklace.
GIFTS FOR THE ECO-CONSCIOUS TRAVELER
Looking for ways to use less plastic at home AND while you travel? Here are my favorite eco-friendly items that also make great gifts.
1. Camelbak MultiBev bottle
I'm a big fan of CamelBak, and own several different styles of their water bottles that I use for everything from traveling to working out. They released a new bottle last year that I myself got as a Christmas gift: the MultiBev, which can serve as both a to-go coffee cup AND a water bottle.
This insulated bottle/mug combo comes in two different sizes and a few different color combos. This would make a great gift this year, too. (Mine traveled with me on a few different trips in 2021!)
2. Reusable straws
While many restaurants around the world are switching over to biodegradable straw options, you still find a LOT of plastic straws out there. I find plastic straws to be one of the most unnecessary kinds of single-use plastic, simply because there are plenty of better options out there!
I have a nice set of reusable stainless steel straws, and usually tuck at least one into my bag before a trip (along with my fork-spoon-knife combo).
But this fold-up drinking straw would make an even better gift! It comes with a little carrying case and a brush for cleaning. Great for a stocking stuffer.
3. Solid shampoo/conditioner
For various reasons (including wanting to waste less plastic and keep my luggage lighter), I've started traveling with solid shampoo and conditioner on some of my longer trips. Shampoo/conditioner bars take up far less space in a suitcase, and aren't subject to the liquid rules that regular bottles of the stuff are.
The ones made by Ethique are my current favorites and get the job done – I like this shampoo bar and this solid conditioner.
TRAVEL TECH YOU CAN AFFORD
1. Kindle Paperwhite
I don't go ANYwhere without my Kindle these days. And the Kindle Paperwhite, in my opinion, is the very best Kindle out there. It has a built-in backlight perfect for reading on planes, won't hurt your eyes with screen glare, and has a battery that lasts for weeks. The newest version of the Paperwhite is waterproof, too, making reading on the beach, by the pool, or in a fancy hotel tub even better.
And of course my Kindle gets a lot of use at home, too! I read most nights before bed, and have breezed through dozens of books during the last two years.
2. Anker Soundcore Mini
You don't need to spend $100+ on a fancy bluetooth speaker. This SoundCore mini by Anker produces great sound at a really affordable price. AND it's small enough to easily throw in your bag on your next trip.
This speaker has become a must-have for me on road trips, for listening to everything from music to podcasts when you inevitably lose radio signal.
3. Anker power bank
While batteries are lasting longer these days, I still find that my phone often runs out of juice after a long travel day of using maps and posting to Instagram Stories. For this reason, I always travel with a small power bank for backup battery power.
I like the Anker PowerCore Essential 20000mAh because it's fairly small (meaning easy to throw into my purse or day pack), but mighty – it will charge my phone 4-5 times before needing to be charged itself.
This has saved me on more than one occasion, like that one time I was in Istanbul trying to make sure my dad and I could find our way back to our hotel, and my phone inconveniently decided to die when we were still about a 20-minute walk away. Luckily I had my power bank and charging cord in my bag, and simply plugged in and kept walking.
4. Solis wifi hotspot
If you've ever been frustrated with trying to use your phone plan abroad, consider getting a portable wifi hotspot like a Solis. These portable wifi devices are SIM-free, have a long battery life, and allow you to only pay for the data you use.
I have a Solis myself, which I've used so far in countries like New Zealand, Iceland, Morocco, Scotland, Tanzania, and Turkey.
**Save 10% on your Solis with the code ADBSKYROAM.
5. World travel adapter
While traveling with a voltage adapter isn't necessary for most people these days (unless you have a hair dryer or curling iron that isn't dual-voltage), you DO still need to travel with outlet adapters if you're traveling internationally.
This world travel adapter is one of the cooler ones I've seen, as it doubles as a surge protector AND has built-in USB ports. If you're from the US and know you'll need to charge lots of devices each night, this adapter would be super handy.
(If you're from somewhere outside the US or prefer your adapters to be all-in-one, I also still love my SKROSS adapter that I've had for years.)
6. Power strip / surge protector
Not traveling abroad but still need some extra plug outlets and a surge protector? Then you need this Belkin power strip and surge protector. It ends up on almost every gift guide and packing list I write – but that's because I've never replaced mine after years of taking it on every trip.
It's perfect for hotel rooms with a lack of outlets, and is great because it doesn't take up a ton of room in my electronics pouch. I also love that it has no cord/extra wires to get tangled up.
TRAVEL-INSPIRED GIFTS FOR THE HOME
1. Scratch-off map
I like finding creative ways to bring my travels into my everyday life – and that includes in my home decorating! I love these scratch-off travel maps not only because it's fun to reveal all the places you've been, but also because they make for a great conversation piece up on the wall!
I especially like this one from Landmass Goods because it includes all the flags of the world for you to scratch off, too.
2. Custom map gifts
When I buy gifts, I try to make them personalized when I can. It just adds that special extra touch. And a really fun option for a travel-lover is a custom map!
I like these personalized map prints, which would be great to commemorate a special big trip. (A friend of mine got one made after a honeymoon road trip, for example.)
I also love this shop for beautiful watercolor maps of different US states and regions – I might need to buy the Great Lakes one for myself!
3. Adventure fund jar
Looking for something small but cute and very travel-centric? This "Adventure Fund" jar makes a great gift. Elliot and I have had a coin jar on the table in our entryway since we first moved in together, and you'd be surprised how quickly all that loose change can add up!
Order an Adventure Fund jar here!
4. Digital photo frame
This one doesn't have to be just about travel, but would be a good way to share and display your favorite travel photos!
I actually used to have a digital photo frame about a decade ago, back when they were clunky and you had to load photos onto an SD card. These days, digital photo frames look a lot better, AND are much higher-tech. Now, you can send new images to a frame over wifi or via email, and you can also organize them through apps and websites.
We thought of getting my grandma (who lives in a nursing home) one of these for Christmas so we can send her photos and videos since we can't go see her.
Buy a digital photo frame here.
5. Custom View Master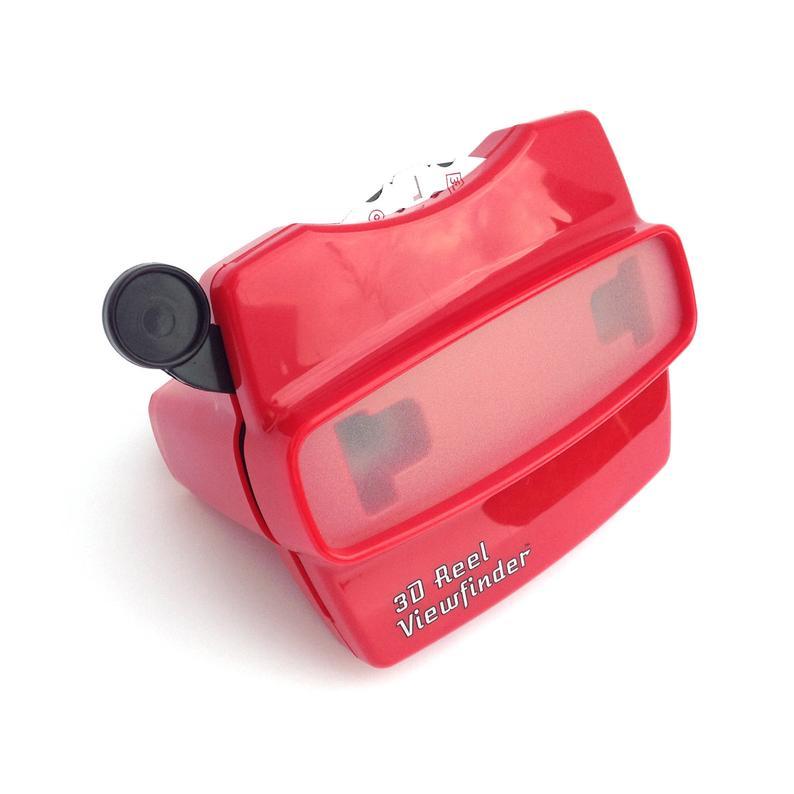 Speaking of unique ways to display travel photos, this one is a fun one! You can gift a Viewmaster with a custom reel of memorable photos (yes, a Viewmaster like the ones you used to play with as a kid!).
I love this as a gift idea, since it's not something a person is likely to buy for themselves. Plus, the ability to choose which photos go on the real makes it a great personalized gift. I gave Elliot one of these several years ago for our anniversary, and he loved it!
Order your custom Viewmaster here.
FOR THE OUTDOOR ENTHUSIAST
1. GRAYL purifier bottle
Have an outdoor adventure enthusiast in your life? Then a GRAYL Geopress would make a great gift. These water bottles are also purifiers, great for backpacking and hiking since they allow you safely drink water from any water source, be it a stream or waterfall.
I have often traveled with a bottle like this, which also works to make tap water safe to drink all around the world by filtering out viruses, bacteria, pesticides, heavy metals, and microplastics.
They have an "ultralight" version of this bottle, too, but I prefer the larger Geopress one, as it's easier to use.
2. Hiking poles
Have you or your loved one picked up hiking as a hobby recently? Lots of people have! In that case, a set of nice hiking poles would be a great gift for Christmas.
(And, before you tell me that they're dorky, hiking poles are an *excellent* piece of gear to own. They can help improve your balance, protect your knees, and even encourage you to pick up the pace on a hike.)
I bought my dad a pair of hiking poles a couple years ago for his long walks with his dogs, and he's brought them on all our trips since! (And yes, you can travel with these; buy the collapsible kind, and pack them in your checked luggage.)
3. Packable sun hat
Sun protection is no joke, people. I've been on a quest for the past couple of years to find a packable sun hat that I love. And I've finally found some! I really love the hats made by the Wallaroo Hat Company, which are not only cute sun hats, but also effective – many of them have UPF protection built right in.
I so far have the Victoria Fedora and the Naples Fedora, and love them both. The Victoria can be folded up and packed (though you'll want to unfold it as much as you can).
These hats aren't cheap, but are good quality and last a long time – making them a great gift.
FOR THOSE WHO JUST WANT TO HAVE FUN
Looking for something fun to gift the game-loving traveler in your life? Here are some fun and interactive gift ideas.
1. Lonely Planet Everyday Adventures
Lonely Planet is usually known for its travel guidebooks, but recently they released a new "guide" called Everyday Adventures, which aims to give people new ideas of ways to explore places closer to home. I'm a big fan of hometown travel, and think this would make a fun gift, especially this year.
2. Travel LEGO sets
Jigsaw puzzles are SO last lockdown. If you want to amp it up a bit and buy something the whole family can work on together over the holiday break, why not a travel-inspired LEGO set?
Elliot and I got a very tiny LEGO version of Big Ben for Christmas last year, and worked on it during the first round of lockdowns. It was super fun, and I had no idea LEGO's architecture line was so extensive! They have everything from mini city skylines (like Paris and London and Tokyo) to intricate sets to recreate famous sites like the Statue of Liberty and Trafalgar Square.
3. Travel-themed board games
In our house, we are big fans of board games. (Any fellow Betrayal at House on the Hill fans out there? It's a current favorite of ours.) But don't assume that board games only mean Monopoly and Clue. There are SO many great games out there.
For those who want to weave a bit of travel into their board games, check these out:
FOR THOSE WHO DON'T WANT "STUFF"
I personally enjoy buying people physical gifts to open on Christmas Day, but it can be really tough to find things that are both thoughtful AND useful. Sometimes, more "stuff" just isn't the answer.
If you're looking for some non-material things to buy the traveler in your life this year, here a few things to consider:
1. Flytographer session
Whether you're traveling solo, with a partner, or as an entire family, it can sometimes be really difficult to get good photos of yourself. I often travel with a tripod to get the shots I want, but others usually just rely on the goodwill and photography skills of strangers – which we all know usually leads to absolutely terrible photos.
If you want to make sure your friends and loved ones get truly beautiful vacation shots to take home, why not gift them with a Flytographer session?
The way Flytographer works is pretty simple: you choose the city, choose a photographer, choose the length of your session (60 minutes is probably enough), and then book! And then you go have a fun professional photo shoot and get a few dozen edited photos to keep.
Flytographer operates in more than 300 cities all around the world, and you can even buy a gift card that never expires.
Learn more about Flytographer here!
2. GetYourGuide gift card
I've been booking a lot of day trips and tours recently through the GetYourGuide platform. I find this booking platform really easy to use (they even have a handy app to keep track of all your tickets for you), and appreciate how many user reviews there are to read for most tours.
GetYourGuide has thousands of tours and experiences to choose from all around the world, from cruises to day trips to food tours. I've booked things like an island tour of Aruba, wine tasting in the Douro Valley in Portugal, a day trip to Essaouira in Morocco, sightseeing in Istanbul, and more through GetYourGuide.
You can purchase a GetYourGuide gift card for any amount and gift it to a friend of loved one. Gift cards are good for 18 months, and can be used to book any experience or tour on the site.
3. Scott's Cheap Flights subscription
Flight deals are back, baby, and there's no better way to learn about the best ones than with a subscription to Scott's Cheap Flights. This flight deal newsletter does have a free version, but you get so many more flight deal alerts with their Premium membership.
Premium plans usually cost $49 for the year (which, honestly is still very reasonable), but right now they're running a deal where you can save $25!
Sign up for Scott's Cheap Flights here!
4. Bookings for future travel
While travel certainly isn't "back" yet, the travel industry as a whole is in a much better place than it was in 2020. People are starting to think about planning trips again, and there are plenty of deals to take advantage of (either for you or a loved one) this time of year.
Some companies offering great sales AND solid cancelation/no-change-fee policies include:
Intrepid Travel – My favorite tour company is once again doing a Cyber Sale, offering up to 25% off tours for 2022 (valid through Dec. 1). They have a flexible booking policy, with no change fees up to 28 days before you travel.
Booking.com – The hotel booking site (that I personally use most of the time) is offering 30% or more off on stays completed before July 1, 2022. Many hotels on Booking offer free cancelation, so this is a deal worth taking advantage of if you're thinking of planning a trip in the first half of 2022!
5. Plot of land in Scotland
Okay, this one may seem a little weird or silly, but this is what we bought my in-laws last year for Christmas and they LOVED IT.
Highland Titles is a company that sells souvenir plots of land in Scotland, along with a title like Laird, Lord or Lady of Glencoe. If you order far enough in advance, they'll send you a beautiful gift package with certificates and cards with GPS coordinates denoting where your land is.
Because yes, you're *actually* buying a tiny plot of land within a designated nature reserve in Scotland. You can even go visit your plot in real life, which I just think is delightful.
This is a really fun and personalized gift, and who knows, maybe it'll prompt a trip to Scotland someday, too!
(We bought the "couples plot," which is two 1-square-foot plots next to one another. You can purchase anywhere from 1 to 100 square feet. And no, this isn't sponsored; I just think it's such a fun gift idea.)
Learn more about Highland Titles here!
---
So there you have it – another year, another gift guide!
Which of these items would you like Santa to bring YOU this year?
Pin it for later: