Some posts on this site contain affiliate links, meaning if you book or buy something through one of these links, I may earn a small commission. Read the full disclosure policy
here
.
---
The view out of the small plane window was largely unremarkable as we reached cruising altitude above the foothills outside Wellington. The aerial view of the Rimutaka Range, the low mountains that force New Zealand's capital city to hug the Pacific coastline, would likely have been stunning on that late winter morning. There may have been a few last traces of snow present on the first day of August, or perhaps the first hints of the prickly, yellow gorse bushes that would begin to cover the hillsides in spring.
Both of these views — and any others in between — were made impossible, however, by the thick, low clouds that had settled right at the base of the Rimutakas. Crossing my fingers and hoping for clearer skies later, I settled for watching fat droplets of water condense outside the thick window pane as the New Zealand landscape slipped by beneath a soggy grey blanket.
Fortune must have been looking favorably upon me that morning, however, because the skies began to clear the further north we flew. By the time our plane began its descent toward Auckland, dazzling rays of sunlight were piercing the wispy clouds, and the ground as far as I could see had been transformed into a rolling sea of green beneath our wings. It was hard to believe that less than an hour before I had been fighting for control of my umbrella with a strong Wellington southerly and its horizontal rain.
I craned my neck, straining to see if I could pick out the sheep that dotted the green hills or the coast that I knew couldn't be very far away. We passed briefly through one last trace of a low cloud, and, bursting through the other side, were greeted by a stunning swath of deepest green stretching all the way to the sea. My mind immediately wandered to a line from J.R.R. Tolkien's "Fellowship of the Ring," describing when the hobbit Frodo first sees Valinor, the elves' Undying Lands. Tolkien wrote that, "the grey rain-curtain turned all to silver glass and was rolled back, and he beheld white shores and beyond them a far green country under a swift sunrise."
For a moment, I felt as if I, too, was looking upon Middle-Earth.
——
Though the main motivation for the trip up to Auckland was to see New Zealand's national rugby team, the All Blacks, take on the Australian Wallabies, a group of six international students — including me — from Massey University had also planned to take a day trip to Matamata, where the Hobbiton scenes in the "Lord of the Rings" trilogy were filmed.
As the six of us filed through the turnstile that marked our entrance into the small arrivals area of the Auckland Domestic Airport, we were immediately greeted by a grinning Vic James. Vic, co-owner and operator of Red Carpet Tours, would be our guide for the day.
"Good to see you again!" Without even waiting for a handshake, he promptly wrapped me in a big bear hug, his protruding belly limiting how close we could get. "How long has it been now? Two years?"
"Three," I corrected him, smiling. "It's good to be back."
This wasn't my first time in New Zealand, nor would it be my first time visiting the Hobbiton site. In 2005, following my high school graduation and after three years of saving my meager paychecks from my job at a movie theater, I joined a Red Carpet Tour in order to see New Zealand. I spent fourteen days traversing the country with Vic, his wife and tourism partner Raewyn, and nine "Ringers" (code for "Lord of the Rings" fans) from around the world.
Like most Red Carpet groups, we had gone to New Zealand an eclectic hodgepodge of strangers with nothing in common except our love for hobbits, elves, and all things Middle-Earth. But after traipsing through snow on the side of a volcano, fording mountain streams bare-legged in the dead of winter, and sharing more than a few laughs at our own expense, that one commonality was more than enough to break down the barriers of age, culture, and language, making way for friendships and lasting memories.
The situation that day in Auckland wasn't so dissimilar. Though I knew Josh, Jen, Denise, Una, and Melinda from Massey, this was the first time we were all travelling as a group.
We were only going to spend a day in Middle-Earth together, but, standing in the arrivals area of the airport with our adventure just about to begin, I already felt as though we shared something unique.
I quickly introduced everyone in the group to Vic, rattling off where each of them was from: Iowa via California, Illinois, Vermont, North Carolina, and Germany. Vic enveloped each of their hands between both of his, grinning and welcoming them in turn to Auckland.
As Vic led us to the parking lot, I smiled, pleased to see that the past three years had failed to change him in the least. Vic looked the same as I remembered him. He was wearing a local rugby polo shirt and his signature bone Koru necklace — a spiraling Maori symbol carved like an unfurling fern to represent growth, strength, peace, and eternity. He was plump and balding, but still walked with a spring in his step. Were he a bit younger (i.e. young enough to still have hair) and disinclined to sport footwear, he would be the epitome of Tolkien's hobbit — in looks, at least.
——
Before long, we were merging onto Highway 1 south toward Hamilton. Vic guided the van though the downtown Auckland congestion, and crossed over the Waitemata Harbor via the eight-lane harbor bridge. The Auckland Sky Tower, standing four meters higher than Paris' Eiffel Tower and therefore making it the most iconic structure New Zealand has to offer, was visible on the horizon as we made our way out of the city. Once out of city limits, we soon veered off onto Highway 27, the smaller roadway that would take us all the way into the farming town of Matamata in New Zealand's Waikato region.
The further south we drove, the more apparent it was that we were getting into the heart of New Zealand. The four-lane highway gave way to a meandering two-lane road that wove through the rolling green hills we had glimpsed from the plane that morning. Compared to some of the driving I've done on twisting coastal roads and narrow, unpaved mountain passes in New Zealand, the drive to Matamata was downright leisurely. Had it not been for the company and conversation, there's probably a good chance that I would have dozed off.
Our journey through the Waikato region was peppered with a few bursts of rain, followed by some stunning rainbows. One of them spanned in full prismatic glory across the road in front of our windshield, a splash of color against a blue-grey sky. Una and Denise, seemingly permanently attached to their cameras, didn't let their shutters take a break. And, as if driving into a rainbow weren't picturesque enough, the scene was further enhanced by the pastoral beauty of the region.
The first of the season's sheared sheep ambled along fence lines as we drove, scattering in all directions when the van trundled by. Others could be spotted clinging to the steep hillsides, which were slightly terraced from years of livestock use. Even though New Zealand was clinging to the tail-end of winter, the close-cropped grass in all the fields still managed to be an unusually brilliant shade of green. It was as if someone was holding a piece of green cellophane in front of the sunlight that was bathing the pastures. Perhaps that's just what happens when there's less ozone for it to filter through.
"They sure weren't kidding about the sheep here." Una had her eyes fixed on a relatively large flock all sporting red, spray-painted blotches on their backs. They were huddled together in a conspicuous group, their muddied wool coats proof of the wet weather the region was experiencing.
"Those ones are pregnant," Vic said, following Una's gaze to the tagged flock. "We're right on the brink of lambing season now."
"Aww, I wanna see baby sheep!" Una strained her neck, as if looking harder would reveal a lamb.
"Another week or so, and you will," Vic told her.
As we drove through the undulating farm country, Vic kept us occupied with stories — stories of New Zealand, stories about how Red Carpet Tours came into being, and some of his favorite tour stories. He passed around Red Carpet Tours brochures, photos, and even a book a devoted Ringer made. When it comes to "Lord of the Rings" fans visiting Peter Jackson's Middle-Earth, it seems as if nothing is too crazy or ridiculous.
"What's the weirdest thing someone's done on a tour?" Jen piped up from the back. She was still browsing through the book Vic had passed back to us, eyeing fans posing in full Rings attire — weapons often included — in various locations. From mountaintops to upscale hotel lobbies, it seems you can never go wrong wearing a pair of hobbit feet.
Vic thought about it for a moment, then started chuckling.
"There have been some really… unique individuals on our tours," he began. "But, personally, I think the time I remember feeling strangest was during a tour we did with about 80 Japanese." That tour, Vic went on to explain, entailed multiple tour buses, a translator, and a good majority of non-English-speaking tourists.
"We had arranged to have dinner with Craig Parker — the local Kiwi actor who played the elf Haldir in the films. Apparently he's very popular in Asia, because when he walked into the room, the young Asian women started screaming, and then crying."
"Like, actually crying?" Una asked, peeling her eye away from her camera's viewfinder long enough for me to glimpse a look of mild horror on her face.
"Actually crying," Vic said with a nod. "Yeah," he mused, "that was certainly an interesting tour. I don't know if I'll ever forget the sight of 80 Japanese following me up the side of Mount Victoria, every one of them wearing a hobbit cloak." We all began laughing, picturing cloak-clad Japanese women (Vic said there were only eight men on that tour) skirting the side of the mountain in downtown Wellington that we all knew so well. We had all climbed parts of it ourselves — though, admittedly, in much less theatrical garb.
——
As we neared Matamata, Vic began telling us a little of the background of the filming location. Located on a sheep and cattle farm owned by the Alexander family, the Hobbiton site, as it appears today, is a bit of an accident — or, perhaps to us fans, a bit of really good luck.
It all began, Vic explained, back in 1998 when helicopter scouts started combing New Zealand for possible filming locations for Peter Jackson's massive cinematic project. The particular scout that discovered the Alexander farm had been given the task of finding a suitable location for the hobbits' party scene, meaning he needed to find a lake or pond with a field and large tree on its shore. Fran Walsh, co-writer of the script, suggested Matamata because she remembered visiting the area as a child.
The story goes that the scout spotted the perfect site from the air, landed on the farm, and then made his way to the Alexander house to discuss filming possibilities with the owners. Ian Alexander, however, was in the middle of watching a rugby match on TV, and told the scout to "come back later."
"Typical Kiwi," Vic said. "A lot of us are like that though: put rugby before most things — everything if we're playing the Aussies." He simply shrugged his shoulders as we laughed.
"But luckily," Vic continued, "the scout listened."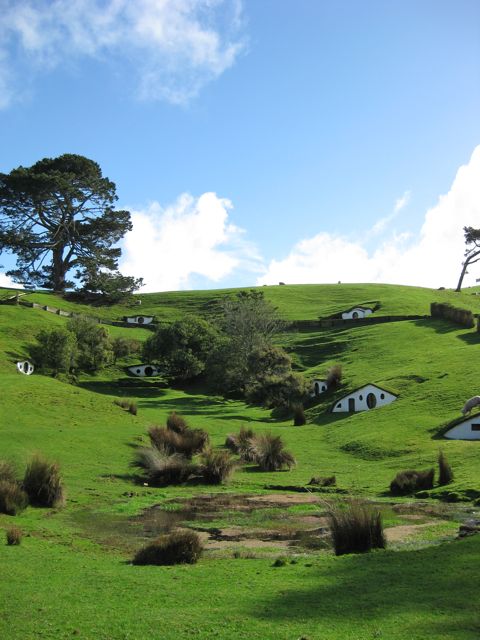 The Alexander farm ended up being used for the whole of Hobbiton, and not just the party scene as originally intended. The fronts of the hobbit homes (in the form of hole-like dwellings) were built into the hillsides above the pond. A mill was erected on the edge of the water, gardens were planted, and an artificial tree — complete with hundreds of thousands of fake, sewn-on leaves — was placed on top of the Baggins' home, Bag End, in accordance with the description of Bilbo's abode from Tolkien's books.
Perhaps inevitably, once filming began, life as usual on the Alexander farm took a turn toward the unusual. First there was the road the New Zealand Army built to make it possible for trucks and trailers to get to the site. Then came the trailers, tents, animals, props, actors, and extras. Most of it was taken care of by New Line, the production and distribution company for the films, though, and the Alexanders were able to continue operating their farm. New Line was in charge of all the building, and was also supposed to be responsible for demolition of the site after filming ended.
"But here's where things get really interesting," Vic said.
New Line sent a bulldozer to tear down the hobbit holes, but a particularly wet season made it impossible to reach the seventeen holes built higher in the hillsides. The driver said he would come back once the ground firmed up. Six months passed, however, and the now-bare hobbit holes remained. Ian Alexander finally rescheduled the demolition, but, less than twenty-four hours before another bulldozer was set to arrive, a rather hobbit-like man showed up on the farm: Vic James.
"Back then, no one knew that any of the holes were still standing. We all assumed they'd been destroyed," Vic explained. "So, imagine my surprise when I took a walk down to the site to find seventeen in-tact hobbit holes!"
Vic had visited the farm in early 2001, when plans for his tour company were newly under way. He had expected to simply approach the Alexander family about bringing tour groups to the farm, but, instead, ended up playing an integral role in saving the hobbit holes from destruction, which included getting the okay from New Line itself.
"Like a lot of the private land owners we deal with, we also have a good relationship with the Alexanders," Vic said. "We're the only private tour company allowed to operate on the farm. Everyone else has to go through the farm tours that leave from town."
——
We eventually turned onto Buckland Road — a complete coincidence, Vic assured us, even though Buckland happens to be the name of a region of Tolkien's Shire — and began a winding drive onto the Alexander property. Vic popped in a homemade CD with music from Howard Shore's "The Lord of the Rings" soundtracks on it to set the mood, and I remembered back to a similar CD he had played three years earlier during this same twisting drive.
The fiddle refrain of the Shire theme rose and fell as the green hills around us swelled and dipped, almost as if the music had been composed for this very purpose. The CD wasn't exactly as I remembered it — it has, in the past three years, been supplemented with newly released extended soundtracks and bonus songs — but the emotions I felt were the same.
"I think I'm going to cry," Melinda said quietly from the back of the van, her German accent making her words sound thick and heavy. Glancing around, I had a feeling Melinda wasn't the only one.
To be continued…
For the second half of my Hobbiton adventure, please click here!