Some posts on this site contain affiliate links, meaning if you book or buy something through one of these links, I may earn a small commission. Read the full disclosure policy
here
.
---
It's been more than a decade since the release of the last Harry Potter book (and also more than a decade now since the release of the last Harry Potter movie!), and yet the fandom is still going strong. Harry Potter is a cultural phenomenon that may never fade away.
And this Harry Potter fan is totally here for it!
If you're a huge Harry Potter fan like me, then you'll definitely want to add Edinburgh, Scotland to your travel bucket list. Edinburgh is where Harry Potter author JK Rowling lived while she wrote most of the Harry Potter books, and has many Harry Potter ties.
In this historic city, you can visit gravestones that might remind you of some of your favorite Harry Potter characters, see buildings and streets that definitely (probably) inspired JK Rowling, hang out in cafes and hotels where chapters were written, and shop in various Harry Potter-themed stores.
If you want to get your Harry Potter on in Edinburgh, here are the top things you'll want to do. (And yes, I've personally tried/visited every one of these myself across several trips to Edinburgh.)
RELATED: 25+ Awesome Things to Do in Edinburgh, Scotland
8 Harry Potter-related things to do in Edinburgh
If you're a Harry Potter fan headed to Scotland anytime soon, here are the top Harry Potter sites in Edinburgh that you won't want to miss.
1. Visit Victoria Street
My favorite street in Edinburgh also happens to have Harry Potter ties (coincidence?). Victoria Street is a curving, cobbled street in Edinburgh's Old Town that connects George IV Bridge and Grassmarket.
The street is known for its historic stone buildings with brightly-painted shops on the ground floor – very Diagon Alley-esque. While JK Rowling has never explicitly said that she took inspiration from this street, it's not difficult to imagine that she may have.
While you're on Victoria Street, you can pop into some magic- and Harry Potter-themed shops like Museum Context and The Great Wizard (formerly The Boy Wizard). These shops are filled with everything from Harry Potter wands to wizard-y artwork, and are fun to explore.
2. Wander through Greyfriars Kirkyard
I love exploring cemeteries when I travel (the older the better), so Greyfriars Kirkyard would probably have been on my list even if it had nothing to offer me as a Harry Potter fan.
The cemetery, connected to the 17th-century Greyfriars Kirk, has graves dating back to the 1600s – and has some spots of interest to Potterheads, too.
Wander through Greyfriars Kirkyard (especially some of the gravestones along the remnants of the old Flodden Wall), and you may spy some very familiar names. The most famous gravestone is probably that of Thomas Riddell, followed by graves for William McGonagall (a famously bad Scottish poet), Elizabeth Moodie, and Daniel Scrymgeour.
JK Rowling has never said that she took specific character names off gravestones in this old cemetery. But the cemetery is located within easy walking distance to cafes Rowling did some of her writing in, and she definitely HAS said she's always loved the name McGonagall.
(If you want to learn more about the cemetery, there's even a walking tour you can book!)
BONUS: Greyfriars Kirkyard is also next to George Heriot's School, a historic primary/secondary school. Rowling wasn't living in Scotland when she first conceived of Harry and Hogwarts, but the school sure looks a lot like Hogwarts with is stone walls and four towers. Students at George Heriot's are even sorted into four houses.
3. Get dessert at the Elephant House
Walk past The Elephant House cafe on George IV Bridge, and you'll likely see people posing for photos next to the sign in the window that proclaims it as the "Birthplace of Harry Potter."
That claim is a stretch – Rowling has said she got the idea for Harry years before she moved to Scotland – but she DID write at The Elephant House in the early days when she was a poor cafe-hopping writer.
The Elephant House can get very busy with Harry Potter fans, but it's usually quieter if you pop in for dessert or tea later in the evening. The cakes here are really good, and the cafe interior is cozy. If you can snag a seat by a window, you'll get a pretty great view of Edinburgh Castle (something Rowling loved about this spot).
You'll also want to use the restrooms here – fans have covered every inch of the walls with graffiti messages to various Harry Potter characters.
The other cafe where Rowling definitely spent time writing in Edinburgh (Nicolson's) is no longer around; it was turned into a restaurant called Spoon, which is also now closed.
4. See JK Rowling's hand prints
In 2008, JK Rowling* was awarded the Edinburgh Award, and had her handprints cast in front of The City Chambers. Stop by for a visit and quick photo while you're on the Royal Mile.
*Honestly, after her recent spate of very transphobic comments (and zero remorse for them), I personally don't really look up to JK Rowling any more as a person, especially after she wrote books that extolled messages of acceptance and friendship. But if you want to visit this spot, it's there.
You can see most of the above sites on a Harry Potter walking tour of Edinburgh. The most famous tour is the Potter Trail, a free walking tour that runs daily. This tour can get very busy, though, so keep that in mind. Another fun option is this tour that focuses on JK Rowling's Edinburgh (it's long, though), or this one that has a trivia element.
5. Admire the Balmoral Hotel
JK Rowling went from writing the first couple Harry Potter books in Edinburgh cafes to finishing the final novel in a suite at the 5-star Balmoral Hotel. The suite (Room 552) is now named the JK Rowling Suite, and has on display a marble bust of Hermes that the author signed when she finished writing Harry Potter and the Deathly Hallows there in 2007.
Chances are fitting a stay in this suite into your Edinburgh itinerary probably isn't in your budget (the room goes for around $2000 per night), but you can still stop in to The Balmoral Hotel. Their SCOTCH whisky bar is especially good for a drink.
6. Take a themed afternoon tea bus tour
*Note: It looks like this bus tour has changed slightly since I took it in 2019. There is still a Harry Potter-themed bus tour with drinks and food offered at certain times of year, but it's no longer a themed afternoon tea like this. (Though they still offer an afternoon tea bus tour, though, which is still pretty awesome.)
I'm obsessed with afternoon teas in the UK, and there's a unique Harry Potter one you can do in Edinburgh. It's put on by Red Bistro Bus, and takes place on a converted red double-decker bus. The bus interior is loosely Harry Potter-themed, and you're served things like I-Can't-Believe-It's-Not-Butter-Beer, chocolate frogs, and other afternoon tea trappings.
You enjoy said afternoon tea as you drive the streets of Edinburgh, seeing many of the spots that inspired (or may have inspired) JK Rowling.
I did this tour after I'd already done a Harry Potter walking tour, so many of the stories were similar. But I loved it just the same!
Book an afternoon tea bus tour like this! It's a fun way to see Edinburgh AND enjoy an afternoon tea.
Alternative: Wizard tea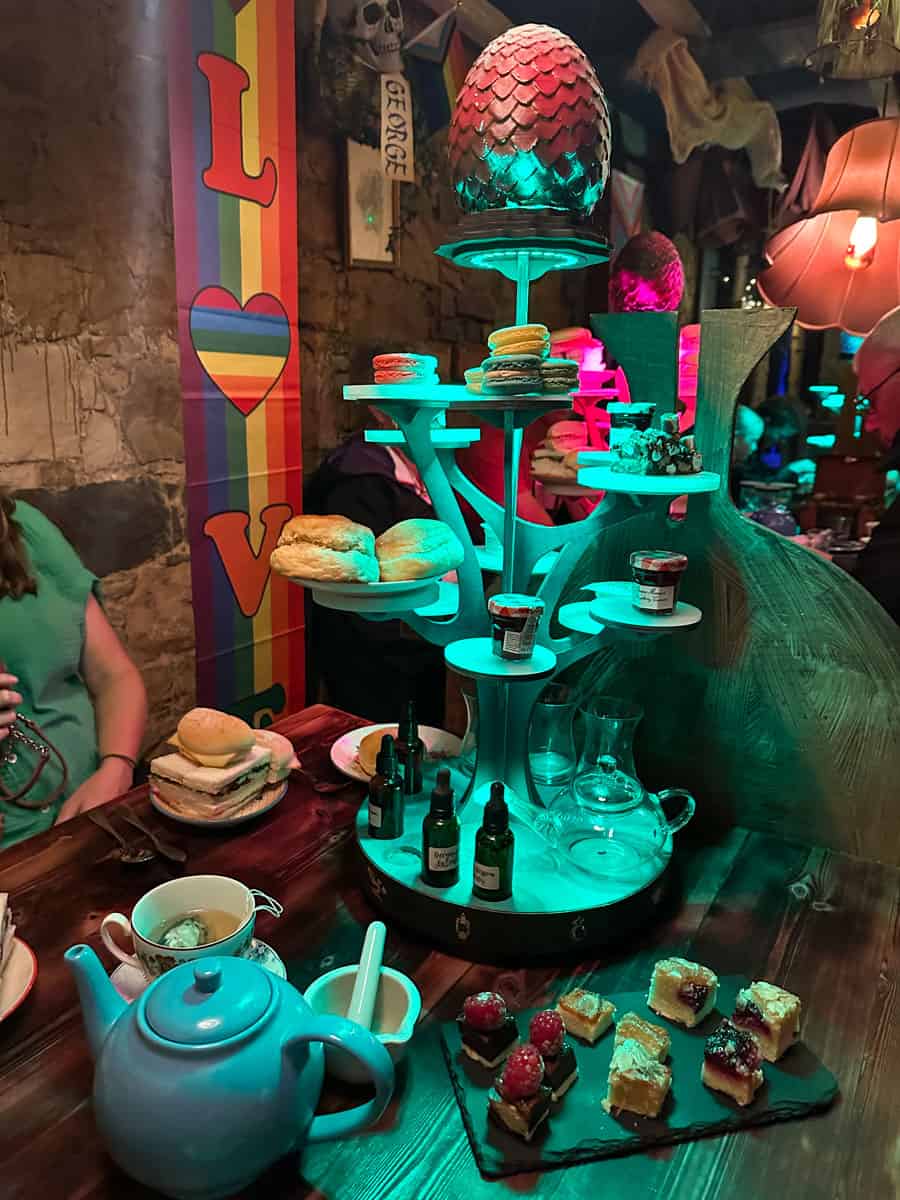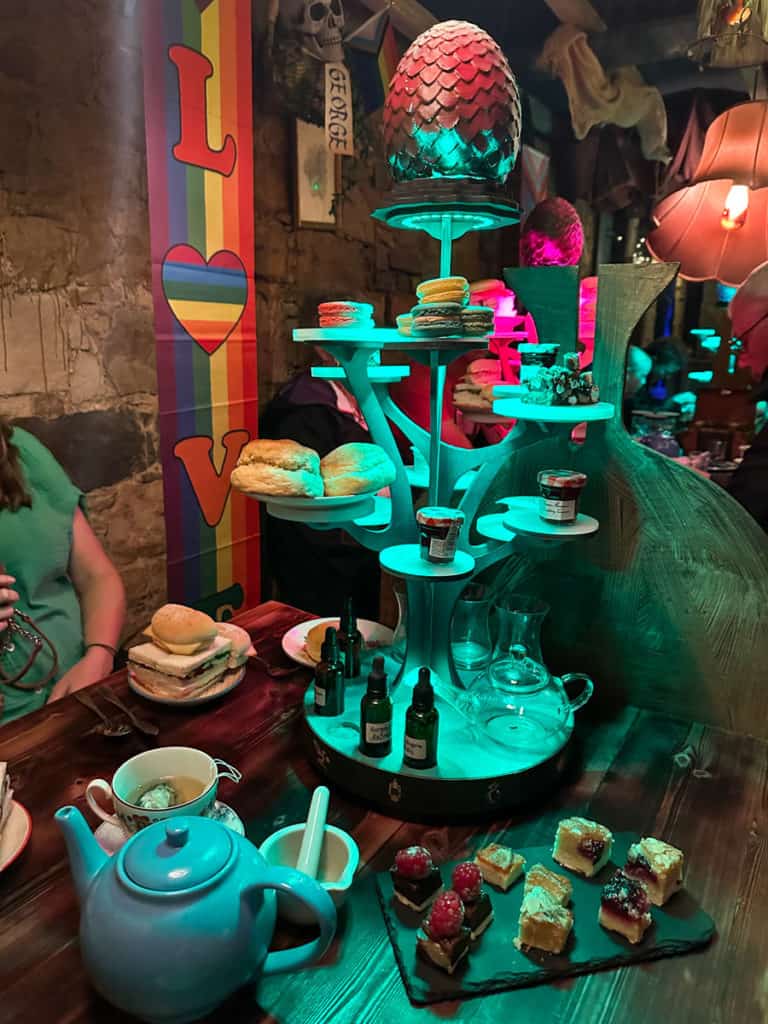 Since the afternoon tea bus tour is no longer Harry Potter-themed, a good alternative is to head to The Cauldron on Frederick St in the New Town. They offer a magical wizard-themed afternoon tea that's suitable for the whole family.
During this immersive experience, you'll brew your own potions (teas), solve puzzle boxes, and use wands to discover things about your tea stands, all while you enjoy a full afternoon tea spread. This experience is magic-themed, but not directly Harry Potter-themed – probably for copyright reasons. But it's still a lot of fun!
The space is really cool, too – you definitely feel like you've stepped into the Gryffindor common room.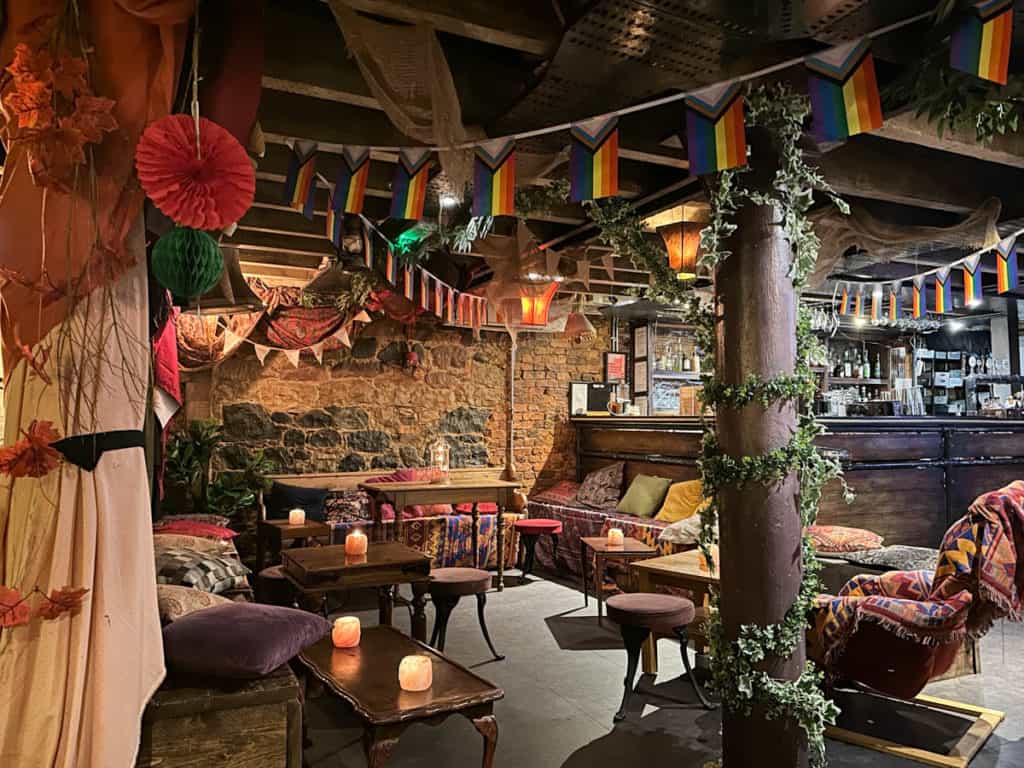 7. Have a Harry Potter-themed cocktail
If adult beverages are more your speed, head for the Magic Potions Tavern at Department of Magic. This spot is most known for their Harry Potter-themed escape rooms (a fun thing to do if you're traveling with friends!), but you can also stop in for magical cocktails – which you "brew" yourself!
(The Cauldron also has a magical cocktail experience.)
Afterwards, maybe keep the theme going with dinner at The Devil's Advocate. It's not actually Harry Potter related, but it's a cool restaurant tucked away down a narrow close, and feels very Potter-esque.
8. Take a ghost or witch tour
Edinburgh has always had a slightly spooky and witchy past (the city is almost 1000 years old, after all, and used to routinely burn and drown witches), so signing up for a ghost tour is basically mandatory.
There are a variety of different spooky tours you can try, from ones that take you down into the city's underground vaults after dark, to walking tours that focus on the city's "darkside."
Where to stay in Edinburgh for Harry Potter lovers
I've already mentioned The Balmoral Hotel suite for super-fans, but here are some more options for Harry Potter fans in Edinburgh that are a bit easier on the budget:
Harry Potter apartment 1 – This apartment is located conveniently right at the corner of Victoria Street and Grassmarket, within easy walking distance to restaurants and the Royal Mile. The apartment is tastefully Harry Potter-themed, with fun wall paper and even "hidden" doors.
The Witchery by the Castle – For those looking for a hotel stay, you could consider The Witchery, a boutique hotel with 9 "indulgent" suites that will make you feel like you're sleeping in a very luxurious Hogwarts.
READ NEXT: Riding the Harry Potter Train in Scotland
Other Potter-themed tours to take from Edinburgh:
---
Are you a Harry Potter fan? Which of these would you most like to do in Edinburgh?
Pin it for later: