Some posts on this site contain affiliate links, meaning if you book or buy something through one of these links, I may earn a small commission. Read the full disclosure policy
here
.
---
You think you know what the sensation of flying feels like.
Being pushed back into your seat on take-off; the bounce and squeal of the wheels upon landing. You're familiar with the banks and bumps and pressure-popping in your ears and the drone of the engines as you travel through the atmosphere at 30,000 feet.
But forget everything you think you know about what it feels like to fly when it comes to going up in a helicopter.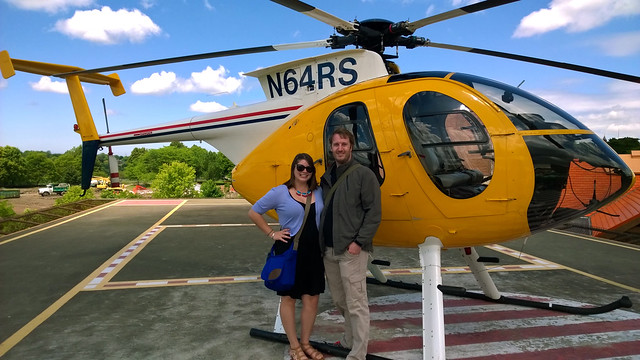 The take-off is vertical. The banking is much quicker and more extreme. Oh, and did I mention that a helicopter only carries about 4 people?
I've been up in a helicopter once before (years ago in New Zealand), but when my partner Elliot and I decided to head to Niagara Falls for a weekend (and considering he'd never been up in a chopper before), we decided to splurge and book a short helicopter tour after talking about what to do in Niagara Falls.
We contacted Rainbow Air, the only helicopter tour company operating on the American side of Niagara Falls. Family-owned and operated, Rainbow Air boasts one of the best rides — their helipad location near the Rainbow Bridge means that you get to swoop low and close over the American Falls, and then figure-8 over Horseshoe Falls, as well.
And the ride absolutely lives up to the promise of great views. In fact, the views are INCREDIBLE.
It's one thing to see Niagara Falls from ground-level. But it's another entirely to see it from above.
The ride was of course over way too fast. And some might argue that the price tag of $105 per person for a 12-minute ride is way too expensive.
But you know what? I think it was absolutely worth it!
There are just some travel experiences that are must-dos, and I really do believe that this is one of them.
IF YOU GO…
WHO: Rainbow Air
WHERE: 454 Main St., Niagara Falls, NY
WHEN: Daily May-October (weekends only March, April, November, and December),and rides are weather-dependent; they don't take reservations, so rides are first-come, first-served.
HOW MUCH: $105 per person per ride
Would YOU want to do a tour like this at Niagara Falls?
*Note: We did receive a complimentary flight from Rainbow Air, however we showed up prepared to pay for it because it really is worth doing! As always, you can count on me to tell it like it is, no matter who's footing the bill.