Some posts on this site contain affiliate links, meaning if you book or buy something through one of these links, I may earn a small commission. Read the full disclosure policy
here
.
---
When most people think of road trips in the United States, they think of wide open spaces and putting thousands of miles on the odometer. But what if I told you there was a way to stretch a 165-mile journey into a weeklong road trip?
You might think that sounds silly, but it can totally be done in the Florida Keys. This island chain is such a unique destination that you really can spend a week island-hopping here and still not see everything.
My husband Elliot and I had been talking about doing a trip to the Keys for years, and we finally made it happen. We spent roughly a week traveling from Miami to Key West – which, yes, you can totally do by car! (This trip taught me that not everyone knows that the Florida Keys are all connected by a highway; so consider this your confirmation that they are!)
If you, too, would like to explore the Florida Keys slowly on a road trip, keep reading.
Note: Our trip was part of a paid partnership with The Florida Keys and Key West, but my opinions and recommendations are, as always, 100% my own!
An introduction to the Florida Keys
The Florida Keys is an island chain that stretches westward off the southern coast of Florida. The archipelago consists of hundreds of tiny islands formed atop a coral reef (the third-largest barrier reef in the world, in fact, which separates the Gulf of Mexico from the rest of the Atlantic Ocean), though only 30-40 of them are inhabited in any way.
The Keys stretch for nearly 200 miles from the southern end of Florida all the way to the Dry Tortugas, though US-1 will only carry you about 120 miles to Key West.
The history of the Overseas Highway
Up until the early 1900s, the Florida Keys were only accessible by boat. This changed in 1912, when Henry Flagler completed his Overseas Railroad, which connected the Florida East Coast Railway to Key West. The railroad brought tourism to the Keys, and Key West especially hoped to use it as a way to survive the Great Depression.
Unfortunately, a Category 5 hurricane hit the Middle Keys in 1935 (the infamous "Labor Day Hurricane"), destroying a portion of the Overseas Railroad and putting a damper on people being able to easily visit. The railroad was never repaired, but the Overseas Highway still offered a way to visit the Keys – eventually.
The original Overseas Highway was completed in 1928, but it consisted of two separate bits of highway and required travelers to take a car ferry for 41 miles between them. It was all connected by 1938, utilizing portions of the former Overseas Railroad in some spots.
New bridges were built to replace the old, narrow railroad ones in the 1980s (including the new Seven Mile Bridge), which is what you'll drive on now.
Today, you can drive all the way to Key West on the Overseas Highway, which stretches for 113 miles and crosses 42 bridges. It's not a far distance (technically you can get to Key West from Miami in about 3 hours!), but it makes for a bucket list-worthy road trip.
Florida Keys culture
The Florida Keys are technically part of Florida – but the joke is that you should never tell a Keys resident that. This tropical island chain feels less and less like mainland Florida the closer to Key West you get.
You'll find a laid-back island culture in most of the Keys, not unlike what you'd expect to find in other Caribbean destinations.
And, in fact, Key West went so far as to secede from US the back in 1982. The secession was in protest of a roadblock and inspection points being enforced by the United States Border Patrol.
The mayor and city council renamed the city the Conch Republic, declared war on the United States, surrendered immediately, and then applied for a billion dollars in aid. You'll still see flags of that sovereign nation all over the island. (Read more about this bizarre historical event here.)
If you're thinking that the Florida Keys sound like a unique place to visit, you'd be right. Whether you're looking for history, outdoor activities, quirky tourist attractions, or a good food/drink scene, you'll find it all in the Florida Keys.
When to visit the Florida Keys
The Keys have a fairly tropical climate, with warm and steamy summers, and mild temperatures through the winter. (The northern parts of Florida can experience frost and even snow, but you won't find any of that in the Keys.)
The Gulf Coast and Caribbean have a distinct hurricane season, though (usually June-November, with August and September often being the most active months), which means that the ideal time to visit may depend on your personal preferences and level of risk tolerance.
Here's what you can expect in each season in the Florida Keys:
Winter in the Keys: The winter months (December-February) are high season in the Keys; the weather is fairly mild (highs usually in the mid-70s F), with less humidity and little rain. This time of year has perhaps the best weather, but it's also the most crowded.
Spring in the Keys: Spring (March-May) is a good time to plan a visit. Temperatures and the humidity level start to rise through May, but both are still bearable. The winter crowds leave after Spring Break, so you'll find better hotel prices.
Summer in the Keys: Summer (June-August) is low season in the Keys. While you can often find good deals during this time, it gets super humid and average temperatures will hover in the mid- to high-80s F. This is also the start of hurricane season.
Fall in the Keys: It stays hot through September and October, and then starts to cool down in November. This is a slower season, but also generally the height of hurricane season.
Elliot and I visited in September, which maybe would not have been my first choice. The weather was hot (usually around 85 F each day, with 70-80% humidity), but afternoon thunderstorms/rain showers brought a little break from the sun almost every day without really compromising our plans.
And we had no hurricane threats (hurricanes aren't super common in the Keys, but they can happen).
This wasn't a BAD time to visit (not needing to make restaurant reservations or wait in line for anything was really nice!), but if I had to choose again I think I'd want to visit in the spring.
7-day Florida Keys road trip itinerary
Before we jump into the exact Miami to Key West road trip itinerary that we used, let me first point out that the "theme" of our road trip was sustainability. The Florida Keys have all sorts of cool initiatives (like a ban on plastic straws!) and businesses that are working to promote more responsible tourism and tourism practices throughout the Keys.
I was really excited to learn about all of this, so it's a theme you'll see popping up throughout this trip!
Highlights of this Florida Keys road trip itinerary include:
Water and wildlife activities on Key Largo
Watersports and the Turtle Hospital in Marathon
Driving Seven Mile Bridge
Swimming at Bahia Honda State Park
Looking for Key Deer on Big Pine Key
Mangrove kayaking
Sightseeing and historical sites in Key West
Dolphin watching, snorkeling, and sunset cruise
Day trip to Dry Tortugas National Park
Plus more!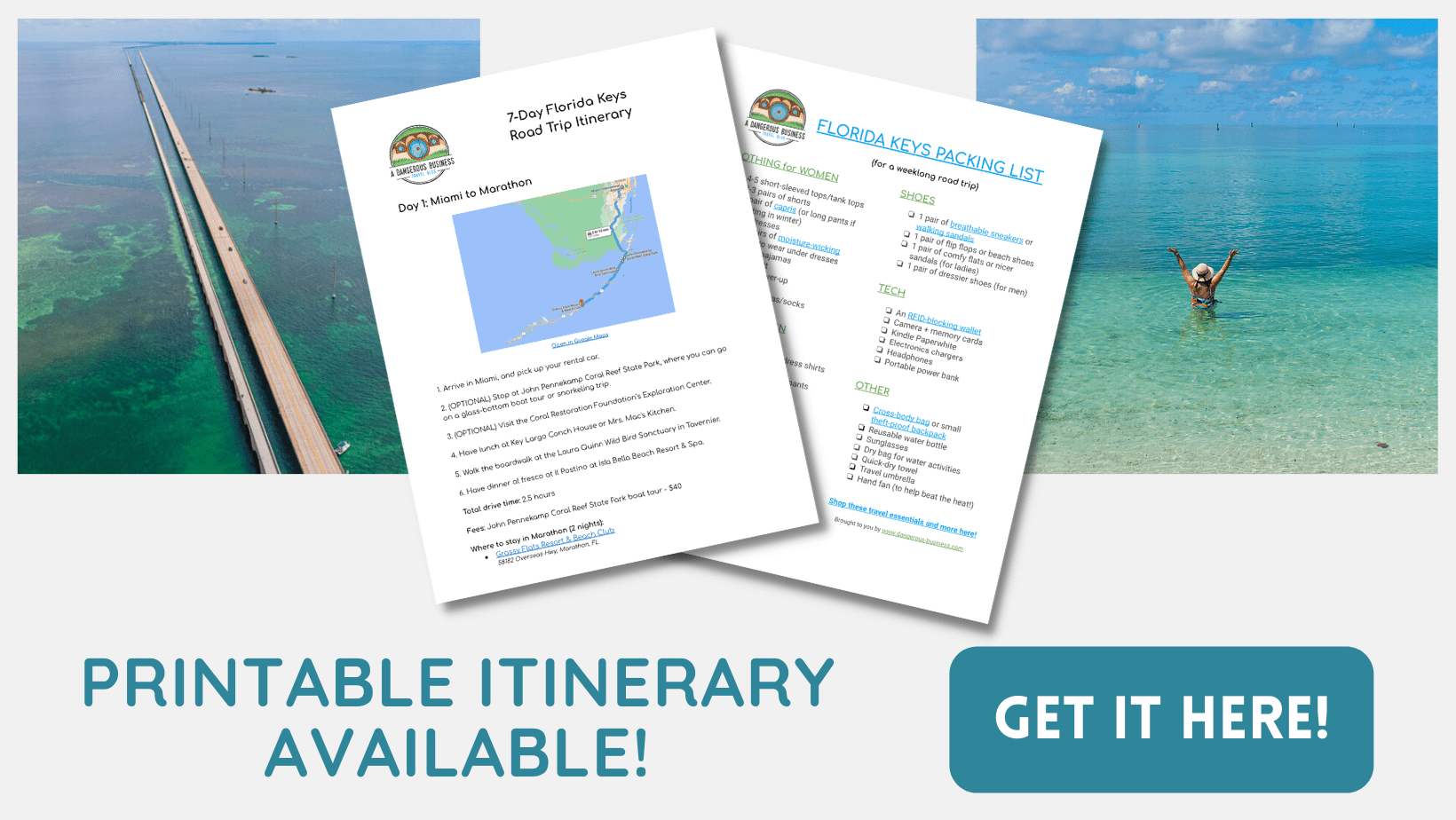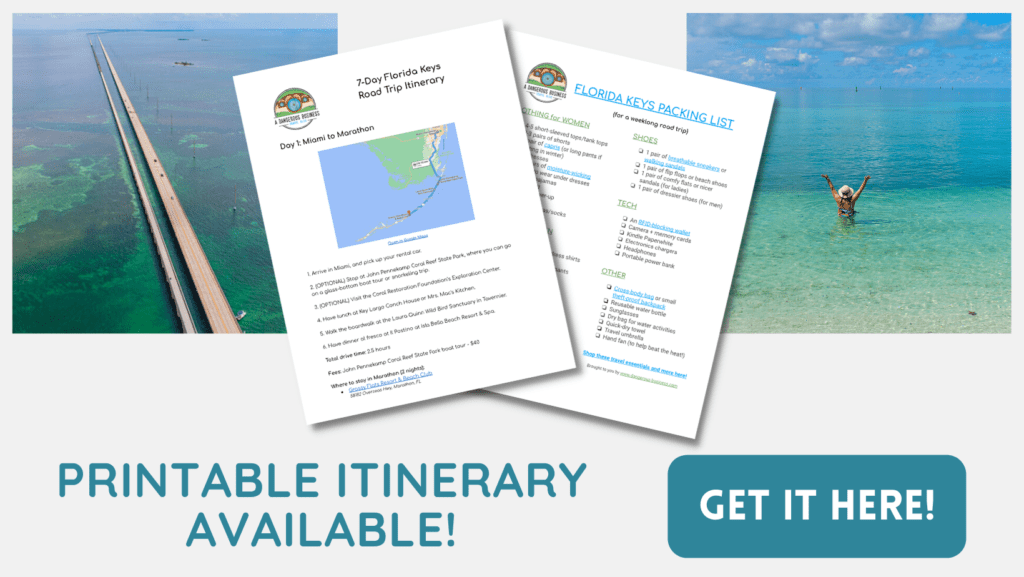 Day 1: Miami to Marathon
To make things easy, I recommend flying in to Miami and out of Key West for this trip (though you could also book round-trip flights to Miami). The extra amount you might spend on a one-way car rental is made up for by the fact that you don't have to transit through Miami International Airport more than once (it's not one of my favorite airports), and the fact that you can spend a bit more time in Key West.
If you can book an early flight that gets you to Miami in the morning, then you can fly in on this day. Otherwise, you might want to fly in earlier (maybe even spend a couple days exploring Miami, enjoying its beaches, and visiting the Everglades?), and hit the road on Day 1.
There's a lot to see in the Upper Keys today!
Need a rental car for your Florida Keys road trip? In the US, I usually book cars via Discover Cars. Search for rental car options here.
If you're able to hit the road early, then your first stop can be at John Pennekamp Coral Reef State Park. This state park is located on Key Largo, the first Key you'll reach on your way south from Miami.
John Pennekamp Coral Reef State Park is unique in that it's a water-based park, and the best way to experience it is by boat (actually, this is a theme in the Keys!). Glass-bottom boat tours are popular here, or you can even book a snorkeling trip and be able to swim over the Christ of the Abyss underwater statue.
Pro tip: Traffic leaving Miami can sometimes be rough, so be sure to give yourself a bit of extra time if you're going to book a boat tour this morning!
If you're curious to learn more about the coral reefs in the Keys (which are frighteningly threatened), make a point to stop by the Exploration Center at the Coral Restoration Foundation, which is just down the highway on Key Largo. This organization has pioneered different ways to help Florida's reef recover, and offers up some insight on what the rest of us can do to help, too.
You likely won't have time on this trip, but the Coral Restoration Foundation also offers hands-on programs where you can actually go out and help them replant coral. Divers AND snorkelers can participate, so this something that's going on my bucket list for a future trip.
Afterwards, grab lunch at the Key Largo Conch House (which, yes, serves up several conch dishes) or Mrs. Mac's Kitchen (famous for their key lime pie) before heading further south.
Just after Key Largo, another quick stop you can make is at the Laura Quinn Wild Bird Sanctuary in Tavernier. Here they rescue and rehab local birds (and some non-local birds), releasing those that they can and caring for those that they can't. You can walk a short boardwalk here and learn about all their resident birds.
The bird sanctuary is free to visit, though they do operate mostly off donations.
Tonight I recommend staying in Marathon at Grassy Flats Resort & Beach Club, which is another 40 minutes down the Overseas Highway.
For dinner, there are several options in and around Marathon; Elliot and I went to Il Postino, which is an Italian restaurant at a resort called Isla Bella Beach Resort & Spa. The outdoor dining here is absolutely stunning, and I would definitely recommend it for location alone if you're able to book a table.
We saw a truly incredible sunset here, complete with manatees munching in the bay right in front of our table!
Total driving time today: 2.5 hours
Sample costs for today: John Pennekamp Coral Reef State Park boat tour – around $35
Where to stay in Marathon: My pick is Grassy Flats Resort & Beach Club, for reasons that will be more clear as you read on to Day 2! This boutique resort sits right on the water, and underwent a renovation/expansion in 2021. The hotel has a pool, beach, beach bar, and things like paddleboards and kayaks that guests can use. The rooms here all have ocean-facing balconies and full kitchens, too, and most have multiple rooms – making this an excellent family spot. (Read reviews on TripAdvisor | Book a room here)
Day 2: Marathon and Islamorada
You technically could cook your own breakfast at Grassy Flats, but if you'd prefer to go out, try The Stuffed Pig in Marathon. They have a tiki-inspired outdoor dining space and serve up really good and hearty breakfasts. (Just note that they are cash-only!)
After breakfast, it's time to try something fun associated with Grassy Flats – wakeboarding at Keys Cable Park!
Just up the road from the Grassy Flats Resort lies the Lagoon on Grassy Key. In a space that was once a quarry and then an aquaculture farm, owners Matt Sexton and Mike and Shana Walsh have flipped the area into an action sports eco park. The highlight is the tow cable, which replaces the need for a boat in order to learn how to wakeboard.
Even if you've never been wakeboarding before, it's worth coming out for an hour to give it a try – both Elliot and I surprised ourselves by actually being pretty good at this!
After wakeboarding, you can explore the area around the lagoon. The park was hit hard by Hurricane Irma back in 2017, but is bouncing back to finally resemble Matt Sexton's vision, which includes an outdoor cafe, a tropical garden, and retail opportunities for local makers/sellers.
You can have lunch right here at Bongos Cafe (named after Sexton's late doggo), which serves up really great food and has lots of beers on tap.
Since Day 1 was pretty packed, this afternoon you can just relax. Hang out by the pool at Grassy Flats, or maybe take a paddleboard out for a spin (though note that the water just off the resort can be *really* shallow at low tide).
This evening, I'll have you hop in your car and backtrack a bit, back up to Islamorada on Upper Matecumbe Key. You drove through this village yesterday, but it's worth the 30-minute drive back to properly visit for an evening.
Stop in at the Florida Keys Brewing Co., the OG microbrewery in the Upper Keys. You can order a beer flight of their tropical- and seasonal-inspired brews (all made with local ingredients), and enjoy them in FLBC's ridiculously colorful beer garden (a reflection of the fact that the brewery is located in the Morada Way Arts and Cultural District).
Keep an eye out for the resident brewery kitty named Purr Monster.
Afterwards, enjoy another chilled out waterfront dinner. My pick would be either Lorelei Restaurant & Cabana Bar (which usually has live music), or Morada Bay (which is more relaxed and has tables on the sand). Both spots are great to watch the sunset from.
Total driving time today: 1.5 hours
Sample costs for today: Keys Cable Park 1-hour wakeboard session (with gear rental) – $54; pint of beer at FKBC – $6-7
Where to stay: You can stay at Grassy Flats again tonight; no need to go jumping around when it makes such a great base in Marathon.
Day 3: Marathon to Key West
Today you'll be making the drive to the end of the road in Key West – but not before making several stops along the way!
Grab breakfast at Porky's Bayside BBQ, a funky spot right on a marina that serves up good breakfast plates (the crab and avocado eggs Benedict is really good!).
Then it's just a short drive to the Turtle Hospital, which everyone will tell you is an absolute MUST in Marathon. (And they're right.)
The Turtle Hospital opened in 1986, and was at the time the very first facility of its kind in the world. The non-profit hospital has a few main goals: to rescue and rehabilitate sea turtles and return them to the ocean, to contribute to sea turtle research, and to educate the public about these sea creatures.
A tour at the Turtle Hospital will take 90 minutes, but I promise it's worth it. First, you'll sit in on a short presentation where you'll learn about the sea turtle species in Florida and the threats they face that might land them in the hospital. Then you'll see a bit of the hospital before moving outdoors to meet any current "patients."
The tour ends with a chance to feed some of the resident sea turtles that are non-releasable for various reasons (injuries from boat strikes being the most common). Even if you don't think you love sea turtles, you'll probably enjoy this tour.
Depending on what you want to do this afternoon, you *might* want to stop and grab something for a picnic lunch later; Paradise Cuban and La Niña both serve up quick Cuban food and would be good options nearby.
Then, it's time to drive over the Seven Mile Bridge! This is the new version of this bridge, which was built in the 1980s and is indeed almost 7 miles long (I believe the actual length is 6.8 miles in total). It will take you over to Bahia Honda Key, which is also home to Bahia Honda State Park.
While Florida is known for its beautiful white sand beaches, you'll quickly notice that beaches in the Keys look a little different. Since the Keys are formed atop coral reefs and are protected by those reefs, it means the islands don't really have sandy beaches. The beaches in the Keys tend to be rough and covered in coral bits that haven't been fully pulverized into sand.
But if you are still craving some beach time (or if you just want to see some really pretty scenery), then a stop at Bahia Honda State Park should go on your to-do list.
This park has two beaches – Calusa Beach on Florida Bay and Loggerhead Beach on the Atlantic side – and they are generally regarded as being some of the best beaches in the Florida Keys.
Calusa Beach is smaller and protected, while you can spread out more along Loggerhead Beach. You can also follow a short trail to walk out on part of the old Bahia Honda Railroad Bridge, which was part of the original Overseas Highway.
There is an entry fee required for this state park, so you might want to plan to have a picnic lunch here and go for a swim or snorkel to make the most of it.
From Bahia Honda, it's a short drive over to Big Pine Key, which is another place worth stopping. This island is home to an endangered species of very small deer called Key Deer. They ONLY live on Big Pine Key, and it's very likely that you'll spot some (drive slowly!).
You can stop by the National Key Deer Refuge Nature Center to learn more about the Key Deer, and maybe go for a bit of a wander around the island to look for some.
If you do this, it's worth driving to the No Name Pub in the northern part of Big Pine Key. This funky pub is covered floor to ceiling on the inside with dollar bills signed by past visitors. You can either grab a drink or a snack here before continuing on to Key West.
(We also met a special friend on the way out of the pub! The Key Deer are pretty friendly here, and are obviously used to humans. But please DO NOT feed the deer, no matter how cute they are.)
From here, it's about 45 minutes more to Key West. You can check into your hotel (I'm recommending the Kimpton Winslow's Bungalows) and freshen up, and then go out for dinner at one of the many, many restaurants in Key West. You're only a couple blocks away from Duval Street and all of its bars, too.
Total driving time today: 1.5 hours
Sample costs for today: Turtle Hospital tour – $30 for adults, $15 for kids (timed tickets are required); Bahia Honda State Park – $8 per car for a day use pass
Where to stay in Key West: I recommend basing yourself in one spot during your time in Key West, and my pick is the Kimpton Winslow's Bungalows, which is a boutique hotel located in the heart of the Key West Historic District. This hotel is beautiful, with two swimming pools, an outdoor bar, and lots of lush landscaping. It's close to Duval Street, but far enough away to be quiet at night. There's also off-street parking, which is a bonus to find in Key West! (Read reviews on TripAdvisor | Book a room here)
Other hotel options in Key West include:
Day 4: Kayaking and Key West
Get an early start this morning and head a few blocks south to snap a photo at the Southernmost Point marker. From here, you're only about 90 miles away from Cuba; the joke is that you're closer to Cuba than a Walmart – which is 100% true, as Key West is more than 120 miles from a Walmart.
Pro tip: The Southernmost Point marker is a popular photo spot, so going early in the morning will hopefully mean that you'll avoid needing to stand in line to get your picture.
Then, since you're nearby, you can grab breakfast at Banana Cafe, which has a cute rooftop patio and serves up French-inspired dishes like crepes (they even have a Key Lime Pie crepe!).
After this, we're going on a water adventure! You're going to drive over to Stock Island next, which is connected to Key West via a bridge. Your destination is Lazy Dog Adventures, where you're going on a kayaking eco tour into Key West's mangroves!
Many of the islands in the Florida Keys are surrounded by mangroves, which are a really important part of the Keys ecosystem. These trees help clean the water and air, protect the islands from severe weather, and act as a nursery for baby fish.
A kayaking tour through the mangroves will have you paddle out into Cow Key Channel and down Key West's canal. Then you'll enter into a mangrove thicket via natural tunnels formed by the mangrove's branches. This is SUCH a cool adventure, and probably unlike what you expected to find in Key West!
This is a guided tour, too, so you'll learn about all the flora and fauna you see along the way from your guide. The tour lasts about 2 hours, and is a fairly easy paddle done in tandem kayaks. (Book this tour here.)
After kayaking, seek out the Hogfish Bar & Grill (also on Stock Island) for lunch. This laid-back spot is on a marina and famous for its hogfish sandwiches (though they also serve up lots of other excellent dishes; I got a shrimp salad that was amazing!).
This afternoon, I recommend heading back into Old Town Key West to do some more exploring. If you want to get an overview of the historic district, you might want to hop on the Conch Tour Train for a narrated tour. Is riding around on this tiny train kitschy? You bet. Is it also a fun and informative way to get to see the city? Also yes!
The Conch Tour Train has been giving tours of Key West since the 1950s, and is truly just a part of the tourist culture here.
Tickets for the train are good all day, and you can hop on and off at a couple different spots if you want. I especially appreciated this option because I don't do well walking around in the heat/humidity, and it was HOT when we visited. (Book tickets here.)
(There's also a hop-on, hop-off trolley tour available here if the train isn't really your speed.)
You also might want to pop into a museum or other (air-conditioned) attraction this afternoon. A few in Old Town Key West worth a visit include:
Key West Aquarium – This aquarium filled with local species was actually the very first tourist attraction that opened in Key West, all the way back in 1935. It's a really pretty building inside, and your ticket is good all day to come and go to see/help out with the various feedings.
Mel Fisher Maritime Museum – This museum mostly focuses on treasure hunter Mel Fisher, who dedicated decades of his life to finding the shipwreck of the Nuestra Señora de Atocha, a Spanish ship filled with riches that sank in 1622. He finally found the wreck in 1985. The museum chronicles the search, and also has exhibits on pirates, the science of shipwrecks, and the slave trade.
Custom House Museum – Officially the Key West Museum of Art & History at the Custom House, this museum is located in a beautiful historic building that used to be the island's customs office. Today, there are two floors of art and history exhibits.
Stop in for Key lime pie at some point, too – I enjoyed the chilled chocolate-covered slices you can get at Kermit's Key West Key Lime Shoppe.
This evening, you can check out the famous Sunset Celebration at Mallory Square, which is a street festival that happens every evening around sunset. There are street performers and food vendors, and usually lots of people.
OR, if a crowded street festival isn't really your thing, another option for this evening is to book a sunset cruise. Several companies offer these, but I'd recommend going with Sebago Watersports. With an open bar, live music, and tasty hors d'oeuvres served, it's no wonder why this cruise is top-rated in Key West.
Sebago operates from the Historic Seaport in Key West, which is home to lots of good options for dinner. My pick would be Half Shell Raw Bar, which is a laid-back spot with waterside seating.
Total driving time today: Less than 1 hour
Sample costs for today: Kayak eco tour – $55 per person; aquarium or museum entry – $12-22 each; sunset cruise with drinks/apps – $80 per person
Where to stay in Key West: I still recommend the Kimpton Winslow's Bungalows for tonight!
Day 5: Dolphins and Key West
This morning, I actually recommend having breakfast at your hotel since you need to be back at the old seaport kind of early. Why, you ask? Because you're going on a really cool tour this morning to look for dolphins!
Head back to the Historic Seaport this morning to meet your boat and captain for a very unique dolphin watch tour with Honest Eco.
Pro tip: Parking in Old Town Key West can get VERY expensive (like, we're talking $4-5 per hour whether you're parking in a lot or on the street). Payment is usually done via smartphone app, so be prepared for that if you're planning to drive around on your own. You may want to use ride share services like Uber and LYFT instead of your rental vehicle, or you can usually reach many places on foot or by bike – and many hotels offer bikes for guest use!
If you want to see dolphins in the Florida Keys, Honest Eco is the company to go with. You'll sail on the Squid, a custom-built electric catamaran that's currently the only all-electric boat in the harbor. Honest Eco runs small-group trips with expert guides (they almost all have science/research backgrounds), and they'll take you out to look for resident dolphins.
There are lots of dolphins that live year-round in the area, so seeing these playful creatures is guaranteed. You'll spend some time looking for pods of dolphins and watching them, and then you'll go to a calm spot for some snorkeling where you might be able to spot stingrays or even a sea turtle.
The half-day tour also comes with some healthy snacks (veggies and hummus, and a fruit plate) on board, and plenty of time to relax and enjoy the views.
If you go on the 9am tour with Honest Eco, you'll be back in the harbor around 1 p.m. I recommend getting lunch at the Conch Republic Seafood Company, which is laid-back enough that they won't care at all if you come in wearing slightly soggy swimwear.
You might want to head back to your hotel to change and relax for a bit this afternoon – or you might be like me and prefer to just keep sightseeing!
Either way, this afternoon I recommend visiting the Hemingway Home and Museum, which is where Ernest Hemingway lived from 1931-39. You can tour the house, see Hemingway's study where he did his writing, and explore the grounds to see Key West's first in-ground swimming pool and of course all the "Hemingway cats."
Many of the 60+ polydactyl cats that live here are descended from a white cat named Snow White that Hemingway himself owned. The cats have the run of the house and gardens, so keep an eye out for them everywhere!
From here, you can either wander off for drinks and dinner, or maybe stop in to the Key West Lighthouse and Keeper's Quarters, which is right across the street from the Hemingway Home.
This version of Key West's main lighthouse was built in 1848 with a woman as its keeper, and the keeper's quarter museum here details that history. You can also climb up 88 steps to the top of the lighthouse, which gives you nice views over the island.
For dinner tonight, there are so many options! Instead of just suggesting one, here are a handful you might like:
Santiago's Bodega (tapas restaurant)
Moondog Cafe (cute cafe in a cottage)
First Flight Island Restaurant & Brewery (housed in the birthplace of Pan American Airways)
Caroline's Cafe
Seaside Cafe at the Mansion (laid-back spot with tables in the sand)
El Siboney (for Cuban food)
Tonight might be a good night to go out for some live music, too. Popular spots include Green Parrot Bar, Sloppy Joe's, and Smokin' Tuna Saloon.
OR, if bars aren't your preferred hang-out, tonight would be a good night to sign up for a Key West ghost tour. With a couple hundred years of history, you can bet there are some good ghost stories here!
RELATED: Top 24 Things to Do in Key West (That Aren't Duval Street)
Total driving time today: None, really
Sample costs for today: Honest Eco Dolphin Watch tour – $99-$109 per person; Hemingway Home – $17 (cash only); ghost tour – $32
Where to stay in Key West: I still recommend the Kimpton Winslow's Bungalows for tonight, because I personally don't love changing hotels more than absolutely necessary.
Day 6: Dry Tortugas National Park
Today will be a "choose your own adventure" sort of day, depending on your interests and budget.
One thing Elliot and I really wanted to do during our Florida Keys trip was make it out to Dry Tortugas National Park, a small national park that sits out in the ocean roughly 70 miles from Key West. You can only reach this national park via either boat or seaplane, which makes it one of the least-visited national parks in the US.
If you opt to take the public Yankee Freedom ferry to the park, it's a full-day trip, with the boat ride taking roughly 2.5 hours each way. If you opt for the seaplane trip with Key West Seaplane Adventures, you can do it in half a day since the flight is only 35 minutes each way.
Elliot and I opted to do the half-day seaplane trip, which was seriously SO much fun. We left from the Key West airport, and flew low over a very calm ocean, keeping an eye out for dolphins, sea turtles, and shipwrecks that we could spot from the air.
We landed on the water at Garden Key, which is where you'll find Fort Jefferson, a massive military fort that was built in the mid-1800s to help protect US shipping routes into the Gulf of Mexico. You can explore Fort Jefferson while here, which consists of three different levels with different views.
(Note that you'll probably need at least 45-60 minutes to explore the fort; it covers many acres and was built using 16 MILLION bricks.)
Garden Key is also a popular spot for swimming and snorkeling, and any tour here will include snorkeling gear to use. We took to the water for about an hour; it was clear and still warm in late September, and I'd highly recommend allowing some time for snorkeling.
This isn't a cheap trip by any means, but I truly think it's worth it! (The full day ferry trip costs $190 per person and includes snorkeling gear, lunch, and a guided tour of Fort Jefferson. The half-day seaplane trip costs $360 per person, and includes the flight, snorkeling gear, and a small cooler with drinks. National park entry of $15 per person also has to be paid.)
Since Elliot and I just did a half-day trip, we had some time in the afternoon to wander a bit more around Key West.
READ MORE: Day Tripping to Dry Tortugas National Park: Everything You Need to Know
Alternative ideas
If your budget doesn't quite stretch to include the Dry Tortugas trip (or if it just doesn't appeal to you), then here are some ideas for what else you can do today:
Have a beach day at either Fort Zachary Taylor Historic State Park (there's remnants of an old fort here, too, as well as beaches) or Smathers Beach.
Tour the Truman Little White House, which was Harry S. Truman's winter White House.
Check out the Key West Butterfly and Nature Conservatory.
Take a food walking tour around Key West, or maybe go on a craft cocktail crawl.
Visit the Key West First Legal Rum Distillery for a tour and/or tasting.
Whatever you decide to do during the day, consider driving back over to Stock Island for dinner at LL's Test Kitchen. This restaurant is inside a private yacht club, but is open to the public. It has lovely marina views from its second-floor patio, and really good food and drinks.
OR you can choose another spot in Old Town Key West for your final Florida Keys dinner.
Total driving time today: None, really
Sample costs for today (other than Dry Tortugas): Fort Zachary Taylor Historic State Park – $6 if you drive; Truman Little White House tour – $25
Where to stay in Key West: We actually DID switch hotels for one night because we were celebrating birthdays and an anniversary on this trip. We splurged on one night at H2O Suites, which is an adults-only hotel with suites that have their own private plunge pools. It's a stunning hotel for a special occasion! (Read reviews on TripAdvisor | Book a room here)
Day 7: Time to head home
It's time to say goodbye to the Florida Keys today, whether you're driving back up to Miami or flying home from Key West International Airport.
Regardless of when you head home, you'll probably have time to grab at least one last meal in Key West. One more iconic spot in Key West you should eat at is Blue Heaven in the Bahama Village neighborhood. It serves up a good breakfast – and you'll need to order a slice of Mile High Key Lime Pie, too!
Elliot and I had an afternoon flight out of Key West, so we squeezed in some more sightseeing before we left. (It's crazy how much there is to see/do just on the small island of Key West!)
Eventually, though, it'll be time to say farewell to the Florida Keys.
Just be aware that you'll probably be dreaming about your next trip to the Florida Keys before you even get home!
READ NEXT: 15 Biggest Mistakes People Make on a US Road Trip
---
Get a printable version!
Want a printable version of this itinerary, plus a packing list and sightseeing checklist? Click the image below!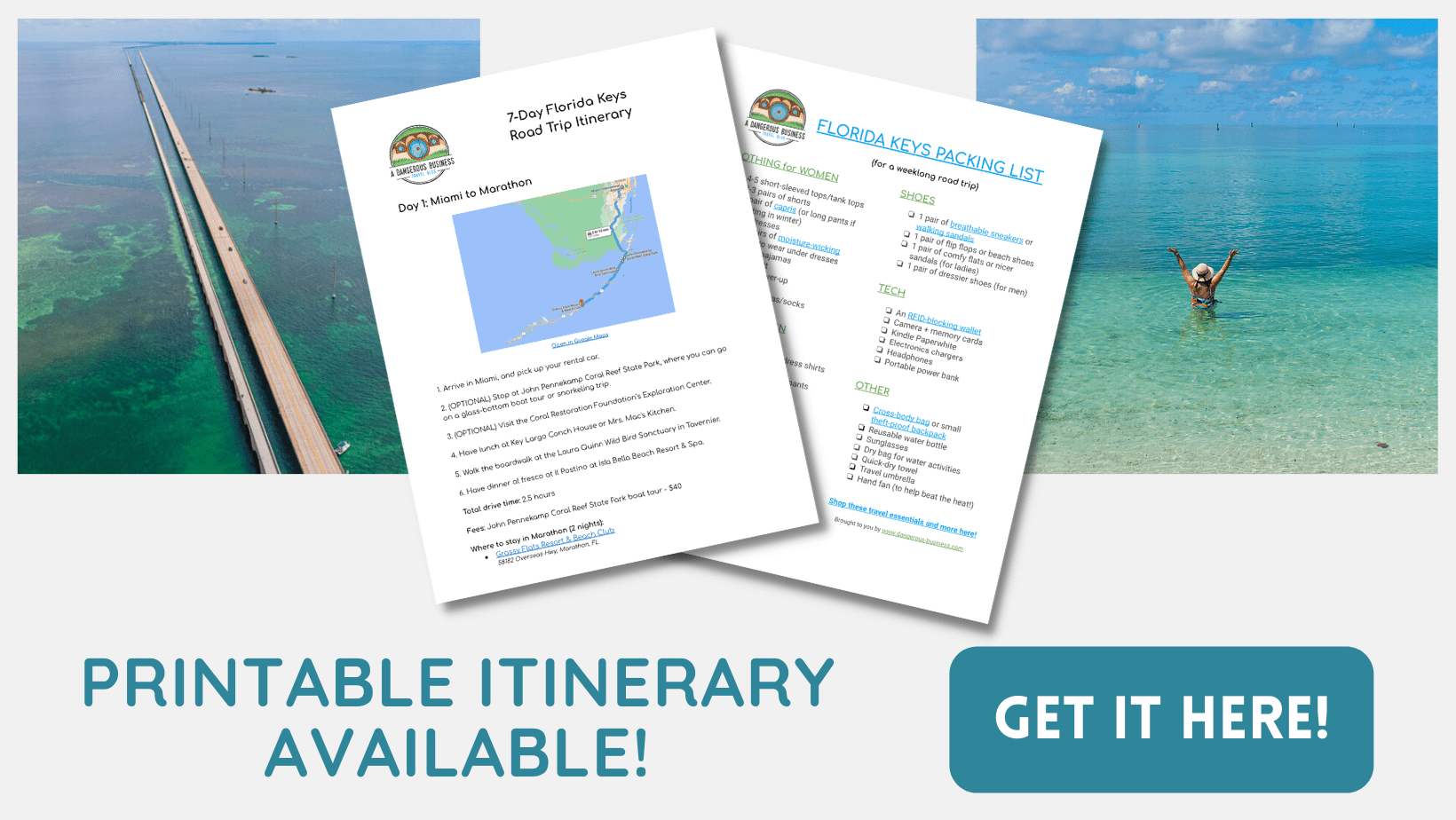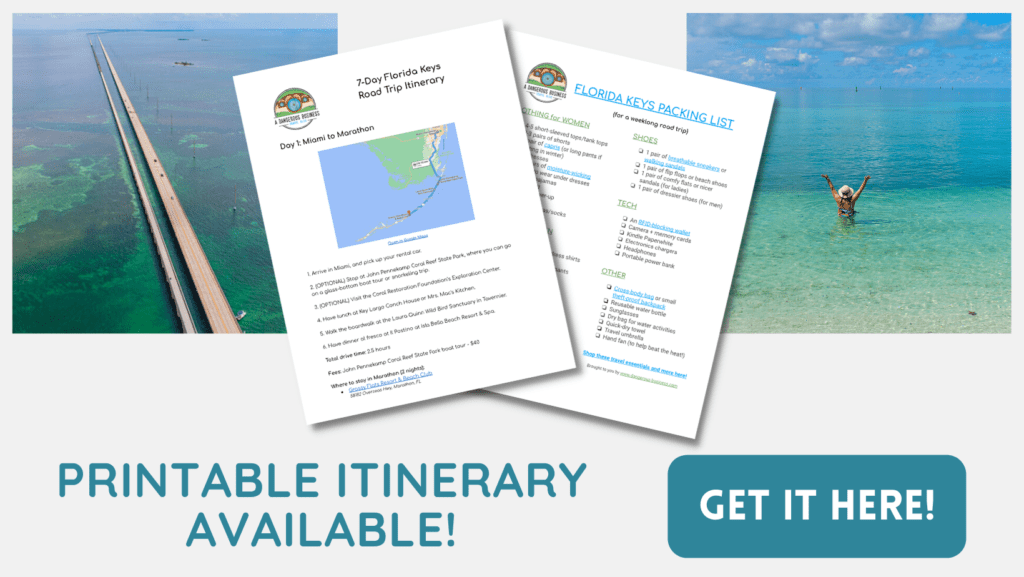 I hope you've enjoyed this itinerary and can use it to help you plan your own Florida Keys road trip!
Have you ever been to the Florida Keys? If not, is it a place you'd like to visit?