Some posts on this site contain affiliate links, meaning if you book or buy something through one of these links, I may earn a small commission. Read the full disclosure policy
here
.
---
I love road tripping in the USA. But it's a really, really big country. Unless you have years to dedicate to traversing all 50 states, you need to narrow down your scope when planning a road trip here.
My method is to focus on one state or region at a time. I've written about a Southwest road trip, a Michigan fall foliage road trip, a Florida Keys road trip, and more over the years. Choosing one region or theme for a road trip means you can really dive in and see all the highlights.
But I don't necessarily like to do all the same trips as everyone else. I truly believe that every corner of the US is unique and interesting, and I love to seek out regions and cities that aren't the ones people always talk about.
Which is why today I'm sharing a road trip itinerary with you for Finger Lakes Wine Country in New York!
Where are the Finger Lakes?
The Finger Lakes is a region in the northwest corner of New York state. It covers 9,000 square miles and comprises 14 different counties – and of course includes those famous Finger Lakes.
These 11 lakes run north-south, and do look like skinny fingers (or at least scratch marks) on a map. And they ARE actually giant scratches, carved out of the landscape by ancient glaciers.
A brief Finger Lakes history lesson
Like most parts of the US, the Finger Lakes region was inhabited by Indigenous peoples long before Europeans "discovered" it. In fact, Native American legends likely even influenced the area's name; the story goes that the Finger Lakes were formed after the Great Spirit reached out and blessed the land, leaving finger marks behind.
This part of New York was at the center of the Iroquois Confederacy, and was populated mostly by people of the Seneca, Cayuga, Tuscarora, and Onondaga nations. A lot of Indigenous names left over from this part of the Finger Lakes' history still remain today, especially when it comes to the names of counties and the lakes themselves.
The Iroquois Confederacy largely kept European influence out of this part of New York until civil war and the American Revolution dismantled it and drove the Iroquois from their land. Afterward, the land was quickly sold off to Europeans, and settlers were arriving by the early 1800s.
The region would go on to play host to lots of notable historical figures and moments, from being home to Harriett Tubman and Frederick Douglass to hosting the first Women's Rights Convention to being the place where Mark Twain wrote some of his most famous works.
The Finger Lakes also emerged not once but twice as an important wine-producing region within the US, which is still one of the main reasons people visit today.
Why road trip the Finger Lakes?
Thanks to 150+ years of winemaking history and a growing climate similar to some of the most popular wine regions in Europe, the Finger Lakes is fairly well-known for its vineyards and wineries.
And while lots of people come to the Finger Lakes for wine country, they leave also charmed by the region's beautiful landscapes (lakes! forests! waterfalls!), quaint small towns, and interesting historical ties.
It's a great place for a road trip since there truly is something for everyone here. Plus, it's easy to get around with decent roads and plenty of tourism infrastructure.
But the Finger Lakes is a fairly large region (9,000+ square miles, remember!). So for this specific trip, I'm focusing mostly on Finger Lakes Wine Country and the southern part of the region. This area has a little bit of everything that makes the Finger Lakes so special, making it a great focus for a memorable trip.
How to get to the Finger Lakes
The Finger Lakes are fairly easy to reach, being within half a day's drive from major Northeast cities like New York, Philadelphia, Washington DC, Pittsburgh, and even Toronto.
You could fly into one of these cities and drive into the Finger Lakes, or you could fly into a smaller airport like Syracuse, Rochester, or Buffalo. There also are smaller regional airports in Ithaca and Horseheads.
I drove from where I live near Cleveland, Ohio, which is only about a 4.5-hour drive.
Need a rental car for your Finger Lakes road trip? In the US, I usually book cars via Discover Cars. Search for rental car options here.
When to visit the Finger Lakes
The Finger Lakes region is a year-round destination, with things to do and see no matter what time of year you're planning a trip.
BUT, in my opinion, May through October is the best time to road trip the Finger Lakes. Late springtime is great for waterfall hikes and avoiding summer crowds. Summer is perfect for outdoor dining, lake adventures, and family fun. And fall is ideal for harvest activities and pretty foliage before the temperatures dip too far.
Once you get into November and colder, darker weather, many restaurants and attractions outside of the wineries do shut down for the winter season.
I've done two Finger Lakes road trips, both in early October. Weather this time of year can sometimes be unpredictable, but it's a lovely time for fall hikes and cozying up indoors for wine tastings.
RELATED: 15 Biggest Mistakes People Make on a US Road Trip
Where to stay in Finger Lakes Wine Country
First things first: let's talk about where to stay in the Finger Lakes.
For this itinerary, you're not actually going to need to do a ton of driving once you arrive in the region. Meaning you could conceivably choose to use one town as a homebase for your whole trip, and drive short distances each day.
Or you could change hotels once or twice, depending on your plans and tastes. (I don't recommend moving hotels every single night like I did, but I did it all in the name of research! Ha.)
Some good towns to use as a central base with hotel and restaurant options include Watkins Glen, Corning, Ithaca, Geneva, and Hammondsport. You could also stay near Penn Yan, Elmira, Owego, or Seneca Falls.
I won't necessarily tell you where to stay or for how long, but I will provide you with a list of cool places to lay your head in order to help you in your planning:
Where to stay in Watkins Glen
Watkins Glen sits on the southern end of Seneca Lake, making it a nice central base for exploring the Finger Lakes region. My picks for where to stay include:
Watkins Glen Harbor Hotel – At this luxury lakeside hotel, many rooms have lake and harbor views. I stayed here on my mini-honeymoon!
Lakeside Resort – Located a 5-minute drive north of Watkins Glen, this resort offers motel-style rooms and cabins in a rural setting with lake views, walking trails, and a really good on-site restaurant called 3812 Bistro.
Where to stay in Corning
Corning is one of my favorite towns in the Finger Lakes. It's not on a lake, but does have the Chemung River running through it. Here's my pick for where to stay:
Hilton Garden Inn Corning Downtown – Located just across the river from downtown Corning, this newer (2018) hotel is a nice option. It's just a couple blocks away from the Corning Museum of Glass, too!
Where to stay in Hammondsport
The little village of Hammondsport sits on Keuka Lake, and while it's small (population only around 700), it has a few great accommodation options. Like:
Blushing Rose Bed and Breakfast – Located only about a block up from the lakefront, this charming B&B is one of the oldest in town. The homey pink house dates back to 1843, and owners Tami and Scott will have you feeling like family in no time. The home-cooked breakfasts each morning can't be beat.
Best Western Plus The Hammondsport Hotel – If you're looking for hotel accommodation, this Best Western is almost brand new.
Where to stay in Ithaca
Ithaca is actually one of the larger towns in the Finger Lakes region. It's home to Cornell University, and has plenty of hotels to choose from. A couple that are recommended include:
The Statler Hotel – You can find this hotel right at Cornell University. It's the top-rated hotel in Ithaca on TripAdvisor.
Hilton Garden Inn Ithaca – Located right downtown near both Cornell and Ithaca Commons, this Hilton Garden Inn makes a convenient base.
Where to stay in Owego
Owego is a super cute little town with some historic places to stay. Like:
1867 Parkview Inn – I stayed here for a night in Owego. It's a historic hotel above a restaurant/bar, with a big balcony overlooking the Susquehanna River and Draper Park. The rooms are cozy (and the beds super comfy), but be aware that this hotel is on New York's Haunted History Trail!
Belva Lockwood Inn – The top-rated place to stay in Owego, this B&B is located in an historic home and each room is unique.
There are some unique non-hotel options throughout the Finger Lakes region, too, whether you want to rent a cabin or even camp.
Another unique spot is the Cobblestone Springs Retreat Center, which is located in an historic house in the countryside near Penn Yan. The whole house can be rented out by groups for retreats, or solo travelers and couples can rent the cozy North Wing Guest Suite for a night or two.
A 5-day Finger Lakes road trip itinerary
If you ask me "How much time do I need for a road trip in the Finger Lakes?," my answer is going to be: "As much time as you have."
This region is large, and there's much more to do here than just visit wineries.
In an ideal world, you'd have at least a week to dedicate to a road trip in the Finger Lakes. But you can also see some of the top highlights in 3-5 days.
I'll lay out my version of a "perfect" 5-day Finger Lakes road trip here (based on two similar road trips I've done myself), and then detail how you can extend this to a week if you have the extra time.
Note: This itinerary is brought to you as part of a paid partnership with Finger Lakes Wine Country. As always, though, my opinions and recommendations are 100% my own!
Day 1: Hammondsport and Keuka Lake
We're going to start to the west in Finger Lakes Wine Country, at the southern end of the Y-shaped Keuka Lake. There's a lot of history to be found in this part of the Finger Lakes, so I think it's the best place to get your bearings and begin!
I started my visit at Pleasant Valley Wine Co, and I would suggest that you do the same! Pleasant Valley began making wine all the way back in 1860, and was the very first bonded winery in the United States. Their Great Western Champagne won medals in Europe back in the 1870s – and yes, they've been making Champagne here long enough that they are grandfathered in to being able to call it Champagne even though it's made in New York!
During the summer months (and sometimes during the fall, too), you can go on a historic walking tour that covers the varied history of this winery through 150+ years. The tour includes visits to several historical buildings and wine caves, and is really fascinating.
If you're not here at the right time for a tour, you can still peruse exhibits inside the Great Western Visitor Center, and do a wine tasting for $10. You definitely have to try some of their American Champagne, and I also really liked their Great Western Sparkling Burgundy!
From Pleasant Valley, it's a short drive over to either the Finger Lakes Boating Museum, or the Glenn H Curtiss Museum.
The Finger Lakes Boating Museum is a celebration of the boating culture and history that was so integral to the Finger Lakes a century ago. The museum has more than 100 restored boats on display, and is well worth an hour of your time.
The Glenn H Curtiss Museum is another interesting spot, celebrating local inventor and aviator Glenn Curtiss. This museum takes people by surprise, as it comprises 60,000 square feet that's filled with aircrafts, motorcycles, and more.
After a morning full of history, head into the heart of Hammondsport for lunch. This small town has a population of less than 700 people, but is really cute. There are several restaurants around Pulteney Square to choose from.
This afternoon, it's time to visit some Keuka Lake wineries!
Keuka Lake's elevation and soil composition lends itself to growing a variety of wine grapes, and wineries here are known for their dry whites and European-style wines. There are about 20 different wineries around Keuka Lake alone, so you should have no problem choosing one or two to suit your tastes.
A few along the western side of Keuka Lake that I can personally recommend include:
Dr. Konstantin Frank Winery – Colloquially known simply as "Dr. Frank's," this winery was integral in the success of European grapes being grown in the Finger Lakes (thanks to Dr. Frank himself, who planted the first Vinifera vines here in the 1960s). They're known for their Rieslings, and the winery has some lovely views. Reservations recommended for tastings.
Heron Hill Winery – You can't miss the Greco-Roman tasting room as you drive by – and it's equally as beautiful on the inside. Reservations for tastings are required.
Hunt Country Vineyards – Located on the tip of the western arm of Keuka Lake, Hunt Country is a winery that's been in the same family for generations. They focus on sustainable winemaking here, and are members of International Wineries for Climate Action. Their beautiful tasting room is a great spot to sip Rieslings, ice wines, and more.
And if wine isn't really your thing? Well, that's actually not a problem! There are plenty of breweries and distilleries in the Finger Lakes region, too. On this side of Keuka Lake, you could also visit Steuben Brewing Company, the Brewery of Broken Dreams, or Krooked Tusker Distillery.
Visit the Southern Finger Lakes Beverage Trail website for more info on craft breweries, cideries, and distilleries in the area.
After an afternoon filled with winery visits, head back in the direction of wherever you're staying for dinner. In Hammondsport, the Timber Stone Grill is good, or you could book a table at the Pleasant Valley Inn; in Penn Yan, Union Block Italian Bistro would be my pick.
Day 2: Yates County and Seneca Lake
Have an easy start to your morning on Day 2, maybe with a drive around Keuka Lake, or some time spent exploring the town of Penn Yan. With an adorable main street lined with local restaurants and shops, Penn Yan is worth a quick wander. Grab some morning caffeine at Amity Coffee Co., or breakfast at the Penn Yan Diner to prep for your day.
If you're into pretty views and fairytale-esque settings (and, I mean, who isn't?), make time to drive to Garrett Memorial Chapel, a little stone chapel sitting on a bluff in the woods overlooking Keuka Lake. The little chapel was built by a couple to honor their son who died of tuberculosis, and today is on the National Register of Historic Places.
The chapel is often used for weddings and special events, and is usually open to the public on Tuesday and Thursday afternoons. But outside of these times, you can still visit the gorgeous grounds on your own.
On your way back towards Penn Yan, stop for a treat at Seneca Farms (the make delicious ice cream!). In the fall, they usually have some great seasonal flavors.
And, speaking of fall, Yates County is a great place to squeeze in some fall activities in the Finger Lakes. If you're visiting at the right time of year, you could go apple picking at Apple Barrel Orchards, or pick up some apple cider donuts at Wager's Cider Mill.
Whatever else you decide to do in Yates County, one must-do is to book a tour with Finger Lakes Rail Riders. This company operates rail bike tours through beautiful farmland a little ways north of Penn Yan.
The guided tours take place on custom, recumbent-style rail bikes that you ride on disused railroad tracks. You ride a total of 5 miles at a very easy pace as you listen to narration by your guide about the history of the land you're riding through.
Finger Lakes Rail Riders offers tours in the spring, summer, and fall, and the tours are suitable for basically all ages and skill levels (the bikes are VERY easy to pedal, and the route is entirely flat). Allow up to 2 hours for the entire experience.
After your rail bike adventure, it's time to move on towards Seneca Lake, the largest of the Finger Lakes.
You're still within a short distance of wineries on the eastern side of Keuka Lake (like Weis Vineyards and Domaine LeSeurre Winery), but you might want to move on to the Seneca Lake wineries (there are another 35 wineries just around Seneca Lake!).
A few wineries on the western side of Seneca Lake you could visit today include:
Miles Wine Cellars – Situated right on Seneca Lake, this winery wins extra points for ambiance. You can even arrive by boat, and order flights of wine, beer, cider, or spirits. It's also supposed to be haunted, so be sure to ask about their Ghost Wine.
Hermann J. Wiemer Vineyard – In the 1970s, Hermann Wiemer helped pioneer growing Vinifera grapes in the Finger Lakes. The winery is still known for its Rieslings – including a sparkling version!
Glenora Wine Cellars – The oldest winery on Seneca Lake, Glenora makes a little bit of everything, so you'll be sure to find something you like here.
Barnstormer Winery – This cozy spot is located inside an old historic barn, and you'll be in for a friendly tasting. They're known for their Rieslings and dry reds here, and also have great charcuterie boards. Reservations recommended.
I would also recommend stopping in to the family-run Shtayburne Farm Creamery. Inspired by the wine flights offered at nearby wineries, the creamery offers up cheese flights and ice cream flights, which are really fun. And all the milk/cream/cheese comes from the family's dairy cows, which you can see in the surrounding fields.
If you even have room for dinner tonight, 3812 Bistro at Lakeside Resort is pretty amazing, or you could head into Watkins Glen and eat at the Blue Point Grille or Nickel's Pit BBQ.
Day 3: Watkins Glen and Seneca Lake
You'll want to get a fairly early start this morning, and fuel up with a good breakfast. In Watkins Glen (which is where your Day 3 adventure will begin, whether you're staying there or not), the Glen Mountain Market Bakery & Deli is always a good spot to grab coffee and a breakfast sandwich or pastry.
From there, it's a short drive to Watkins Glen State Park and the most famous hike in the Finger Lakes: the Watkins Glen Gorge Trail. This trail is 1.5 miles one-way and passes through a stunning gorge filled with waterfalls.
The trail does contain 800+ stairs, though, so this is not a hike suitable for everyone. If you do decide to tackle it, just know that the steps don't come all at once, and the hike is 100% worth it.
There are multiple places to start this hike, but if you go relatively early (as in, get there before 9 a.m.), you should have no problem parking near the park's visitor center right off Franklin Road and starting your hike there. This means you'll be going UP the steps through the canyon, which is much easier on your knees. (Plus, I think the views are much more impressive hiking this way!)
Once you make it up all the stone steps and past 19 different waterfalls to the end of the gorge trail, you can either hike back down through the canyon, hike back to where you started on the North Rim Trail (still marked as the Indian Trail on some maps), or catch a shuttle back to the visitor center.
The shuttle wasn't running the last time I did this hike, so I actually recommend taking the rim trail back. The gorge trail can start to get crowded later in the day – especially on weekends and nice-weather days – but you can avoid the congestion on the rim trail.
(You can also reverse this, and park your car at the park's upper entrance, and then either hike down through the canyon and back up on the rim trail, or take the rim trail down to the entrance of the canyon and hike back up. Any way you do it, though, there's no way to avoid all those steps.)
Note that the gorge trail is NOT open during the winter months. It usually opens each year in mid-May, and stays open through mid-October. (Exact dates can vary based on the weather.)
The state park is technically free to visit, but parking does cost $10. And be aware that, no matter what the weather is, the trail is likely to be wet thanks to all the waterfalls in the gorge. Definitely go prepared with proper footwear!
The Watkins Glen Gorge Trail will probably take you about 1.5-2 hours, depending on how often you stop to take photos and which route you hike. (It took me just about 2 hours.)
Afterwards, if you've still got waterfalls on the brain, I recommend making the short drive to the village of Montour Falls.
This little town has a notable waterfall you can see from Main Street (Shequaga Falls, which I gather is featured in the opening credits of the Aurora Teagarden movies). From May-October, you can also take a quick 10-minute hike to see Eagle Cliff's Falls in Havana Glen Park.
Once you've had your fill of waterfalls, it's time to find some lunch! There are a couple places in both Montour Falls and Watkins Glen to choose from, but if you're not absolutely starving, then I recommend making the 15-minute drive to The Elf in the Oak, on the eastern side of Seneca Lake. This is one of the BEST sandwich shops in the Finger Lakes.
After lunch, you might want to enjoy a scenic drive along the eastern side of Seneca Lake. And, of course, there's always more wine (or beer, or spirits) to drink!
A few spots of note on this side of the lake include:
Wagner Vineyards Estate Winery – This winery has been run by the Wagner family since it opened in 1979. They serve a variety of wine AND also have a craft brewery on-site. Tasting reservations are highly recommended.
Craft breweries – There are several within just a few minutes' drive, including Lucky Hare Brewing Company, Two Goats Brewing, and Grist Iron Brewing Company.
Finger Lakes Distilling – If you're looking for good spirits, this is the spot to go. Stop into the tasting room to try try whiskey, gin, vodka, brandy, and more that are all made with local grains and grapes.
Another option for this afternoon/evening is to go on a cruise on a historic boat with Captain Bill's. You can book a lunch or dinner cruise on the Seneca Legacy, or a one-hour sightseeing cruise on the Seneca Spirit. Both will give you excellent views you can only see while out on the water at Seneca Lake.
Cruises are usually offered from late May through mid-October.
The Seneca Harbor pier is also an excellent spot to watch the sunset from.
Day 4: Corning
Today's going to be dedicated to art and glass in the cute town of Corning, starting with a visit to the Corning Museum of Glass.
The Corning Museum of Glass is the largest glass museum in the world, and there's a reason why tickets are good for two consecutive days here: there's SO much to see! I don't usually like when people say an attraction has "something for everyone," but I think in this case it's actually true.
There are contemporary art exhibits, galleries that cover 3500 years of glass-making history, a hands-on exhibit about glass' use in science and technology, and of course live demonstrations on glass working, flame working, and more.
You can also make your own glass projects at CMoG; in the fall, making a custom glass pumpkin is always popular, but they have projects ranging from ornaments to photo frames you can make throughout the year. And the glass projects are pretty reasonably-priced, too, with even the bigger items only costing $34 to make in the glass studio.
I'd say you need to allow *at least* 3-4 hours to enjoy CMoG – maybe even more if you spend more time in some of the larger exhibits. There is a cafe at the museum in case you just want to grab lunch here so as not to interrupt your visit.
RELATED: How to Spend One Day at the Corning Museum of Glass
Once you've soaked up enough glass art and history, head into downtown Corning itself. The historic Gaffer District (mostly along Market Street) is incredibly cute, with streets lined with shops, galleries, and restaurants. You can easily spend an hour or two popping in and out of shops.
If you're up for another wine tasting this afternoon, stop in to F.L.X. Provisions, which is a really cute wine shop attached to The Quincy Exchange.
For dinner tonight, I personally love The Cellar, but there are plenty of options to suit every budget within a few blocks in Corning.
Day 5: Elmira and Chemung County
Some people might tell you to head to Ithaca on Day 5 if you only have five days to spend in the Finger Lakes. And I will talk about Ithaca a bit later on. But I want to mention the Elmira/Horseheads area next because of its interesting history.
If you have limited time, you can of course rearrange this itinerary to fit your personal interests and needs!
From Corning, it's a short drive towards the town of Elmira. If you're looking for a really unique place to stop for breakfast along the way, I would recommend The Diner (yes, that's its full name) in Horseheads, which is a great greasy spoon located inside an old train car. It's a tiny spot, but serves up a great breakfast.
After fueling up, don your hiking shoes again and spend some time at the Tanglewood Nature Center. Located up in the hills above the Chemung River, the Tanglewood Nature Center has some educational exhibits about local wildlife (including some live birds and critters to meet!), and a series of nice hiking trails.
In the fall, this is a particularly great place to go for a walk. (Just pack good hiking shoes, as the trails through the woods can get muddy!)
Also nearby and worth a stop is the National Soaring Museum, which is a must-visit if you'd like to learn about Elmira's claim to fame as being the "Soaring Capital of America." The area around Elmira offers up perfect conditions for gliders (a type of aircraft that doesn't carry an engine), and the National Soaring Museum walks you through the history of soaring in America.
Here you can see examples of all sorts of gliders, and during the summer months they even do glider rides with the Harris Hill Soaring Corporation. (I wasn't visiting at the right time for one of these, but would love to try it one day!)
For lunch, head into Elmira, where you can grab a bite at a spot like the Ill Eagle Taphouse or the Turtle Leaf Cafe.
This afternoon, you can spend a bit of time tracing the Mark Twain history in Elmira. You might not know this (I certainly didn't before visiting), but Samuel Clemens (AKA Mark Twain) spent many summers in the city of Elmira after he married his wife Olivia Langdon.
When in the area, Twain and his family usually stayed with Olivia's sister Susan Crane at Quarry Farm just outside of Elmira. Twain complained that there were never any quiet spaces for him to work and write, so he had a small study built on a hill away from the house. It was in this study that Twain wrote many of his famous novels, including The Adventures of Huckleberry Finn.
That exact study was eventually moved to the campus of Elmira College in order to preserve it, and now you can visit it! (The campus of Elmira College is also just really pretty to stroll around.)
You can also visit the burial site of the entire Clemens family at Woodlawn Cemetery.
After this, there are several other things you could do before dinner including:
Axe throwing – Denim Axe Co. is the only axe throwing spot in the Finger Lakes. No prior experience is required, and it's a lot of fun to learn how to throw an axe at a target! It's worth noting that axe throwing is generally more fun in a small group, but couples can totally book on their own, too.
Upstate Brewing Company – Get a flight of local craft beer at this very highly-rated brewery.
Finger Lakes House – If you feel like it's a crime to go a day in the Finger Lakes without having some wine, then head to Finger Lakes House, which offers up wine tastings that you can enjoy indoors at their cozy bar, or outdoors on a patio that overlooks the Chemung River.
For dinner tonight, I recommend booking a table at the Hill Top Inn, which is a historic restaurant with a fire pit-filled patio overlooking the Chemung Valley. You can't beat this spot for sunset! (Reservations highly recommended.)
If you have more time…
The above would be my ideal itinerary if you only have 5 days in the Finger Lakes. But if you can stretch your trip out to an entire week, here are the other things I think you shouldn't miss:
Day 6: Owego and Tioga County
Today you can have a lazy morning, and then it's an easy drive to Owego, a town that sits on the Susquehanna River in Tioga County. (Whether you're staying in Elmira, Corning, Watkins Glen, or Ithaca, it's less than an hour's drive to Owego.)
On your way, you can make a stop at Waverly Glen Park, right near the Pennsylvania border, to stretch your legs and see a nice waterfall. (Follow the park road until it ends at a small parking lot, and then follow the paved trail roughly 2 minutes to the waterfall.)
Owego itself is a super charming little town, with a pretty riverwalk and a surprising collection of cute local shops. Stop in to Carol's Coffee And Art Bar for a mid-morning pick-me up, shop for antiques at Early Owego Antique Center, and be sure to browse at Riverow Bookshop.
This afternoon, you might be content to just continue browsing in Owego. Or, you could venture out to explore the countryside a bit.
A good stop to make is at Stoughton Farm, which operates a nice little farm market. During the fall (usually mid-September through the end of October), Stoughton Farm also has a massive corn maze, pumpkin patch, and more for families to enjoy. I tackled half of the 8-acre corn maze on my own and had a blast!
For dinner in Owego, The Cellar Restaurant & Bar serves up delicious food in a cozy space – just be sure to bring your appetite, as portion sizes are huge!
Day 7: Ithaca and Cayuga Lake
Ithaca is one of the more popular towns in the Finger Lakes region, but it's known more for its waterfalls than its farms or wineries. If you have the extra time, it is a perfect place to end your time in the southern Finger Lakes region.
Ithaca has slightly more of a college town feel, being home to Cornell University. It's also home to more than 100 different waterfalls, which has led to the town's tagline: "Ithaca is Gorges."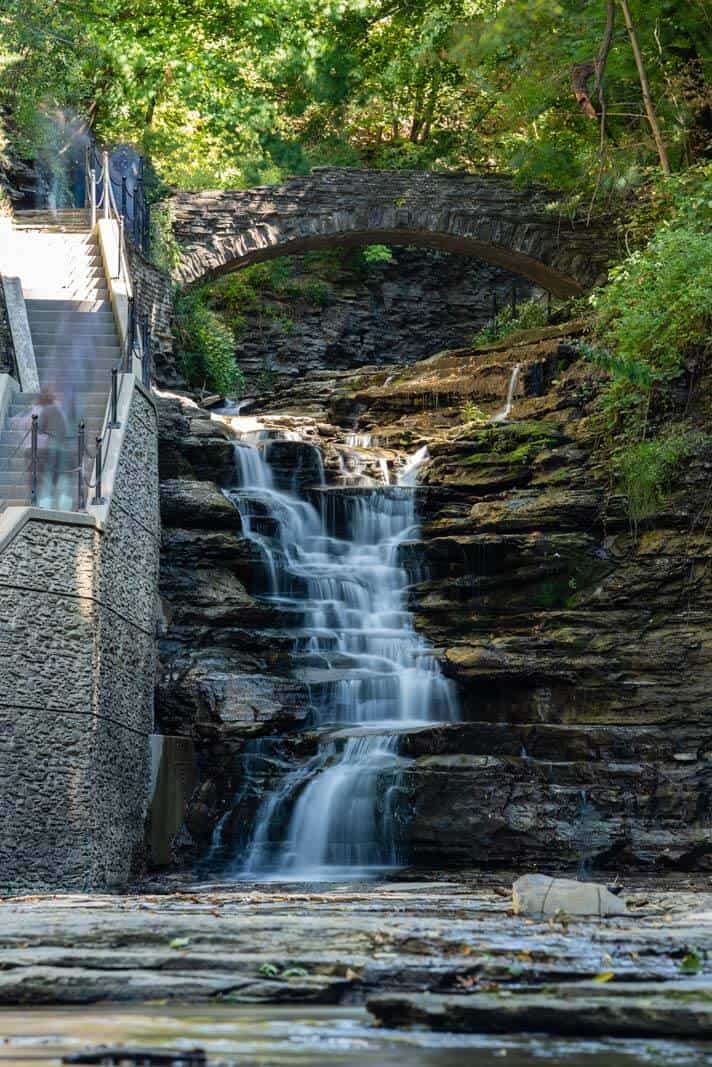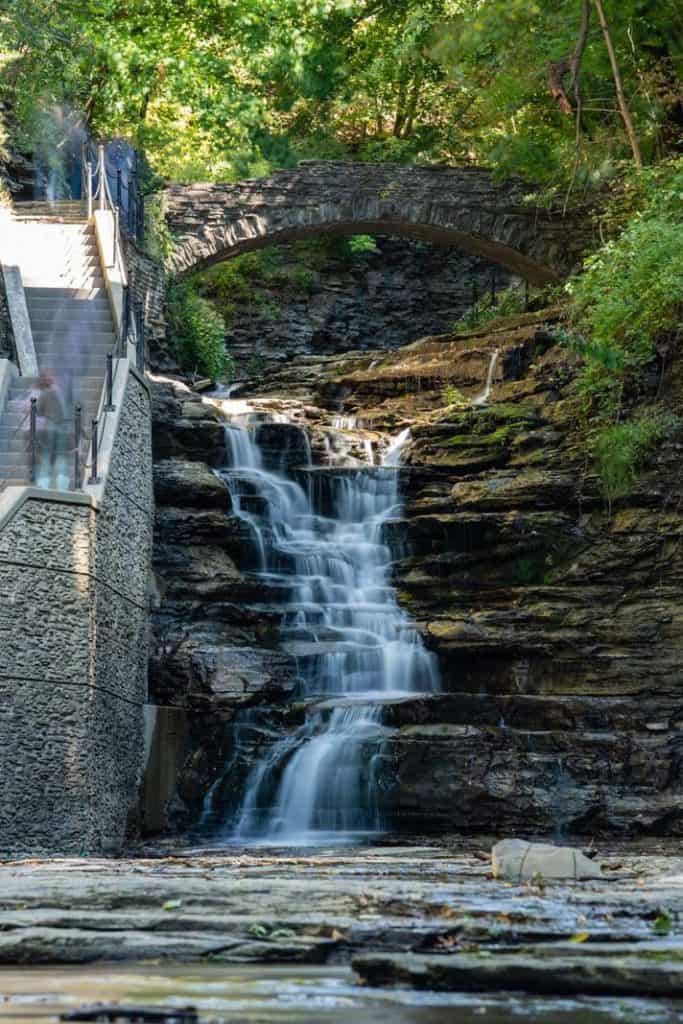 I would start your day with breakfast in town, and then a bit of a wander around Ithaca Commons, the pedestrian-only street in the middle of town. (There's even a cat cafe here called the Alley Cat Cafe!) Keep an eye out for street art, and if you're visiting on a weekend you may also want to stop by the Ithaca Farmer's Market.
Then you can spend the rest of the day chasing local waterfalls!
Start with a couple right in downtown Ithaca and on Cornell's campus. Check out Ithaca Falls right in town on Falls Creek, and walk the Cascadilla Gorge Trail, which is a .75-mile-long trail that passes 8 different waterfalls on Cornell's campus. (And here are even more Ithaca waterfalls to see.)
You'll also want to make the 15-minute drive north to Taughannock Falls State Park, which is home to one of the tallest waterfalls east of the Rocky Mountains. The 215-foot cascade can be seen from a viewing platform that you can literally drive right up to, or there are some hiking trails in the park that will take you to the base of Taughannock Falls.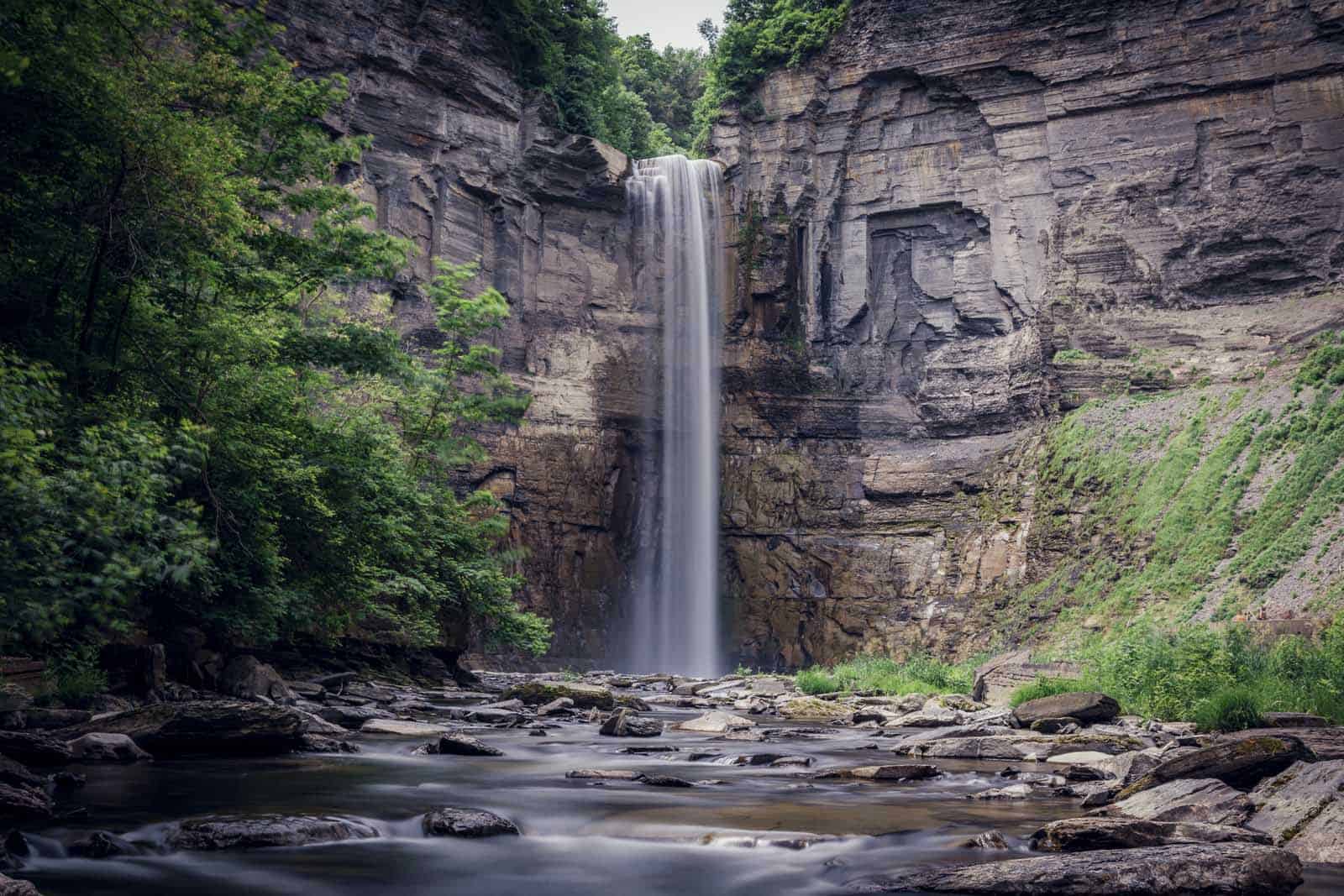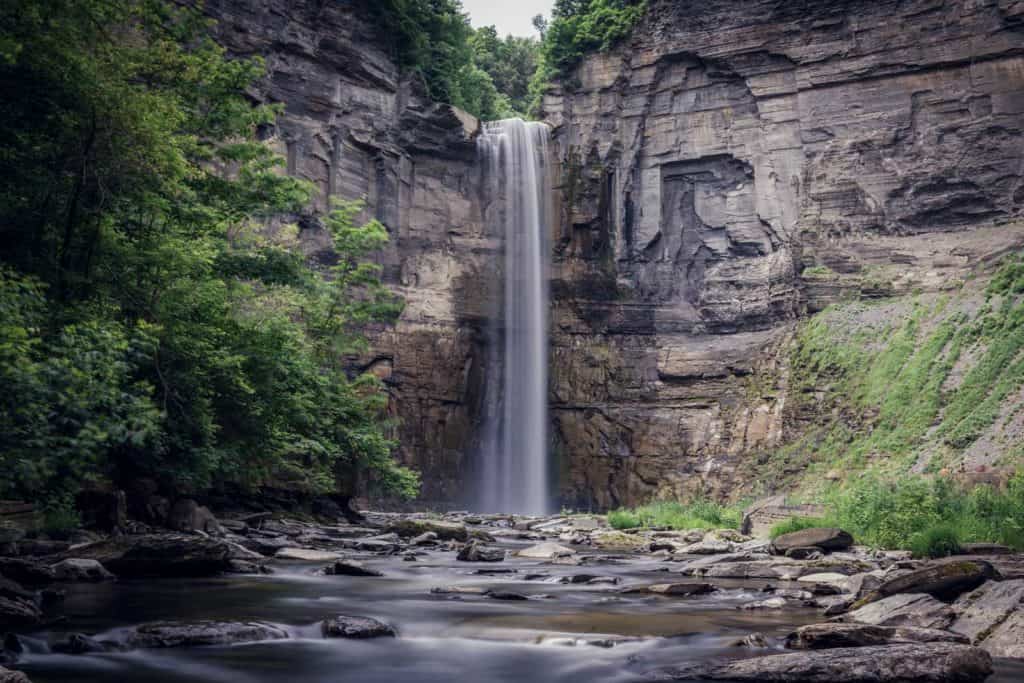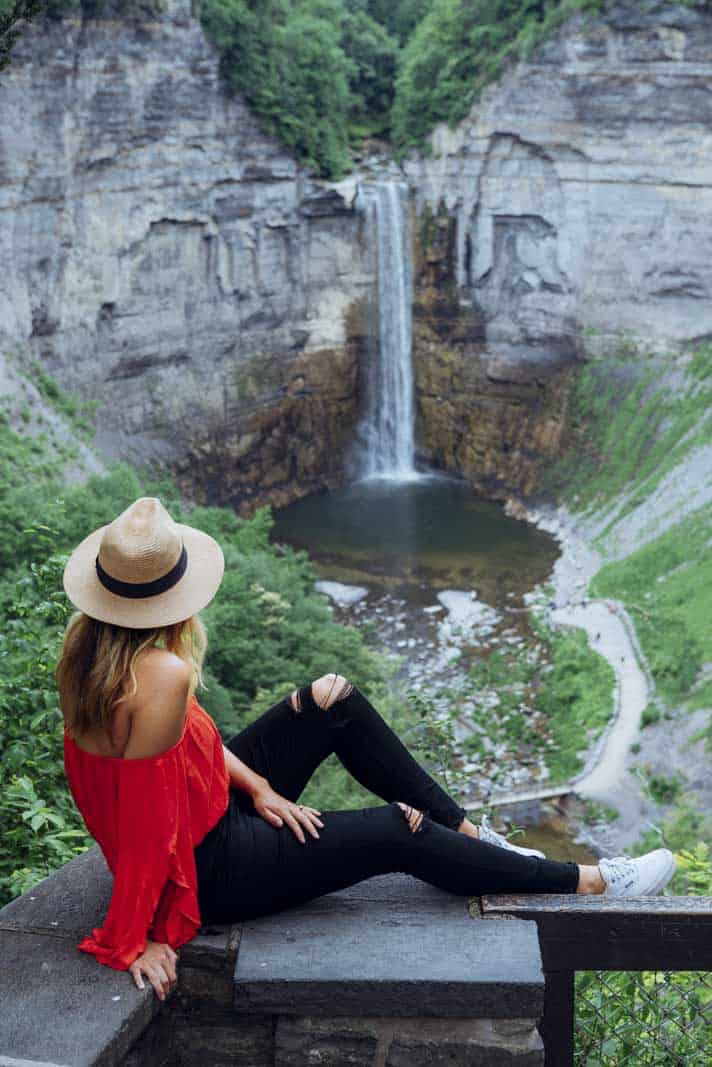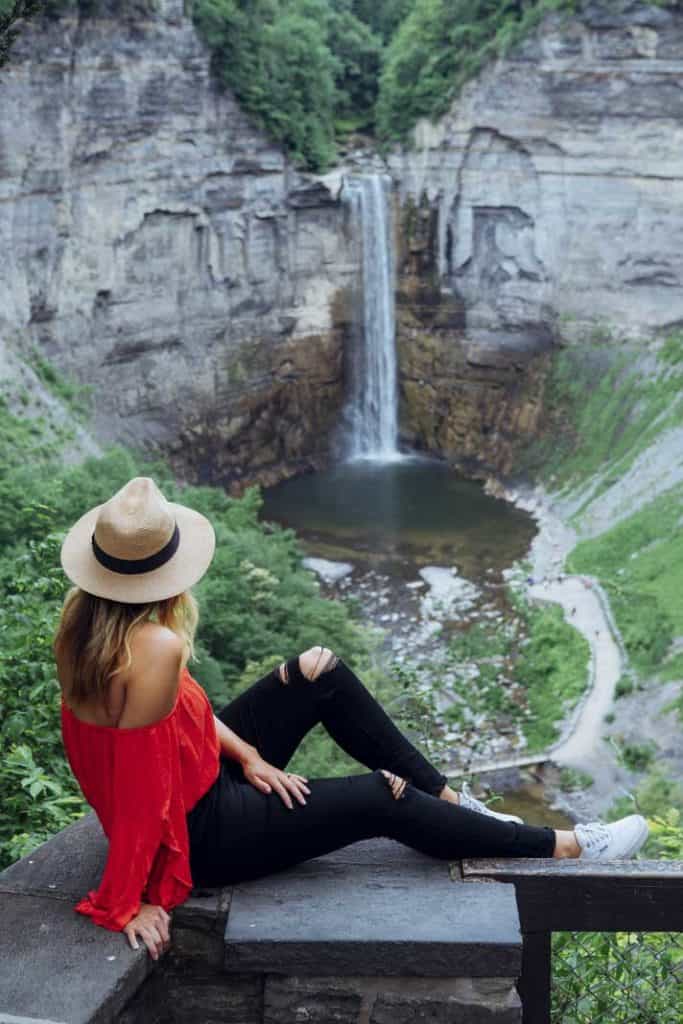 (If you're going to do any of the hikes here, be sure to allow at least 1-2 hours to enjoy the nature and waterfall views!)
Ithaca and Taughannock Falls State Park both lie on Cayuga Lake, too, so there's also the opportunity for more winery, brewery, and cidery visits if you have the time. The Cayuga Lake Wine Trail is the longest-running wine trail in America, and also within easy driving distance is the Finger Lakes Cider House.
In Ithaca itself, you can visit Six Mile Creek Vineyard, Ithaca Beer Co, or Lucky Hare Brewing Company.
If you want more in-depth suggestions on how to spend a day (or three) in Ithaca, check out this Ithaca guide from my friends over at Bobo and Chichi.
---
And there you have it! A Finger Lakes road trip itinerary for 5 or 7 days – though as I'm sure you can tell, you could easily spend WEEKS in this region and still not see everything. But this itinerary should be a good starting point, especially if it's your first time visiting the Finger Lakes.
Have you ever been to the Finger Lakes? If not, is it a place you'd like to visit?