Some posts on this site contain affiliate links, meaning if you book or buy something through one of these links, I may earn a small commission. Read the full disclosure policy
here
.
---
As I settled in to my comfy seat and pressed play on a free movie on the seatback screen in front of me, I knew I had made the right decision. I was on the Lux Express bus on my way from Riga, Latvia to Vilnius, Lithuania – and my seat with free movies only cost me 10 Euro.
Up until this year, the Baltics was the region of Europe that I had overlooked the most. I don't have a good excuse for why, really – I just hadn't made it there. But I vowed to rectify that earlier this year with a week split between Riga and Vilnius.
I chose Riga because I'd seen all sorts of beautiful photos of the city's Old Town. And I chose Vilnius because I literally knew nothing about it – Lithuania isn't a country you tend to read about on most travel blogs. And as much as I love writing about bucket-list-type destinations all around the world, I also love visiting places that some people haven't really considered.
"There are four 'Bs' to Lithuania," my Urban Adventures tour guide told me the following day as we stood in Vilnius' City Hall Square. "Bible, basketball, bread, and beer," she said, ticking each one off on four raised fingers.
I laughed, but had to admit that I'd already seen evidence of all these things in Lithuania's capital.
The country is well-known for its star basketball team, we were about to go to a pub for a local craft beer, and the amount of churches in the city was quite staggering – there are 28 of them in Vilnius' Old Town alone.
It was just the beginning of my fascination with this oft-overlooked country.
Getting to know Vilnius
My Urban Adventures walking tour started at Cathedral Square, in front of the large Vilnius Cathedral and Bell Tower. The cathedral is the main Roman Catholic Cathedral in Lithuania (because, yes, most of the churches here are Catholic ones) and sits right in front of the Palace of the Grand Dukes of Lithuania.
Lithuania was the last country in Europe to convert to Christianity (it was officially converted in the year 1387), and it managed to cling to its Catholic traditions and beliefs even through Soviet rule – which really tells you a lot about the people who call this country home.
We visited quite a few churches on our walking tour, including churches that were closed and damaged by the Soviets, as well as the small chapel inside the Gate of Dawn, which is the last leftover bit of Vilnius' original defensive wall. After the tour, I also made sure to visit St. Anne's Church, a gothic beauty that Napoleon took a fancy to during the Franco-Russian War in 1812.
But even though there are a ton of churches in Vilnius, there's a lot more to see, too.
For one, did you know that Vilnius has its own independent republic within its UNESCO-recognized Old Town? The Republic of Užupis was founded in 1997 by a group of mostly artists who wanted to carve out their own space in the capital. The republic has a (rather amusing) constitution, its own president, and an independence day that's celebrated each year on April 1.
The republic began in a rather undesirable part of town with falling-down buildings. Today, though, Užupis is (naturally) one of the most popular neighborhoods in Vilnius.
And while Užupis represents more recent, post-Soviet history in Vilnius, another site represents its more ancient past: the ruins of the Vilnius Castle Complex, including the iconic Gediminas Tower. The Upper Castle complex is on a hill above the Palace of the Grand Dukes and offers the best views out over the city.
(In the autumn, it also offers great views of the changing leaves.)
RELATED: Get to know some fun facts about Lithuania in this video.
A rainy day in Vilnius
After a comprehensive overview of Vilnius' Old Town on my first full day in the city, I decided to venture to another part of the city on my second day. It poured rain the entire day, but luckily my plan had me mostly indoors.
I started out at the Museum of Genocide Victims near Lukiškės Square. Contrary to what its name might lead you to believe, this isn't a museum about the Holocaust or World War II – it's actually about the 50-year occupation of Lithuania by the Soviet Union and about how Lithuanians resisted. The museum is located inside a building that was the former KGB headquarters in Vilnius, and therefore is often referred to as the KGB Museum.
This isn't a particularly happy museum. But, then again, those years weren't the happiest for people in Lithuania.
While we in the West learn a lot about the Holocaust in school, we don't often learn the same amount about what the Soviets did after WWII. Lithuania lost a huge amount of its Jewish population during WWII (about 200,000 people). And then more than 300,000 Lithuanians were arrested, interrogated, imprisoned, and/or deported during Soviet rule (and roughly 75,000 ended up dying).
If you want a more comprehensive history of Lithuania's Soviet past, then this museum should make it onto your itinerary. (Though I will point out that the fact that the museum is described as a "genocide" museum does suggest that it's presentation isn't exactly warm and fuzzy.)
After all that heaviness, I then headed a block down the street to spend the afternoon at Vilnius' Cat Cafe (Kačių Kavinė).
You can't really come to a place filled with cuddly cats and not be happy. (Right?!)
What makes Vilnius stand out
After my time in Vilnius, I tried to sit down and decide how I'd felt about it. While the Baltic states are often all lumped together, they are each their own countries with distinct cultures. I definitely felt a different vibe in Vilnius than I had in Riga.
Riga felt much more polished – and definitely had more tourists wandering about. Vilnius, on the other hand, is rougher around the edges in some parts, and still hasn't completely recovered from Soviet rule.
But this doesn't mean that Vilnius felt unsafe. On the contrary, I was pleasantly surprised to see families out for walks and kids playing on a playground after school on the way back to my hotel from the Old Town.
I enjoyed spotting the quirks in Vilnius, and I enjoyed being in a place that hasn't been written about to death on all the blogs that I frequently read.
All told, Vilnius is a city I would definitely go back to.
Essential info for Vilnius
How to get there: I found a flight from London to Riga on Wizz Air for an awesome price using Skyscanner, which directed me straight to the airline's site to make my booking (I always use Skyscanner for flight searches in Europe!). I then took the Lux Express bus to Vilnius, which is one of the best (read: cheap and comfy) ways to travel around the Baltics.
Where to stay: I also used Skyscanner to search for a hotel in Vilnius, and ended up booking a room at City Hotels Rūdninkai near the Gate of Dawn. I liked the location (an easy walk to the center of the Old Town, and also right across the street from a great little coffee shop), and especially liked the price – I paid about $200 for 3 nights in Vilnius. (Compare Vilnius hotel prices here.)
Take a tour: I went on a "Undiscovered Vilnius" tour with Urban Adventures while I was in town, which was a great introduction to the city and its history. They also offer a food tour of Vilnius that looks great.

Is Vilnius a place that's going on YOUR travel list now?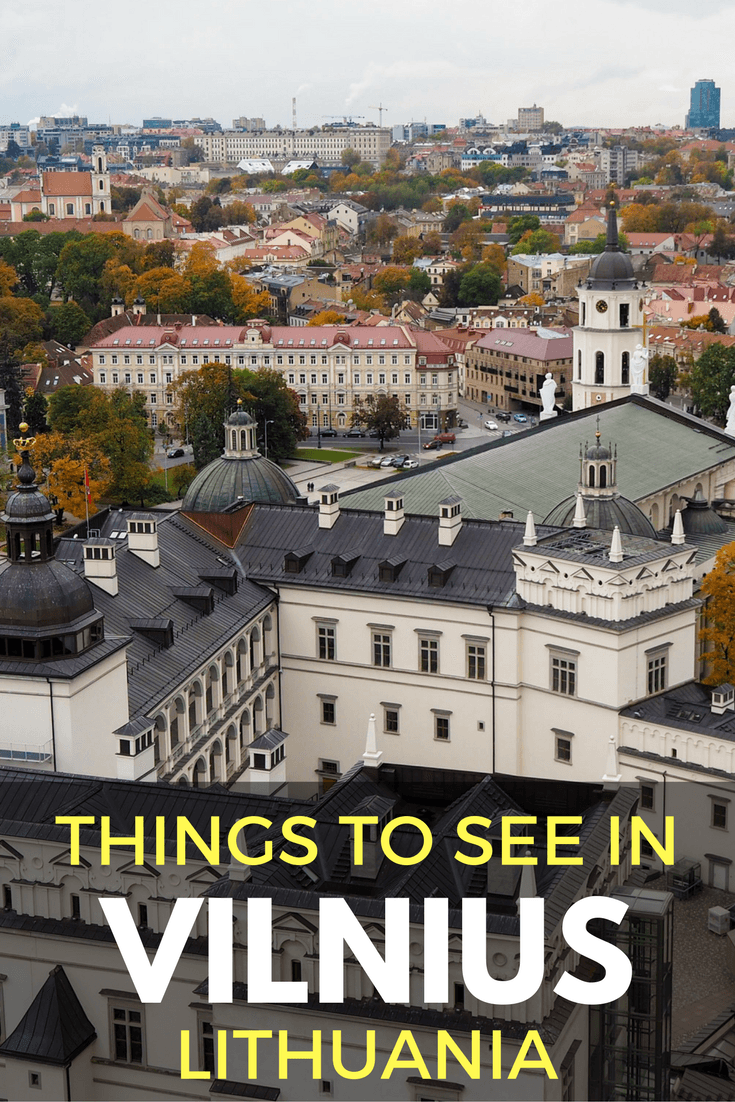 *Note: My trip to Vilnius was partially sponsored by Skyscanner, and I also joined a free tour with Urban Adventures while I was there. But, as always, all opinions and recommendations are 100% my own.