Some posts on this site contain affiliate links, meaning if you book or buy something through one of these links, I may earn a small commission. Read the full disclosure policy
here
.
---
What do you get when you combine national parks, desert landscapes, and a dash of the history of the American West? You get the makings for a pretty amazing road trip through the California desert.
When my friend Kat and I decided to plan a road trip together, I knew I didn't want to go somewhere that either of us had already been before. As we tossed around ideas, crossing off road trips in the Southwest and New England, we soon discovered that we both had Death Valley and Joshua Tree on our to-do lists.
And so the idea for a weeklong California desert road trip was born! Of course, what we didn't realize at the time was that there's more to this part of the US than just Death Valley and Joshua Tree, and that a week wasn't going to be nearly enough time!
But, if you're like us and want to dedicate some time to this part of the country, here's a road trip itinerary you can feel free to steal.
When to plan a California desert road trip
Especially if you're wanting to visit places like Death Valley and Joshua Tree national parks, then the best time to visit is when it's cooler. Summertime might be the most popular time for road tripping in the US, but it's the worst time to visit this part of the country.
Death Valley, for example, is one of the hottest and driest places on earth, and the surrounding desert areas aren't much cooler. Triple-digit temperatures are the norm here in the summer, and you don't want to be spending much time out in the sun when it's that hot.
Late fall and winter are conducive to hiking, but I personally would choose early spring. In the spring, temperatures are still fairly mild, AND you benefit from slightly longer days, meaning more time to spend exploring.
Kat and I did this trip in late February, and it was just about perfect weather-wise (though still quite cold at night!).
7-Day California desert road trip itinerary
Here are all the highlights of this itinerary. Read on for full details!
Day 1: Red Rock Canyon and Death Valley
Day 2: Full day in Death Valley National Park
Day 3: Alabama Hills and Manzanar National Historic Site
Day 4: Drive to Joshua Tree
Day 5: Full day in Joshua Tree National Park
Day 6: Mojave Desert, Seven Magic Mountains and Las Vegas
Day 7: Valley of Fire
This itinerary covers roughly 1125 miles of driving.
Before we dive in here, it's important to note that this itinerary does include traversing through or near the traditional and ancestral territory of many Indigenous peoples, including the Western Shoshone, Timbisha Shoshone, Southern Paiute, Serrano, and others. It's important to respect the land and its history as we travel.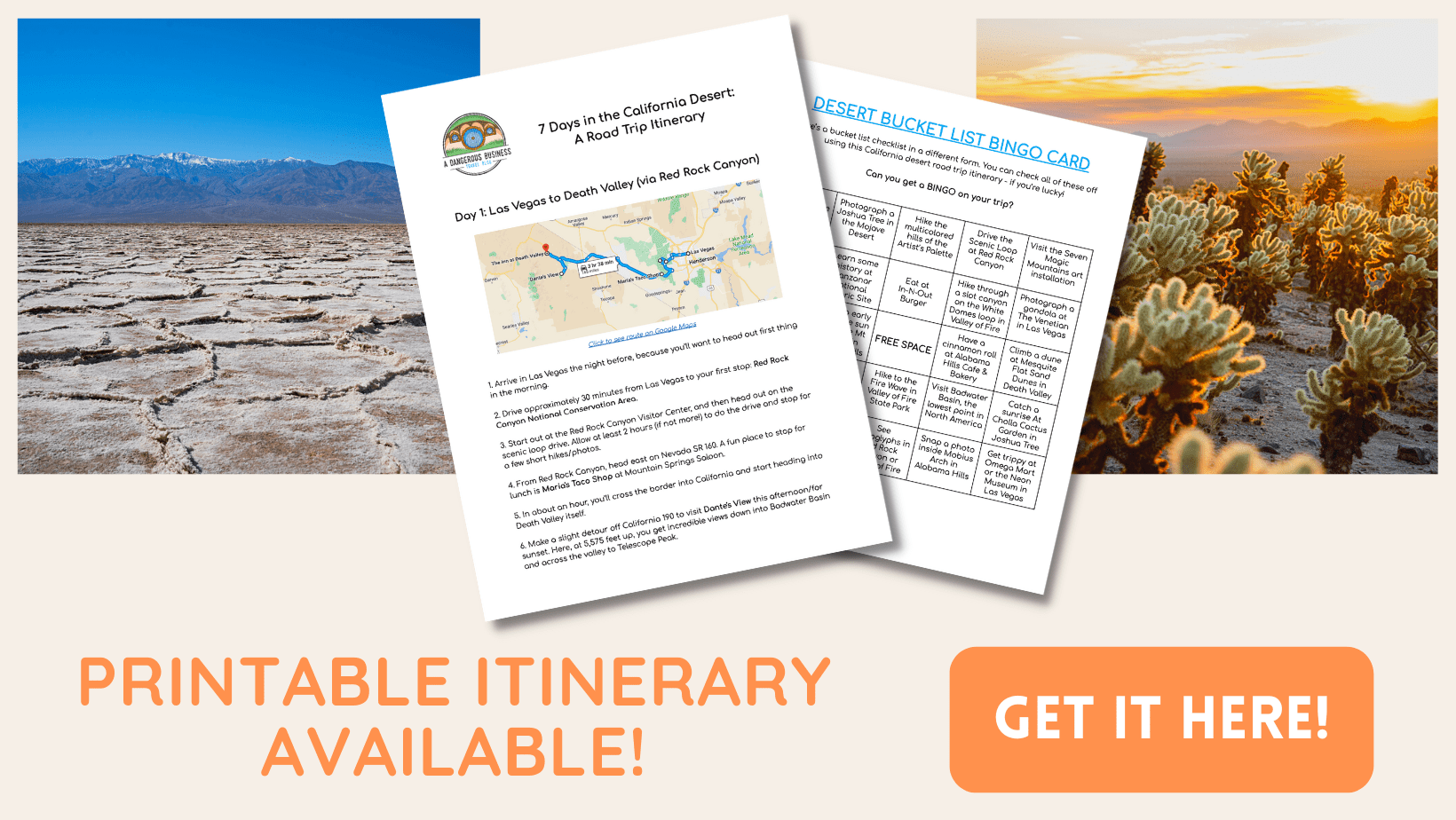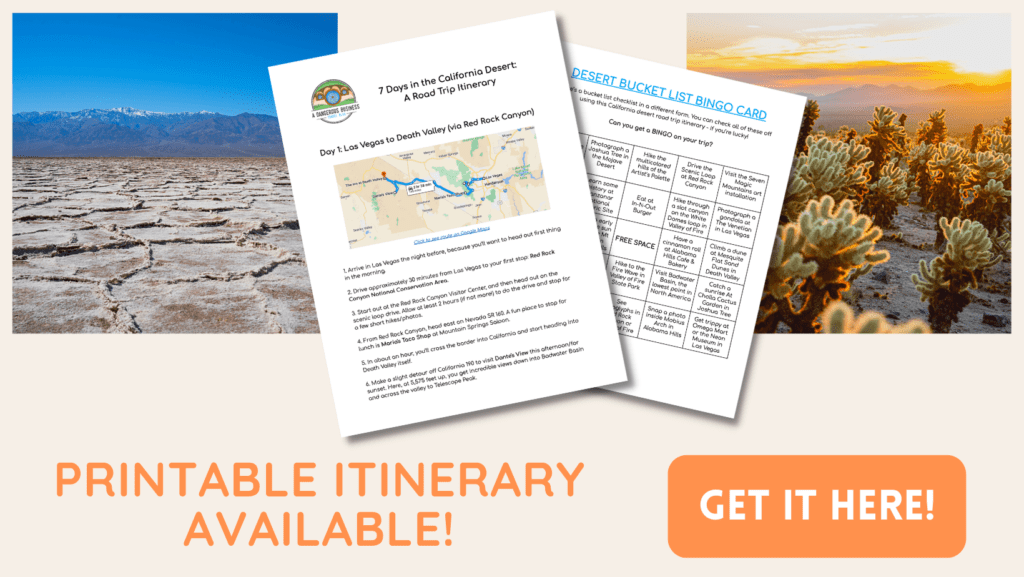 Day 1: Red Rocks to Death Valley
We're starting out early on Day 1 from Las Vegas – so you may need to fly in the evening before. This is what Kat and I did, picking up our car from an off-airport location at the start of Day 1 to save a bit of money.
Need to rent a car for this road trip? There's no shortage of rental car options in Las Vegas. Keep in mind that you might be able to save money by picking up from a location that's NOT at the airport. I always use DiscoverCars.com to compare car rental prices in the US. Search for rental cars here.
Then we hit the road, but only drove about half an hour to our first stop: Red Rock Canyon National Conservation Area.
Red Rock Canyon is a gorgeous spot with a 13-mile scenic loop drive and several cool hiking options. It's managed by the National Park Service, meaning that a National Park Pass works here – though note that you do need to pre-book a timeslot to drive the scenic loop during peak season from October 1 through May 31. More info here.
Start out at the Red Rock Canyon Visitor Center (which is actually excellent and has a bunch of outdoor displays detailing how this place was formed), and then head out on the scenic loop drive.
Allow at least 2 hours (if not more!) to do the drive and stop for a few short hikes. Kat and I enjoyed playing a bit on the rocks at Calico Tanks, saw the petroglyphs near Willow Springs, and hiked the Lost Creek trail.
From Red Rock Canyon, you'll want to head east on Nevada SR 160. If you plan ahead (unlike us), you could pack a lunch and enjoy it at a picnic area within Red Rock Canyon. Otherwise, a fun place to stop is at Maria's Taco Shop at Mountain Springs Saloon. Grab some delicious and authentic tacos or burritos, and grab a drink inside the quirky saloon.
From here, it's about an hour until you cross the border into California and hit Death Valley Junction, where you'll start heading into Death Valley itself.
Pro tip: Consider topping up your gas tank BEFORE you get into Death Valley. Services are few and far between, and the gas prices inside the national park are insane.
If you have the time (and you should!), I recommend making the slight detour off California 190 to visit Dante's View this afternoon/for sunset. This is one of the top spots to visit in Death Valley National Park.
Follow Dante's View Road for 13 miles until it ends at a large parking lot just steps from the viewpoint. Here, at 5,575 feet up, you get incredible views down into Badwater Basin and across the valley to Telescope Peak.
There are trails along the ridge in both directions, too, if you want to spend some time exploring. (Just note that being more than a mile up means it can be COLD, especially during the winter months. There was still snow on the ground when we visited in February!)
Then, it's time to head for your accommodation for tonight.
Total driving time: 4-4.5 hours if you stay in Death Valley
Sample costs: Red Rock Canyon entry fee: $15 (without a National Park Pass)
Where to stay in Death Valley: I recommend staying within Death Valley tonight so that you'll have a shorter drive tomorrow. Your best options are The Inn at Death Valley in Furnace Creek (an upscale, historic park hotel), and the Stovepipe Wells Village Hotel (a more rustic option). You could also stay in Beatty or Lone Pine, but note that that will mean more driving tonight.
Note: Since this itinerary includes several National Park Service sites, an annual National Park Pass (AKA an "America the Beautiful Annual Pass") is not a bad thing to have! It costs $80 and is good at all fee-charging NPS sites for one year. You can purchase a pass online, or in person at any national park.
Day 2: Death Valley
Today is going to be your big Death Valley day! And, even though Death Valley is the largest national park in the lower 48, you actually can hit all the major highlights in one day without rushing too much.
Death Valley does not have an entrance station like many other national parks, so you should start your day today with a stop at the Furnace Creek Visitor Center to either purchase your pass, or to have your annual pass authenticated. You'll get a slip of paper to display inside your car showing that you've paid your fee.
The visitor center is worth exploring, too, and has some really good exhibits on the geological and human history of Death Valley. It's worth noting that Death Valley is one of just a few national parks that gave land back to its traditional owners; the Timbisha Shoshone still live within parts of Death Valley today.
If you start your day early enough, you can head to the Mesquite Flat Sand Dunes next, which are some of the most accessible sand dunes in the park. They are usually very empty before about 10 a.m., and going in the morning will also mean it won't be super hot yet (these are sand dunes in a desert, so there's zero shade).
You could easily spend an hour or two hiking through the dunes, or you could just make a quick photo stop. (You could also visit these dunes for sunset instead – more on this later!)
Next, I recommend heading to Zabriskie Point, where a stunning viewpoint gives you views of the Panamint Mountains and the jutting rock face of Manly Beacon. This is a popular sunrise spot in Death Valley, but the views are great anytime before midday, when the sun is shining on Manly Beacon.
If you have the time and it's not too hot, there are some hikes that start at Zabriskie Point, including the 2.7-mile Badlands Loop trail.
Pro tip: There are places to fill up a water bottle at the Furnace Creek Visitor Center, but few other fresh water sources in the main parts of the park. I recommend swinging by a grocery store (BEFORE you reach the park) and picking up a 2- or 5-gallon jug of water to keep in your car. It will be fine in the trunk for a day or two.
From Zabriskie Point, head into the heart of Death Valley down Badwater Road. Your destination will be the iconic Badwater Basin, the lowest point in North America at 282 feet below sea level.
A lot of people just stop here for a photo, and maybe walk out a little ways into the salt flats, but I recommend coming prepared with a picnic lunch and hiking out into the basin (again, ONLY if you're visiting during a cooler month, as there's no shade here either; bring plenty of water!).
Kat and I had a picnic lunch and photo shoot about a mile out into Badwater Basin, where the salt forms cool hexagonal shapes on the ground.
From Badwater Basin, you can make a photo stop at Devil's Golf Course before doing the 9-mile Artist's Drive. This scenic drive is especially stunning in the afternoon, and it's well worth stopping at Artist's Palette (there's a marked parking area about halfway along the scenic drive) for some photos.
You can also hike into the multi-colored hills here, which I highly recommend!
It will likely be late afternoon by this point, so it's time to start making your way out of Death Valley. You could make one more stop at Harmony Borax Works, where there's a .4-mile paved trail that loops around the former mine site with interpretive panels.
I recommend driving through the mountains to Lone Pine this evening, as it will make tomorrow's plan easier. Depending on what time of year you're visiting, though, this could mean that part of your drive will be in the dark, and there are some steep mountain roads to navigate.
If that doesn't bother you, though, you'll be passing by the Mesquite Flat Sand Dunes again, and could stop for sunset. From the dunes, it's about a 90-minute drive to Lone Pine.
Once you make it to the quirky town of Lone Pine, there are several dinner options to choose from.
Total driving time: 3-4 hours (which includes time driving in the park)
Sample costs: Death Valley National Park: $30 per car (if you don't have an annual parks pass)
Where to stay in Lone Pine: There are a few motels in Lone Pine, with the Best Western Plus Frontier Motel and the Dow Villa Motel being the highest rated. There are also some nice vacation rentals in Lone Pine.
RELATED: 10 of the Best Things to Do in Death Valley National Park
Day 3: Alabama Hills and Manzanar
There's a good chance you've never heard of the little town of Lone Pine, California before – and that's okay! It's a town of fewer than 2,000 people, but what it lacks in population it makes up for with an Old West feel and some stunning views.
Lone Pine sits in the Owens Valley in between the Sierra Nevada and the Inyo mountains. Meaning there are some seriously epic views to be seen here!
Start your morning off right with breakfast at Alabama Hills Cafe & Bakery, which is a favorite with both visitors and locals. If you sit outside, you can even have breakfast with a view of the mountains.
After breakfast, you can head to Alabama Hills, a recreation area in the foothills of the Sierra Nevada Mountains that's cared for by the Bureau of Land Management. Alabama Hills is a popular backcountry camping spot, but is also home to some hiking trails and views of Mount Whitney, the tallest mountain in the contiguous United States.
The entrance is just a 5-10 minute drive from Lone Pine off Whitney Portal Road. Note that the main road through Alabama Hills is unpaved, but it's easily passable in a regular car as long as you drive slow.
There are plenty of places to stop for photos as you drive through Alabama Hills, but Kat and I made for a stretch of road simply called "Movie Road," named as such because hundreds of movies and commercials have been filmed here.
A specific stretch of this road (and yes, it's shown on Google Maps as "Movie Road") traverses up a steep hill, and if you turn around, there's an iconic view back towards the mountain range. It's best to visit this spot during the morning hours, when the sun shines onto the face of the mountains.
After lots of "playing in the road" photos, we backtracked a bit and did a short loop hike called the Arch Loop Trail. There are a few natural stone arches along this trail, with the largest being Mobius Arch. You can climb up into the arch (though please don't try to climb on top of it!) and take some cool photos with the mountains in the background.
Alabama Hills is a fun place to explore for a couple of hours (though, just as in Death Valley, I only recommend hiking here if you're visiting during the cooler months!).
Head back into Lone Pine for a quick lunch, and then it's only a 15-minute drive up US-395 to your next stop at Manzanar National Historic Site.
Manzanar is a place many people (even Americans) don't know much about, which is why you should definitely consider visiting while you're nearby.
Managed by the National Park Service today, Manzanar originally served as one of 10 "War Relocation Camps" during WWII, where Japanese-Americans were imprisoned by the US government after Japan's attack on Pearl Harbor in December 1941.
In total, 120,000+ people of Japanese descent (many of them American citizens) were rounded up from cities along the West Coast and sent inland to prison-like camps. Manzanar was an active camp from 1942-1945, housing roughly 10,000 people in the dusty Owens Valley in California.
Visiting Manzanar is not what I would call a "fun" experience, but I think it's incredibly important to visit places like this when you have the chance. Uncomfortable history is arguably the most important kind of history to witness, and hopefully learn from.
A visit starts at the National Park Service-run visitor center and museum, where you can get an overview of the Manzanar camp and the events that led to these places existing. Then you can visit various buildings that have been reconstructed throughout the large camp via a self-guided driving tour.
You can go inside barracks, where up to 8 people would share one small open "apartment"; roam around in a mess hall; see what the communal latrines looked like; and visit a small cemetery.
This is a part of American history that many people don't learn about in school (I personally don't remember any school lessons on these Japanese prison camps), which makes preserving and visiting places like this even more vital.
It's easy to spend 2-3 hours exploring the Manzanar site, so I recommend taking your time and having a chilled out night back in Lone Pine afterwards. There are a couple good taco trucks to try in Lone Pine (like Tacos Los Hermanos Food Truck and Castro's Taco Stand) if you're craving more Mexican food.
Total driving time: 1.5 hours
Sample costs: None today; both Alabama Hills and Manzanar are free to visit
Where to stay in Lone Pine: There are a few motels in Lone Pine, with the Best Western Plus Frontier Motel and the Dow Villa Motel being the highest rated. There are also some nice vacation rentals in Lone Pine.
Pro tip: There's very little cell or GPS signal throughout much of this part of California, so if you're going to be relying on mobile maps at all, be sure to download them to use offline (here's an explainer on how to do it in Google Maps), or get an app like Maps.me that works offline.
Day 4: To Joshua Tree
You can have a leisurely morning today (maybe another breakfast at Alabama Hills Cafe & Bakery?), and then pack up and prepare to head south.
If it's of interest to you, the Museum of Western Film History is located in Lone Pine and opens at 10 a.m. Hundreds of movies and commercials have been filmed around Lone Pine, including lots of Westerns. The museum chronicles the history of Western movies in this part of California, and has lots of movie memorabilia inside.
Once you hit the road, it's a little under 4 hours to get to Joshua Tree.
A fun roadside stop just south of Lone Pine is at the Olancha Sculpture Garden, a random collection of metal sculptures along the side of US-395.
If you're up for a later lunch and want to hit up a California icon, there's an In-N-Out Burger in Barstow, less than 2.5 hours from Lone Pine. (And yes, I know this because Kat really wanted to go to an In-N-Out on our trip, and this one was super convenient since it was on the way.)
Once you get to the Joshua Tree area, you could pop into Joshua Tree National Park for sunset tonight (Key's View is probably the best sunset spot, though will require more driving to get to), or you can just relax and enjoy your accommodation this evening and prep for an early morning on Day 5.
Total driving time: 4 hours (unless you decide to go to Key's View for sunset; then add another 1.5 hours of driving!)
Sample costs: Museum of Western Film History – $5
Where to stay near Joshua Tree National Park: There are two main towns to stay in with easy access to the national park: Twentynine Palms and the town of Joshua Tree. Both have motel options, but Airbnbs and other vacation rentals are actually the most popular here. Design-forward desert bungalows with hot tubs are all the rage here! Search for Joshua Tree vacation rentals here.
Day 5: Joshua Tree National Park
Today is going to be the day to explore Joshua Tree National Park, and I highly recommend biting the bullet and getting up in time to experience sunrise in the park. Kat convinced me to do this, and it was one of our favorite mornings of the whole trip!
Head into Joshua Tree National Park early, and make your way south through the park to the Cholla Cactus Garden, located about 12 miles from Joshua Tree's north entrance. This cactus garden sits within the Pinto Basin where the Mojave and Colorado Deserts meet, and is filled with close-growing teddy bear cholla cacti.
It's a landscape unlike any other in Joshua Tree National Park, and is especially striking as the sun rises over the nearby mountains to illuminate the semi-translucent yellow spines on the teddy bear cholla.
(Just don't get too close to the plants, as these cacti are covered in tiny barbs that are very painful to remove.)
From the cactus garden, it's a short drive back up Pinto Basin Road to the Arch Rock Trailhead. Arch Rock Trail is a 1.4-mile trail that takes you through a bit of desert, and then through some really cool rock formations (Arch Rock itself is located about halfway through the hike).
I'll say it once more, but I don't necessarily recommend a lot of hiking here unless you're visiting during the cooler months. However, if you're going to the Cholla Cactus Garden for sunrise, you could probably fit in the hike to Arch Rock even in the warmer months before it gets too unbearably hot.
Next you can make a photo stop at Skull Rock, and then continue on to Barker Dam and Hidden Valley for short hikes before lunch. (I recommend a picnic lunch today – just be sure to clean up your trash!)
Other things worth doing in Joshua Tree include the Cap Rock Nature Trail, Hall of Horrors, and driving up to Key's View if you didn't do it on Day 4. On your way out of the park, the Oasis of Mara is also worth stopping to see.
Joshua Tree is not necessarily a small national park, but you can definitely see the main highlights in just one day without too much rushing.
RELATED: How to See the Highlights of Joshua Tree National Park in One Day
This evening, you can once again enjoy your accommodation, and maybe go out to dinner at the Joshua Tree Saloon in the town of Joshua Tree.
Total driving time: 2.5 hours (including driving time in the park)
Sample costs: Joshua Tree National Park fee: $30 per car (if you don't have an annual parks pass)
Where to stay near Joshua Tree: Again, you can stay in either Twentynine Palms or the town of Joshua Tree. Both have motel options, but vibe-y vacation rentals are actually the most popular here. Search for Joshua Tree vacation rentals here.
Day 6: Drive to Las Vegas
Start your day today with some caffeine from the Joshua Tree Coffee Company, and then prepare to hit the road north back to Las Vegas.
The quickest route to Vegas will take you through the Mojave National Preserve. If you're not in a rush, you could make a short detour to the Kelso Dunes, which are another set of cool sand dunes that you can climb.
A little ways south of Las Vegas along I-15, you can also make a stop to see the Seven Magic Mountains art installation. This art piece by Ugo Rondinone consists of 7 giant columns of neon-painted stacked rocks. It was originally supposed to be a temporary installation, but has become semi-permanent instead (thanks perhaps to the site's Instagram fame).
Seven Magic Mountains can sometimes be crowded, but it's a fun, quick, and free photo stop to make if you want to see it.
From there, it's only about 25 minutes more to get to The Strip in Las Vegas.
It's entirely up to you how to fill this evening in Vegas. I personally don't really gamble or drink a lot, but there are still so many cool things to do in Las Vegas. Some ideas you can feel free to steal include:
Check out some of the hotel-casinos along the Strip in the afternoon (for example, definitely pop in to see the gondolas floating along a replica Grand Canal inside the Venetian, and the Conservatory inside the Bellagio).
Head to "Old Vegas" and explore Fremont Street.
Go to the Eiffel Tower Restaurant when it opens and ask to sit at the bar. You can enjoy fabulous views of Vegas (and maybe even a sunset) for the price of a drink.
Take a tour of the Neon Museum (advanced tickets required).
Watch the Bellagio Fountains "perform" after dark.
Check out my whole guide to non-gambling things to do in Las Vegas for more ideas.
Total driving time: 4 hours
Sample costs: There are no entry fees today, unless you decide to visit a paid attraction tonight in Vegas.
Where to stay in Las Vegas: A great option is the Park MGM, which is the only fully non-smoking hotel on the Vegas Strip. The hotel has everything you expect to find in a Vegas hotel (pools, a casino, restaurants including a massive Eataly), but there's no smoking allowed anywhere in the hotel. It's an affordable Vegas hotel option, and it's easy to get from here anywhere else, either on foot or by hopping on the monorail. Hotel parking here is also only $15 a night!
Day 7: Valley of Fire
If you don't party too hard in Las Vegas on Day 6, I highly recommend getting an early(ish) start this morning for one more outdoor adventure. Located just an hour from Vegas sits Nevada's very first state park, and a park that easily rivals all the famous national parks in nearby Utah.
I'm talking about Valley of Fire State Park, which I think is one of the best day trips you can take from Las Vegas. (Red Rock Canyon is also awesome, but I think you'll probably agree after you see Valley of Fire that it's superior!)
It's an easy drive to Valley of Fire, and the park only costs $15 to enter. Meaning you *could* opt to spend just half a day here if you can't extend your trip any longer and still want to do/see things in Vegas. (This is what Kat and I did since she'd never been to Las Vegas before.)
Of course, if you have the time, a full day in Valley of Fire would be best!
Regardless of whether you're spending just a few hours or an entire day at Valley of Fire, I recommend skipping the Visitor Center and rock formations near the front of the park and heading for the park's top two hikes first: the Fire Wave and White Domes.
These hikes are both fairly brief, but going there first thing will mean less crowded trails, and slightly cooler weather. (I know I sound like a broken record, but it's not advisable to do any of these hikes during the summer months, as there's no virtually shade and this is still the desert.)
Kat and I started with the Fire Wave hike, which is a fairly easy hike out to a rock formation that does indeed look like a swirly "wave" of pink and white rock. The day we went (a weekday morning in February), we had the wave all to ourselves for a little while, which was amazing! Photographers love this spot, as there are so many unique angles to shoot.
After hiking back the way we came (the total hike is about 1.25 miles), we hopped in the car and drove a short distance to where the White Domes loop begins. This even shorter trail has a little bit of everything, from colorful rock formations to even a very small slot canyon.
From White Domes, we stopped along Mouse's Tank Road for some iconic Valley of Fire photos before making our way back to Las Vegas.
If you have more time to spend, though, I recommend also going to see Elephant Rock, hiking to Rainbow Vista, seeing the petroglyphs at Atlatl Rock, playing around in an area called The Beehives, and stopping in to the Visitor Center before leaving Valley of Fire.
RELATED: How to Spend One Day in Valley of Fire State Park
Back in Las Vegas, Kat and I spent a couple hours at an immersive art installation called Omega Mart by Meow Wolf, inside a funky space called Area 15. If you have the time to fit this trippy adventure into your itinerary, it really is worth it!
Total driving time: 3 hours (including time driving in Valley of Fire)
Sample costs: Valley of Fire: $15 for non-Nevada residents; Omega Mart: $55 (buy timed tickets in advance here)
Where to stay in Las Vegas: Again, I recommend staying at the Park MGM in Las Vegas. If you only do a half-day at Valley of Fire, come back here for lunch at Eataly, and have drinks at Juniper, which is a fun gin bar.
If you have more time…
Obviously if you have more than a week, I'd recommend spending some more time in Las Vegas! There's always plenty to do to fill a few days in Vegas, whether it's your first or fifteenth visit.
Other ways to extend this trip could include spending time in the trendy Palm Springs area before Joshua Tree, or possibly visiting Mammoth Lakes, or Kings Canyon and Sequoia national parks after Death Valley. (Just note that Mammoth and those national parks can be difficult to reach due to snow if you visit during the winter months.)
Even if you don't extend this trip, though, it's still an epic weeklong trip to Vegas and the California desert!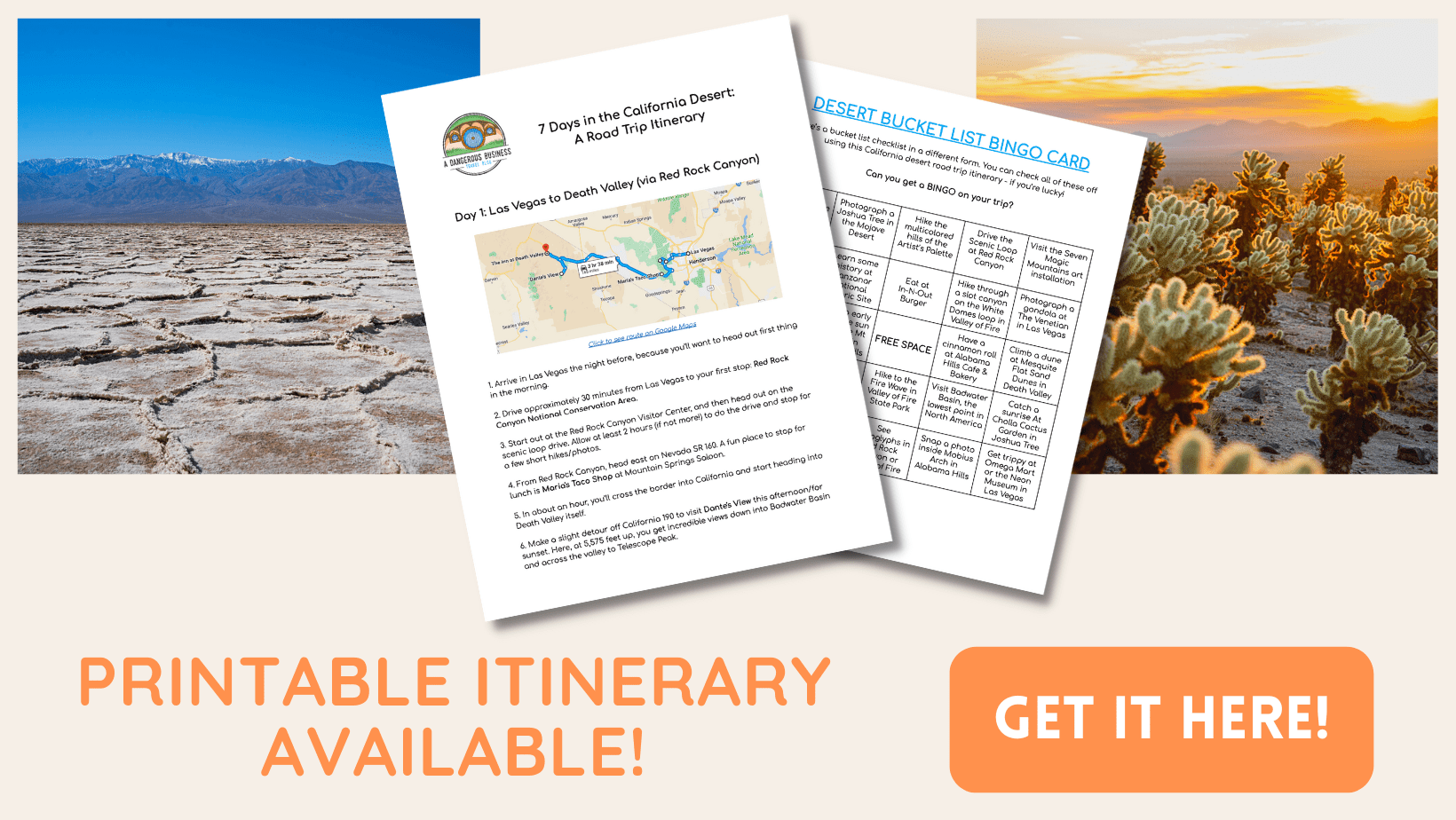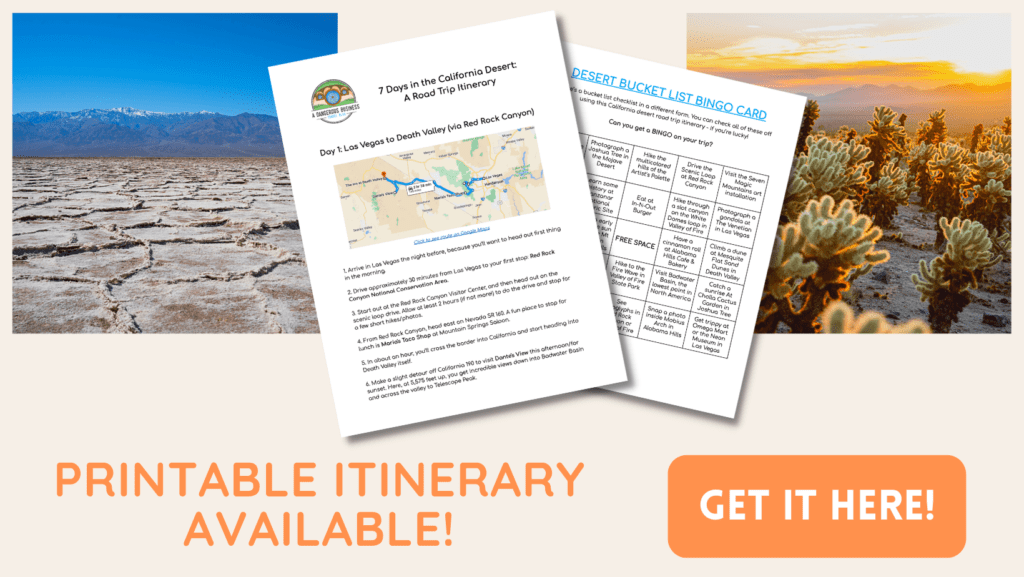 California desert road trip tips
First of all, don't make these mistakes when planning this road trip!
And here are a few more tips:
READ NEXT: A Perfect 10-Day Southwest Road Trip Itinerary
Who wants to plan this trip for themselves?