Some posts on this site contain affiliate links, meaning if you book or buy something through one of these links, I may earn a small commission. Read the full disclosure policy
here
.
---
National parks are, in my opinion, one of the best things about living and traveling in the United States. These natural places are all rich in history, and overflowing with stunning landscapes and unique experiences.
While I don't necessarily have a goal of visiting every national park in the US, I do take every opportunity that comes my way to visit new ones. So when I had the chance to plan a road trip that would take me to Death Valley National Park, I didn't think twice!
An intro to Death Valley's history
Death Valley is unique for many reasons within the US national park roster. It's the hottest, driest, and lowest place in North America, and one of the largest national parks in the US. It's a place of extremes, and visiting is an adventure.
Death Valley officially became a national park in 1994, but before that was a national monument for several decades.
But before that, of course, it was home to Indigenous peoples. (Most national parks in the US were at some point ancestral lands to Indigenous peoples, and it's important to remember that when visiting.)
The Timbisha Shoshone people lived in this hot and dry place for centuries before white settlers arrived. They hunted and harvested here for generations, calling the place Tüpippüh and migrating between various parts of the valley based on the season.
White men didn't enter the valley (or give it its current morbid name) until 1849, when prospectors on their way to California passed through the valley. Gold, silver, and then borax were eventually discovered in Death Valley in the 1850s and 60s, which gave way to mines popping up in the late 1800s.
Once most of the borax mines were shuttered, the focus turned to Death Valley's tourism potential. The Furnace Creek Inn (now the Inn at Death Valley) opened in 1927, and in 1933 President Hoover created Death Valley National Monument, which protected 2 million acres. It also, however, effectively removed the Timbisha Shoshone from their ancestral lands, relocating them to less and less desirable locations around Furnace Creek in the following decades.
Death Valley National Monument was eventually expanded and "upgraded" to a national park in 1994. In 2000, President Clinton signed the Timbisha Shoshone Homeland, which finally granted the Timbisha Shoshone a permanent land base within their ancestral homeland – including several hundred acres within Death Valley National Park itself.
You can learn a little more about this land struggle at the Furnace Creek Visitor Center, and note that Death Valley's park signs also acknowledge this history.
Best time to visit Death Valley
Now that you know some of the park's history, the next thing you likely want to know is, when is the best time to visit Death Valley National Park?
Like most US national parks, Death Valley is open 24 hours a day, 365 days a year. You *can* visit at any time. But I personally think the best time to visit Death Valley is in the late winter or early spring (think February-March).
Death Valley lies in the northern Mojave Desert, and is indeed one of the hottest and driest places on earth during the summer months. High temperatures have topped out here above 130 degrees F.
And while it might be cool (no pun intended) to see a temperature reading of 100+ outside the Furnace Creek Visitor Center, you are not advised to do any hiking or spend much time outdoors at all in Death Valley when temperatures get that high – there's very little shade and few water sources, and you can dehydrate quicker than you'd think.
Even driving the main road into Death Valley, you'll see signs warning you to turn off the air conditioning in your car in the summer to avoid it overheating.
Late fall and winter see cooler temperatures inside Death Valley that are more conducive to hiking, but I personally would choose early spring. In the spring, temperatures are still fairly mild, AND you benefit from slightly longer days, meaning more time to spend exploring.
From mid-February to early April, you can also sometimes get lucky and see wildflowers (sometimes even super blooms!) in the Death Valley basin.
I visited Death Valley in late February, and while it was dry and sunny, temperatures were mild and perfect for hiking (but we definitely needed warm layers for the morning hours!).
Top 10 things to do in Death Valley National Park
While Death Valley is the largest national park in the lower 48 (covering 3.4 million acres, or 5,270 square miles), you actually can see most of the main "highlights" in the park in one day. Granted, it'll be a very long day, but technically it's do-able!
Most of the things on this list can fit into that one day, though obviously if you have more time, you can see some of the more remote spots and maybe do some longer hikes.
1. Furnace Creek Visitor Center
A good place to start your Death Valley visit is at the Furnace Creek Visitor Center. The famous temperature display is outside the entrance here, and there's also a 20-minute park film and a small museum inside that has some fantastic exhibits about the natural and human history of this place.
Most importantly, though, you'll need to stop here to either pay your park entrance fee, or get a pass showing that you've paid already (i.e. if you have an annual pass). There are no entrance gates into Death Valley National Park, so everyone needs to stop in to the visitor center.
The visitor center is open from 8 a.m.-5 p.m. most days throughout the year.
2. Mesquite Flat Sand Dunes
There are actually several dune fields within Death Valley, but the most easily accessible ones are the Mesquite Flat Sand Dunes, located right off CA-190 (you can't miss the parking lot).
A popular place for both sunrise and sunset, these sand dunes consist of super soft golden-white sand, with mountain views in several directions.
The hike out to the tallest dune here (which is only about 100 feet tall) is roughly 1 mile each way, but just note that hiking over sand can be very taxing! Hiking here at all is not advised during the summer months, but luckily you can get excellent views of the dunes from the parking lot, or by walking just a short way into the dune field.
My friend Kat and I visited the Mesquite Flat Sand Dunes on a cool February morning, and spent quite a bit of time in the early morning hiking and frolicking in the sand. The parking lot was starting to fill up by the time we left before 10 a.m., but the dunes themselves never felt crowded.
Other sand dune fields in the park include Eureka Dunes (reachable by normal car, but requires driving on unpaved roads), Panamint Dunes (requires driving down a dirt road and then a 3-mile hike), Saline Valley Dunes (takes some time to get to), and Ibex Dunes (requires a hike).
Good to know: The Mesquite Dunes are some of the only ones within Death Valley where you can go sand boarding if you want (though you'll need to bring your own board/sled).
3. Zabriskie Point
Not far past the Furnace Creek Visitor Center along Highway 190, you won't want to skip a stop at Zabriskie Point. Lots of people come here for sunrise, when the first rays of sunshine illuminate the Panamint Mountains and then the jutting rock face of Manly Beacon.
But if you don't want to wake up for sunrise (or if you just want to miss the sunrise crowds), I can assure you that this spot is great any time during the morning hours. (In the afternoon, however, the sun is very harsh here for photos.)
There's a fairly large parking lot here, and then a short paved trail that leads uphill to a stunning viewpoint. From the viewpoint, you can see Manly Beacon and all the way down into the surrounding badlands to the salt flats below.
You can start hiking on the Badlands Loop Trail here, too, which connects to other trails to spots like Gower Gulch, Golden Canyon, and Red Cathedral.
Kat and I didn't do any hikes, but the view alone was worth the stop.
4. Dante's View
Speaking of views that are worth the stop, you can detour to Dante's View after stopping at Zabriskie Point. It's only about a 30-minute drive from Zabriskie Point to the end of the 13-mile Dante's View Road, which spits you out in a large parking lot after a couple miles of driving switchbacks.
Dante's View sits at 5,575 feet, looking down into Badwater Basin and across the valley to Telescope Peak. The walk from the parking area to the viewpoint itself is only a few steps, but there are trails along the ridge in both directions if you want to spend some time exploring.
Just note that since you're more than a mile up on top of a mountain range here, it can be (and very often is!) cold and windy. If you're visiting outside of the summer months, make sure you have an extra layer or two you can throw on. (In late February, there was snow up here!)
Dante's View is another popular spot at both sunrise and sunset. Kat and I actually visited here towards the end of the day (pre-sunset), but it's honestly great any time of day.
Good to know: The last few miles of Dante's View Road are not suitable for vehicles over 25 feet in length.
5. Badwater Basin salt flats
Perhaps the most famous spot within Death Valley National Park is Badwater Basin, the lowest point in North America. Sitting 282 feet below sea level, Badwater Basin is a vast, low-lying area between two mountain ranges. The valley floor is covered in salt flats, and here you can walk out into them.
There's a small boardwalk and well-worn trail close to the parking lot, and many people simply hop out here to take a quick photo of the sign, and walk a little ways out into the salt to say they've been here.
But if it's not too hot and you have more time, you can actually explore as much as you want in the salt flats. Kat and I walked about a mile out from the parking lot, where the salt forms into interesting hexagonal shapes.
Even though Death Valley doesn't get much rain (on average, this national park averages less than 2 inches of rain in an entire year!), the rain that it does get helps form the interesting shapes you can find in Badwater Basin.
If you're lucky enough to visit after a storm, you might even see standing puddles out in the salt flats. This water dissolves the salt coating the top layer of the ground, and as the water evaporates, it re-deposits the salt, often in crusty ridges that form hexagonal shapes. I'll admit I can't explain all the science behind this, but it sure is cool to see!
Just note that you won't always find the pure-white salt flats out here that you've perhaps seen on Instagram. Yes, there will definitely be salt, but depending on when it last rained and how much dust has blown down into the valley since then, Badwater Basin can sometimes take on more of a brown hue.
Crunching across the ice actually reminded me of walking over a frozen pond, and I had to keep reminding my brain that I wasn't about to fall through the ice!
Good to know: There is a vault toilet at the parking area here, but no fresh water source. If you plan to hike into the basin, be SURE to have a full water bottle with you. There's absolutely zero shade.
6. Artist's Drive and Artist's Palette
Not far from Badwater Basin, another must-do in Death Valley is to drive the one-way Artist's Drive. This 9-mile scenic road takes you through some stunning hills that have been eroded to reveal multi-colored rocks and dirt. The rainbow of colors comes from volcanic deposits of things like iron and magnesium and chlorite.
The drive alone is stunning, but the star of the show is Artist's Palette, which is a marked turn-off/parking area a little more than halfway along the scenic loop. From the parking area, you get a breathtaking view of a hill awash in pinks and yellows and greens.
The more adventurous can hike up into these hills; it's an easy walk from the parking area, and the rocks/dirt are just as colorful up close.
The best time of day to visit Artist's Palette is in the late afternoon right up until sunset, when the colors look the most vibrant. They also look really good on cloudy days, and after brief rains.
Good to know: The Artist's Drive Scenic Loop is one-way and narrow in spots. There's a vehicle length restriction of 25 feet.
7. Devil's Golf Course
Highway 190 runs east-west across Death Valley National Park, but the many of the things to do and see lie along Badwater Road. Badwater Basin and Artist's Drive, for example, are both off this park road.
Another attraction worth stopping at along this road is called "Devil's Golf Course," which is reached via a short drive down a packed-dirt/gravel road. This isn't a real golf course, of course, but rather is an area of salt formations that are larger and more jagged than those a little further down the valley at Badwater Basin.
Hiking here is tricky because of the sharp salt formations, but it's a cool spot to stop for one more photo.
8. Hiking in Death Valley
Probably owing to its extreme environment and the fact that hiking simply isn't advisable here for a good portion of the year, Death Valley isn't usually regarded as a great national park for hiking. That isn't to say that there aren't hikes, of course – there are! – but most people visit Death Valley mainly to see the stark landscapes.
Kat and I did do "hikes" in the Mesquite Dunes and at Badwater Basin (and briefly, I guess, at Artist's Palette), but we didn't tackle any longer hikes on designated trails in Death Valley. If you have more than just one day in the park, though (and if you're visiting at a time when hikes aren't going to be dangerous to undertake), then there are some cool hikes to try.
Some that are recommended include:
Natural Bridge – 1 mile out and back, rated easy. You'll hike to a rock arch (AKA natural bridge).
Badlands Loop – 2.7 mile loop, rated moderate. Hike down into the badlands from Zabriskie Point. This trail connects to the Golden Canyon and Gower Gulch trails, too, if you want a longer hike.
Golden Canyon to Red Cathedral – 3 miles out and back, rated moderate. This slightly uphill hike starts off Badwater Road and takes you through a golden-hued canyon. Some moderate rock scrambling is required.
Gower Gulch Loop – 4.3-5.3 miles, rated moderate. To make this a loop, you head out on the Golden Canyon trail, and return on the Gower Gulch trail. It's an extra mile if you add on Red Cathedral.
Mosaic Canyon – 4 miles out and back, rated moderate to difficult. This trail passes through narrow sections of canyon and eventually ends at a dryfall. If you do the whole trail here, there's a 1200-foot elevation gain and some rock scrambling. You can also just do the first section of the hike if you only want to see the narrows.
There of course are more and longer hikes in Death Valley (you can even hike the 14-mile trail to summit Telescope Peak!), but these are some of the most popular ones that don't take a ton of time. Check out the full list of Death Valley hikes here.
9. Stargazing
Death Valley National Park is very remote and far away from any large settlements. This makes it an excellent place for stargazing. In fact, it's so good that it's rated a Gold Tier Dark Sky Park by the International Dark-Sky Association.
When the nights are dark and the sky is clear, you can view the night sky from just about anywhere in the park (and the park never "closes," so you don't have to worry about visiting after-hours). But some of the best areas to go stargazing in Death Valley include at the Mesquite Flat Sand Dunes, Harmony Borax Works, Badwater Basin, and Ubehebe Crater.
During the winter, you can join Ranger-guided programs about the night sky, and the park even hosts a Dark Sky Festival each year.
Good to know: You'll see lots of photos of the Milky Way over Death Valley online, but note that this particular part of the night sky is not visible in southern California year-round. You can see the Milky Way in Death Valley April-September (with June and July being the best months for viewing), but generally not during the winter months.
10. Mine ruins
The last thing I'll put on my Death Valley top 10 list is visiting some of the old mine ruins within the park. Harmony Borax Works only operated for about five years from 1883-1888, but images of the large mule teams pulling double wagons full of ore across the desert are ubiquitous here.
There are still some ruins at Harmony Borax Works near Furnace Creek, and a .4-mile paved trail loops around the mine site with interpretive panels along the way. If you want more insight into this part of Death Valley's history, this is a good stop to make.
You can also add on the drive through Mustard Canyon to your visit, which begins right at Harmony Borax Works. The Mustard Canyon road is an unpaved road that connects to Highway 190. Film buffs might like to know that parts of Star Wars Episode IV: A New Hope were filmed here.
Other things to do in Death Valley
Have more time in Death Valley and want to get more off the beaten path (literally)? Here are some other places you might want to add to your itinerary that take a little extra time to get to:
Ubehebe Crater – Get up close and personal with Death Valley's volcanic past at Ubehebe Crater. This large crater is only about 2000 years old, making it pretty young, geologically speaking! There's a 1.5-mile loop trail that will take you around the rim of the whole crater.
Wildrose Charcoal Kilns – These 10 kilns were built in 1877 to supply charcoal for some nearby mines, but were abandoned after just a couple years. The road to get here is gravel for the last 2 miles (but generally passable in a regular car).
Darwin Falls – Want to see some water in the desert? Then the 2-mile hike to Darwin Falls might be for you. This 18-foot-tall waterfall is spring-fed, and therefore a year-round fixture important to the natural environment within Death Valley. The road to get to the trailhead is unmarked and gravel, and is not always passable by regular cars. NO SWIMMING is permitted here.
Off-road spots in Death Valley – There are some even more remote parts of Death Valley that are only accessible in a high-clearance, 4-wheel-drive vehicle. Perhaps the most famous of these is The Racetrack, a very remote dry lakebed home to the mysterious "moving rocks."
There of course are lots more things to do – Death Valley is the largest US national park outside of Alaska, after all – but this should be a good list to start from.
A recommended one-day Death Valley itinerary
If you only have one day in Death Valley, here's my recommendation for how to see as much as possible!
Sunrise or early morning visit to Mesquite Flat Sand Dunes
Furnace Creek Visitor Center
Photo stop at Zabriskie Point
(Optional) Badlands Loop Trail
Devil's Golf Course
Badwater Basin hike (bring a picnic lunch!)
Artist's Drive with a stop to walk into the hills at Artist's Palette
(Optional) Golden Canyon Hike
Stop at Harmony Borax Works
Dante's View for sunset
Some other things you could add in if you have time (or if you aren't planning to do any hikes) include the short interpretive trail at Salt Creek, scenic drives through Mustard Canyon or Twenty Mule Team Canyon, and visiting the Timbisha Shoshone Village if it's open to visitors (it was not open when I visited Death Valley).
Where to stay in Death Valley
If you want to stay inside Death Valley National Park itself, there are only three non-camping options with decent reviews:
The Inn at Death Valley – Formerly the Furnace Creek Inn, which has been around since 1927, the Inn at Death Valley is an upscale hotel located right at the intersection of Highway 190 and Badwater Road. The hotel resembles a desert oasis, and comes complete with a spring-fed swimming pool. Being located inside a national park, though, rooms come at a premium.
The Ranch at Death Valley – Associated with the Inn, this is a more budget-friendly option in Furnace Creek. It has more of a motel feel, but can still be quite pricey during high season (I personally could not justify the cost to stay here).
Stovepipe Wells Village Hotel – This rustic, Western-themed hotel is near the Mesquite Flat Sand Dunes. It has a bar, restaurant, and swimming pool, and is across the street from a cute general store.
Other relatively nearby places you could stay include the towns of Beatty, Pahrump, and Lone Pine – but note that staying in any of these will mean a bit of a drive into/out of the park each day.
I stayed in Lone Pine, for example. On a map, it's not far from the western edge of Death Valley National Park. But in reality, you have to drive roughly 1.5 hours from Lone Pine to get into the heart of the park. It was worth it since I wanted to visit other sites near Lone Pine (such as Alabama Hills and Manzanar National Historic Site), but it wasn't all that close to Death Valley.
Some hotel/motel options in these towns include:
If camping in Death Valley is more your speed, you can find info about camping within the park here.
Tips for visiting Death Valley
Some final parting tips to help your Death Valley National Park trip the best it can be.
Bring lots of water – There are places to fill up a water bottle at the Furnace Creek Visitor Center, but few other fresh water sources in the main parts of the park. I recommend swinging by a grocery store (BEFORE you reach the park) and picking up a 2-5 gallon jug of water to keep in your car. It will be fine in the trunk for a day or two.
Get gas before you arrive – There is technically a gas station at Furnace Creek, but the prices are absolutely outrageous (in February 2022, before gas prices even started to skyrocket, gas at Furnace Creek was $7 a gallon!).
Download offline maps – There's very little cell or GPS signal throughout most of the park, so if you're going to be relying on mobile maps at all, be sure to download them to use offline (here's an explainer on how to do it in Google Maps), or get an app like Maps.me that works offline.
Prepare for the sun – There's very little shade in Death Valley, so even if you're visiting in the cooler winter months, come prepared with sunglasses, sunscreen, and a sunhat. The hat I'm wearing in my Death Valley photos is from Wallaroo.
Pack a lunch – There aren't many food options within Death Valley, and the ones that are available can be far away from the main sights. If you want to avoid backtracking just for a meal, pack a lunch (fruit, trail mix, PB&J sandwiches, etc) that you can eat wherever you happen to be when you get hungry.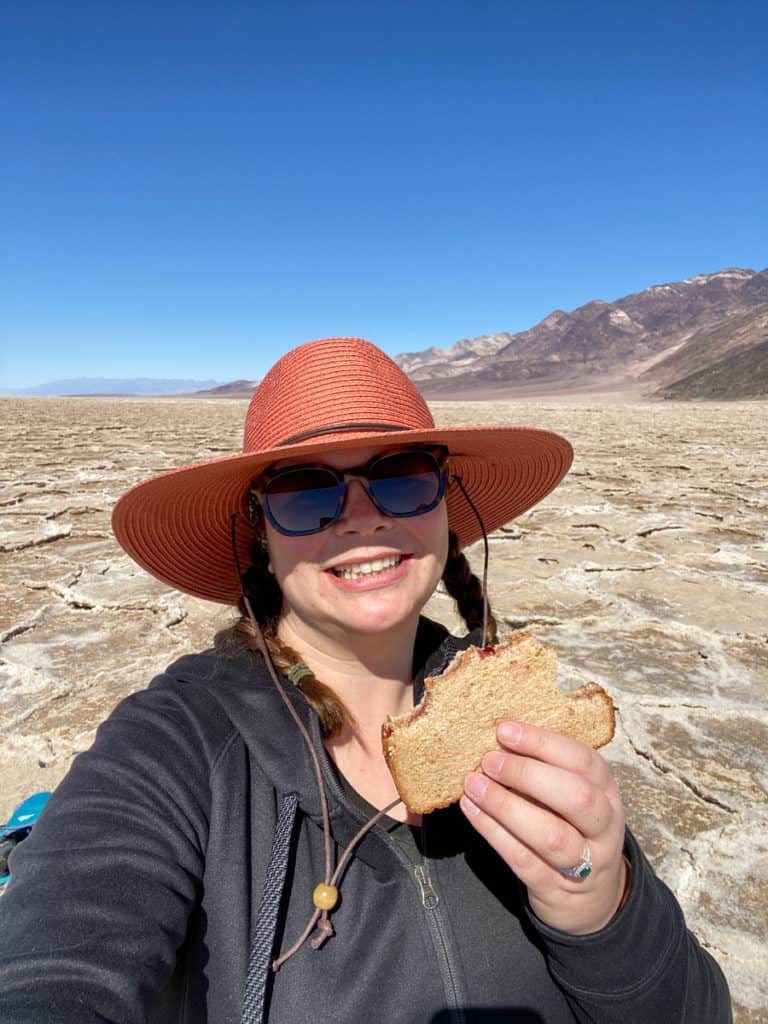 ---
I hope this Death Valley guide has inspired you to plan your own trip to this unique and extreme national park!
Which part of Death Valley would you most like to see?