Some posts on this site contain affiliate links, meaning if you book or buy something through one of these links, I may earn a small commission. Read the full disclosure policy
here
.
---
So what do you get when you combine a tradition of beer brewing with a tradition of draft horse breeding? The Budweiser Clydesdales, of course!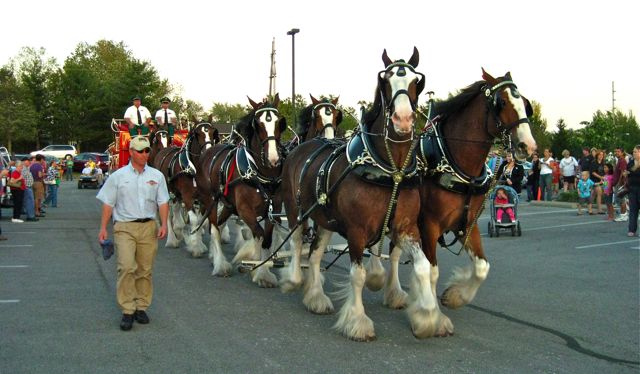 These famous gentle giants have been the mascots for the Anheuser-Busch Brewing Company for decades, appearing in advertising, in some pretty awesome Superbowl ads, and in person to the delight of millions.
The first hitch of Budweiser Clydesdales made their debut in 1933, in celebration of the repeal of Prohibition. Since then, the operation has grown considerably. These days, three hitch teams travel the U.S. for roughly 11 months out of the year, pulling iconic red beer wagons at county fairs, festivals, Oktoberfests and more throughout the States.
I was lucky enough to see a team of these gorgeous horses in Findlay, Ohio, at the 2010 Flag City Oktoberfest, and get a behind-the-scenes look at all the time and hard work that goes into getting the hitch ready for a parade.
Check out my video of the event, and then keep reading for more details and photos!
The Budweiser Clydesdales
Each hitch consists of eight horses, though 10 travel in each convoy, just in case alternates are necessary. The hitch I saw is based out of St. Louis. They (along with the other hitches) travel with three 50-foot semi trucks. Two trucks carry the horses, while the third carries all the tack and the iconic red beer wagon.
The crew spent about half an hour polishing this puppy up before hitching the horses to it. Today it's just for show, but before automobiles were popular, this was how beer was delivered.
Once the wagon was polished, the horses were brought out, one at a time. It took 5-6 minutes to get each horse ready, from making sure it was perfectly groomed to getting it into its shiny harness.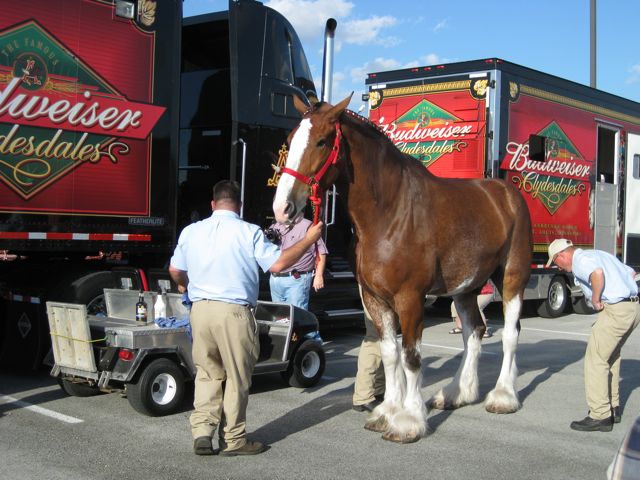 Fun fact: Tack for one Bud Clydesdale comes in at about $10,000.
Clydesdales are are a friendly, gentle breed of horse, even though their size makes them look quite intimidating.
This one in particular was funny — he (because all of the Bud horses are male geldings) kept sticking his tongue out!
Clydesdales have to meet specific qualifications in order to be on one of Budweiser's hitch teams. Hopeful horses must have a bay (reddish-brown) coat, four white stockings (on their legs), a white blaze (on the face), and a black mane and tail.
Clydesdales weigh, on average, about 2,000 pounds. Their hooves are easily bigger than my head.
The obligatory butt shot…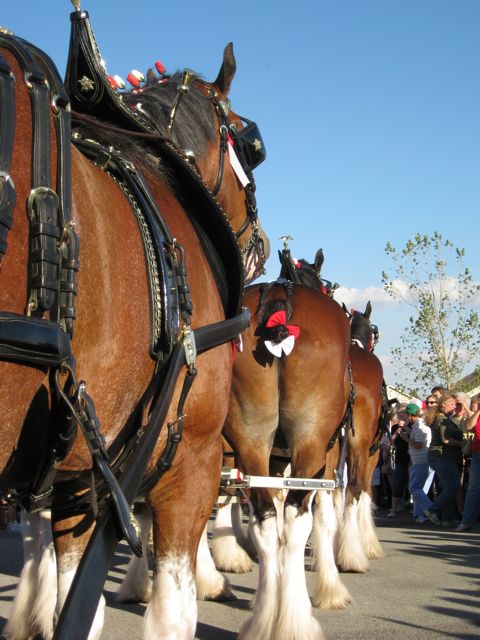 After nearly an hour and a half of polishing, grooming, tacking up and hitching, the team was finally ready to parade around town!
Trained Dalmatians also travel with each hitch. The dogs used to be used to guard the team and beer wagon while the driver was inside a building making a delivery.
Today, the dog is more of a tradition, keeping the horses company and sitting next to the driver on the wagon.
Being that the horses are so large, they go through a lot of food and water each day – 20-25 quarts of feed, 50-60 pounds of hay, and up to 30 gallons of water per horse. Talk about eating like a horse!
After plenty of parading and standing around on display, the Clydesdales made one last lap around the block – into the sunset – before heading back to the trucks for the night.
Seeing the Budweiser Clydesdales was a really fun experience. The horses are even more impressive in person than they appear in photos and TV ads, and I'm so glad I got to see them up close and personal. (And did I mention I'm a draft horse fanatic?)
If the hitch team ever comes to a town near you, definitely consider going out to see them. (Check out their touring schedule here!)
Have you ever seen one of these teams in person?