You probably know Washington, DC as the capital city of the United States. You might know that it was named after our first President, George Washington, and that it's the current seat of our federal government. You might also know that it's home to lots of monuments, memorials, and museums, and that it's a popular city for tourists to visit.
I've been one of those tourists in Washington, DC many times, and can confirm that it's a great city for a long weekend getaway in the US.
I decided to use my various visits to come up with a guide of things to do in DC that would include ALL parts of the city, from the historical to the government-y to the cool neighborhoods that make DC so much more interesting.
Trips to my nation's capital usually aren't long for most visitors, so here's my guide for what to do in Washington DC in just 3 days.
3 days in Washington, DC
Day One in DC
Ready to get your tourist on? Because that's what I recommend for your very first day in Washington, D.C.! There's a LOT to see and do here, and some of the best things are actually the things you'll find listed in all the guidebooks.
1. Visit the National Mall
Washington DC's National Mall is probably the most famous part of the city (well, maybe other than the White House). It's where you'll find all the famous monuments and museums, stretching from the Lincoln Memorial to the US Capitol building. 
(Well, actually the second half of the area, between the Washington Monument and Capitol building, is the "official" National Mall, but most people consider it to include everything up to the Lincoln Memorial, too.)
And, fun fact, it's managed by the National Park Service!
Must-see memorials and monuments include:
The Lincoln Memorial (it's worth it to walk up all the steps!)
Vietnam Veterans Memorial
Korean War Veterans Memorial
National World War II Memorial
The Washington Monument
All of the memorials are outdoors and free to visit, but be sure to wear good walking shoes – the Mall is huge!
2. See the White House
You can't go to Washington, DC, and not get a glimpse of the famous White House! You can take a slight detour to see it as you make your way down the National Mall, as it's near the Washington Monument (across the Ellipse).
Tours are offered of the White House on select days, too, but you'll need to contact your local Representative (or your embassy in Washington, DC if you're not American) in order to request and schedule a tour. More info here.
3. Stroll around the Tidal Basin
If you've seen photos of Washington, DC, bathed in cherry blossoms, chances are you've seen photos of the Tidal Basin. This reservoir is great for a stroll (the trail around it is just over 2 miles long), or you can even rent a paddleboat to explore.
You'll find several memorials around the basin, too, including the Martin Luther King, Jr. Memorial, the Jefferson Memorial, and the Franklin Delano Roosevelt Memorial.
RELATED: How to Have the Best Cherry Blossom Trip to Washington, DC
4. Walk to the Capitol
While the National Mall doesn't "officially" stretch to all the memorials or the US Capitol building, it's natural to walk there since it's kind of the second bookend to the Lincoln Memorial.
The US Capitol building is a pretty impressive sight, and nearby Union Station and the Library of Congress are also well worth a visit if you enjoy architecture.
Day Two in DC
Don't put those walking shoes away just yet, because there's still a lot more walking to do today.
1. Go to a museum (or five)
Washington, DC, is known for its Smithsonian Museums. If you walked the National Mall on Day One, you likely saw most of these since they're all located between the Washington Monument and Capitol building. Today is the day to visit one or two of them.
My favorites are the Smithsonian National Air and Space Museum and the Smithsonian National Museum and Natural History, but there's also a museum of American history, a museum of American art, the Museum of the American Indian, a museum of African American History and Culture, and even a postal museum.
And the best part? ALL of the Smithsonian museums are 100% free to visit. (You do need to make reservations in advance for the National Museum of African American History and Culture.)
Other visit-worthy museums in downtown DC include:
The US Holocaust Memorial Museum
National Gallery of Art
International Spy Museum (yes, this exists!)
The National Building Museum
Hirshhorn Museum and Sculpture Garden
You could (and probably should!) spend an entire day museum-hopping in DC. There's SO much to see. (And this is an especially great option if you run into bad weather.)
---
Cool tours in Washington, DC
Want to see DC with a guide? Here are a few guided Washington, DC, tours to check out:
---
Day Three in DC
Tired of the touristy sights yet? If so, you'll probably enjoy Day Three, which is going to get you away from downtown and the National Mall and into some of DC's coolest neighborhoods.
1. Explore another neighborhood
Washington, DC, isn't known for its neighborhoods in the way that, say, New York or San Francisco is. But DC does still have a lot of cool neighborhoods that are worth exploring. My favorites (so far; I haven't even been to half of them yet!) include:
Georgetown
Georgetown is a historic neighborhood located on the banks of the Potomac River. It's so historical, in fact, that it predates Washington, DC, itself, having been founding in 1751 in what was then Maryland. This means you'll find lots of beautiful old buildings, leafy streets, and even an old canal (the Chesapeake and Ohio Canal) in Georgetown.
If you're going to spend a day wandering around a DC neighborhood, I would highly recommend Georgetown. Not only is it very pretty, but there are also lots of cute boutiques and restaurants to visit, too. And plenty of colorful doors to photograph.
(If you want to visit an even OLDER neighborhood, head to Alexandria's historic Old Town in Virginia, which you can reach using DC's Metro system.)
Adams Morgan
Adams Morgan is most famous for its nightlife, but the diverse and funky neighborhood has so much more to offer!
I stayed here with a friend during part of my past DC trips, and enjoyed wandering down colorful 18th street, and especially loved how many choices there were when it comes to restaurants. You literally can find everything from Ethiopian to Italian to vegan BBQ (I swear it's a thing!) to Nepalese here.
If you have one more day…
Staying in Washington, DC, for four or five days? Some other things to do in DC you might want to check out include:
Visiting Arlington National Cemetery
Touring George Washington's Mount Vernon home
Going to the (free!) Zoo, where they have giant pandas
Check out these tours that would be perfect as day trips:
Where to stay in DC
You'll find all the usual hotel chains in DC, but if you're looking for something with a little more character away from all the tourist hot spots, check out The Normandy Hotel. The Normandy is a boutique hotel located on a quiet leafy street just off Connecticut Avenue near Dupont Circle and Embassy Row.
The rooms are comfortable (and have seriously awesome wall paper), and the staff is top-notch. I felt more than welcome during my stay, and loved being within walking distance of some cool neighborhoods.
The Normandy isn't next to the National Mall or anything like that, but it's close to both Dupont Circle (which has a metro stop) and Adams Morgan. Staying here gave me a different feel of DC, which I really loved.
(Read TripAdvisor reviews | Book a room at The Normandy on Booking.com)
Other hotels worth checking out in DC include:
Or, you can compare other hotels in DC here.
How to get around DC
The great thing about visiting Washington, DC, is that you don't really *need* a car in order to get around. There are plenty of options for getting around the city, which include:
Walking (for the areas that aren't too far apart/within some of the coolest neighborhoods)
Using the Metro – You can get a SmarTrip card at just about any station, and one-way ride fares start between $1.75 and $2.15 depending on the time of day you're traveling.
Taking an Uber or Lyft – Both rideshare companies operate in DC, and rides often aren't that much more expensive than if you use public transport (especially if you opt to share your ride with someone else).
Go on a Big Bus tour – Lastly, DC offers hop-on, hop-off tours on double-decker buses like many other large cities. These tours can often be a great way to see a city AND get to where you want to be at the same time. Big Bus Tours has four different routes around DC, including ones that will take you to places like Georgetown, Arlington, and Mount Vernon.
READ NEXT: How to Have the Best Cherry Blossom Trip to Washington, DC
---
Do you have any other favorite things to do in Washington DC?
Pin it for later: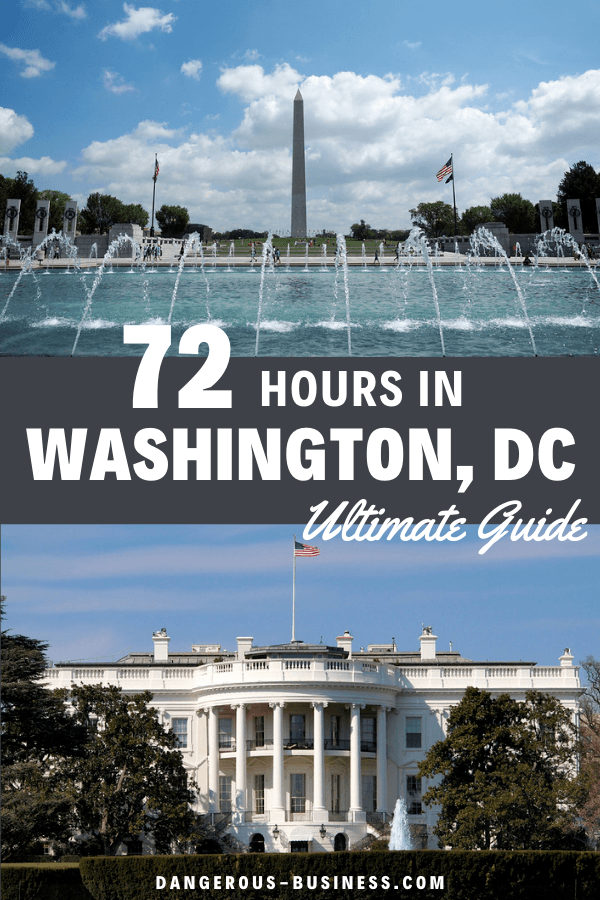 *Note: I was a guest of The Normandy hotel for two nights during my stay in DC. However, you guys know I never recommend things to you guys unless I actually like them!