Some posts on this site contain affiliate links, meaning if you book or buy something through one of these links, I may earn a small commission. Read the full disclosure policy
here
.
---
Where I come from, places like Sighisoara just simply do not exist.
Ancient churches, a walled town center, thousands of years of history… you just don't find that in the United States.
Which is perhaps why I enjoyed my two days in Sighisoara, Romania so much.
Sighisoara is a small city in the Transylvania region of Romania, with a history dating back to the 1100s. Back then, the Hungarian king was begging Saxons to move to this part of the world in order to help defend his borders. German craftsmen and artisans took him up on it, and what resulted is today a fairy-tale-like fortified city in the heart of Romania.
It's no wonder this whole place is a UNESCO World Heritage site.
With cobbled streets, colorful buildings, and a pedestrian-friendly Old Town, it's difficult not to fall in love with Sighisoara. Yes, it's a touristy place. And yes, it can feel a bit crowded in the summer. But it's still well worth a visit.
5 things to love about Sighisoara
So why did I enjoy this little city so much? Here are just five reasons.
1. The colorful streets
Sighisoara is INCREDIBLY colorful. It's like a box of tropical-colored crayons just exploded all over the town, with bright oranges and yellows and pinks standing out on every street.
Even the windows and doors here are colorful (or at the very least interesting):
2. The size
Sighisoara's walled Old Town consists of roughly 3 main streets — meaning you can easily explore the whole place on foot in one afternoon without any trouble.
3. The historical connections
Along with being an old Saxon city, Sighisoara also has another claim to fame: being the birthplace of Vlad III (also known as Vlad Tepes, Vlad the Impaler, and Vlad Dracula). Vlad's father was ruler of nearby Wallachia, but was in exile in Transylvania when Vlad was born.
Vlad's birthplace is still there, marked with a placard and now home to a very kitschy restaurant called "Casa Dracula."
In more recent history, Prince Charles has visited the town quite a few times and stayed here:
Sighisoara also has a handful of really good museums dedicated to its history, which include the museum in the Clock Tower, and a torture museum right next door.
4. The views
Climbing up the Clock Tower is an absolute must in Sighisoara! It will cost you next to nothing, and the views are beautiful. Parts of this building date back to the 14th century, and I'm sure you can understand why it was built — as a lookout point over the city walls.
5. The gems among the rubbish
Sighisoara IS a touristy town. Meaning you'll find plenty of kitschy tourist shops all selling the same magnets and Dracula t-shirts. But, if you dig a little deeper, you CAN find some wonderful gems here.
If it's hand-made crafts you're looking for, check out the gallery inside the International Cafe. Here, a family of woodworkers and their friends produce and sell hand-carved wooden products and unique ceramics.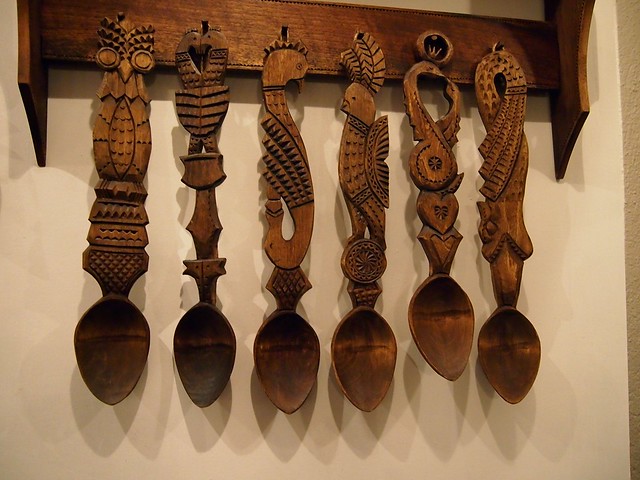 The must-dos in Sighisoara
If you find yourself in this little Romanian city, it may at first seem like there's not a whole lot to do. But you can easily fill a day or so here checking out the following:
The Clock Tower, which not only has great views, but also a neat little museum inside.
The Church on the Hill (which you walk up to via a cool Covered Staircase), which is an old Gothic-style church. Also check out the nearby German graveyard. Unlike Merry Cemetery, this graveyard IS a bit overgrown and solemn, but it's alright for a quiet stroll.
The Church of the Dominican Monastery (and it's cool organ), which is centuries old.
The Torture Museum and Weapon Museum also both come highly recommended.
Where to stay in Sighisoara
Sighisoara isn't a town you need multiple days to explore, but I do recommend at least staying one night.
The top-rated hotel in Sighisoara is the Georgius Krauss House, while Hotel Central Park has a great central location.
You can check out more Sighisoara accommodation here.
What do you think of Sighisoara after this quick photo tour?
Pin it for later: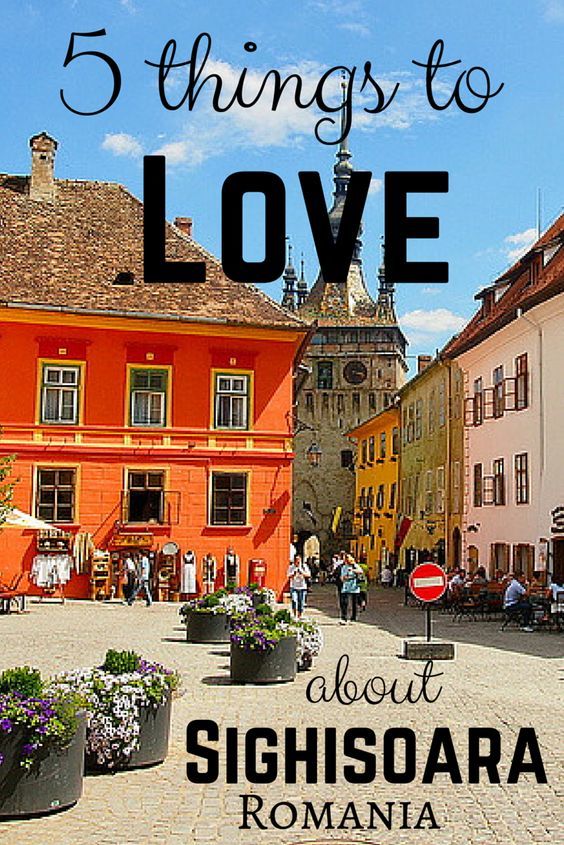 *Note: Intrepid Travel graciously provided me with a complimentary 18-day tour through Eastern Europe. But all opinions, as always, are entirely my own.
If you're interested in doing the same tour I did, you can check it out here.