Some posts on this site contain affiliate links, meaning if you book or buy something through one of these links, I may earn a small commission. Read the full disclosure policy
here
.
---
It's no secret that London, England, is one of my favorite cities in the world. But the thing about London (like many other capitals) is that it's actually a bunch of smaller cities all rolled into one big one. Each part of London has a distinct history – and therefore a distinct character.
So on my most recent visit to London, I decided to stick to just one part of of the city. And that part was London's East End.
Today known for the curry houses of Brick Lane and as the birthplace of graffiti artist Banksy, East London has developed and evolved over the years into a diverse and up-and-coming neighborhood.
With the exception of Brick Lane, though, it's not a place many tourists used to venture to. There's no Big Ben or Buckingham Palace to be found here. In fact, you'll find a lot of old warehouses and factory buildings; even shops built in converted train cars.
Which is probably why I'm so drawn to East London. It's different than the rest of the city. Which makes it perfect for a weekend getaway in London.
London's East End: A History Lesson
The East End of London has a long history, dating back to when the area was actually a separate village outside the Roman walls of the city. What happened, though is a typical tale of expansion and absorption – eventually, as London grew, it encompassed what is known today as the "East End" and beyond.
Today, the East End is known for its amalgamation of cultures. This is because the area has always predominantly been a place where the poor and the immigrants went to live when they could not afford to live within London itself, or when overcrowding forced them out.
The first group of immigrants to this part of London were Huguenots escaping religious oppression in France. They brought with them looms and weaving, paving the way for Irish weavers and Jewish immigrants in later decades.
By the late 1900s, immigrants from Bangladesh were the most numerous. They still make up a large part of the population in the East End, and are partially responsible for curry basically being England's national dish.
And, while today the East End is considered an "up-and-coming" part of London, this is a relatively new trend. Even as recently as 30 years ago, East London was NOT a desirable place to live. But that just goes to show you how quickly things can change in a city like London.
What to do with 48 Hours in London East End
If you're headed to London for the first time (or second or third), consider spending a couple of days in the city's East End. And here are a few things you definitely should consider doing:
1. Go on a street art tour
Start out your visit to the East End with a street art tour. East London has been home to some of the most influential graffiti artists in Europe (including Banksy), and street art is now a unique facet of the neighborhood's identity.
I went on a walking tour with Alternative London, which ended up being a nice mix of history and street art. The guide was an artist himself, and not only showed us some of the most well-known pieces of art near Brick Lane, but also pointed out some of the smaller, less-inconspicuous pieces that he loves that most people would probably miss.
We saw stickers, tiny sculptures, stencils, and very small bits of art that hit home the fact that "street art" isn't JUST about huge murals – it's all about leaving a mark, no matter how small that mark might be.
Our tour ended at the Nomadic Community Gardens, which is both a garden and creative space. The group that runs it identifies unused land (in this case, it's land that's awaiting development) and gets permission to turn it into a pop-up community garden and free artists hub.
The Gardens won't be here forever – just until development of the land starts. But their "nomadic" name suggests that they'll likely move to another spot when the time comes. This was a really cool place to visit, and a great way to end our tour of alternative East London.
2. Shop at Old Spitalfields
The Old Spitalfields Market is a staple of East London. In fact, there's been a market on this site for more than 300 years. Today, the covered market is filled with everything from restaurants to small boutique shops and is a great place to spend a couple of hours.
(And if you're in the East End on Sunday, you'll also want to check out the Columbia Road Flower Market!)
3. Eat your way around the East End
Most travelers can attest to food being a window into the soul of a place. It's one of the best ways to get a grasp on an area's history and character – and this is definitely true in the East End. Since East London has always been such a conglomeration of cultures, its culinary offerings strongly reflect this.
Meaning that going on a food tour in this part of London is almost a must-do.
I did a food tour with Eating London that focused not only on the food but also the history of East London. We had curry on Brick Lane, fish and chips at Poppies (an East End institution), corned beef bagels at the famous Beigel Bake, and more.
And not only did I get to taste some great East London food, but I also learned about how the area's history has influenced the restaurants you can find there today. This is one of the best food tours I've done anywhere in the world!
4. Stroll along Regent's Canal
Many people don't know this, but there's a canal system that runs through much of London. It's called the Regent's Canal and was built as an alternative way to transport goods through London, back in the days when horses and carts would get bogged down in the mud and muck that made up city roads.
The canal's most famous bit lies near Camden Town, where it's often called "Little Venice." But the canal in the East End is well worth a visit, too. Take a stroll (or a bike ride) to see the various houseboats and a quieter side of London.
5. Cuddle with kitties at Lady Dinah's
My newest favorite thing to do in East London is to spend time at Lady Dinah's Cat Emporium, the very first cat cafe in the city of London. The cafe is home to 13 cats and a very nice selection of teas, coffees, cakes, and other cafe specialties, and also offers High Tea Friday-Monday.
Booking a table is recommended (even though Lady Dinah's has been open for a few years, it's still extremely popular), and your booking nets you 90 minutes with the kitties and your snack/drink of choice.
I've been to the cafe twice and loved it both times. And, if you're a cat-lover like me, you'll probably enjoy it, too!
RELATED: A Purrfect Afternoon Tea at London's First Cat Cafe
6. Go on another East End tour
If you have some more time (or maybe if some of the above things don't appeal to you), you could go on another tour of East London. With so much diverse history here, there are all sorts of cool things you could learn about.
Where to stay in East London
Qbic London City
For my foray into East London, I decided I wanted to stay IN East London, too. I decided on the Qbic London City hotel, located in Shoreditch. This hotel has a lot of things going for it: it's less than a 5-minute walk from the Aldgate East tube station, there's an attached bar/restaurant, and the whole hotel is full of quirky character.
I love hotels like this – ones that have a mixture of really useful features (like free, fast wifi) and features that just make you smile (like the "do not disturb" sign in the form of a stuffed animal).
The hotel is also truly eco-friendly (ask them about their solar panels and electric car charging stations), AND won't break the bank – rooms start at around £90 per night.
The Qbic London City is absolutely a hotel I would stay at again in London!
Read reviews here | Book your own stay at Qbic London City here!
Or you can search for other East End hotels here:
Have you ever spent any time in East London? If so, what are some of your other favorite things to do?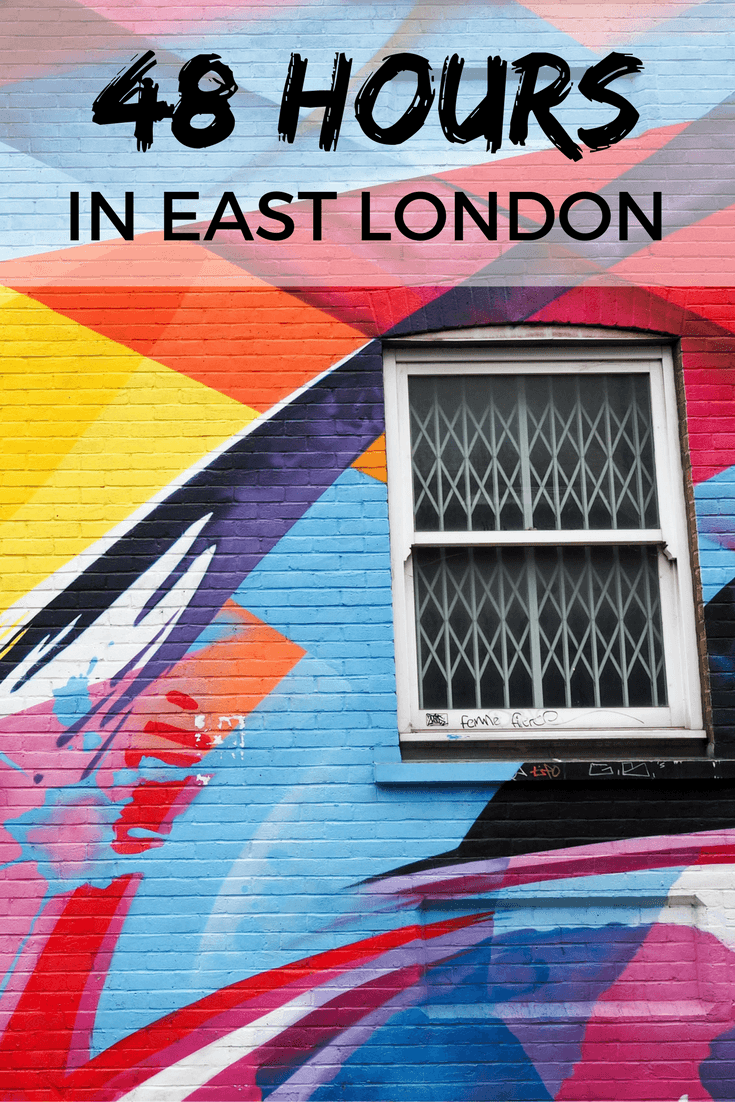 *Note: I was a guest of Qbic London City during my stay, and took a free Eating London food tour back in 2013. But, as always, all opinions are 100% my own.