Some posts on this site contain affiliate links, meaning if you book or buy something through one of these links, I may earn a small commission. Read the full disclosure policy
here
.
---
At the beginning of February, I spent three whole days at the Mall of America in Minnesota.
Three days at the largest shopping mall in the United States might sound like a nightmare to some of you. Others may be curious about what it was actually like.
Before I get into my Mall of America experience, though, I feel like I owe you a little back story to set the scene.

I grew up in a suburb of a suburb in northeast Ohio. My family lived more or less in the middle of nowhere, but we were only a 15-minute drive from the grocery store, movie theater, school, and, yes, shopping mall.
I have great memories of the mall. It's where I'd go birthday shopping with my grandma every fall. Where I'd hang out on the weekends with my friends. I even worked at the mall one holiday season when I was home and saving up money for my trip to Southeast Asia. Even today, when I go home to visit my parents, there's about an 85% chance that my mom and I will end up at the mall.
This isn't to say that my family members are shopaholics – in fact, quite the contrary! My mom is notorious for taking months to spend gift cards (even from the mall!), and I have a pretty strict rule these days that I can only shop for things that I'll put to use on upcoming trips.
But that doesn't mean that it's not fun to shop…
I have such good mall memories, in fact, that when I got invited on a three-day press trip to the Mall of America earlier this year, my immediate thought was along the lines of, "That sounds really fun!" And so I went.
The Mall of America
The Mall of America is not your average shopping mall. So if you're picturing your local mall in your head right now and wondering how the heck I'm going to write a whole blog post about a place like that, know right now that I'm not writing about that mall.
To further prove this point, here are some fun facts about the Mall of America that probably don't apply to your local shopping mall:
The Mall of America is huge. How huge? 32 Boeing 747s or 7 Yankee Stadiums could fit inside.
If you spent 10 minutes in each store inside the MOA, it would take you 86 hours to visit them all.
The roof of the Mall of America is made almost entirely of skylights – nearly 8 acres of skylights, in fact. This is one of many things that helps the Mall stay at a comfortable 70 degrees Fahrenheit year-round, no matter what the weather outside is like.
7,000+ weddings have been performed at Mall of America (yes, there's a Chapel of Love inside!). Here's my favorite MOA wedding story.
40 million people visit the Mall of America annually, which is more than the combined populations of North Dakota, South Dakota, Iowa… and Canada. That's also close to the number of people who visit Times Square each year, and nearly double the amount who visit Disney World!
Things to do at the Mall of America
So what is there to DO at the Mall of America? Well, probably more than you think.
Shopping
Of COURSE you can shop at the Mall of America. The MOA is home to more than 500 stores, so chances are you'll find what you're looking for. I was excited to find storefronts for some of my favorite outdoor brands like Columbia and The North Face, and noted plenty of mall staples like Macy's and Nordstrom, too. One of the other women on my trip bought herself a new bag at the Kate Spade store, and I went into specialty stores like Typo, which sells stationary, pens, laptop covers, and more.
I liked the mix of chain stores that I was familiar with and unique ones that I'd never heard of before. (Other unique stores include Marbles, filled with brain games for adults; JM Cremp's, "the boys adventure store"; and Greater Good, which donates a portion of proceeds to a variety of charities.) I also loved that the sales associates were all SUPER nice – but in an entirely non-annoying way. It's definitely a Midwestern thing.
Another bonus when shopping at the Mall of America? Minnesota has no sales tax on clothing!
Amusement park
When you're all shopped out, head over to Nickelodeon Universe, an amusement park located smack dab in the middle of the Mall of America. The park has more than 25 rides and attractions, including a few roller coasters, a log flume, a ropes course, and plenty of kid-friendly rides, too.
I'm spoiled when it comes to amusement parks since I grew up near the world's best (Cedar Point), but it was still fun to roam around and ride the Spongebob roller coaster (video here!).
SEA LIFE Aquarium
One of my favorite non-shopping things we did was visit the SEA LIFE aquarium, a full aquarium beneath the first floor of the mall. There are a couple of touch pools that are (understandably) very popular with visitors of all ages, as well as a psychedelic jellyfish exhibit, and a 300-foot-long underwater tunnel that takes you through a few different ecosystems, from the Amazon to the deep ocean to Minnesota's lakes.
The tunnels were by far my favorite. You can even snorkel/dive here with the sharks!
I also appreciate that the aquarium works with a variety of marine rescue and rehoming programs/charities, and focuses a lot on education (it's hugely popular with local school groups).
See a movie or live comedy
The fourth floor of the MOA is dedicated mostly to entertainment, with some restaurants, a comedy venue called House of Comedy, and a 14-screen movie theater.
Be a kid again
If you have kids, there's plenty for them to do at the Mall of America, too. First of all, there's the amusement park. Then there's a huge LEGO Store on the ground floor (and who doesn't love LEGOs??). And there's also an American Girl store complete with spot for afternoon tea and a hair spa for your favorite doll (no, I'm not kidding).
Where to Eat
The Mall of America has more than 50 places to eat, so whether you're looking for typical food court fare or something a little more classy (or Hooters if that's more your style), you have options.
Some of my favorite places to eat include:
Twin City Grill – Head here for casual dining with a down-home Minnesotan flair. Try some fried cheese curds to start, then enjoy a good steak or walleye fillet for dinner. For dessert, I recommend the homemade key lime pie.
Burger Burger – I went here for lunch, and it may actually be my favorite place we ate at the Mall of America! My John Wayne burger was delicious, as was the truffle aioli that I used to dip my fries in. I also loved that the burger portions here are totally manageable.
Cedar + Stone – Located in the new JW Marriott that's connected to the mall, this dining spot is the hottest new place to go if you're a foodie. You'll find delicious dishes inspired by Minnesota's natural roots and local culture. I highly recommend the cornbread, as well as the BLT pizza with pork belly.
David's Tea – I'm throwing this one in just because I think it's cool! This tea shop sells loose-leaf tea, but you can also go in and just buy a cup (hot or cold) of your favorite flavor.
Where to Stay
There are tons of hotels to choose from in Bloomington (many of which offer free shuttles to the MOA), but I highly recommend staying in one that's actually attached to the Mall of America. This means you don't have to carry around a coat when you shop in the winter, and it's easy to pop back to your room for a shopping break or to drop off your purchases.
Radisson Blu
I stayed at the Radisson Blu Mall of America, which, true to the Radisson Blu brand, is a modern, trendy hotel with cool design elements and really comfortable rooms. The lobby in this hotel was my absolute favorite.
The Radisson Blu is also connected to the second floor of the Mall of America, making it incredibly easy to pop over to one of the mall's five Caribou Coffees, the LEGO Store, or somewhere for dinner without having to go outside at all.
What Else to Do
Since not everyone would be excited to spend three whole days inside a shopping mall (no matter how large and cool), you'll be happy to know that Minneapolis' handy light rail system has a stop right beneath the Mall of America. You can hop on and be in downtown Minneapolis in less than 30 minutes.
If you do go this route, I highly recommend dinner at Hell's Kitchen (and get some of their delicious peanut butter to take home!).
Awesome or Awful?
Well, if you read this whole post, I think you probably already know that I had a pretty good time at the Mall of America. Is it a place that I think everyone will love? No. But I personally had a lot of fun and would deem this trip as pretty "awesome."
So what do you think? Does this sound awesome or awful to you?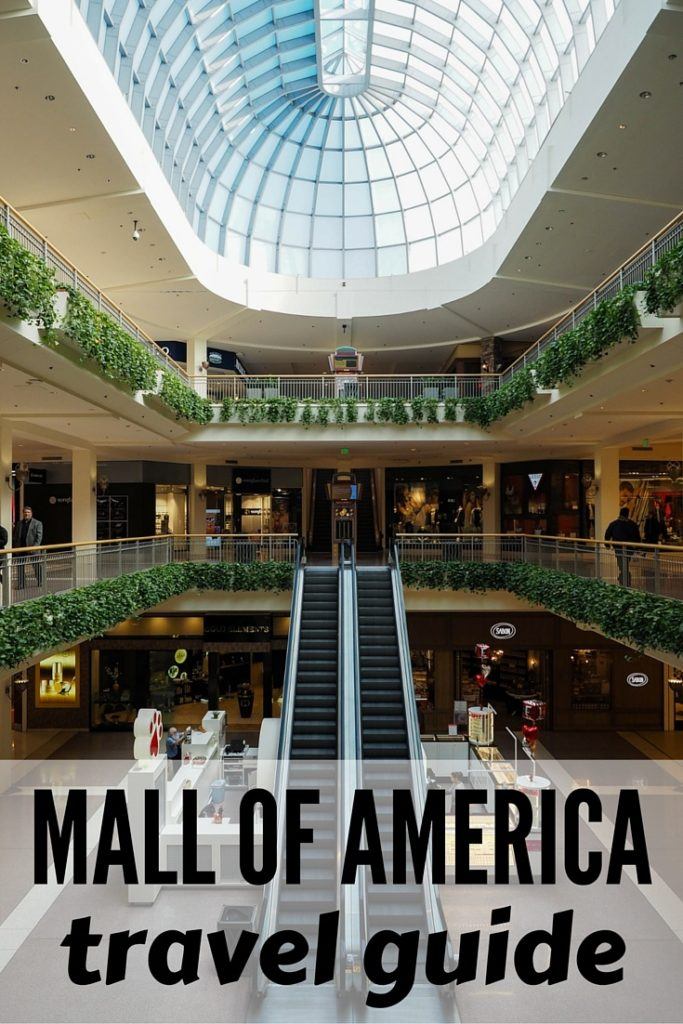 *Note: I was hosted by the Mall of America on this trip. However, all opinions, suggestions, and occasional shopaholic tendencies are 100% my own.