Some posts on this site contain affiliate links, meaning if you book or buy something through one of these links, I may earn a small commission. Read the full disclosure policy
here
.
---
Most people know that Edinburgh is the capital city of Scotland. But the Scottish Lowlands may as well be a different country entirely from the Scottish Highlands – which is perhaps why the city of Inverness is often regarded as the capital of the Highlands.
Inverness, located on Scotland's northeast coast where the River Ness meets the Moray Firth, has a long history. It dates back centuries and was once one of the chief strongholds of the ancient Pict people of the Iron Age.
Today, Inverness is most often visited as a jumping-off point for tours of the famous Loch Ness, which sits just south of the city. But many tourists simply take their Nessie-spotting boat tour and then move on to other parts of the Highlands.
This is unfortunate, though, because Inverness and its surrounding attractions are well worth at least a couple days of your time!
In order to entice you, here are all the things you can do in and around Inverness. You could easily spend 3 days in the area without running out of things to do (which is exactly what I did!).
Things to do with 3 days in Inverness
Explore Inverness city
Inverness itself is a fairly typical Scottish city. You'll find beautiful stone buildings and churches, narrow streets, and of course plenty of pubs. Inverness also has a gorgeous setting, with the hills of the Highlands rising up all around it and the nearby Moray Firth.
Some things worth seeing in town include:
Old High Church – Old High St Stephen's is the oldest Church in Inverness, and people have been worshipping at its site overlooking the River Ness since Celtic times.
Inverness Castle – The castle overlooking the city is actually relatively "new" as far as castles go. It was built in the mid-1800s to replace a medieval castle that was destroyed by the Jacobites. It's no longer a true castle (it's home to a court now), and you can't tour the inside. But you should still walk up the hill to see it and the great views out over Inverness.
Be sure to spend at least half a day just wandering around the city, crossing over the River Ness a few times and wandering the downtown streets.
Look for Nessie
Taking a cruise on Loch Ness is basically a must in this part of Scotland. Even without the Nessie legend to entertain you, Loch Ness is a pretty interesting and special place. It's one of the largest lakes in Scotland – and in fact contains the largest volume of fresh water in Great Britain!
Cruises with Loch Ness by Jacobite are fun and come complete with audio guides and live sonar so you can watch out for Nessie. Some of their cruises also include stops at Urquhart Castle, a ruined castle on the shore of Loch Ness that's cool to explore.
RELATED: Going on a Highland Fling with Haggis Adventures
Visit Castle Cawdor
Do you prefer your castles to be in-tact? Then consider a trip to Cawdor Castle, located in Nairn (roughly half an hour from Inverness). This 17th-century castle was built around a 15th-century tower house, and today is home to the Dowager Countess Cawdor.
The fact that it's a lived-in historic castle makes it that much cooler in my book.
The castle is open to the public starting in May each year, and visitors can tour the castle, gardens, and grounds for just £11.50.
Go to Culloden Battlefield
For my fellow history nerds, a visit to Culloden Battlefield is also a must. Located just 15 minutes from Inverness, this battlefield is where Bonnie Prince Charlie (Charles Edward Stuart) and his Jacobite army (people who supported the exiled King James' claims to the throne of Scotland) faced off against government and loyalist troops on April 16, 1746.
The brief and bloody fight was the last hand-to-hand battle to be fought on British soil – and the utter defeat of the Jacobite army marked the end of traditional Highland culture in Scotland.
Make sure to allow enough time at Culloden. The new visitor's center is the best place to start in order to understand how and why the battle took place – there are some really cool immersive exhibits here.
Then you'll also want to walk the battlefield itself and see the clan stones that mark where members of many Highland clans were buried after the battle.
Pick up an audio guide for the battlefield so you know what you're looking at. (For example, the red and blue flags mark the battle lines of each army.)
RELATED: The Best Outlander Locations to Visit in Scotland
See the Clava Cairns
The last must-see near Inverness is the Clava Cairns. This Bronze Age burial site dates back roughly 4,000 years and includes burial chambers and standing stones.
For the "Outlander" fans out there, the Clava Cairns may have partially inspired Craigh Na Dun in Diana Gabaldon's books because of how close they are to Inverness.
A 3-day Inverness itinerary
Here's how I would organize three days in Inverness:
Day 1
Arrive and spend the day exploring Inverness. See the top sights, and head to Hootananny after dinner for some live music and a cozy pub atmosphere.
Day 2
Visit Cawdor Castle in the morning, and go on a Loch Ness cruise-tour in the afternoon (go with one of the options that includes a stop at Urquhart Castle!).
Day 3
Allow plenty of time to experience Culloden Battlefield, and then make a stop at Clava Cairns since the two are extremely close to one another.
Where to stay in Inverness
Inverness isn't a huge city (its population is less than 50,000), but because it *is* visited by tourists every year, there are plenty of great places to stay, many of which are historic. My top picks include:
Best Western Inverness Palace Hotel & Spa for a central, mid-range option. This hotel is right on the River Ness and some rooms have views of the castle.
Kingsmills Hotel for a more luxurious option.
Culloden House Hotel for a historic stay. This luxury property slightly outside the city is where Bonny Prince Charlie stayed the night before the Battle of Culloden in 1746.
Or, you can compare Inverness hotel prices here.
READ NEXT: A Complete Guide to Traveling the Malt Whisky Trail in Scotland
---
Who's ready to plan a trip to Inverness now?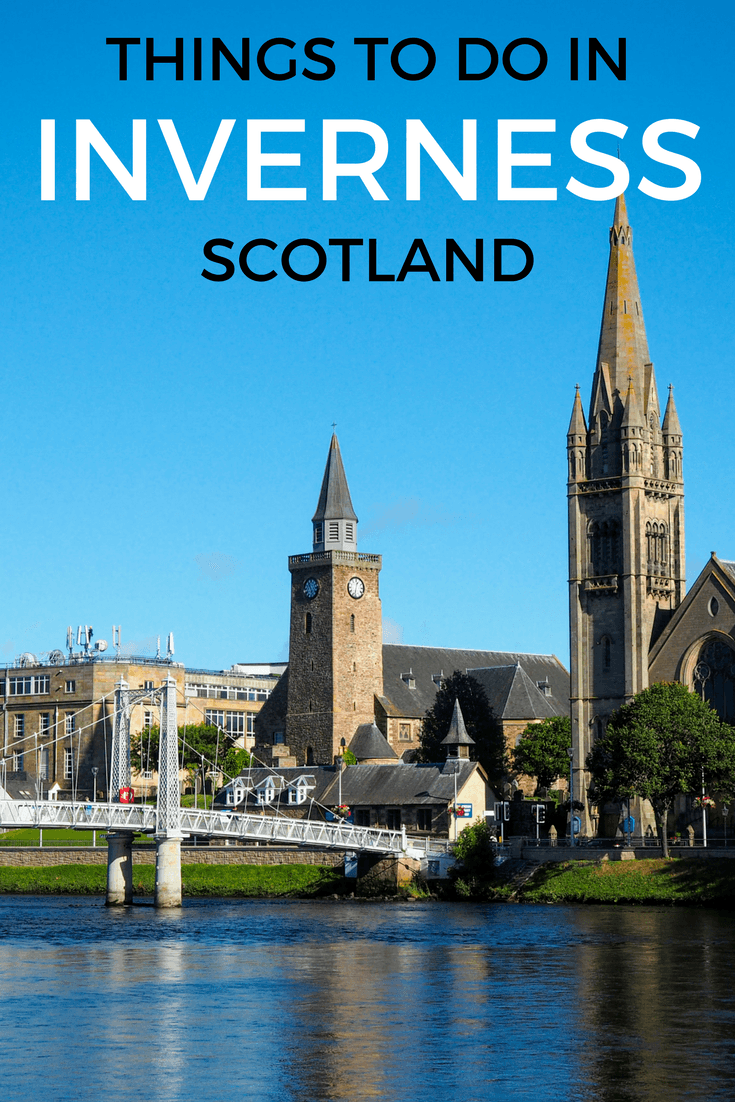 *Note: Parts of my adventures in Inverness were supported by Visit Britain as part of the Social Travel Summit hosted by iAmbassador in Inverness in 2016. Other parts I did on a tour with Haggis Adventures.