Some posts on this site contain affiliate links, meaning if you book or buy something through one of these links, I may earn a small commission. Read the full disclosure policy
here
.
---
When it comes to tourism in Ireland, you're probably familiar with a few of the country's top tourist attractions – like the Guinness Storehouse in Dublin, the Cliffs of Moher, and the Ring of Kerry.
But what do you know about Inis Mór?
Inis Mór – pronounced Inishmore – is the largest of the Aran Islands located off the west coast of Ireland not far from Galway. Despite having a population of less than 1000 people, the island is another of Ireland's top tourist attractions due to its unique history and culture.
If you're planning to spend any amount of time in and around Galway, I highly suggest dedicating at least one full day to exploring Inis Mór. You'll be transported back in time to a place where horse-drawn carriages are a normal form of transport, where most people still speak Irish Gaelic, and where you'll find miles upon miles of ancient stone walls.
Inishmore is a magical place, and here's how to experience the best of it in one day:
5 Things to Do on the Island of Inis Mór in Ireland
Visit Dún Aonghasa
The most popular spot to visit on Inis Mór is by far Dún Aonghasa/Dún Aengus, a prehistoric hill fort built high up on a cliff. The semicircular stone structures and walls here date back to the Bronze and Iron Ages, with the first constructions dating all the way back to 1100 BC.
To get to the fort, you have to pay a small fee at a visitor center (currently 5 Euro) and then walk about 10-15 minutes uphill to the fort. Once there, you can walk inside the ancient stone walls and see fantastic views in all directions over the island and the Atlantic.
The Cliffs of Moher get all of the cliff love in Ireland, but the cliffs on Inis Mór are amazing, too!
With the blustery winds, it might be difficult to imagine anyone living up here permanently, but they did for thousands of years!
See the Seven Churches of Aran
The name of this site is a bit misleading, as there aren't seven churches here. Instead, you'll find a complex of church ruins and old graveyards at Na Seacht dTeampaill. The site is dedicated to Saint Brecan, and was at one time one of the biggest monastic foundations and destinations for pilgrims along the west coast of Ireland.
There are actually only two churches here, with the largest being Teampall Bhreacáin (St. Brecan's Church).
You'll find this site near the village of Eoghanacht.
Check out the Worm Hole
The Worm Hole is a pretty unique site in Ireland – it's a natural square-shaped cut-out in the rock at the bottom of a cliff, and has become a popular spot for cliff diving into the ocean. So popular, in fact, that it's become a venue for the Red Bull Cliff Diving series.
Shop for wool
The Aran Islands are renowned for their wool products, so you'll want to allow some time to shop on Inishmore. Check out the Aran Sweater Market for everything from sweaters to scarves for mittens. And pay attention to the patterns, too – on the Aran Islands (and throughout Ireland), the unique patterns/stitches you see on sweaters often identifies an Irish family/clan.
Go for a hike
Have some more time on Inis Mór? Consider going for a hike (or, walk, really, since the island is relatively flat). Some marked trails exist, but you can also head off along the coast by yourself.
One popular hike is from Kilronan Village to the Black Fort, which is similar to Dún Aengus, but much less-visited. The hike is only about 30 minutes one-way, so you could easily tack this on to your visit if you have an extra couple of hours (or maybe a second day!).
How to get around on Inis Mór
There are roughly 3 different ways to get around on Inishmore that don't involve simply walking.
Ferries to Inis Mór are strictly passenger ferries, so you won't be able to bring a vehicle with you. The best ways to get around, then, are:
Rent a bike
Hire a horse and carriage
Take a mini bus
Biking around Inis Mór is the most popular way to explore the island due to the fact that it's not that big – 14km at its longest, and 3.2km at its widest. Having a bike also gives you the freedom to spend as long as you'd like at the sights you decide to visit. The downside, of course, is that the weather on Inishmore is extremely changeable, so there's a good chance you might run into wind and rain at some point during the day. (Wear layers accordingly!)
On my most recent visit (a windy day with threat of rain), I opted to pay 15 Euro for a spot on a hop-on, hop-off mini bus in order to visit Dún Aengus and the Seven Churches, and think this is a great option for those who don't feel comfortable on a bike.
(As soon as you arrive at the ferry port in Inis Mór, you'll likely be met by people selling bus tours and carriage rides – no need to book ahead. If you want to rent a bike, a couple different companies operate nearby.)
How to get to Inis Mór
While you can technically fly to the little island, the usual way of arriving to Inis Mór is via ferry. Ferries to the Aran Islands sail daily from from Ros a' Mhíl/Rossaveal (near Galway city) all year, and from Doolin (near the Cliffs of Moher) from April to October.
Travel time is roughly 40 minutes from Rossaveal to Inishmore, or 90 minutes from Doolin. From Rossaveal, a return ferry ticket is 25 Euro for adults, and a round-trip shuttle ticket from Galway is another 9 Euro.
You can check out ferry schedules from Aran Island Ferries here; there are multiple sailings per day. And if you don't have a car of your own to get to the ferry port, there's a shuttle bus that leaves from Galway about 1.5 hours before sailing.
WARNING: This ferry crossing can be ROUGH. And I don't mean just a little uncomfortable – I mean rocking and rolling enough to make a lot of people seasick. If you're prone to motion sickness (or aren't sure if you are), I highly recommend taking seasickness tablets before you go! I was armed with Bonine, but you can pop into any pharmacy in Ireland and pick up something similar.
Can I stay on Inishmore?
Multiple daily ferry sailings to/from Inis Mór mean you can easily visit as a day trip from Galway. But if you'd like the true Aran Islands experience, you absolutely can stay overnight at one of the many B&Bs on Inishmore.
Check out bed and breakfasts on Inishmore here.
Who's ready to book a trip to Inis Mór?
Pin it for later: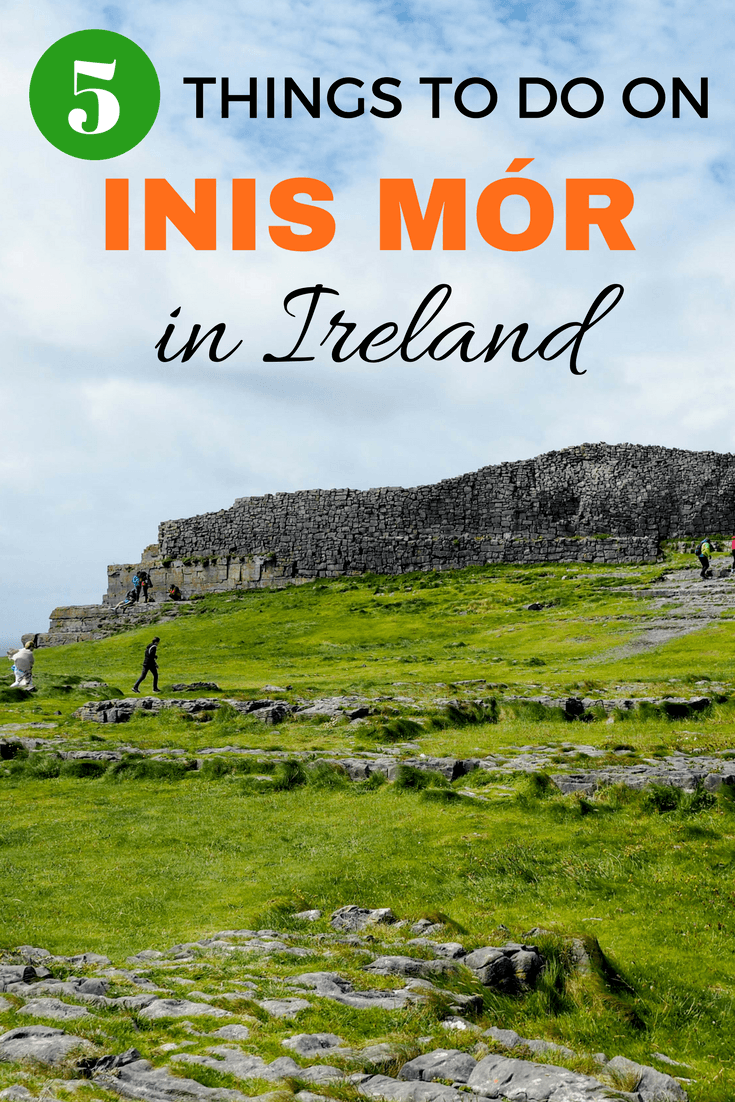 *Note: I visited Inis Mór as part of a complementary tour of Ireland and Northern Ireland with Shamrocker Adventures (read the whole review here). As always, though, opinions are 100% my own!