Some posts on this site contain affiliate links, meaning if you book or buy something through one of these links, I may earn a small commission. Read the full disclosure policy
here
.
---
My boyfriend always jokes about being scared that I'm going to run off with a Spanish guy. (No clue why this fictitious, seductive man is Spanish, but apparently he is.)
And I'll admit that I DID have a certain Spaniard on my mind when I decided to finally visit Barcelona.
But it wasn't a young, hunky footballer or flamenco singer or anything like that that I was dreaming about. The guy on my mind was a dead one: Antoni Gaudi.
Antoni Gaudi was one of Catalunya's most famous architects. In fact, I would argue that he's one of the most famous modern architects in Europe. Gaudi practiced a form of architecture known as Catalan Modernism, which is an Art Nouveau-style architecture that is influenced by nature and the natural shapes and forms found in the world around us.
Many of Gaudi's most famous works can be found in Barcelona — and I wanted to see as many of them as possible.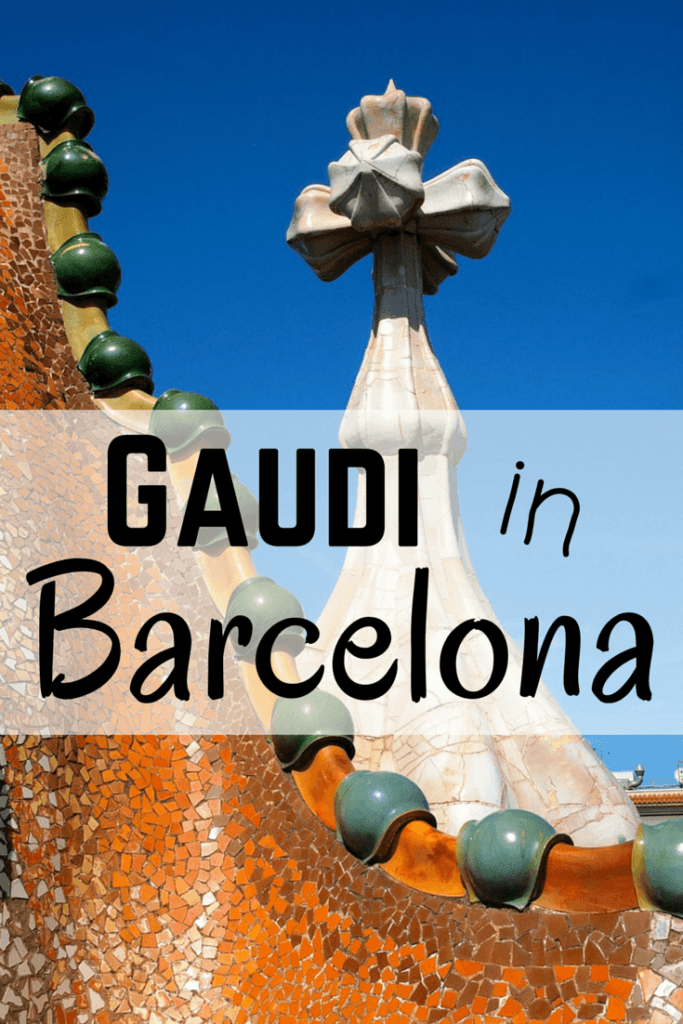 On my very first morning in Barcelona, I hopped on the metro to Passeig de Gracia to join a free Gaudi walking tour with Discover Walks Barcelona. We started in front of the iconic Casa Batllo — but we didn't talk about this Gaudi work right away.
First, we got a little history lesson about modernism in Barcelona. Back in the late 1800s, the area where Passeig de Gracia is today wasn't even part of Barcelona; it was a village of its own, connected to Barcelona by road. But, as the city got more and more crowded, wealthy citizens began moving further and further out so they could build bigger homes.
Today, the block on which Casa Batllo sits is actually home to  three major modernist works, all built in the early 1900s.
There's Casa Lleó Morera (designed by architect Lluís Domènech i Montaner), with its floral designs. There's Casa Amatller (designed by Josep Puig i Cadafalch), designed for a famous chocolatier to loosely resemble a Flemish house. And there's Casa Batllo, designed by Gaudi.
Casa Batllo
Casa Batllo is one of the most recognizable Gaudi works in Barcelona. It was originally built in the 1870s, and then Gaudi was hired in the early 1900s to redesign it by the Batllo family, who wanted the tallest, most noticeable house on the prestigious block. The result is a house that certainly is eye-catching, with oval windows, mosaic details, and a tiled roof that looks like the back of a dragon. In fact, Casa Batllo is often called the "Dragon House," or the "House of Bones" because of the skeleton-like exterior.
Inside, Casa Batllo is just as interesting as it is outside. The rooms contain very few straight lines. In the middle of the house, a tiled "light well" pulls sunlight down into the lower floors in a pretty genius design. On the roof, you can see the dragon's back, as well as the home's interesting chimneys.
Even though the other Modernist homes on the block are impressive, this one is hands-down my favorite.
IF YOU GO
Address: Passeig de Gràcia, 43 (near Passeig de Gracia metro stop)
Website: https://www.casabatllo.es/en/
Price: 21.50 Euro per adult (ticket includes free audio guide and augmented virtual reality device, which lets you see what the house would have looked like when people lived in it)
TIP: Go early in the morning or late in the afternoon to avoid long lines at the house, or book your ticket in advance online.
Sagrada Familia
The second major stop on my Gaudi walking tour was the Sagrada Familia (or, more correctly, Basílica i Temple Expiatori de la Sagrada Família) — easily Gaudi's most famous work in Barcelona. This Roman Catholic church is regarded as Gaudi's opus; his most impressive work of art.
Construction of the church began in 1882, and Gaudi got involved in 1883, designing a Modernist masterpiece that is completely and utterly unique. In the early 1900s, Gaudi became obsessed with the project, to the point where he spent the last decades of his life living in the crypt as work progressed. The church was not even 25% complete when Gaudi died from injuries suffered in a tram accident in 1926, and in fact the church STILL isn't completed today.
The church has two different facades — the Nativity facade (completed by Gaudi) and the Passion facade (still being worked on). You can see the clear difference in style between the two facades; no one can completely replicate Gaudi's style, even when working off his original designs.
Inside, the church will make your jaw drop. The towering detailed ceiling, the huge stained glass windows, and the sheer scale of the building makes the Sagrada Familia a must-visit. No matter how many churches you've seen on your travels, I promise you've never seen one like this.
IF YOU GO
Address: Carrer de Mallorca, 401 (the Sagrada Familia metro stop)
Website: http://www.sagradafamilia.cat/sf-eng/
Price: 15 Euro for regular visit; 19.50 Euro for regular visit and a visit to one of the towers; 24 Euro for a visit with audio guide and towers
TIP: Lines to buy tickets at Sagrada Familia can be really long. Book a timed ticket online ahead of time, which lets you skip the line and just show up at your appointed time.
Park Guell
Park Guell wasn't included in my Gaudi walking tour, but my guide highly suggested I check it out. So I hopped on the metro and walked up the hill to the park, located on Carmel Hill. The park — which covers about 45 acres — was built between 1900 and 1914, designed by Gaudi and funded by Eusebi Güell.
Park Guell was originally conceived as a prestigious housing development surrounded by beautiful nature. The housing part of the original plan was never fully realized, however, and the park was opened to the public in 1926.
Today, Park Guell has two major sections: the free public section filled with gardens and shaded passage ways, and the "Monumental Zone," which now requires a timed ticket to visit. The Monumental Zone is where you'll find Gaudi's stamps: the gingerbread-like houses at the park's entrance, the mosaic salamander, the 84 Doric columns in the Hypostyle Room, and the serpentine mosaic bench encircling the terrace.
The park can get really crowded during high season (hence why you now need a ticket for the most popular part of the park), but I really enjoyed spending a couple hours there.
IF YOU GO
Address: Carrer d'Olot (you can walk there from the Lesseps metro stop)
Website: http://www.parkguell.cat/en/
Price: 7 Euro to visit the Monumental Zone
TIP: Just like for Sagrada Familia, it's smart to book a timed ticket for Park Guell online before you go. This will save you standing in line, and will ensure you get to visit the park when you want to.
Casa Mila / La Padrera
The last notable Gaudi work in Barcelona is Casa Mila (also known as La Padrera or "the Rock Quarry"). We saw this on my Gaudi walking tour from across the street, and learned that it's basically considered an architectural marvel because of the fact that it has no straight lines. It was the last civil work designed by Gaudi in Barcelona, built between 1906 and 1912 (after that, Gaudi devoted all of his attention to Sagrada Familia).
Casa Mila was commissioned by Pere Milà i Camps and his wife Roser Segimon i Artells, and is recognizable by its wavy stone exterior, twisted wrought iron balconies, and chimneys on the roof.
Gaudi — who was inspired by religion as much as nature in many of his designs — originally had a large Virgin Mary statue sitting on the roof of Casa Mila. But Roser Segimon i Artells hated it and ordered Gaudi to move it. So he did — to the rooftop directly across from Casa Mila, so the lady of the house would still have to look at it every day. That Gaudi — what a cheeky guy.
Today, La Padrera is a cultural center, and also home to some private apartments and offices. A visit gets you access to two separate museum spaces, as well as an in-depth look into Gaudi's style and work.
IF YOU GO
Address: Provença, 261 – 265 (Diagonal metro stop)
Website: https://www.lapedrera.com/en/home
Price: 20.50 Euro per adult, or 25 Euro with a guide
TIP: Like with the other Gaudi buildings, you can book a ticket for Casa Milo online.
Visiting all of these Gaudi sites in Barcelona certainly doesn't make for a cheap visit. BUT, if you're interested in learning more about this unique form of architecture, there's really no better way to do it. All of these buildings (along with a few other Gaudi works) are now recognized by UNESCO for their creativity and innovation.
Personally, I'd say Sagrada Familia is really the star. If you're only going to pay to go inside one Gaudi work, make it this one. (And stay tuned, because I'll share more photos of it later!)
Where to stay in Barcelona
If you're going to Barcelona to see some Gaudi works, you'll want a nice place to rest your head at night! I can personally recommend the Grupotel Gran Via. I got a small room with a comfy bed for a really reasonable price right on Gran Via.
Or you can search other hotels:
Are you a fan of architecture? How about Antoni Gaudi? Have you visited any of these places in Barcelona?