Some posts on this site contain affiliate links, meaning if you book or buy something through one of these links, I may earn a small commission. Read the full disclosure policy
here
.
---
In case you aren't familiar with the concept of "overlanding," it's basically traveling through an area over land, usually in a large purpose-built vehicle. In Africa, overlanding is one of the best ways to truly experience the continent's incredible cultures and wildlife, since it means you're on the ground actually seeing everything.
I did a 3-week overland trip in 2016 with Acacia Africa, traveling in an overland truck from Cape Town to Victoria Falls through the countries of Namibia and Botswana. (And some people I was traveling with were continuing on to Kenya, Tanzania, and Uganda – you can actually overland the length of Africa all the way up to Egypt!)
RELATED: Overlanding in Southern Africa: Everything You Need to Know
Before my trip, I spent hours Googling packing lists for safaris and overland trips, wanting to be sure that I was leaving home as prepared as possible.
And, in order to help contribute my own tips, I've decided to share my full packing list with you along with what I learned about what you really need.
Packing list for an overland trip in Africa
I traveled through Southern Africa in May 2016 – the beginning of winter. The essentials will change slightly based on which countries you're traveling through and what time of year you're going, but here are all the absolute must-haves.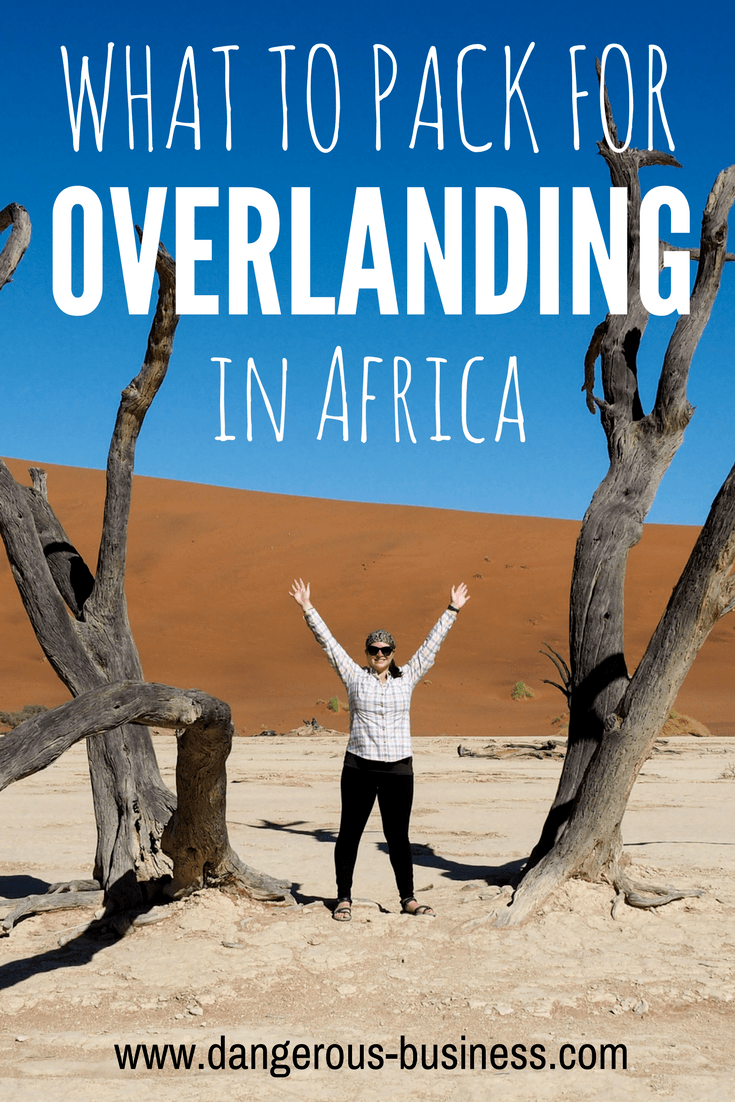 A soft-sided bag
Everyone is given a locker on your overland truck, and this is where all of your possessions will live for the duration of your trip. Locker sizes depend on the company you book with and the truck you're traveling on, but generally they are between 60 and 70 liters, not very tall but quite deep. This means that a traditional suitcase probably won't fit. It's recommended that you bring a backpack or other soft-sided bag like a duffel instead.
I traveled with my 60L Osprey Sojourn, which is essentially a backpack with wheels. It fit fine into the locker on Acacia's Kavango truck, though it was a squeeze to fit both this bag AND my camera backpack into the same locker. If you can pack lighter, I would go with something like the Kelty Redwing 44 or Osprey Farpoint 40.
A good sleeping bag
Overlanding in Africa usually means camping every night. On my trip with Acacia Africa, we usually pitched our tents in established campsites, but some other companies participate in bush camping (i.e. just pulling over and setting up camp anywhere). The overland company you book with should provide two-person tents, but you'll need to bring your own sleeping bag.
I purchased a Helio Sack from REI that was rated down to 55 degrees F, and also a Sea to Summit Thermolite Reactor Plus liner, which is adds 15-20 degrees of warmth to a sleeping bag. I thought this combo would be fine for winter in southern Africa, but either my internal nighttime temperature just runs really cold, or I totally misjudged how cold it can get in the desert at night! I spent the first two nights shivering in my tent.
I ended up purchasing an extra blanket at a convenience store, which gave me enough added warmth to be cozy every night.
My sleeping bag + liner combo would have been fine in another season, and would have also been perfect for Eastern/Northern Africa. But if you're going to be overlanding during the winter months in Southern Africa, definitely buy a slightly warmer sleeping bag (I would probably get one rated down to freezing!).
*Also check whether you need to bring your own sleeping mat. Acacia Africa provides mats for all passengers, but other companies will require you to bring your own if you want one.
A pillow
Just as you'll need to bring your own sleeping bag, you'll also need a pillow. Many people ended up purchasing full-sized pillows once they got to Africa, but I actually found my small, inflatable Sea to Summit pillow to be just fine (AND it took up less room in my locker!).
Clothing you can layer
Speaking of temperatures, you definitely want to bring clothing that you can layer. It will get chilly at night, but can be hot during the day.
You can find my full list of clothing I packed further down in this post, but I definitely recommend thermal layers for sleeping (this Terramar turtleneck and Cloud Nine pants are my favorites), a packable down coat for evenings and early mornings, and then everything from hoodies to tank tops for layering during the day. I also brought my trusty mosquito jacket with me.
A quick-dry towel
In Southern Africa, you'll likely stay in campsites with really good facilities – hot showers, flush toilets, even bars and swimming pools! But since you usually only spend one night in each place, having a quick-dry towel is essential; otherwise you end up stuffing a damp towel into your locker every morning.
Headlamp
A headlamp is an absolute MUST for any overland trip in Africa! You'll likely be waking up before dawn on many days, and will be eating dinner and getting ready for bed in the dark during the winter months. You could bring a regular flashlight with you, but those aren't helpful when you're trying to eat or use the restroom in the dark. A headlamp is a much better investment. (And don't forget to pack a couple extra batteries, too!)
Combination padlocks
I never travel anywhere without a few wire-cable padlocks, but they're especially handy on an overlanding trip since you'll be responsible for securing your own locker on the truck. Wire-cable locks are preferable because they're less likely to snap as you bump over unpaved African roads.
The right toiletries
First of all, pack a toiletry bag with a hook so you can hang it up when you go to take a shower. You'll also want to bring some toilet paper of your own, some baby wipes for all the dust (or get some Epic Wipes, which are essentially towel-sized baby wipes!), moisturizer (it gets SO DRY), sunscreen, mosquito repellent, and a first aid kit containing things like band aids, pain killers, ginger chews (for upset tummies) and rehydration salts in case you get really sick (though I had absolutely ZERO stomach issues on my trip).
*You'll also want to check whether your trip will have you traveling through any malaria zones. If so, be sure to see a doctor and get an anti-malarial prescribed.
A power bank
My last must-have is a beefy power block so you can keep your phone and other USB devices charged up. Many campsites will have a few power points (or at least one power point that your guide can hook a power strip up to), but you sometimes may have to compete with your fellow travelers for a spot to plug in your camera or iPad.
I made sure to have lots of extra camera batteries with me, and used my 20,000 mAh ZeroLemon power bank to charge my phone (and sometimes my GoPro) in my tent every night. The ZeroLemon power bank I used is no longer available, but this one is really similar!
Sample overland packing list
Now that you know my must-haves, here's the full list of what I packed for my overland trip in Africa:
The bag: Osprey Sojourn 60
Clothing
Shoes
*Note: If your overland itinerary will include things like trekking to see gorillas in Uganda or climbing Kilimanjaro in Tanzania, you'll also want to pack a good pair of hiking boots. My picks are these mid-height waterproof Merrells.
Misc.
Camera gear
The camera bag: Pacsafe Camsafe V25
Travel insurance
Another thing to "pack" for any overland trip is a good travel insurance policy. Many overland/safari companies will require you to have insurance cover for your trip, because you just never know what can happen.
Your personal health insurance might cover medical emergencies overseas (call to be sure), but you may still want to purchase an insurance plan to cover things like lost luggage, damaged gear, or trip cancellation.
And if your regular insurance doesn't cover you outside of your home country? Then you definitely want to purchase comprehensive insurance that will cover medical costs (including emergency evacuation!).
I recommend World Nomads, who offer some of the most affordable basic travel insurance out there. (Just note, though, that you'll probably want to get their "Explorer" coverage, which includes cover for adventure activities like skydiving, shark cage diving, hot air ballooning, microlight flights, and snorkeling/SCUBA diving – all of which you may have the chance to do in Africa.)
Have you ever been on an overland trip? Are there any other things you suggest packing?