Some posts on this site contain affiliate links, meaning if you book or buy something through one of these links, I may earn a small commission. Read the full disclosure policy
here
.
---
In December 2020, the New River Gorge National River that winds through the Appalachian Mountains got re-designated to national park status, making New River Gorge National Park and Preserve the 63rd national park in the US – and the very first in the state of West Virginia.
Locals and longtime visitors alike will tell you that the New River Gorge has always been a special place. It's got an interesting human history filled with coal mines and railroad tycoons, and an even more interesting geological history: the New River is thought to be one of the oldest rivers in the entire world.
Today, the New River Gorge is a mecca for outdoor pursuits ranging from rock climbing to white water rafting, and my guess is that it's about to get some increased attention with its new national park status.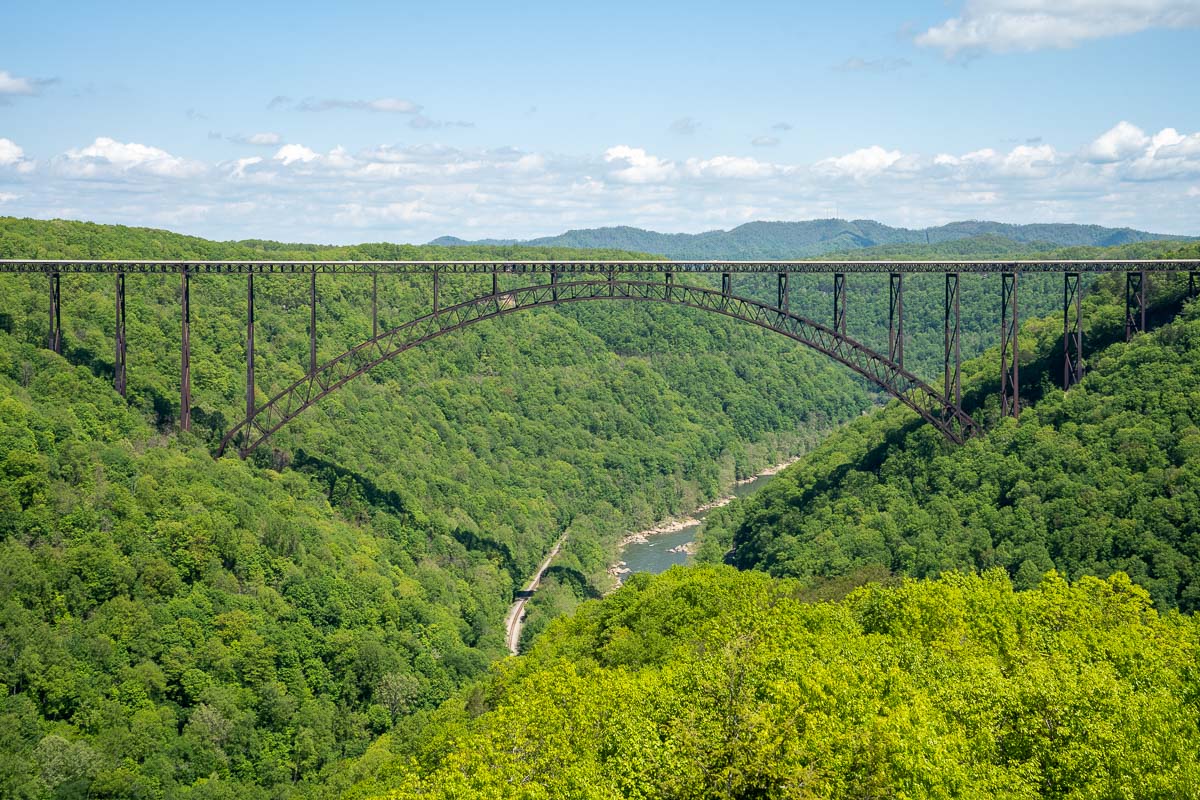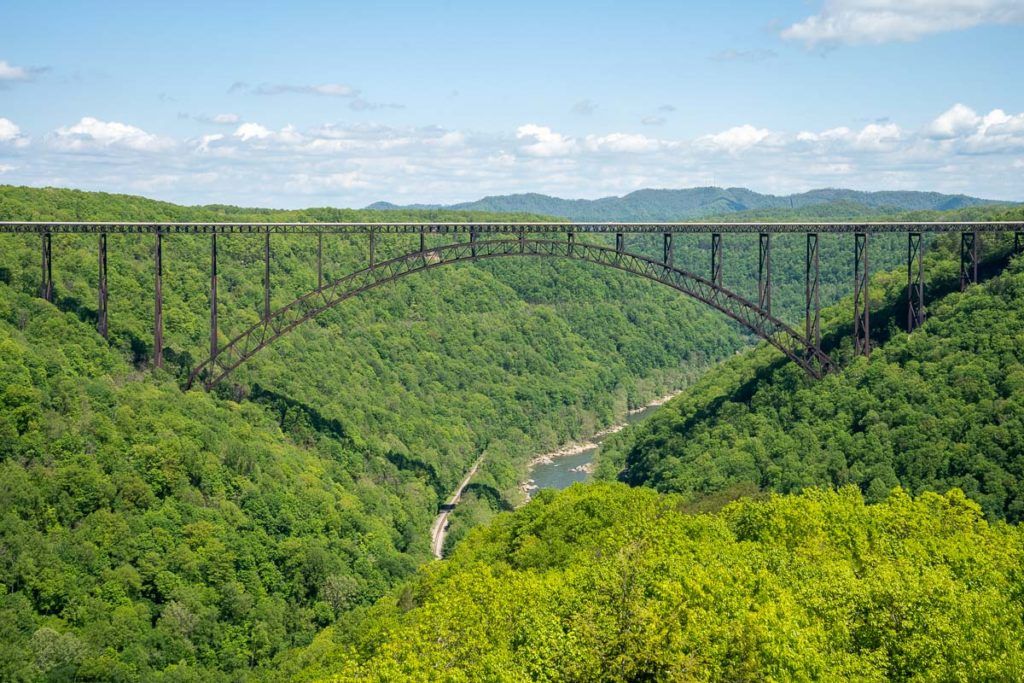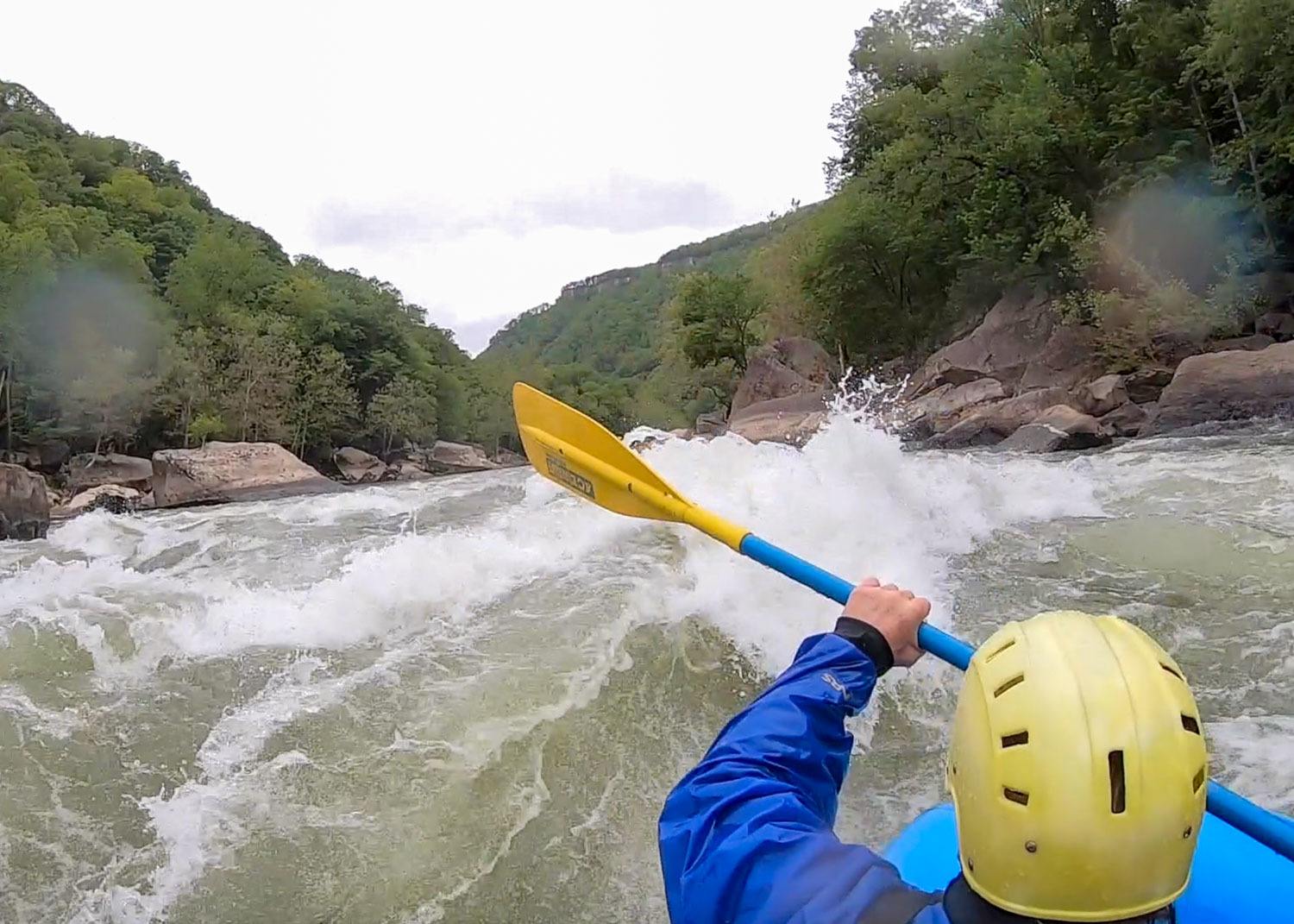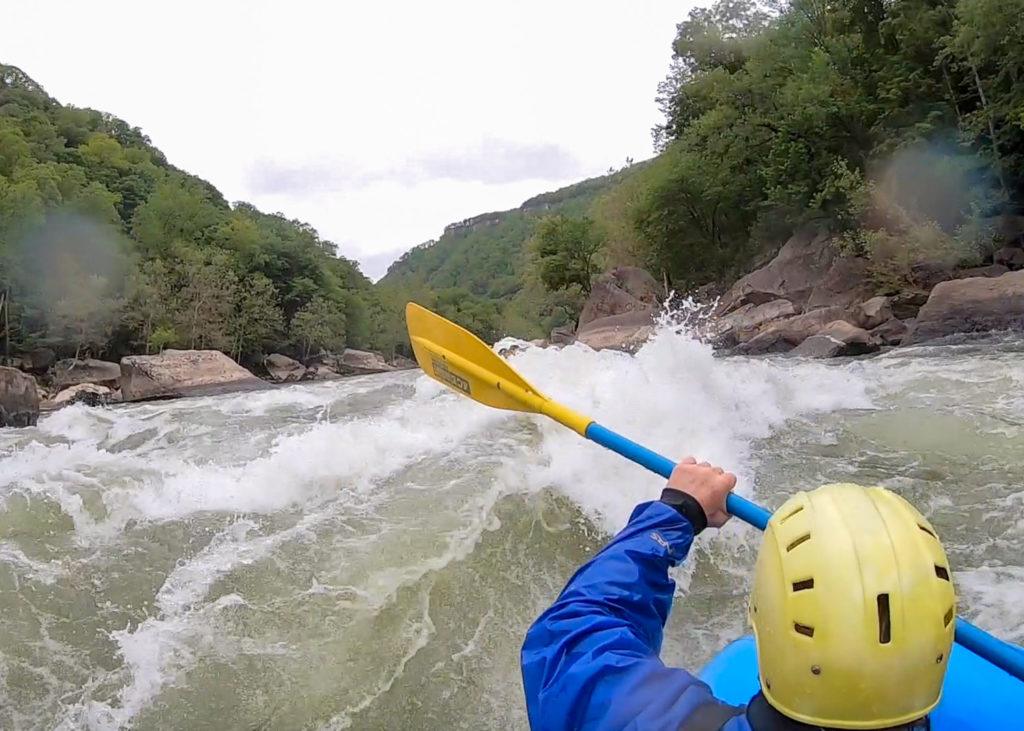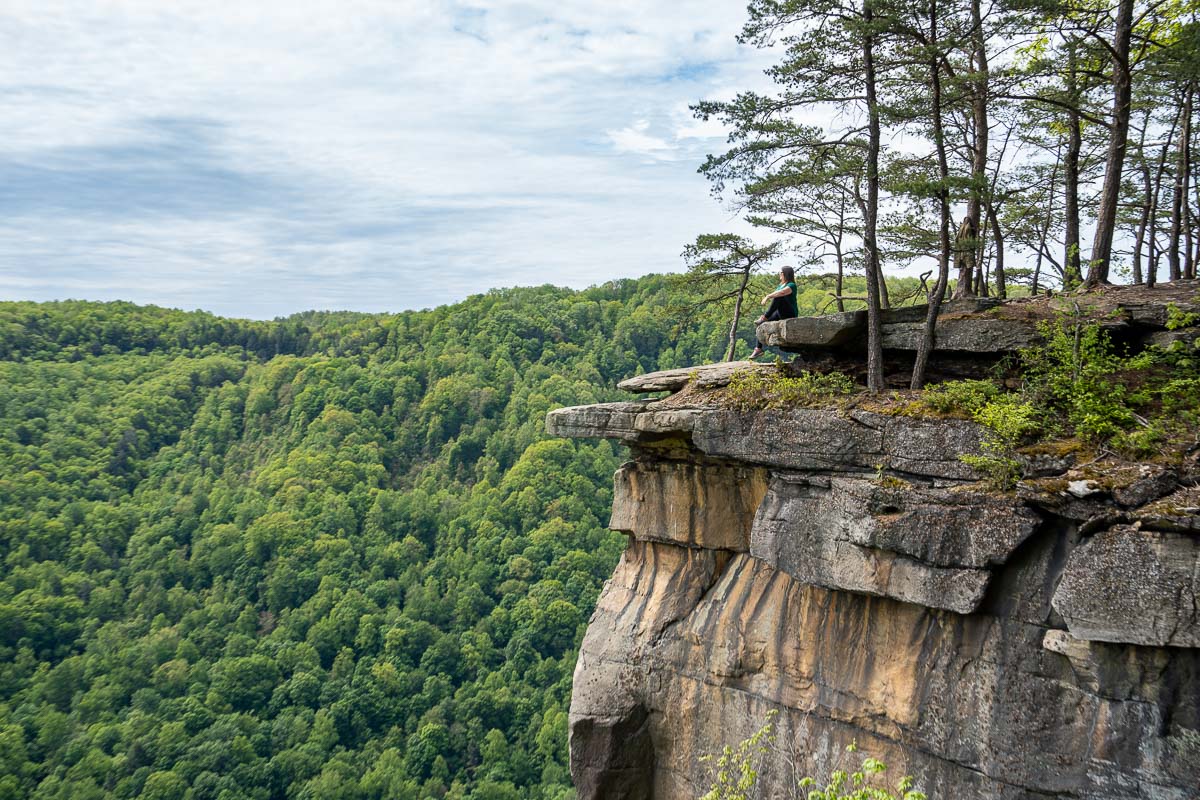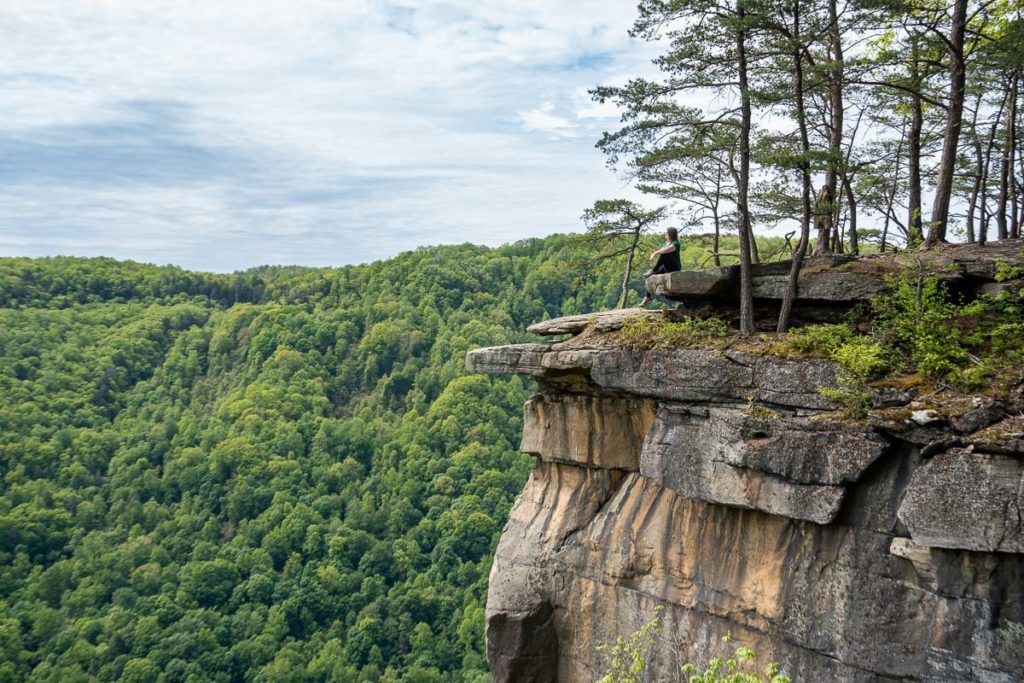 If you're thinking of planning a trip to New River Gorge National Park this year and aren't sure what to do or how long to spend there, I've got you covered.
Here's your complete guide to planning a visit to this beautiful national park.
When to visit New River Gorge National Park
New River Gorge National Park is open to visitors year-round, but there are definitely some times of year that are better for visiting than others. The most popular time to visit is during the summer months, while my personal picks for visits would probably be late spring and fall.
Late spring in the New River Gorge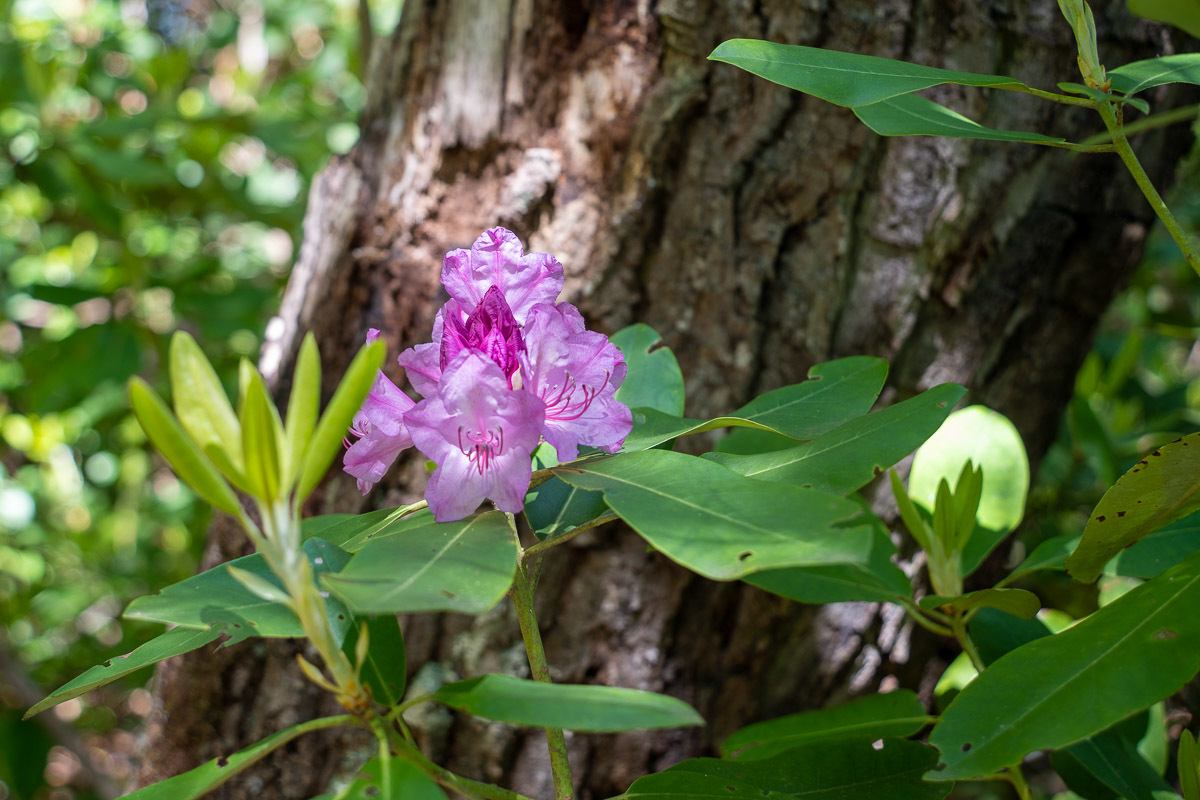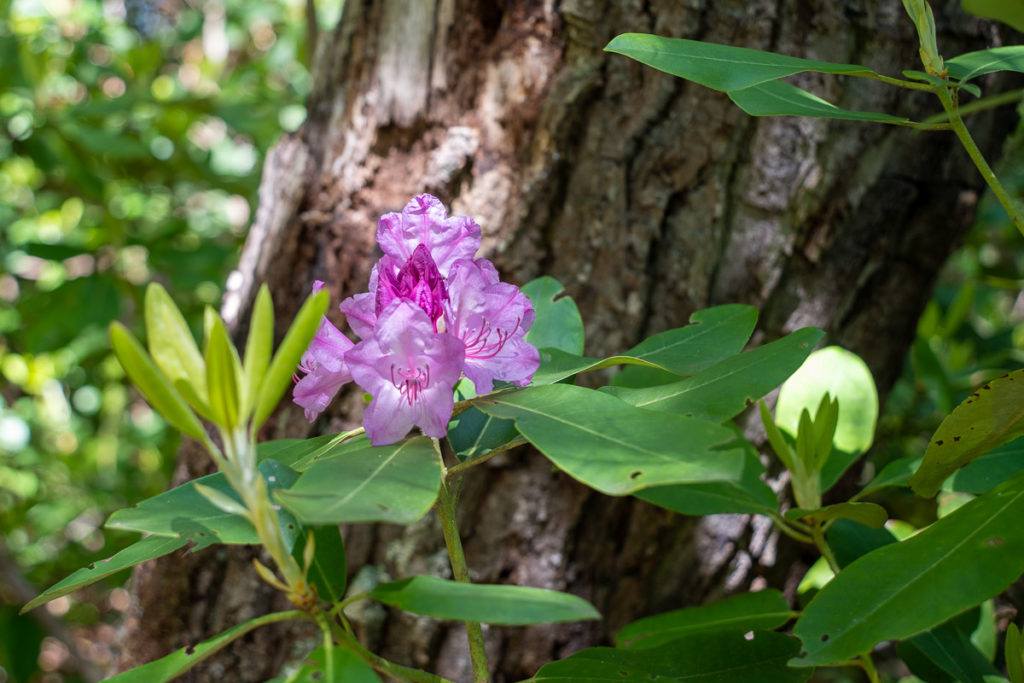 My own visit to the New River Gorge was in the first half of May (I visited as part of a West Virginia road trip), and it was pretty perfect in terms of timing. By this point in the spring, the trees have new green leaves on them, and you can often spot wildflowers along the trails.
It's after spring break but before summer vacation, meaning it's a pretty quiet time of year; my husband Elliot and I often had trails and overlooks all to ourselves. (We also found some restaurants and shops still operating on off-season hours, though, so keep in mind that things may not be running at full steam if you visit before mid-May.)
We did visit during a bit of a spring cold snap, but *usually* temperatures are mild to warm around this time of year.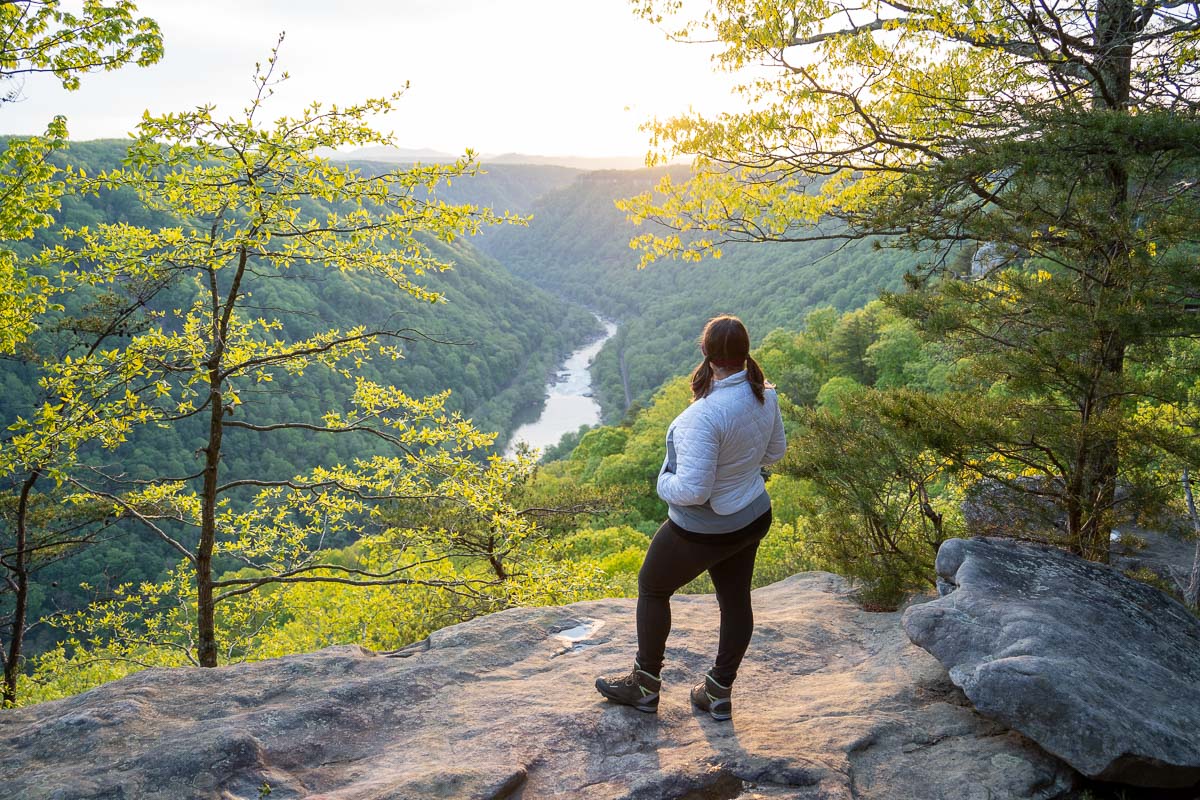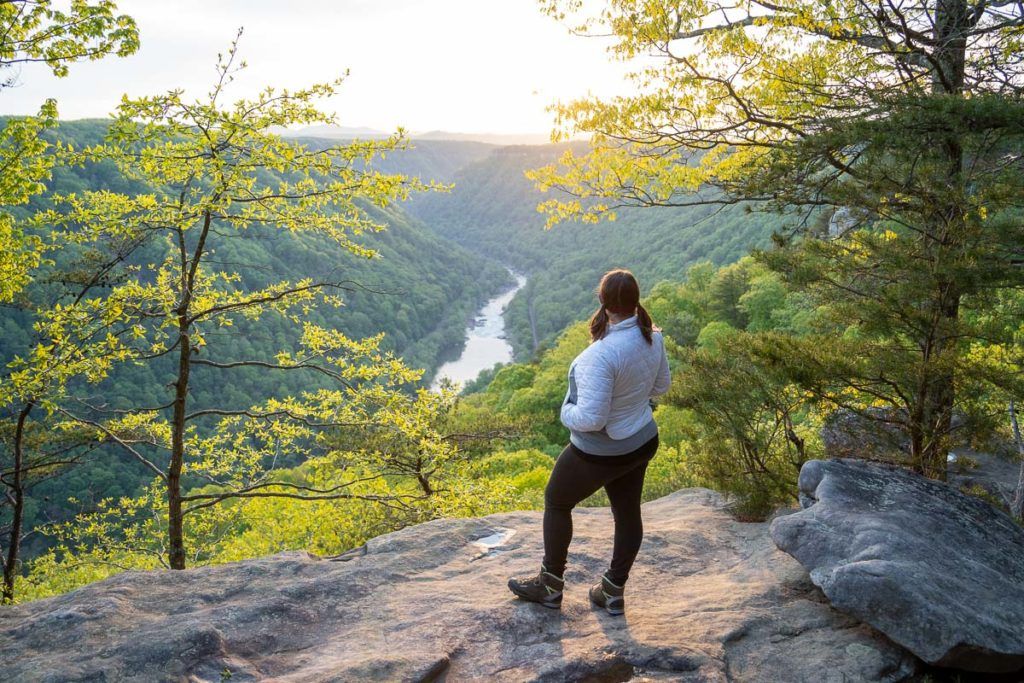 Summer in the New River Gorge
Summer is the busiest time of year in the New River Gorge. All the activities and camp resorts are open and running, and it's the time of year when you're likely to find more crowded trails and less lodging options (especially if you're planning to visit on the weekend).
Summer is also when things get a bit hot and sticky in this part of West Virginia (the humidity is no joke!), but thankfully there are plenty of water-based activities to partake in.
Fall in the New River Gorge
Autumn is another great time to visit this national park, especially if you love fall colors. The forests here don't change all at once like in some other parts of the country, but that just means there's a longer display of fall foliage here.
October is the best month for spotting fall colors in the New River Gorge, though some activities (like whitewater rafting) start slowing down this month. The famous Bridge Day also takes place in October every year, when adventurous base jumpers jump off the New River Gorge Bridge.
If you want the cooler temperatures of fall but want to avoid any potential leaf-peeping (or Bridge Day) crowds, then September might be a better fall month to plan your visit.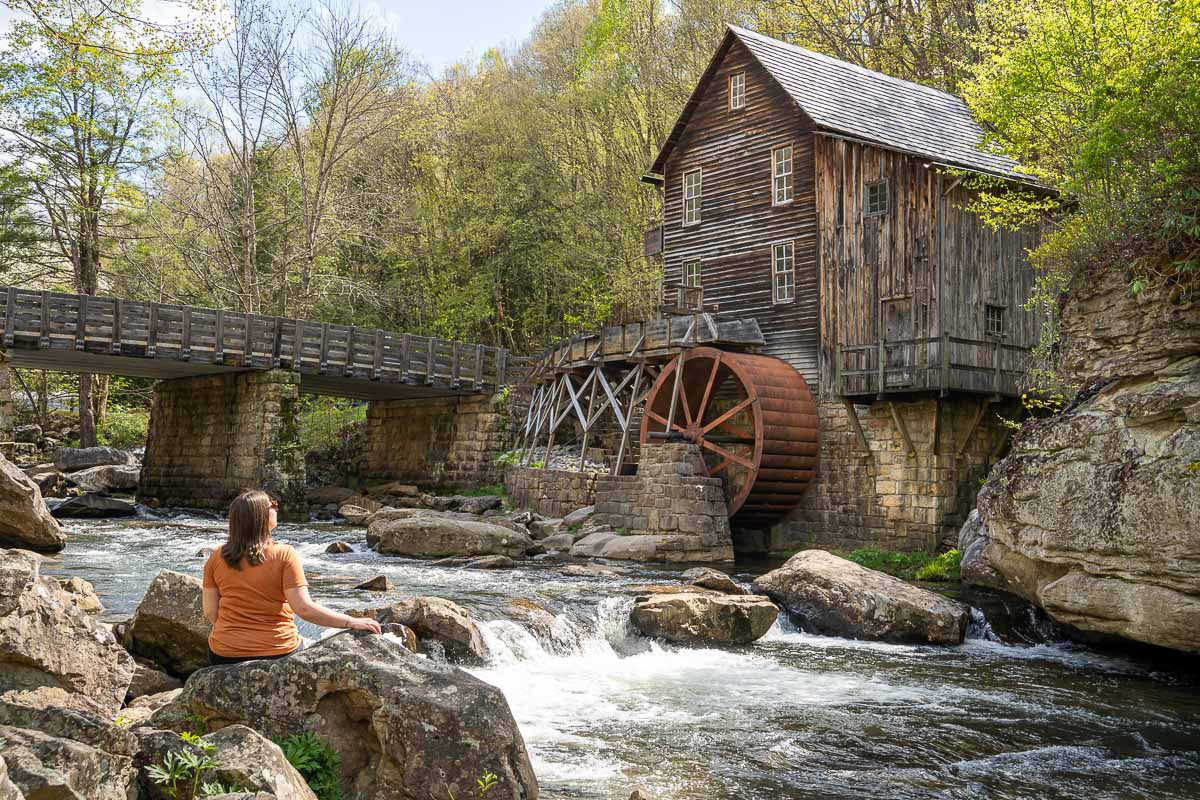 Winter in the New River Gorge
You CAN of course visit the New River Gorge in the winter, but it's probably the only season I wouldn't really recommend if you want to book a lot of the outdoor activities the area is known for. Things are quiet here in the winter, and a lot of things close from November-April.
How to get to New River Gorge National Park
The New River Gorge is located in southern West Virginia in the Appalachian Mountains. The national park covers about 70,000 acres, stretching for 53 miles along the New River between the towns of Fayetteville and Hinton.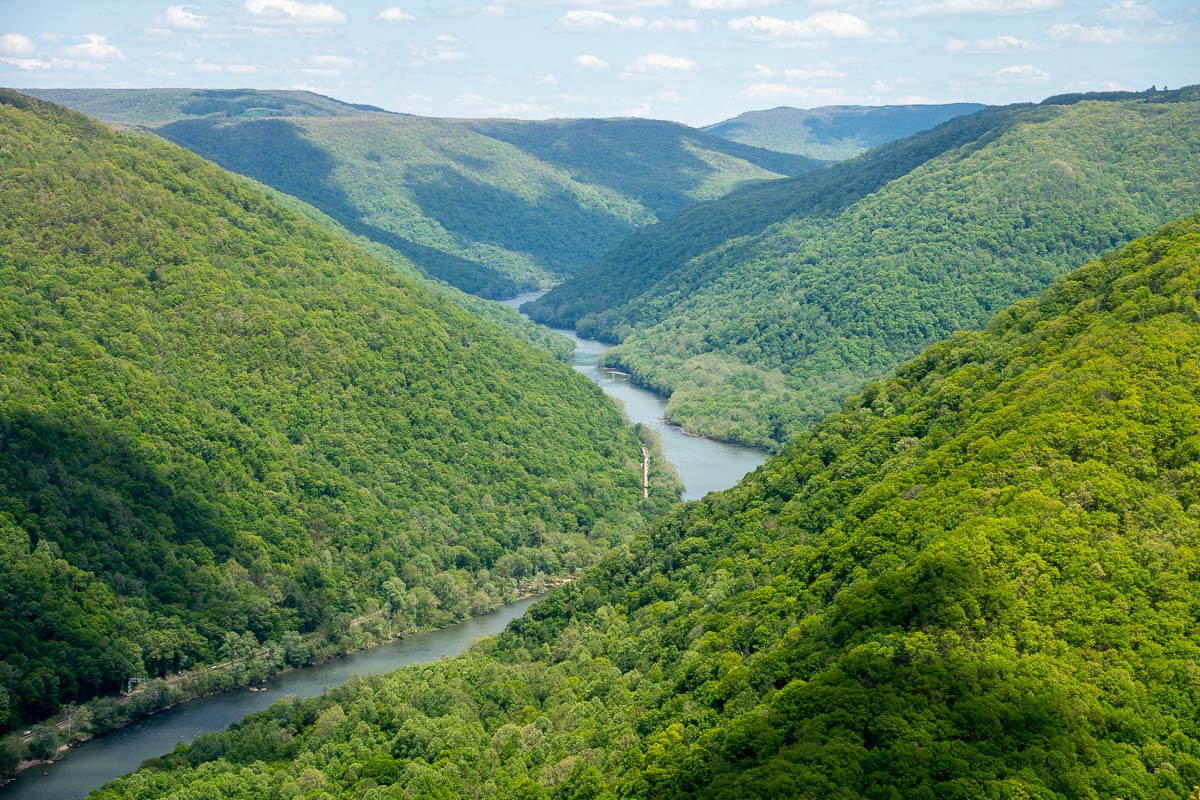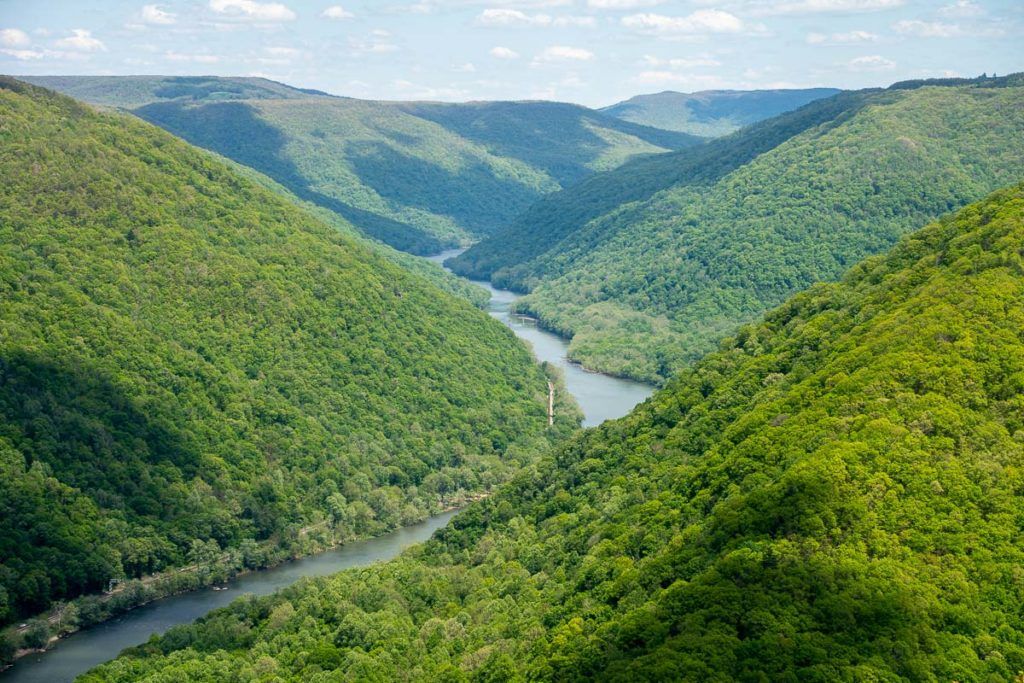 West Virginia does not have any large airports itself, but the New River Gorge is easy driving distance from major hubs like Pittsburgh, PA (3.5 hours); Charlotte, NC (4 hours); and Washington, DC (4.5 hours). Elliot and I drove from where we live just outside of Cleveland, Ohio in about 5 hours.
Driving is definitely how I would recommend getting to the New River Gorge. You'll need a car to explore the park anyway, so you may as well fly into somewhere easy, and then just drive from there.
(Need to rent a car? I recommend checking options with Discover Cars.)
Top things to do in New River Gorge National Park
And now we come to the real meat of this guide: all the amazing things you can DO at New River Gorge National Park. There really is something here for everyone, whether you're into outdoor adventure sports, American history, or just enjoying some really pretty views.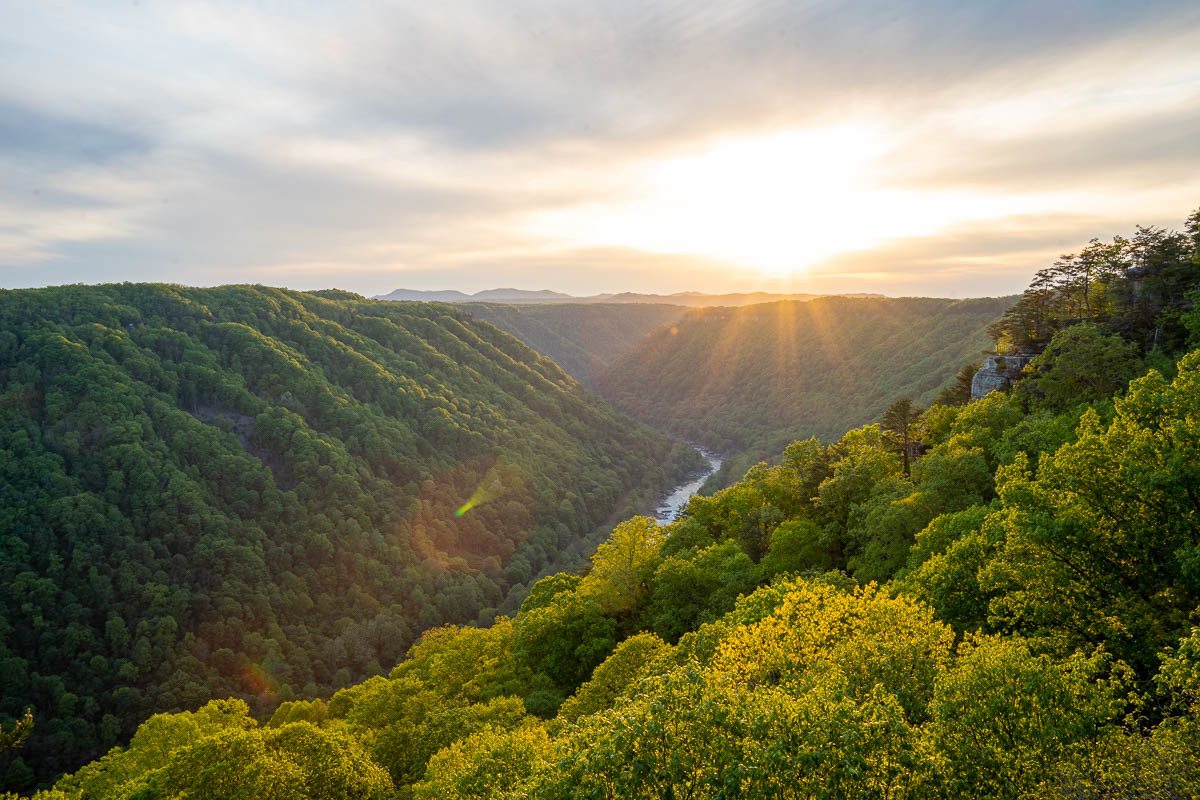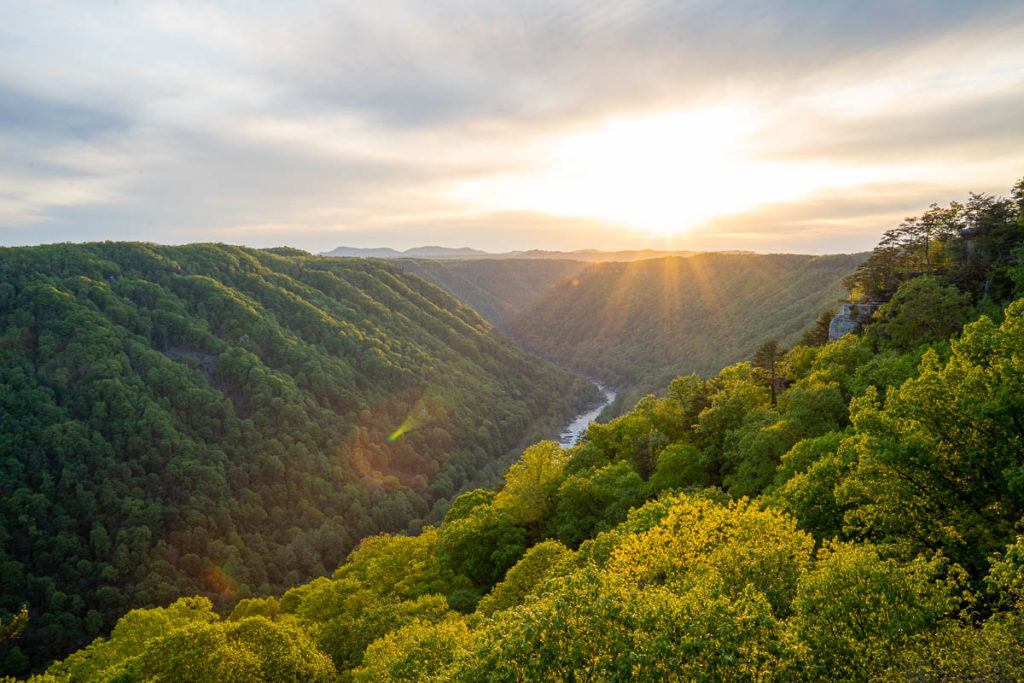 Before visiting the New River Gorge for the first time, I'll admit that I didn't know a whole lot about it. I knew it was in West Virginia coal country, and I new that it had a famous bridge over a river. And that was about it!
But this just meant that each new discovery – of an amazing view or adorable town or interesting tidbit of history – was both surprising and exciting. I love to be surprised by destinations, and the New River Gorge certainly delivered!
Here's a look at some of the must-dos here:
1. Have a whitewater rafting adventure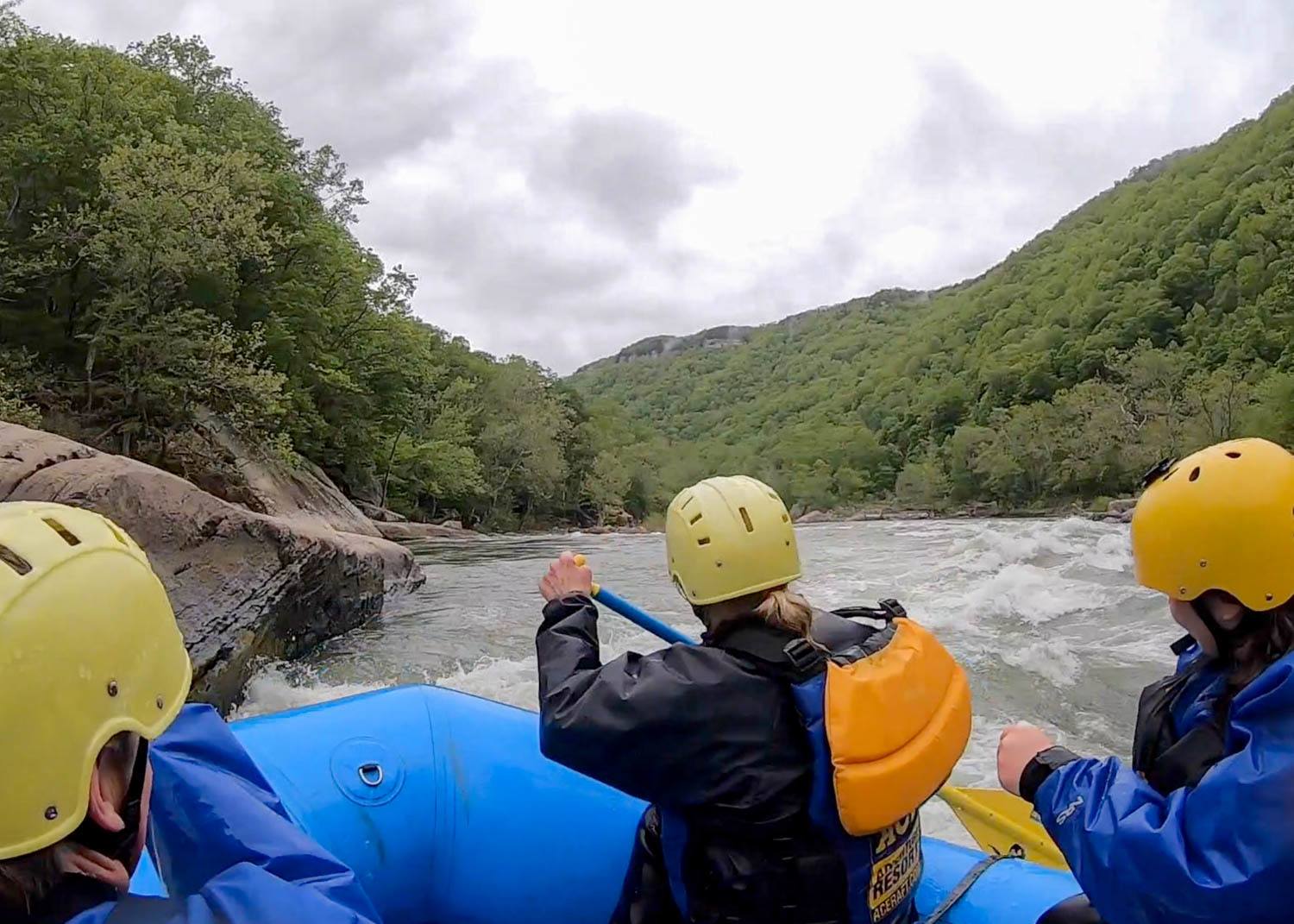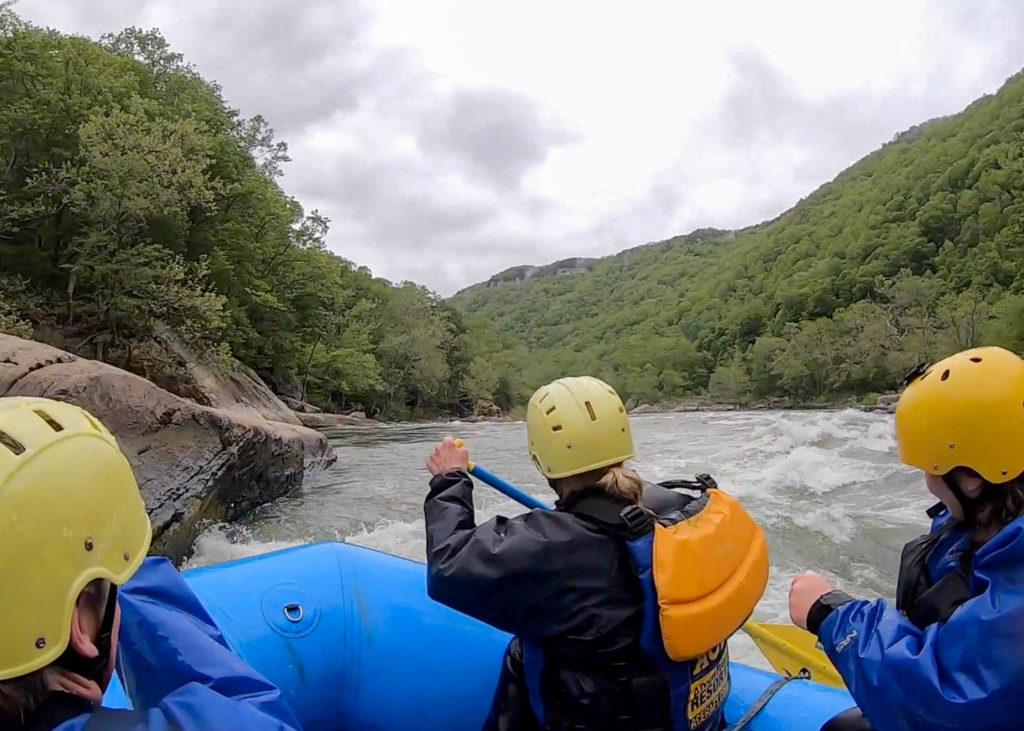 This part of West Virginia is known for its exciting whitewater rafting trips; the local outfitters will tell you that the area is home to some of the best whitewater in the country – and who am I to argue?
There are a couple different rafting options to choose from, with the most popular being a full-day rafting trip down the Lower New River. This trip starts out with a fairly relaxing float (perfect for enjoying the scenery along one of the oldest rivers in the world!), but eventually puts you over Class IV and V rapids as you approach the famous New River Gorge Bridge.
This is the trip Elliot and I did, on a cold and wet Monday morning in May. Despite the 45-degree temperature (I swear the water was warmer than the air!), we had a blast and would definitely recommend it as a must-do.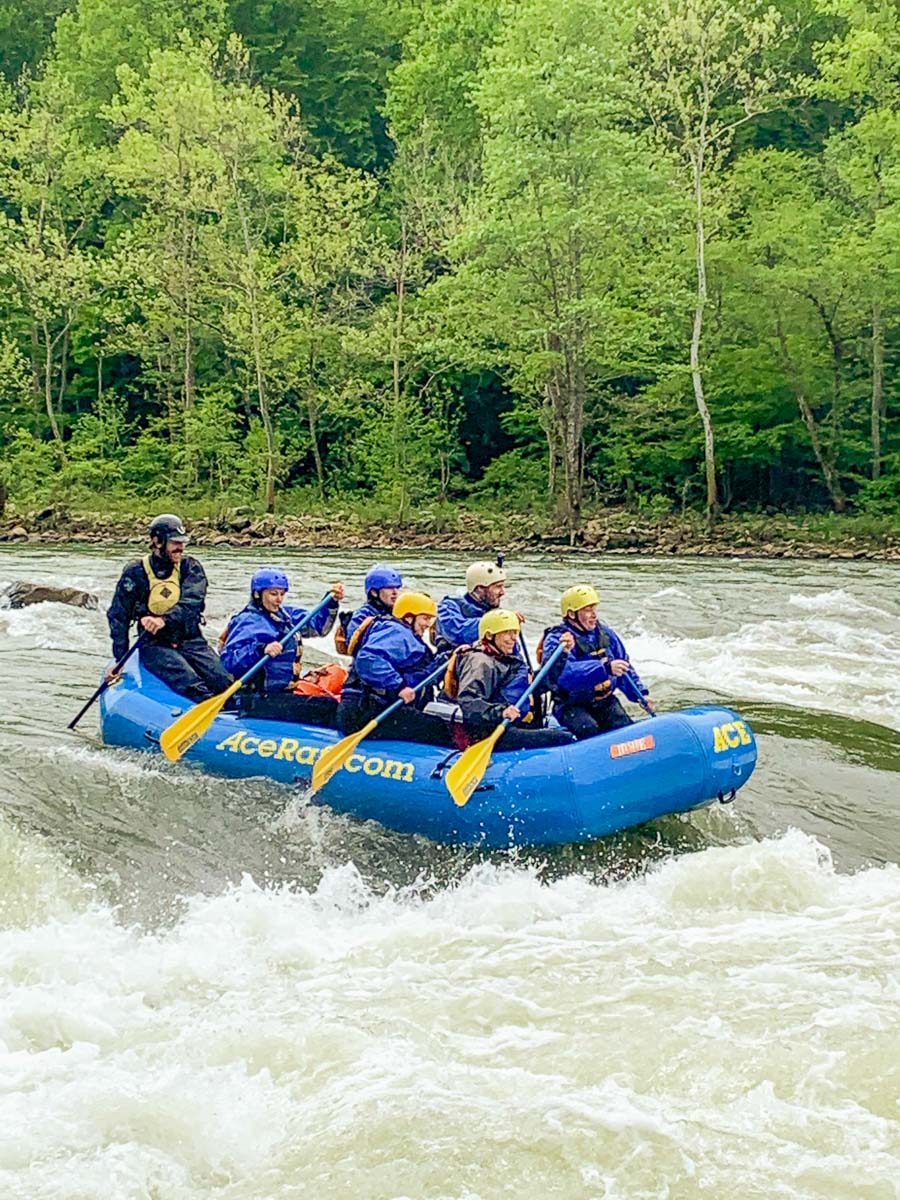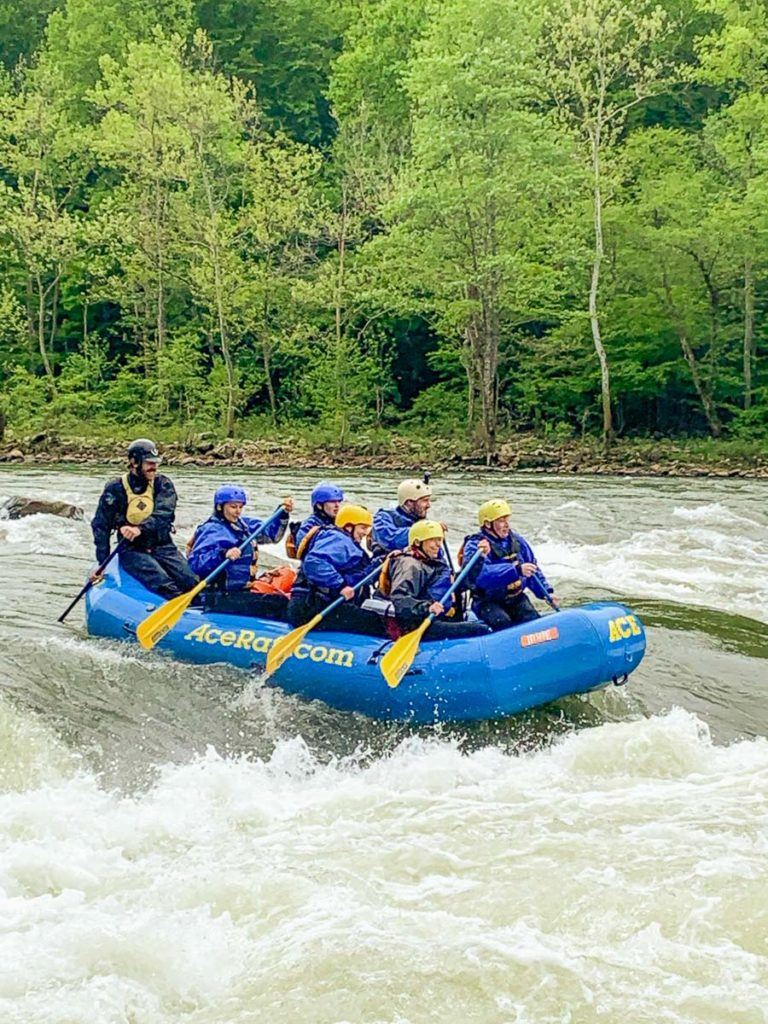 We rafted with ACE Adventure Resort, but there are several local outfitters who offer this same trip. (You can book a similar trip here, or directly with any of the local outfitters like ACE, Adventures on the Gorge, West Virginia Adventures, or River Expeditions.)
The rafting season on the New River runs from mid-May through usually the beginning of October. Once summer hits, there's a half-day version of the trip we took on the Lower New, as well as overnight trips and rafting options for all skill levels.
Check out this video I made from our rafting trip:
If you're traveling with kids or anyone who is unsure about rafting, you can float down the calmer Upper New (minimum age for this section is 5-6). Meanwhile, for the true daredevils, look into rafting on the nearby Gauley River in the fall, which is more intense and marked as being only for experienced rafters.
All the local rafting outfitters will gear you up with helmets, life jackets, and wetsuits if it's cold enough, and provide you with lunch if you're going on a full-day trip. All you need to bring is a change of clothes and a sense of adventure – and maybe a GoPro!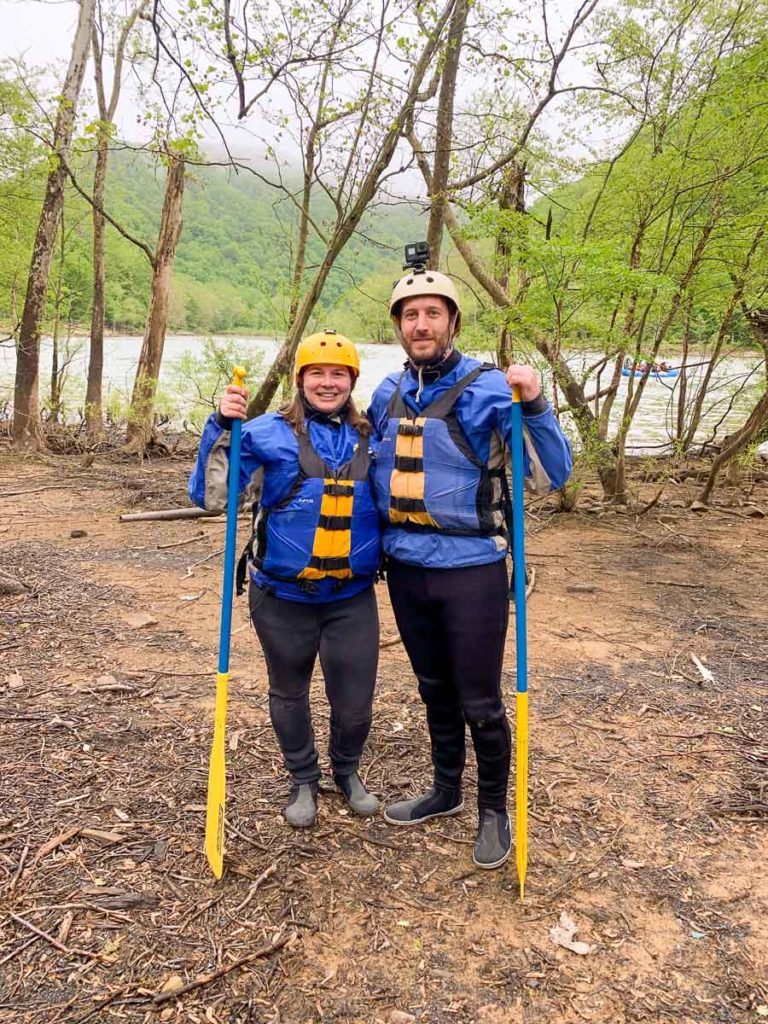 Book a Lower New River rafting trip here.
2. Go hiking in the New River Gorge
The New River Gorge is (not surprisingly) focused around the river carving through the local Nuttall sandstone. But that doesn't mean there aren't any hiking trails here!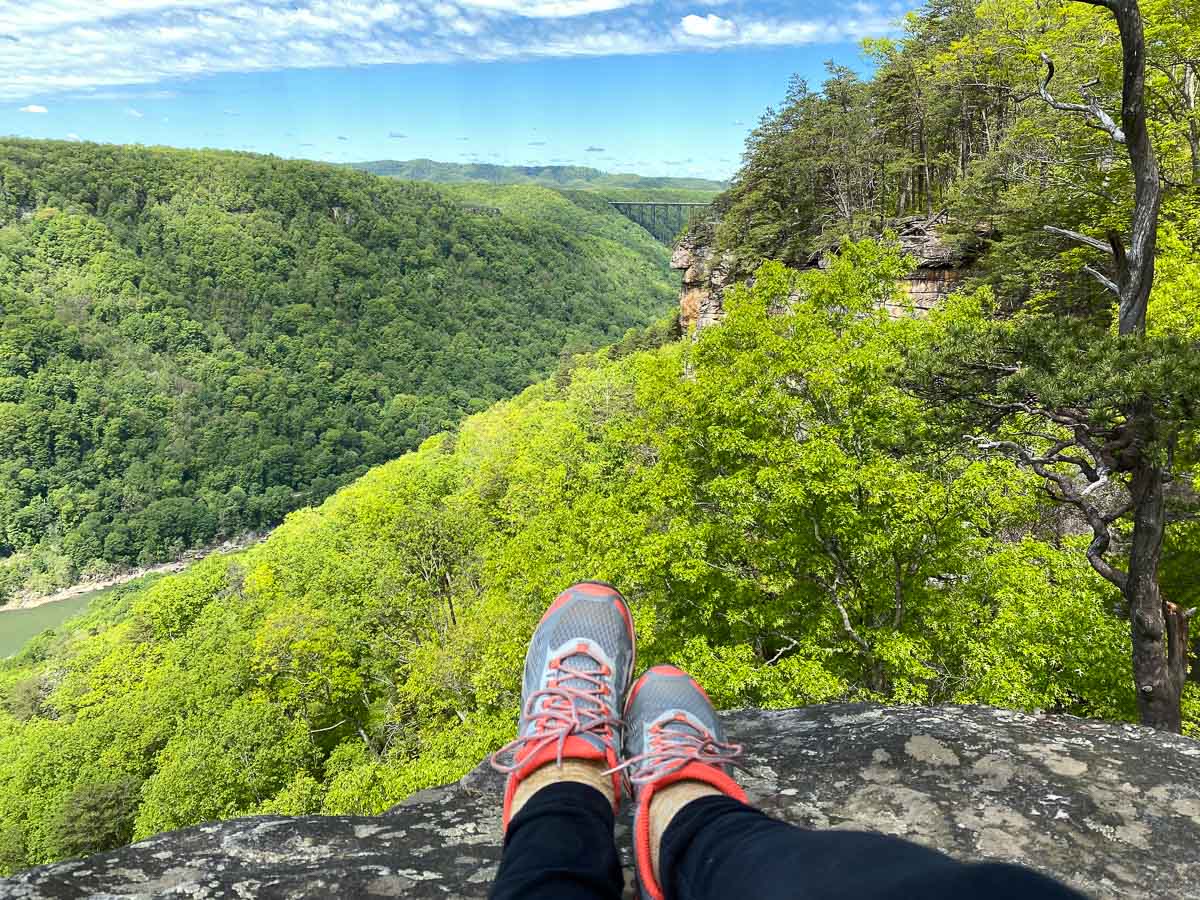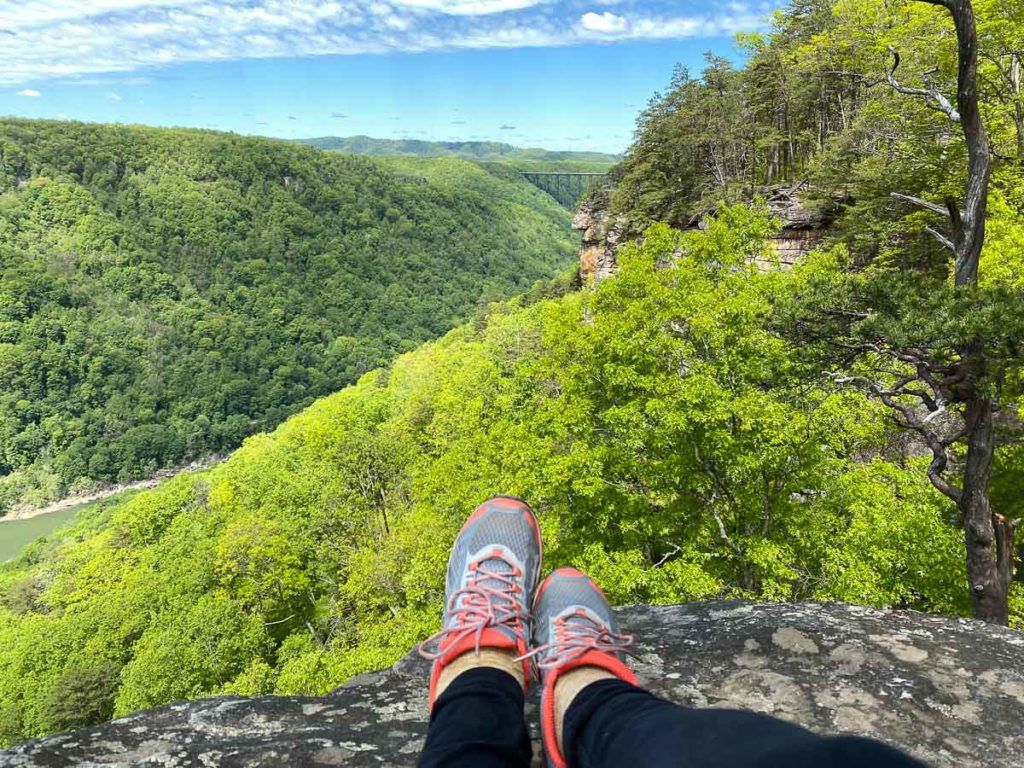 Within New River Gorge National Park, there are about 100 miles of hiking trails, ranging from easy to challenging. Most of the trails are fairly short (perfect for someone like me who doesn't consider herself a "hiker"), but many can be connected if you're looking for a longer trek.
Since the park stretches along 53 miles of river, there are several different sections with trails. The most popular trails in the New River Gorge include:
Endless Wall Trail – This Fayetteville trail is one of the most popular in the park, offering up excellent views of the gorge and the "Endless Wall," which is an area popular with rock climbers. You can do this hike as a 2-mile out-and-back from the Fern Creek parking area to Diamond Point (which is what Elliot and I did), or you can do it in a 2.7-mile loop – but if you do the whole loop, note that you'll have to walk a half-mile back to your car along a road. (Rated moderate)
Long Point Trail – The other popular Fayetteville trail is the 3.2-mile Long Point Trail, which leads out to a rocky outcrop that overlooks the New River Gorge Bridge. The trail is pretty tame until the last .3 miles, when it gets a bit steep and filled with roots to climb over. (Rated moderate, but I'd say the majority of it is easy!)
Grandview Rim Trail – This 3.2-mile trail in the southern part of the park connects the Main Overlook at Grandview with Turkey Spur, offering up some of the most stunning views of a horseshoe bend in the New River. (Rated moderate)
Sandstone Falls Boardwalk and Island Loop Trail – Head down to the southern part of the park to visit Sandstone Falls, a 1500-foot-wide waterfall on the New River. A .25-mile boardwalk offers up great views, and connects to the half-mile Island Loop Trail just below the falls.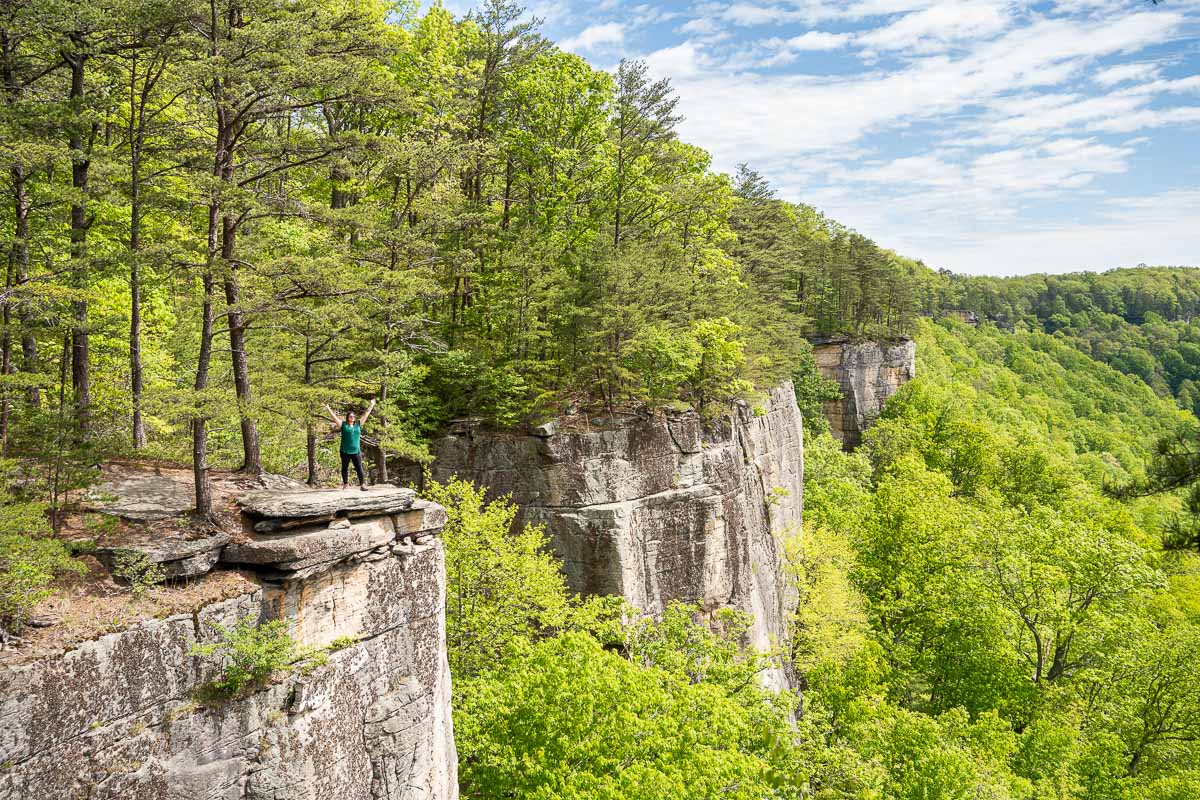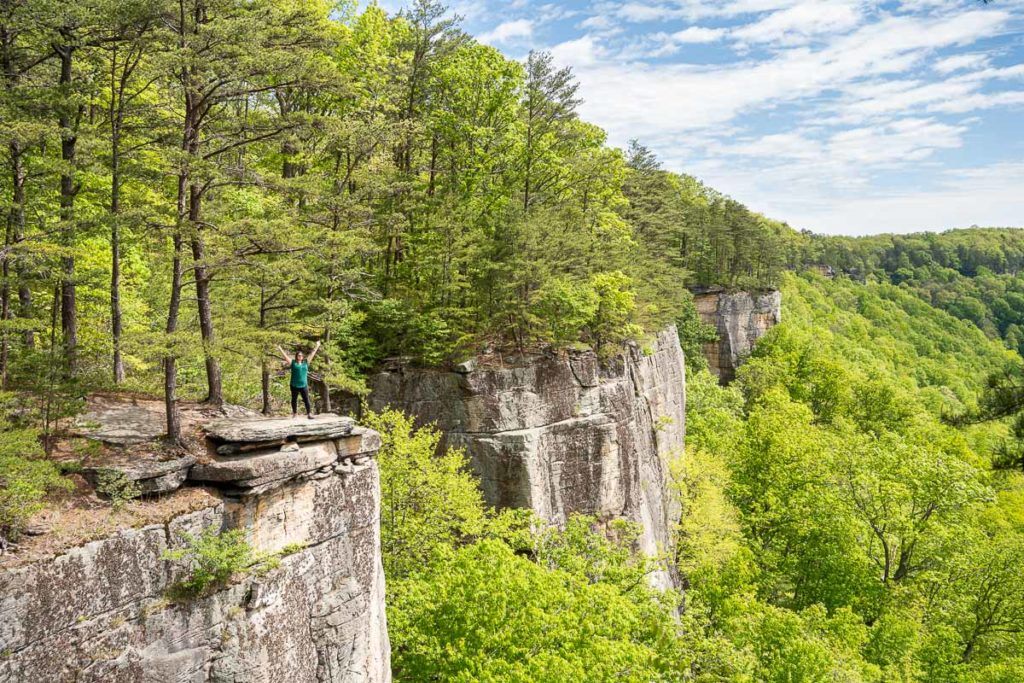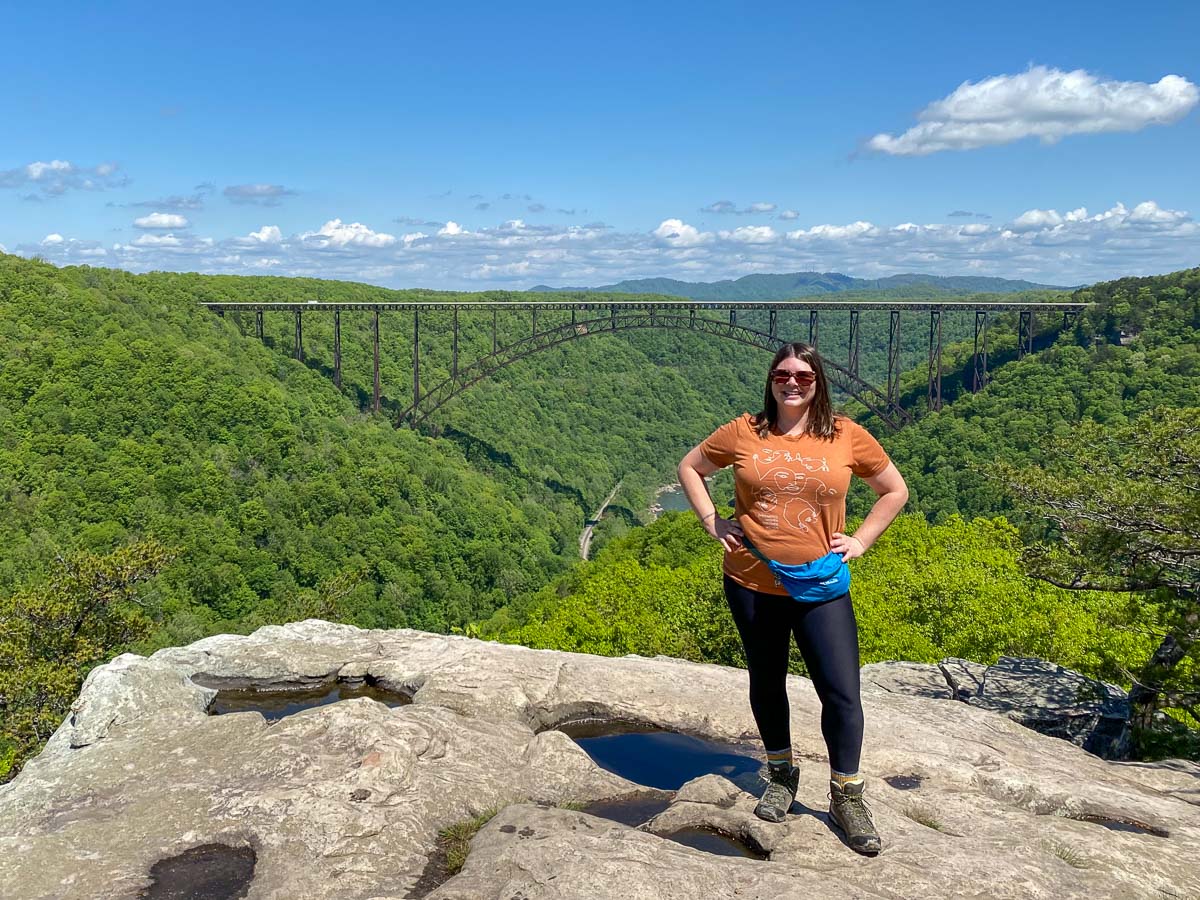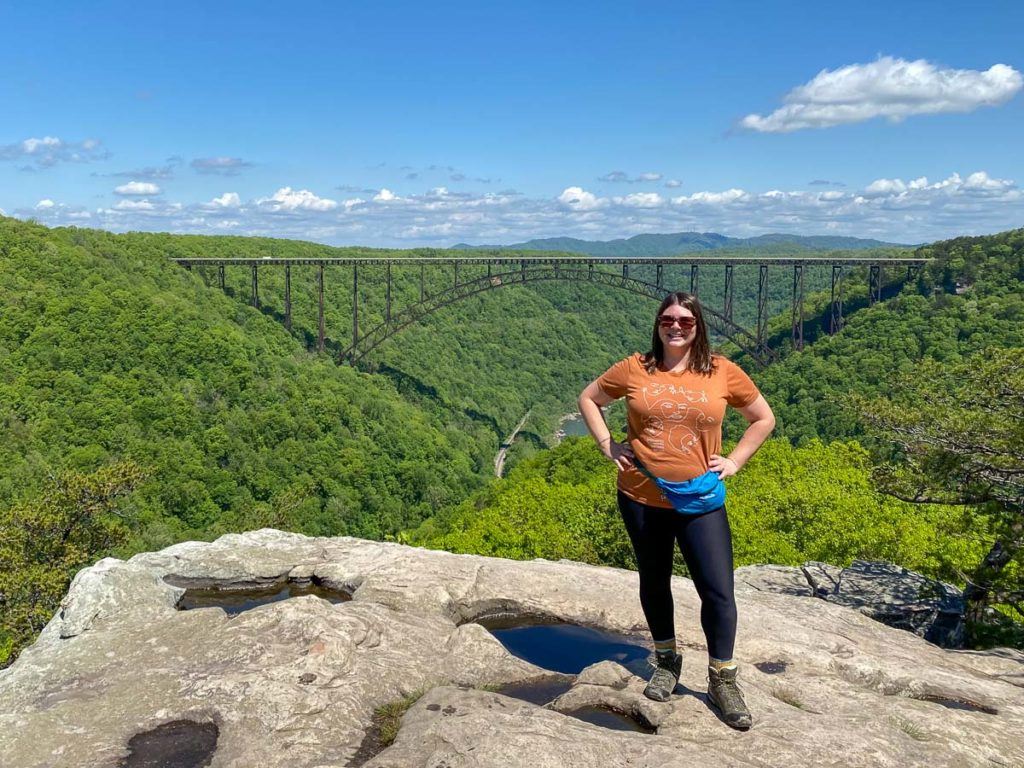 These are just a small selection of trails you can hike in the New River Gorge. For more options, check out the NPS hiking guide to the park.
3. Hit the trails on a mountain bike
Mountain biking is a popular outdoor sport all across West Virginia, and there are trails to enjoy within the national park, too.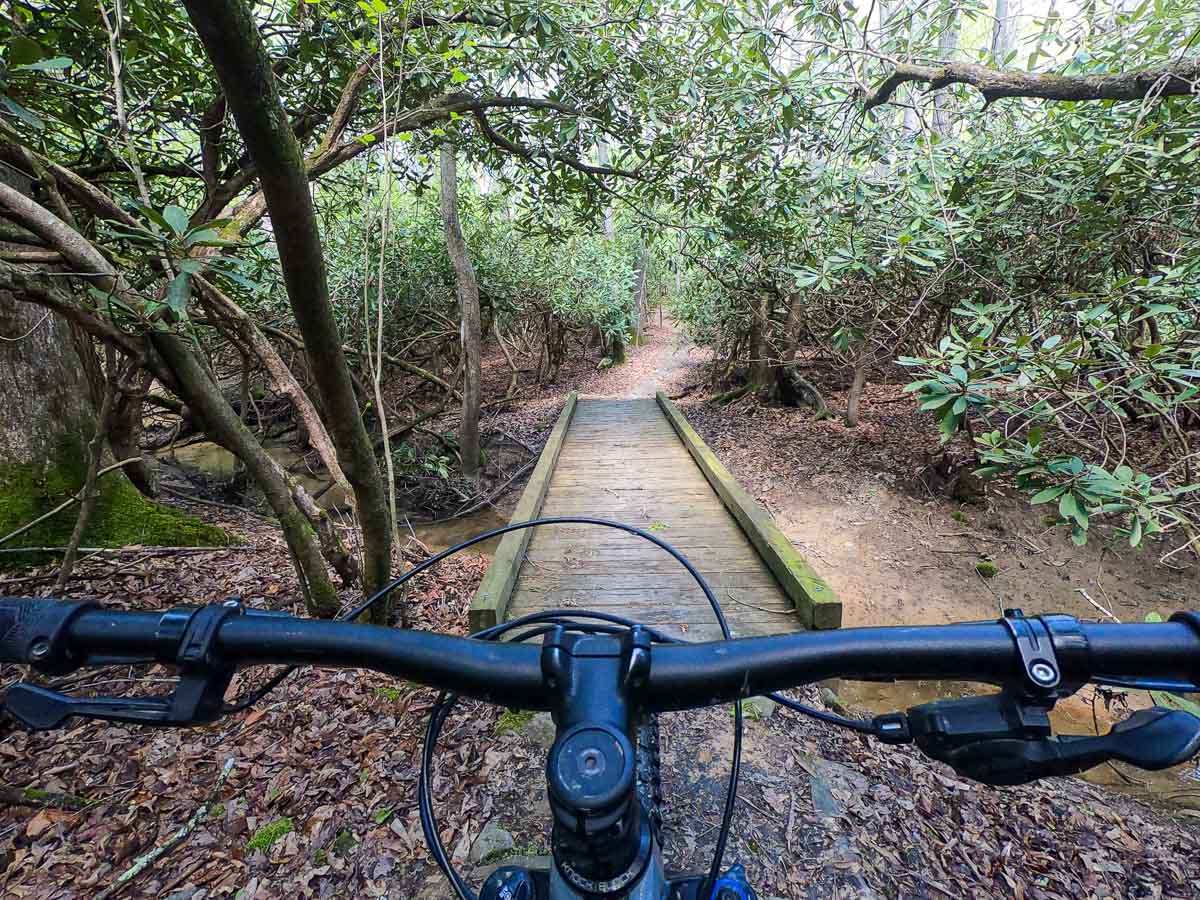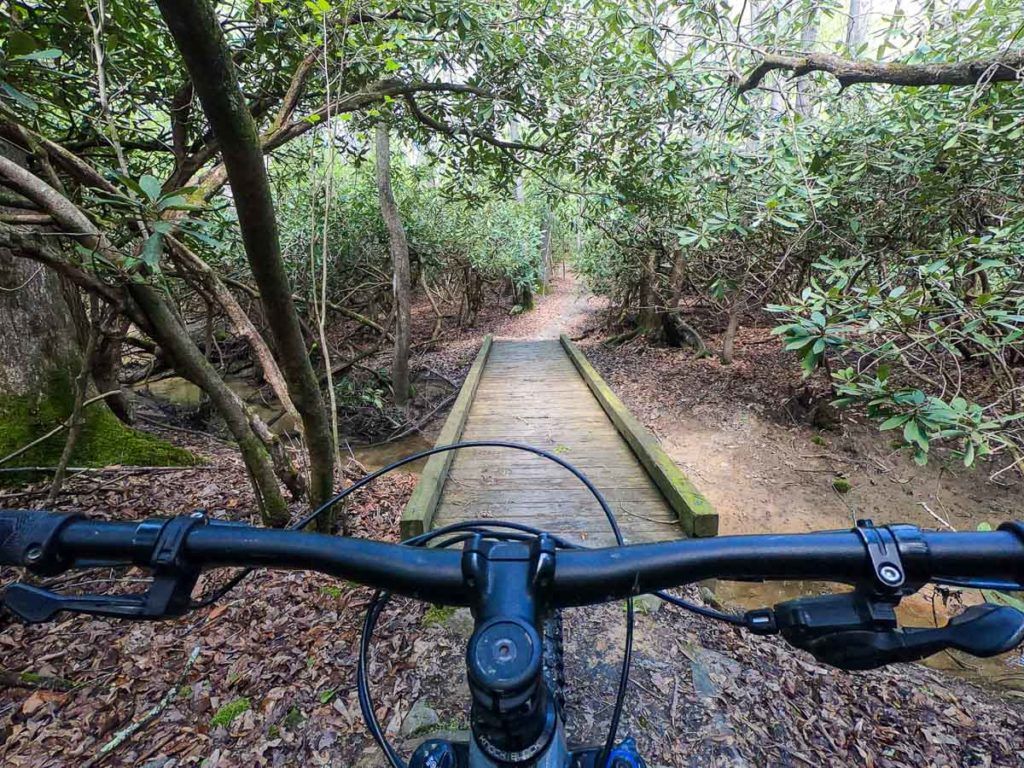 I'm not a mountain biking enthusiast, but Elliot is, so we made sure he was able to get in a half-day on the trails. He rented a bike from Arrowhead Bike Farm, which is a really cool spot just around the corner from the Long Point Trail trailhead.
Arrowhead offers clinics and tours, or you can just rent one of their Trek mountain bikes and hit the 15 miles of trails on your own. This is what Elliot did, and he absolutely loved it!
(Just note that their rental prices are for the entire day.)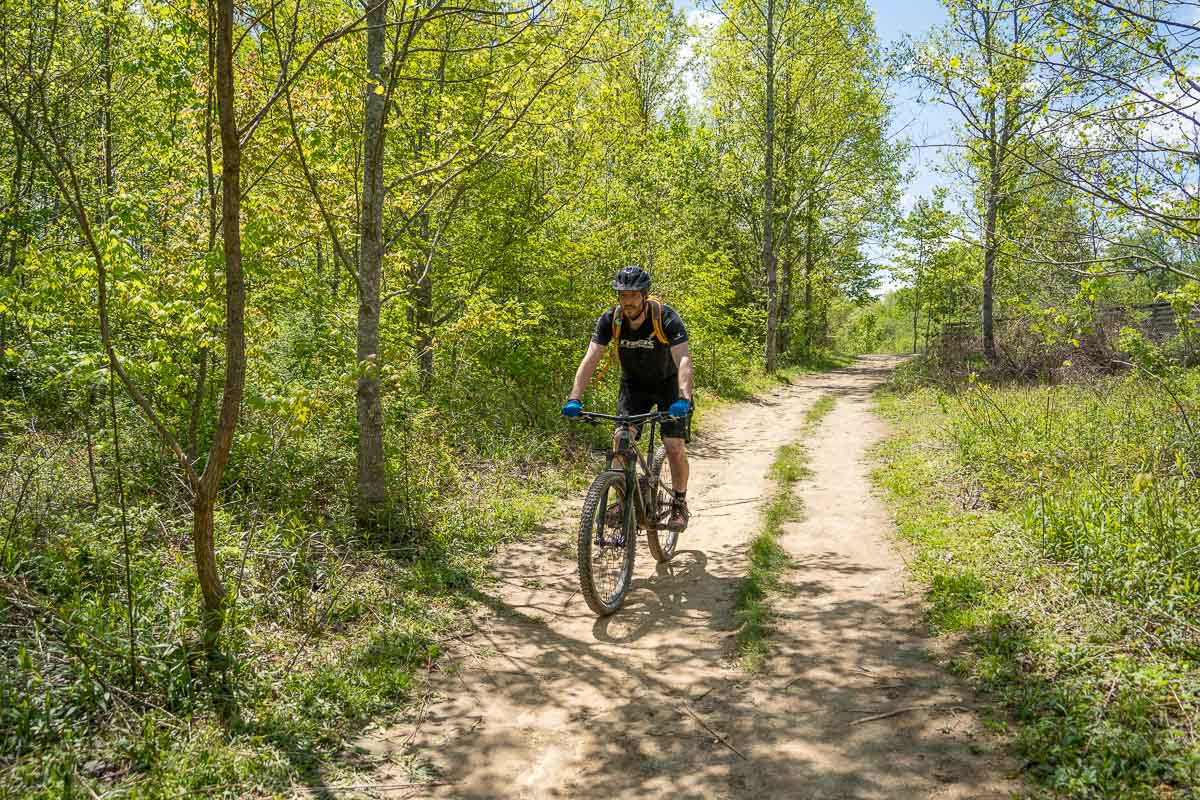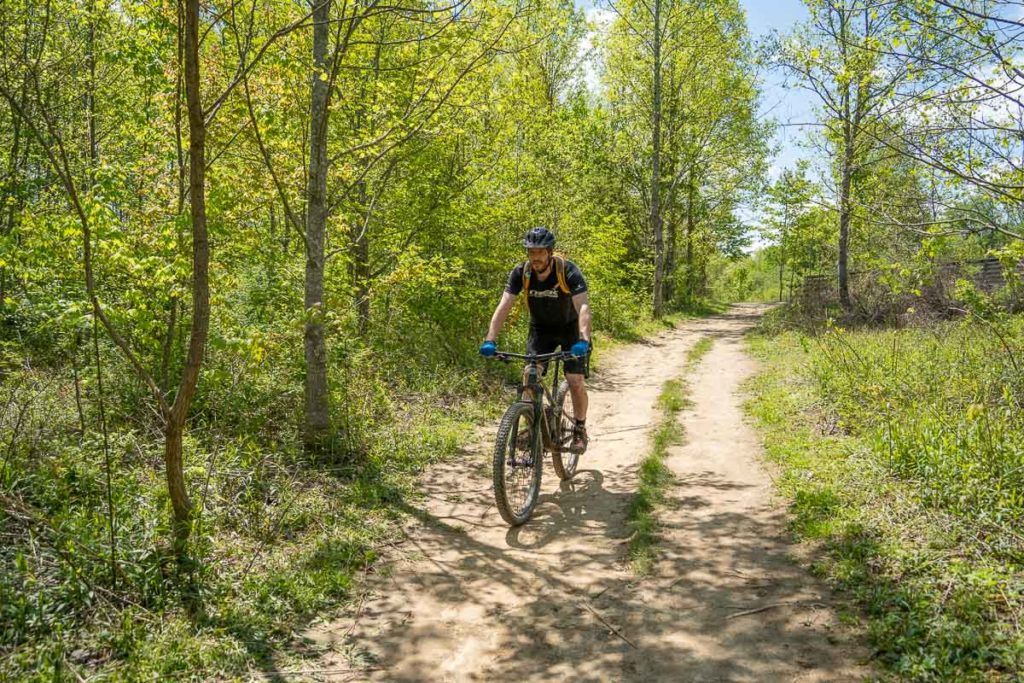 Afterwards, we grabbed lunch at Arrowhead's Handle Bar + Kitchen, which includes a nice outdoor beer garden with local craft beers on tap. This was a great spot to wind down after some outdoor adventure.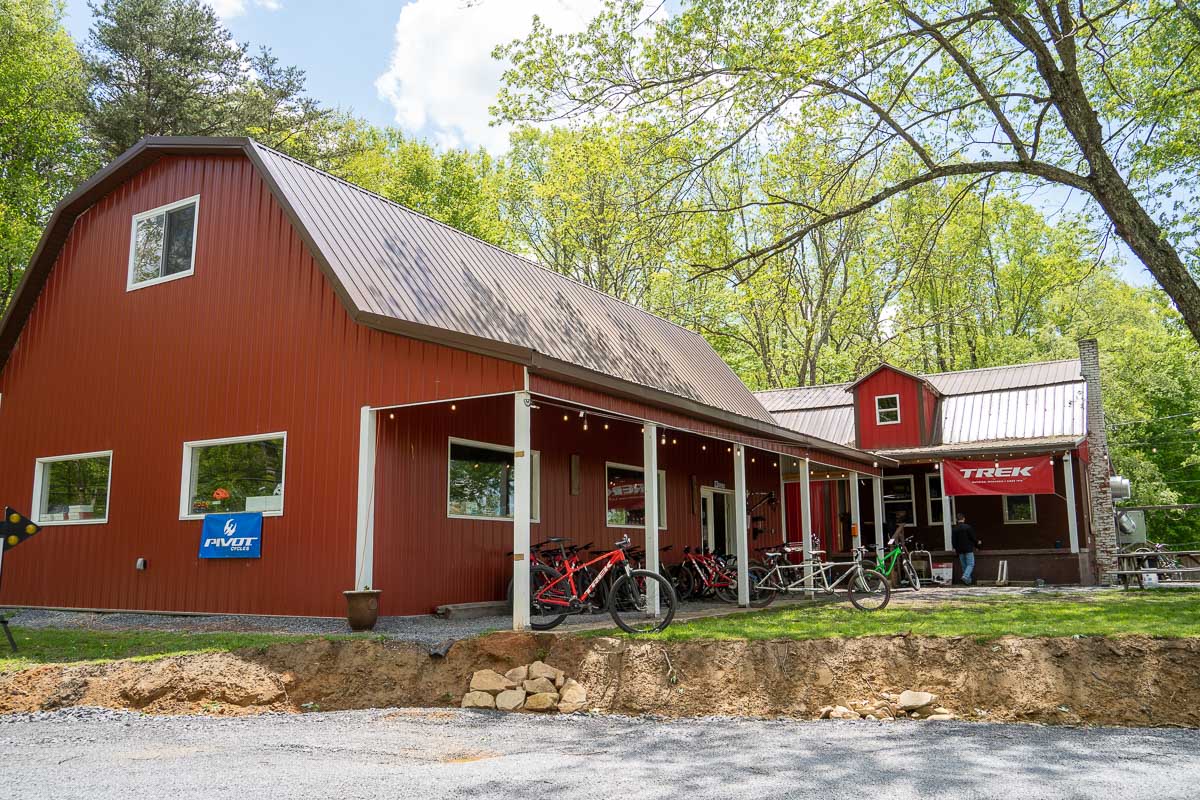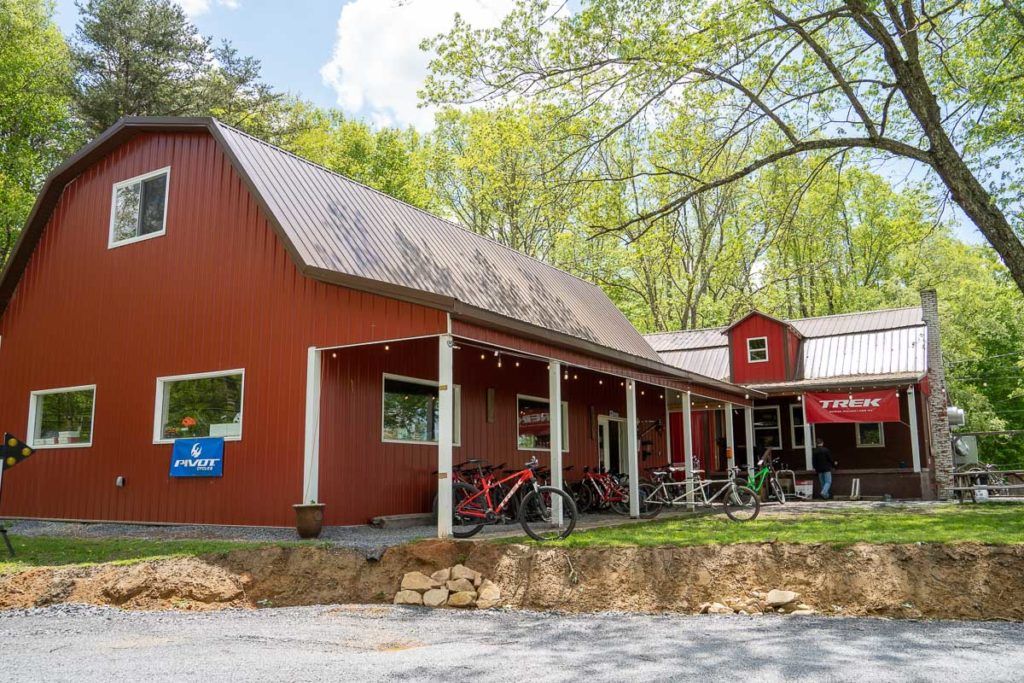 4. Enjoy scenic New River Gorge views
The New River Gorge is a really beautiful place, and of course you'll want to enjoy some of the views!
Many of the best viewpoints are ones you need to hike to, but some that you can see with very little effort include views of the New River Gorge Bridge just outside the Canyon Rim Visitor Center, and views of the New River at Grandview. (Note that these are in two different sections of the park.)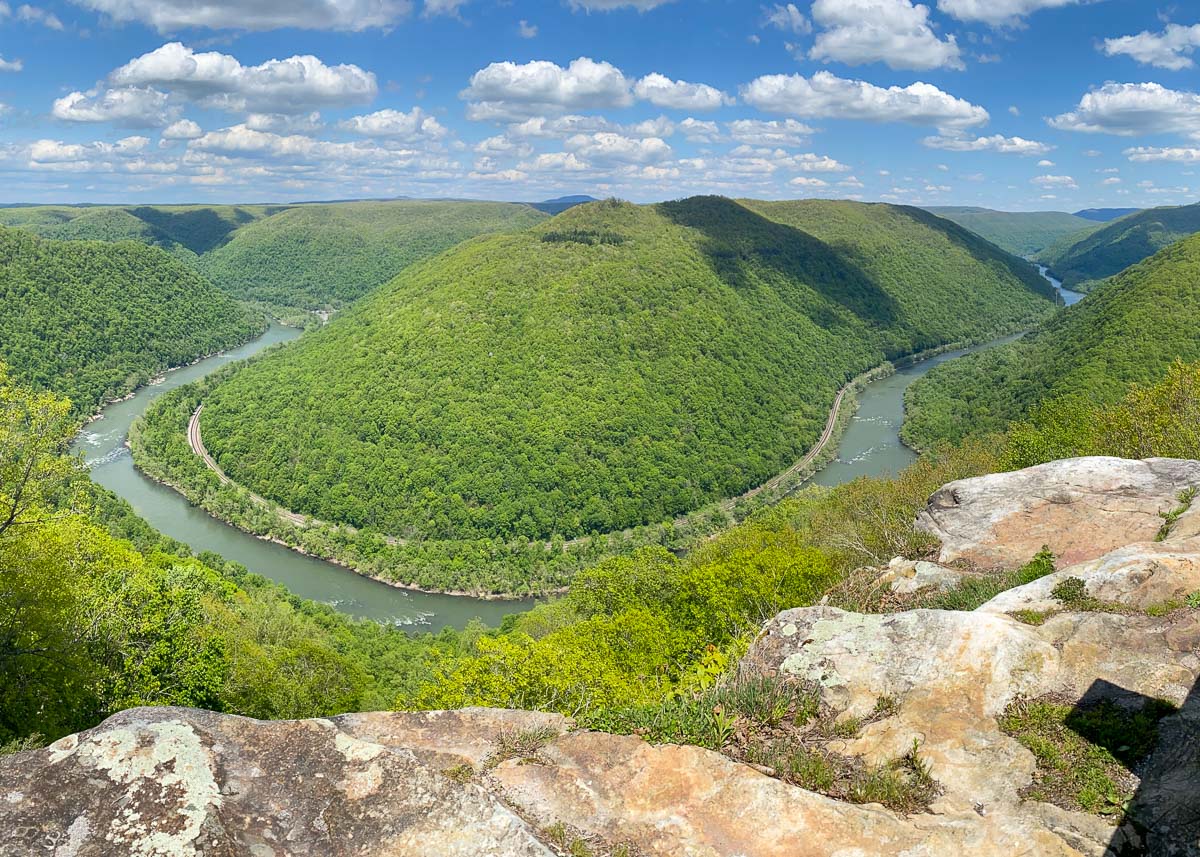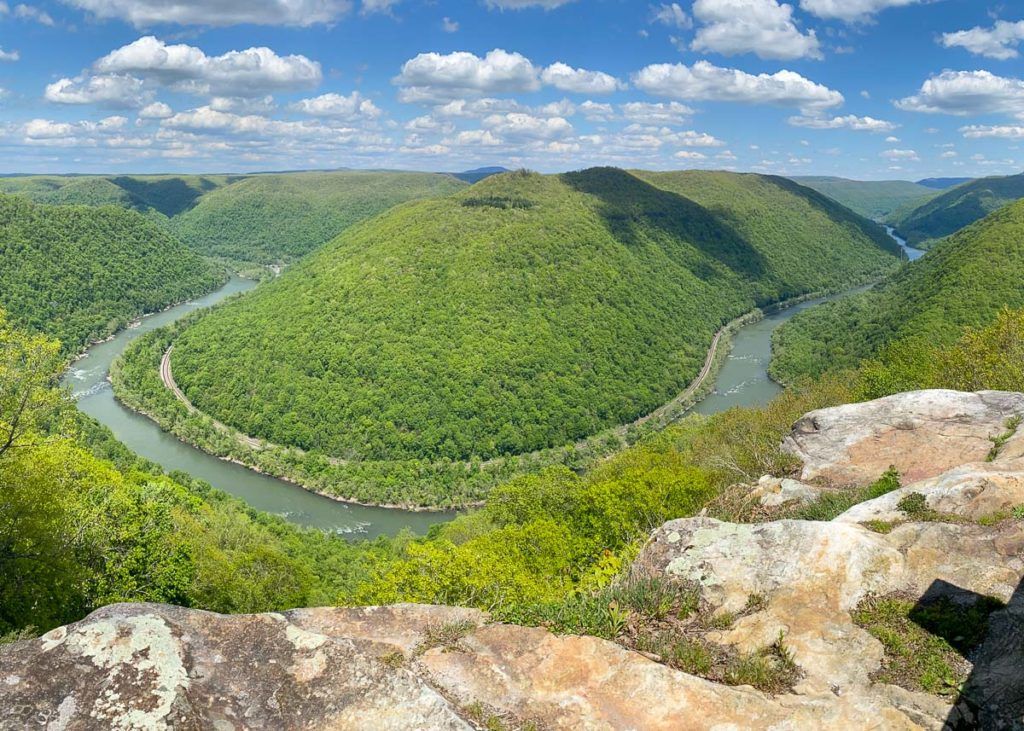 Elliot and I also found some gorgeous (and secluded) sunset views on the Beauty Mountain Trail, which is less of a hiking trail and more of a faint path behind a couple of houses that overlooks the gorge at Ram's Head.
(The area where you can park IS marked on Google Maps as the Beauty Mountain Trail; if you visit, just be sure to be courteous to the people living nearby!)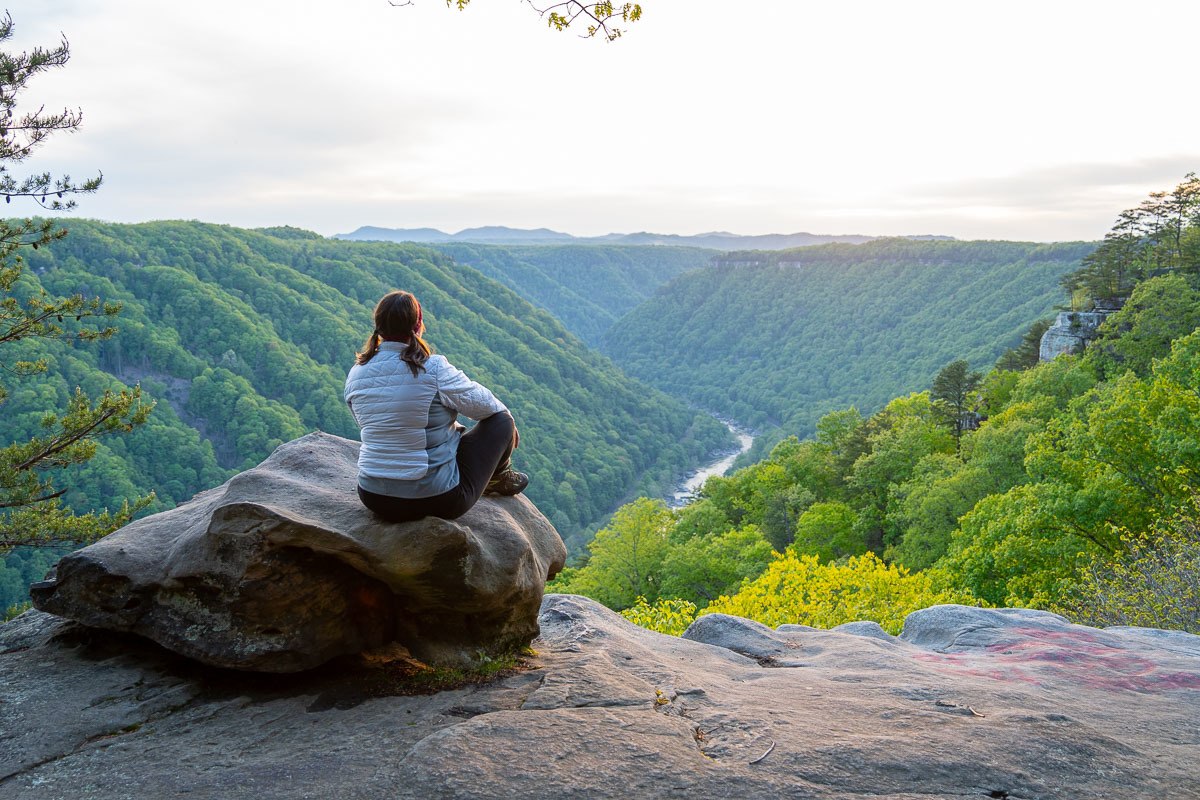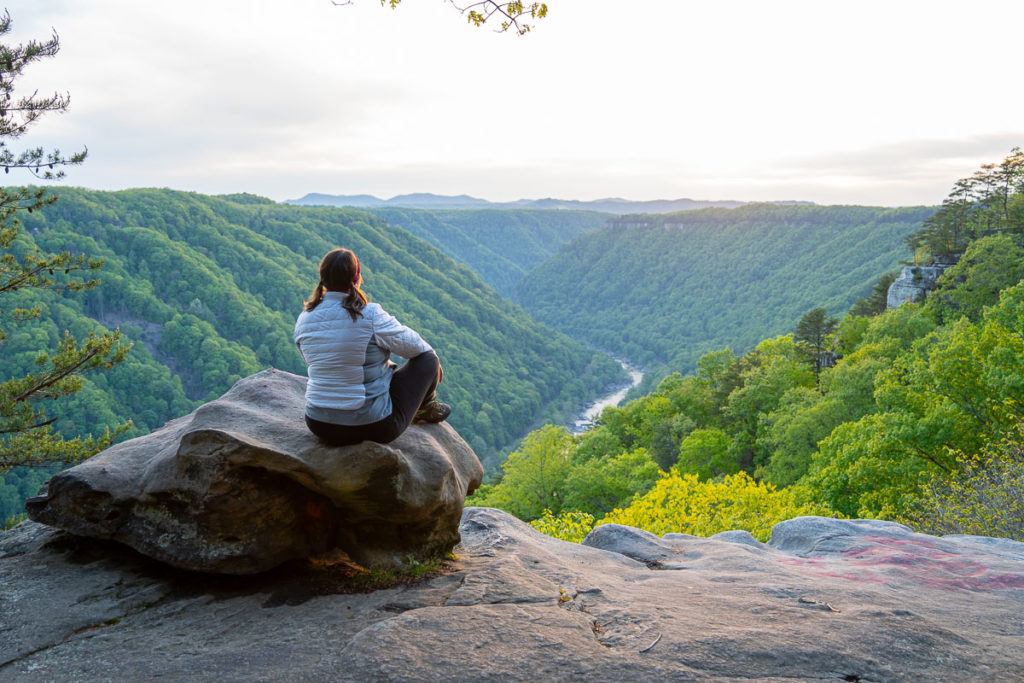 5. Learn about the area's history
Interested in the history of the New River Gorge? There are several great places to learn about it:
Indigenous history
The New River Gorge was first "discovered" in 1671 during a fur trading expedition. But considering the river has been around since before the dinosaurs, I guarantee those fur traders were not the first to set eyes on it.
There's an exhibit at the Sandstone Visitor Center that talks about the area's original Indigenous inhabitants. Here you can see stone spear points called Clovis points that are some of the oldest remaining artifacts, at least 11,000 years old.
Coal mining history
You can also learn about more modern history at the New River Gorge, which includes the history of coal mining and the railroads. The first coal mine in the area was established by Joseph Beury in 1872, one year before the Chesapeake and Ohio railroad would reach the area and turn coal mining into a major industry.
There are several former mine sites within the national park that you can visit, including the "ghost town" of Thurmond at the bottom of the gorge. Here, the Thurmond Depot acts as a visitor center during the summer months, depicting life in this one-time coal boomtown.
You can also hike to the Nuttall coal mine entrance, coke ovens, and old coal tipple in the abandoned mining town of Nuttallburg (the second mining town established in the gorge), or traverse a few hundred steps down to the Kaymoor mine site on the Kaymoor Miners Trail.
Just outside the park, you can also visit the Exhibition Coal Mine in Beckley. Here, visitors can hop aboard a small coal train and ride through the passages of a vintage coal mine.
New River Gorge Bridge history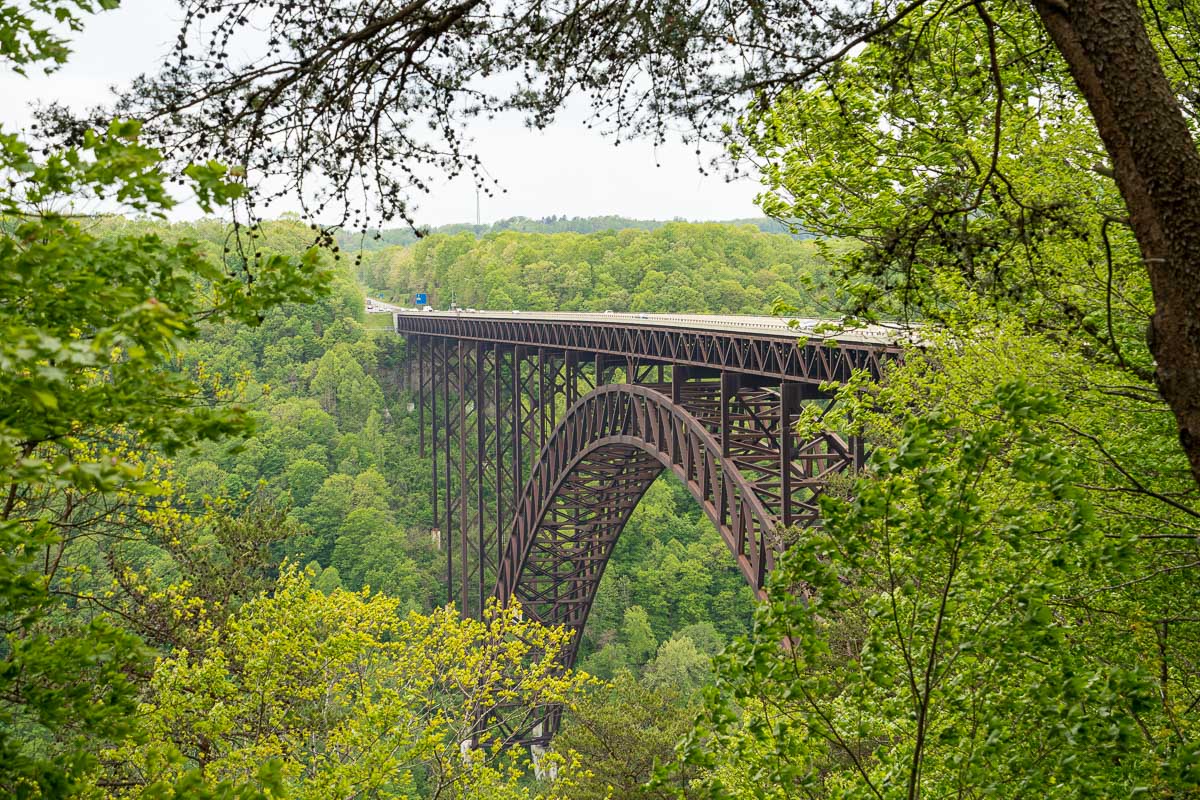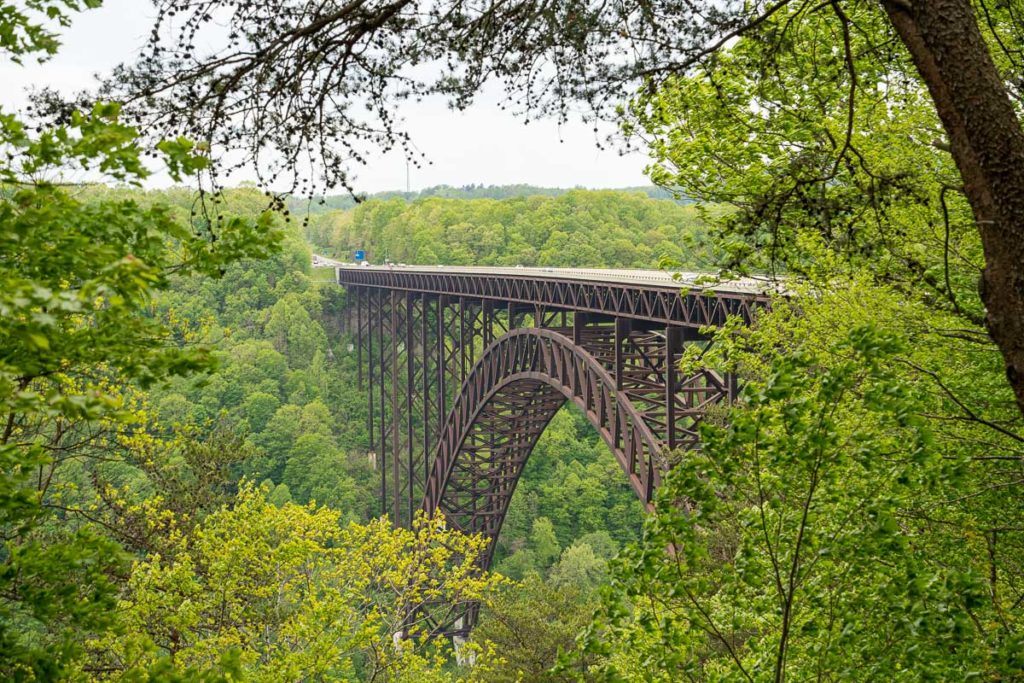 Prior to 1977, if you wanted to cross the New River Gorge, you had to drive all the way down into the canyon, cross a railroad bridge, and then drive all the way back up again on the other side. The crossing could take up to an hour on narrow, twisting mountain roads.
This crossing time was reduced to less than two minutes once the New River Gorge Bridge was completed in 1977. Today, it carries US-19 across the gorge, 876 feet above the New River.
The bridge is a modern architectural marvel; when it was completed, it was the longest single span arch bridge in the world, spanning 3030 feet (today it's still the third-longest bridge of its kind).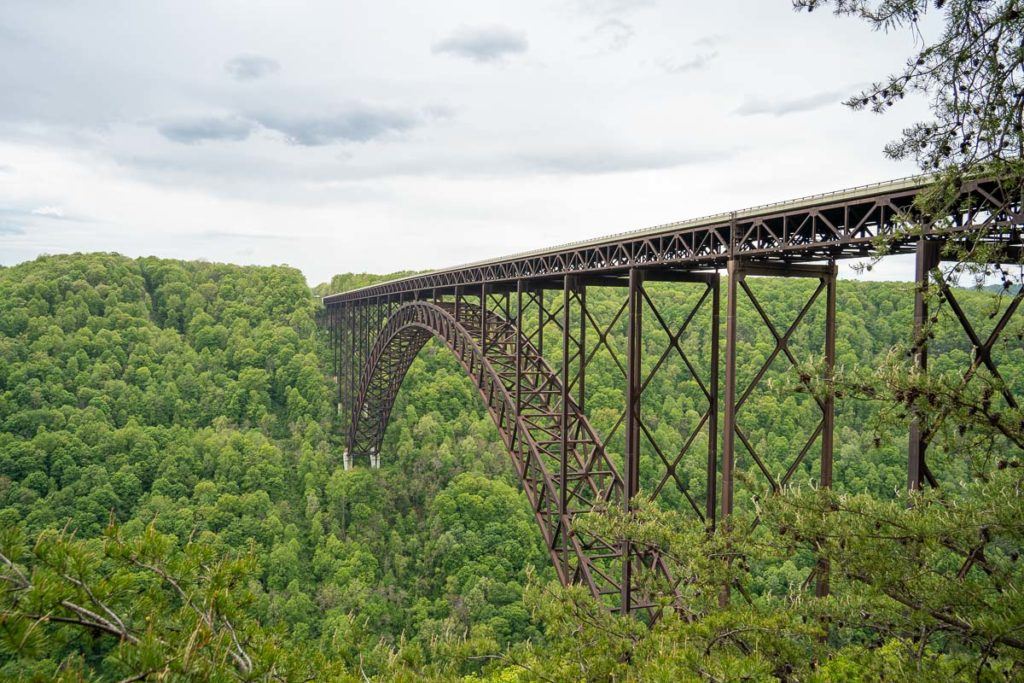 You can learn a bit about the bridge and its history in a video at the Canyon Rim Visitor Center, and there's also a boardwalk trail there that offers up some excellent vantage points of the bridge. (Just note that the lower observation deck does include lots of stairs!)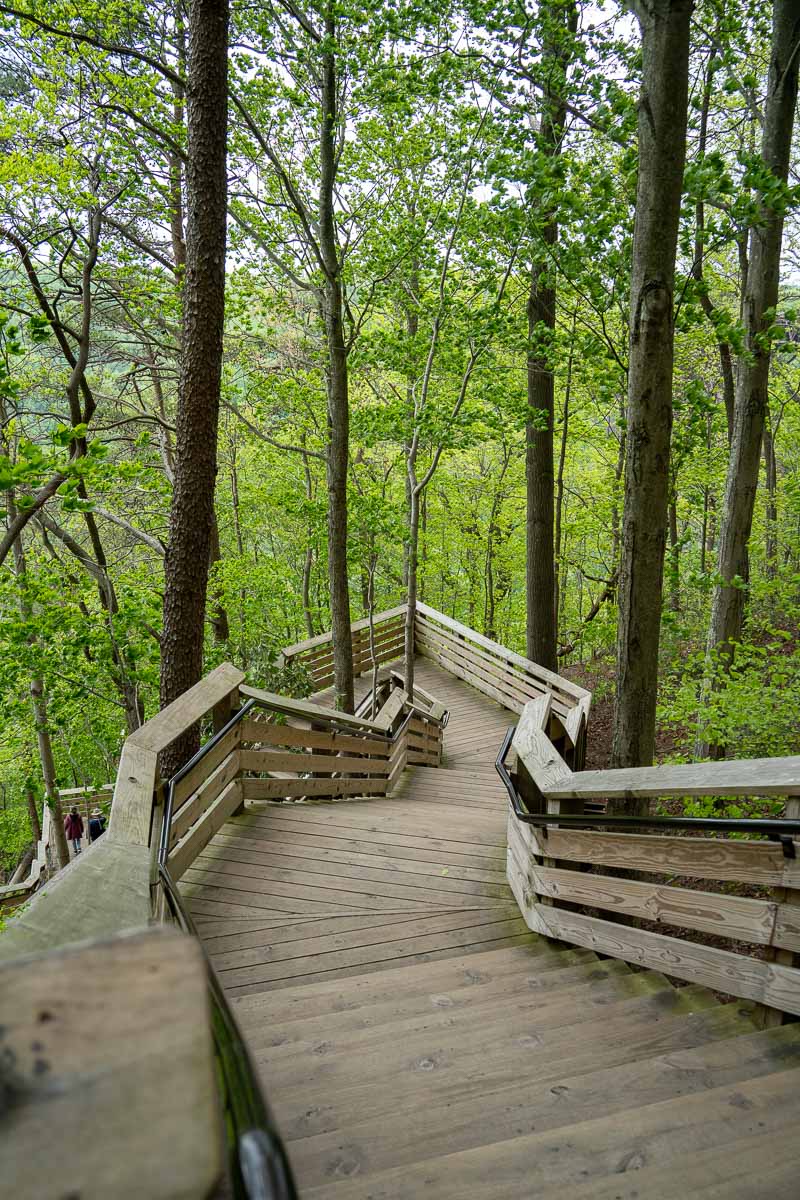 The bridge is now listed on the National Register of Historic Places as a national landmark in engineering, and is celebrated on the third Saturday in October each year at Bridge Day, when the bridge is closed to vehicle traffic and people base jump off the side.
6. Tackle the Bridge Walk
If the New River Gorge Bridge fascinates you but you're not quite cut out for base jumping on Bridge Day, there's another unique way to see the bridge from a different angle: you can do a Bridge Walk.
Bridge Walk takes you underneath the New River Gorge Bridge, and has you walk across the entire length of it it on a 2-foot-wide catwalk beneath the road. This probably isn't an activity suitable for anyone with an intense fear of heights, but is a really cool thing you can do here.
7. Go on a driving tour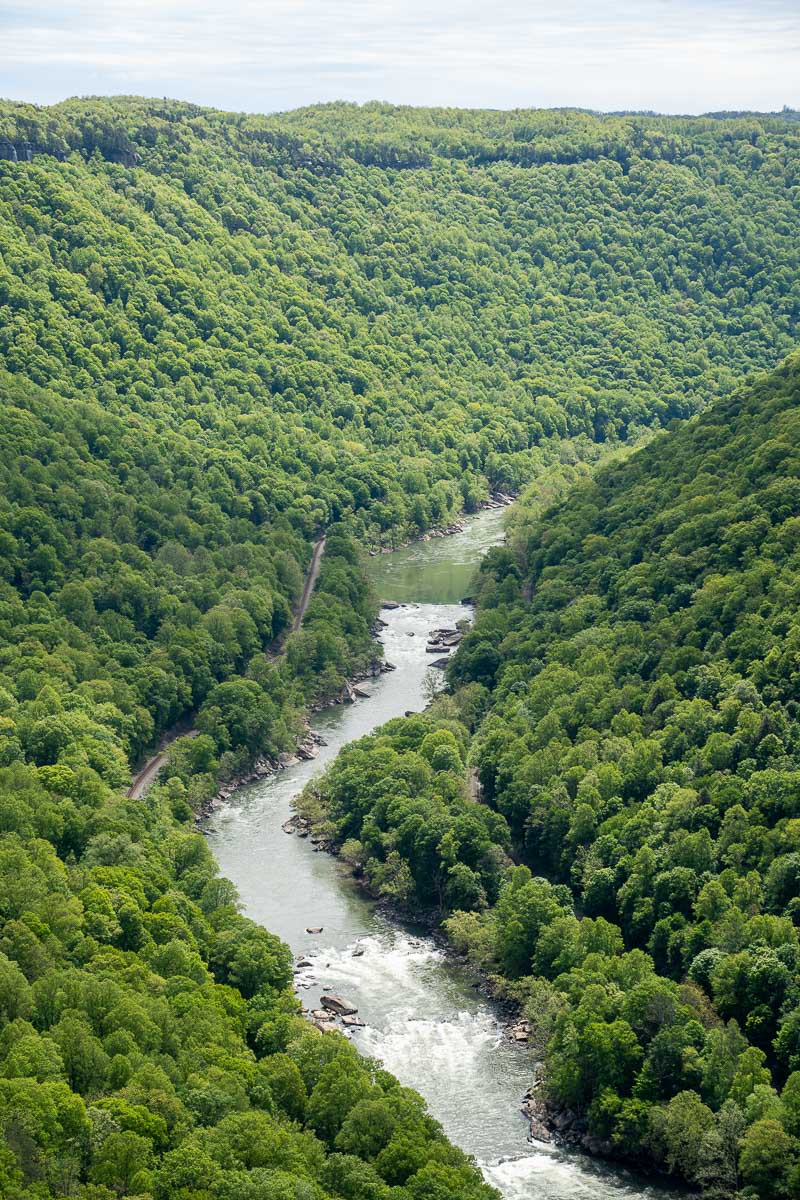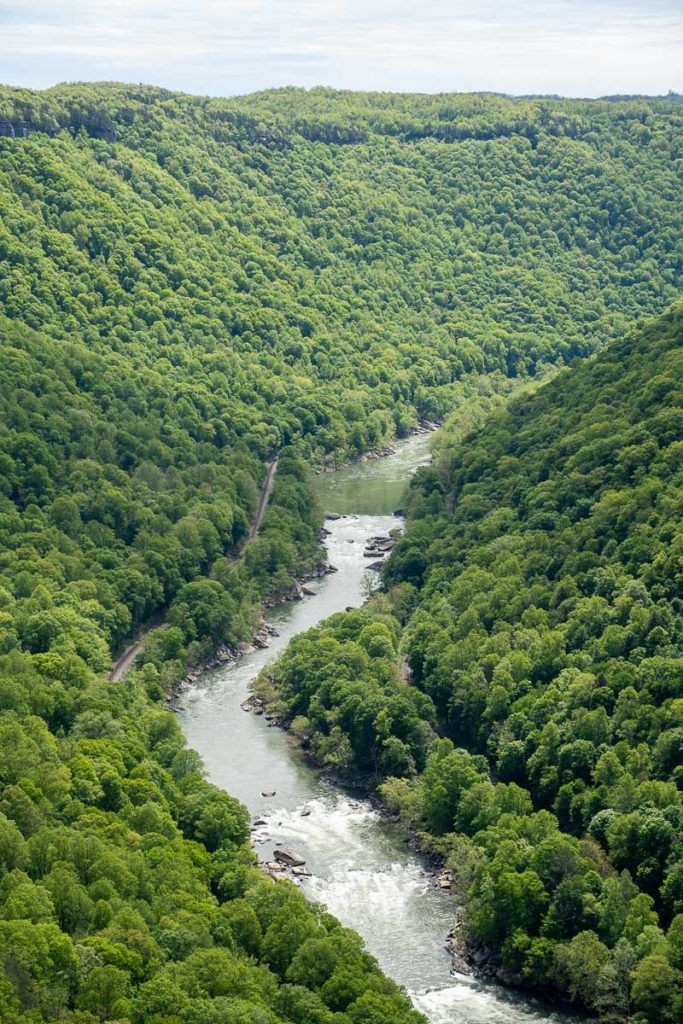 If you'd rather stick to the ground, there are some interesting driving tours you can take within New River Gorge National Park.
Scenic Drive – Yes, there's an official Scenic Drive that loops around the whole park from the Canyon Rim Visitor Center to the Sandstone Visitor Center and back up again. The whole drive is 83 miles long, and will take you at least half a day if you make stops.
Fayette Station Road – Remember how I mentioned that, before the building of the bridge, you had to drive down into the gorge in order to cross the river? That old road is still there with all its hairpin turns, and you can drive it in your own car! It's a partially one-way road that will take you under the New River Gorge Bridge twice. Make sure to stop at the bottom and see if you can spot any whitewater rafters tackling Fayette Station Rapid!
African American Heritage Auto Tour – This auto tours seeks to tell the stories of the many Black coal miners and railroad workers who helped shape the history of the New River Gorge. This self-guided auto tour takes you to 17 different historic sites. There's an audio guide that goes along with this tour available in the NPS smartphone app – or you can pick up a free CD version at the visitor center. More info here.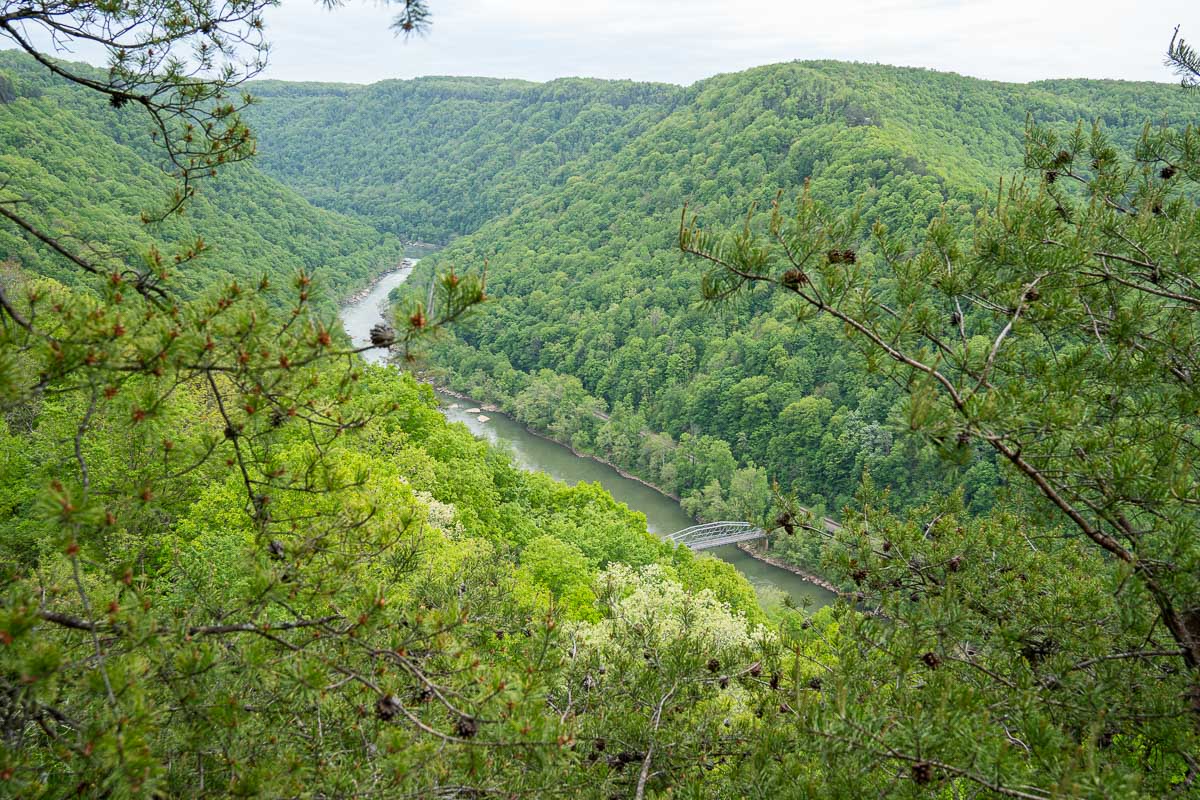 8. Go rock climbing
We are not rock climbers, but the New River Gorge is a great spot if you're into this sport. There are climbing routes accessible in several areas – at least 1,400 of them, according to the National Park Service – including some right off the popular Endless Wall Trail.
A lot of the rock climbing here is done by people who know what they're doing and who own their own gear, but if you want to try it out as a novice, there are tours you can book with several local outfitters.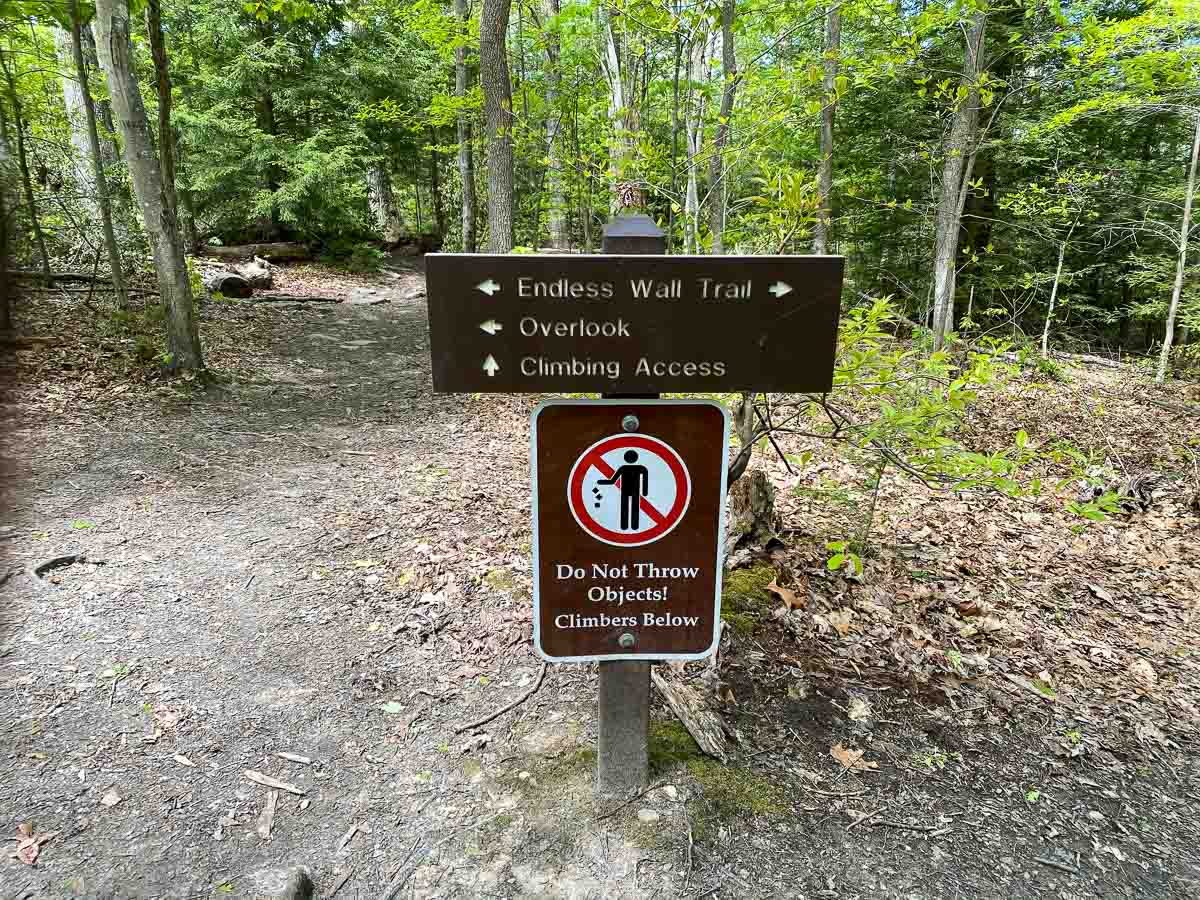 I haven't tried rock climbing here so I can't speak from experience, but companies offering tours suitable for beginners include ACE Adventure Resort (who we went rafting with) and the New River Climbing School.
9. Everything else
The list really could go on for quite a bit longer, as there are all sorts of cool things to do in the New River Gorge.
Just a few others include:
Fishing – Fishing in the New River is permitted with a West Virginia fishing license, and there are several public river access points (find them all listed here). You can fish for bass, walleye, muskellunge, crappie, bluegill, carp, flathead and channel catfish, and trout. You can also book half-day and full-day guided fishing tours.
Zip lining – Several of the camping resorts around the park offer zip lining and ropes courses, which can be a lot of fun for the whole family. Here's a good zip lining tour.
ATV tours – If you want to get a bit muddier than you might on a mountain bike, there are also ATV tours you can book. This one gives you access to 100 miles of trails.
Bonus: Visit nearby state parks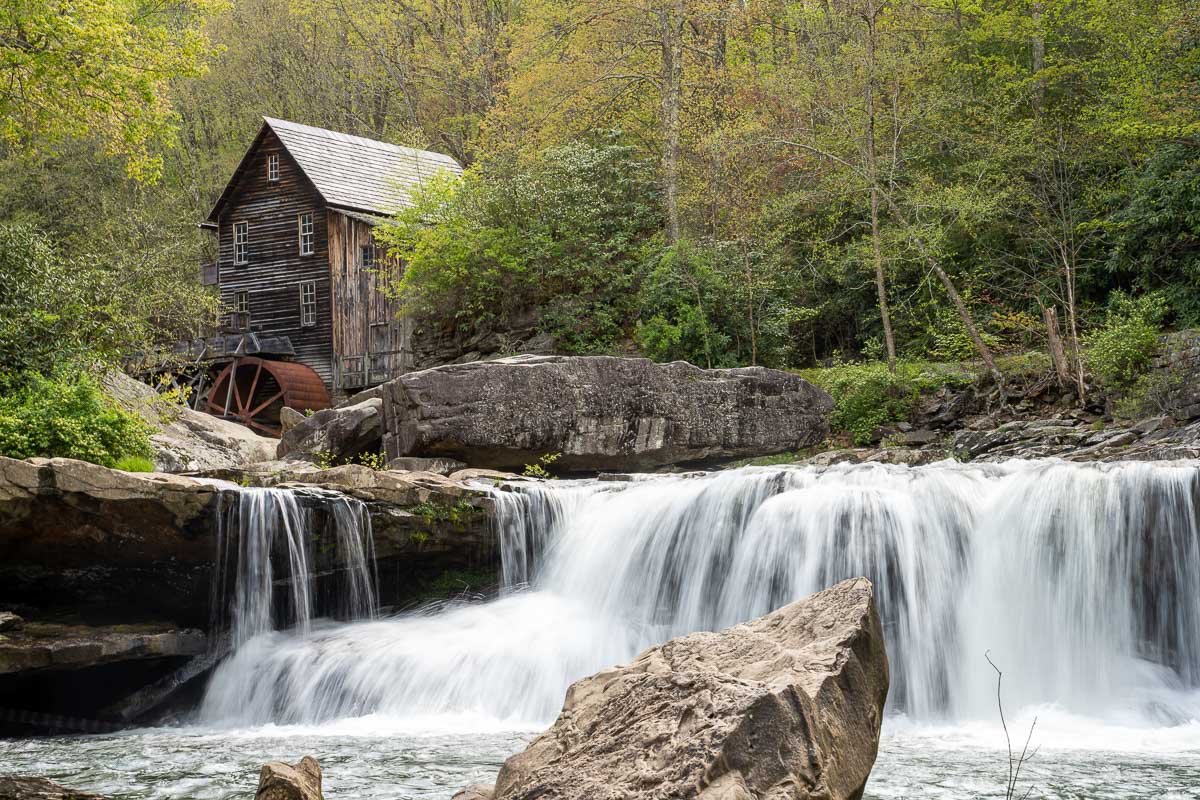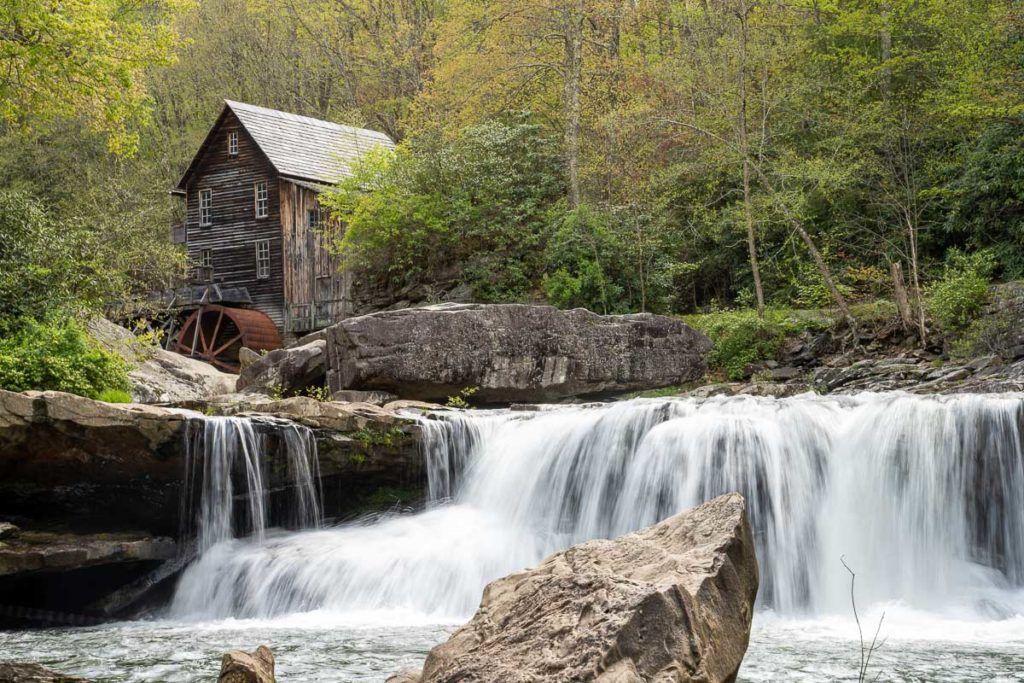 New River Gorge National Park and Preserve offers up a ton to do on its own, but there are a few state parks that abut the national park that are worth visiting, too. If you do the Scenic Drive through the park, you'll drive right past or even through most of these anyway!
Babcock State Park – One of the oldest state parks in West Virginia, this one is best known for its picture-perfect historic grist mill. There's also hiking, fishing, and more available here.
Hawks Nest State Park – Located just north of the New River Gorge Bridge, this park offers up awesome views of the gorge and New River. You can also go on a jet boat ride from here during the summer months.
Pipestem Resort State Park – This state park is packed with family-friendly activities, including an aerial tramway that will take you down into the gorge, zip lining courses, fishing tours, a splash park, and more.
You could also head north to the Gauley River National Recreation Area (also managed by the National Park Service), or to the beautiful Summersville Lake if you're craving more water activities.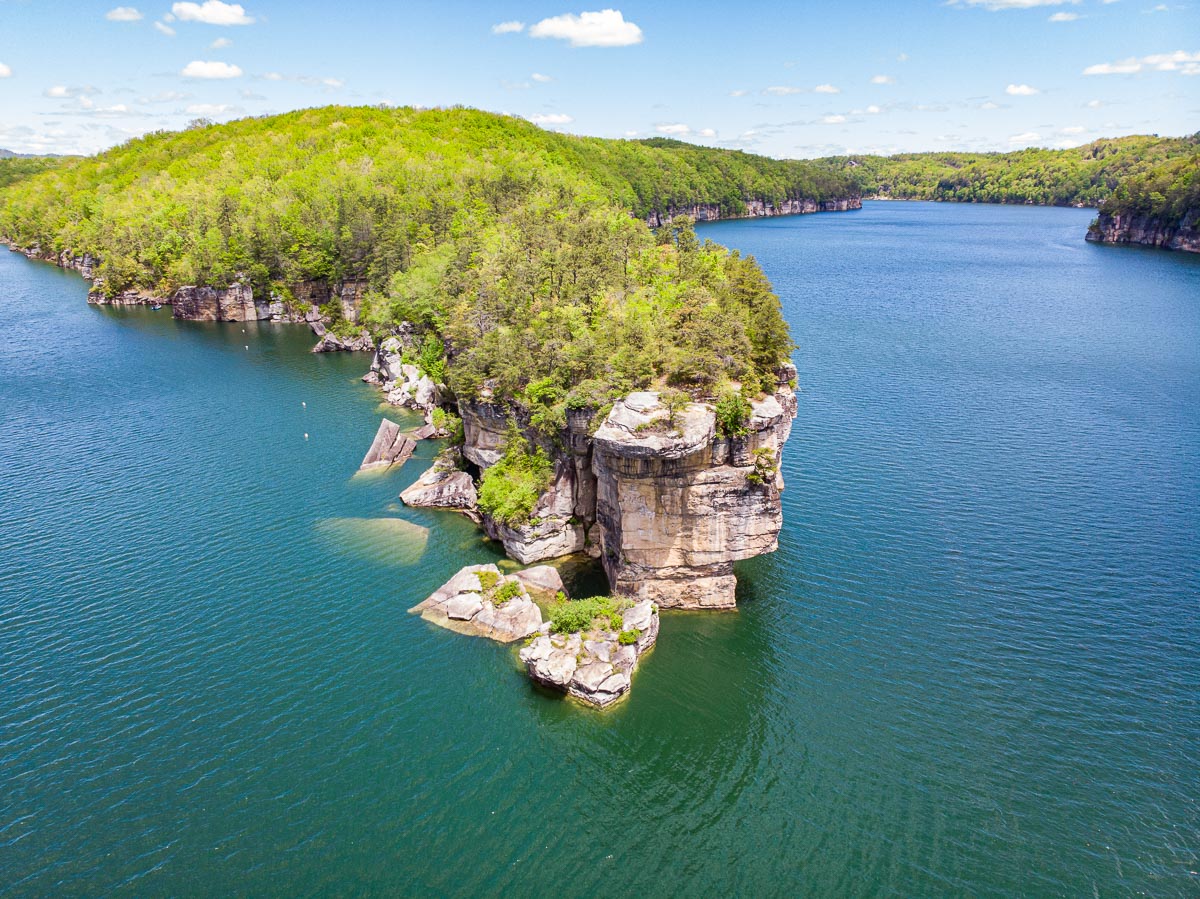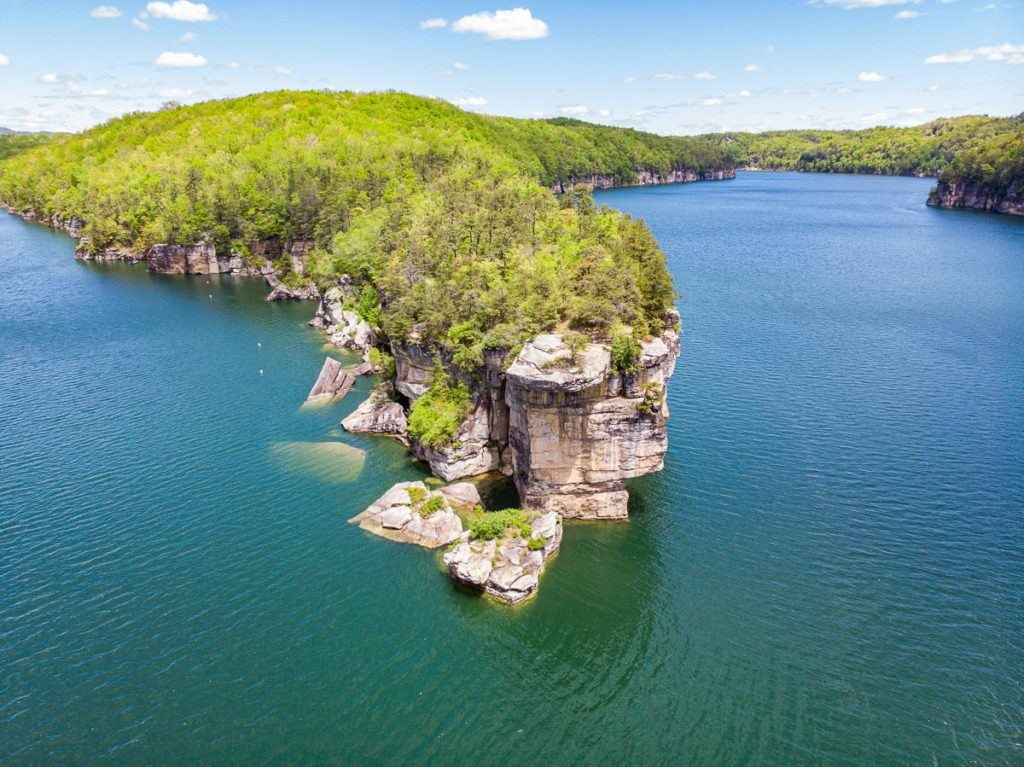 How long to spend in the New River Gorge
As you can see from the above list of things to do, you could spend weeks here and probably still find fun things to do. But if you just want to hit the highlights, I'd say 3-4 days is probably sufficient.
Elliot and I had three full days in the park and probably could have used a fourth, but still managed to tick just about everything off our to-do list!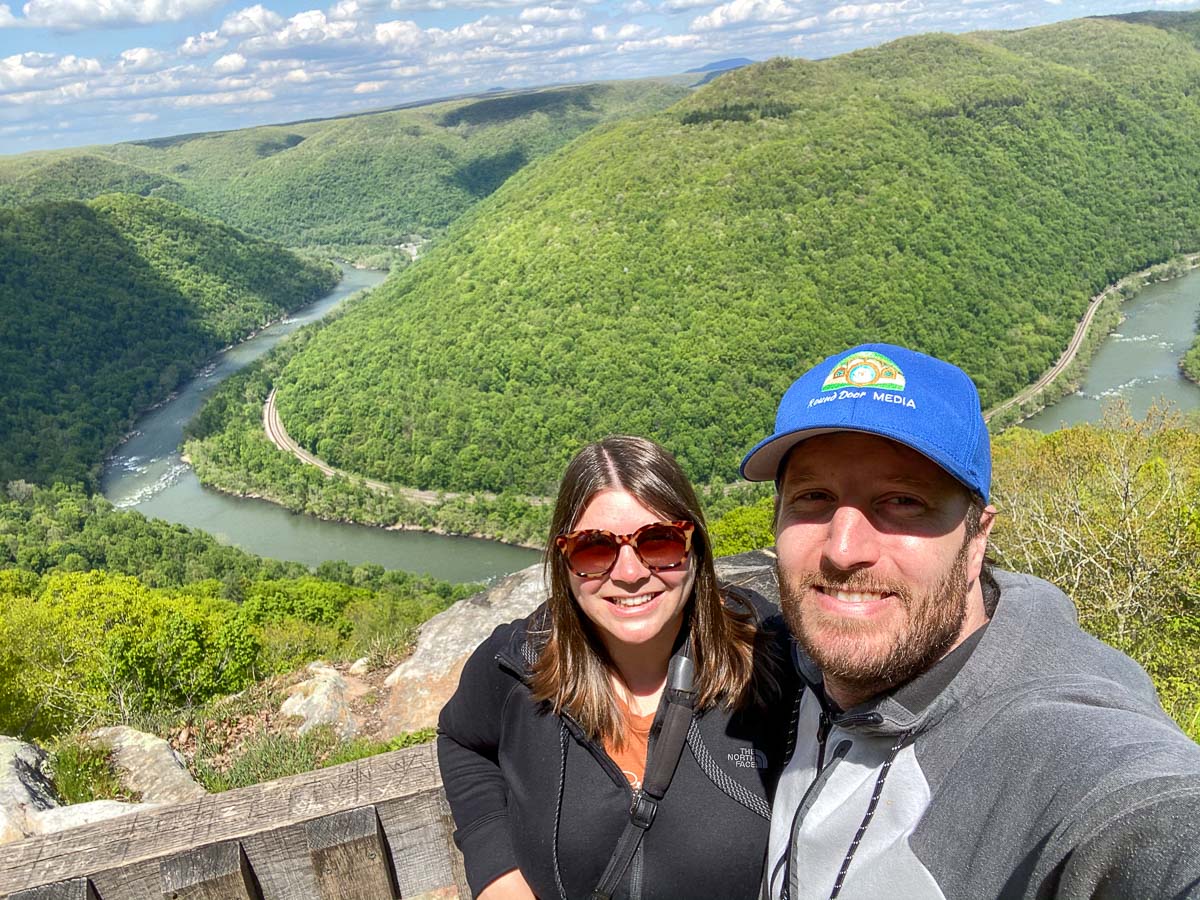 3 days at the New River Gorge
If you're looking for an itinerary, here's what I would suggest:
Day 1 – Arrive and visit the Canyon Rim Visitor Center to learn about the park and walk to the New River Gorge Bridge overlooks. Drive the Fayette Station Road, hike the Long Point Trail, and visit the Beauty Mountain Trail for sunset.
Day 2 – Hike the Endless Wall Trail in the morning, then take the Scenic Drive through the park. Take in the views at Grandview, stop in at the Sandstone Visitor Center, and circle back up and make a stop at Babcock State Park.
Day 3 – Choose your own adventure! I personally recommend whitewater rafting, but if that's not speaking to you, today would be a great day for zip lining, mountain biking, fishing, or a rock climbing tour.
Only have one day at New River Gorge?
If you only have one day to dedicate to New River Gorge National Park, then I would make sure to do everything listed under Day 1 in the itinerary above: Visit the Canyon Rim Visitor Center and see the New River Gorge Bridge up close; tackle a hike like the Long Point Trail or the Endless Wall Trail (or both since they add up to just over 5 miles total); and drive the historic Fayette Station Road.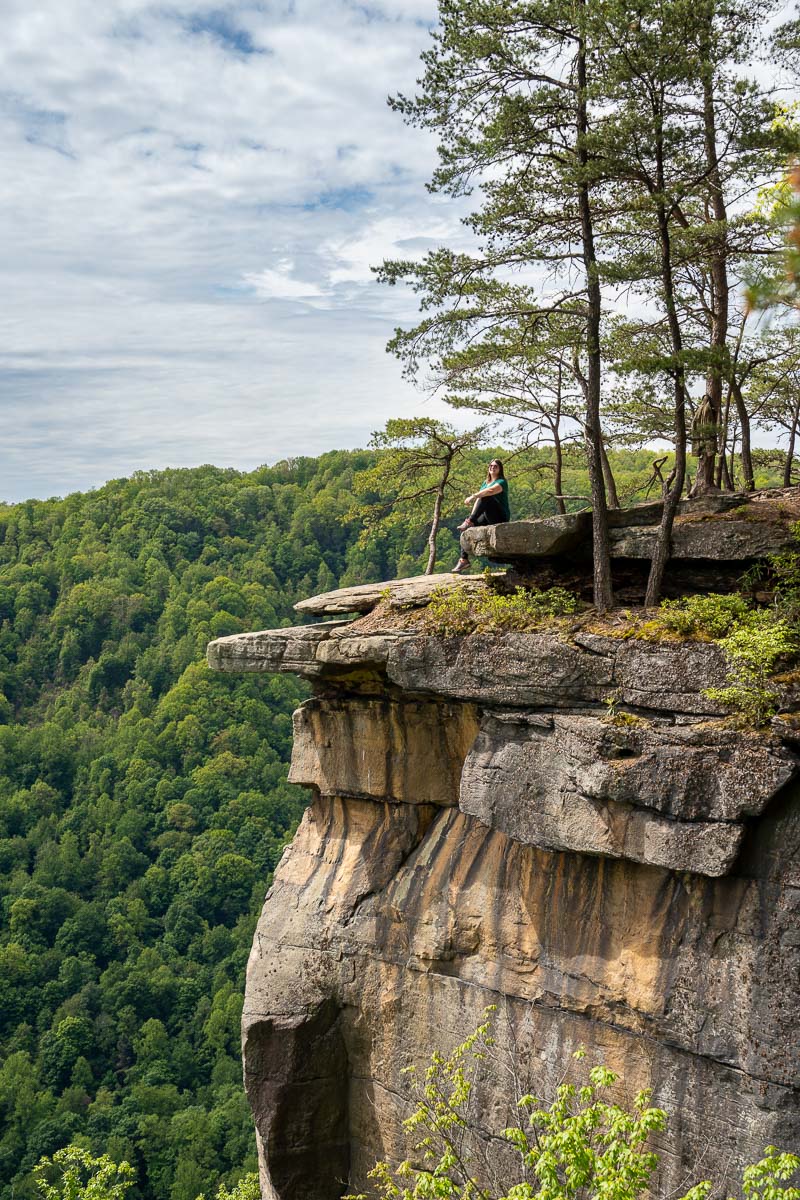 Where to stay in New River Gorge National Park
Assuming you're staying more than one day, there are several different lodging options at New River Gorge National Park. You won't find any luxury national park lodges here, but there's accommodation to suit most travel styles.
There are several small towns close to the national park, and my choices of ones to stay in would include:
Fayetteville (this is where Elliot and I stayed, and it's super cute with a surprising number of local restaurants)
Oak Hill
Glen Jean
Beckley (where you'll find the chain hotels in the area)
Hinton
And here are the different lodging options you can find in the New River Gorge:
1. Camping
Camping within the national park is allowed along the New River – but note that many of the campsites are primitive with no drinking water or hookups. All sites are first-come, first-served, and there are no fees for camping within the park. Find info on campsites and camping rules here.
There are also other private campsites nearby; Arrowhead Bike Farm, for example, also has campsites.
2. Adventure "resorts" and cabins
Some of the nearby state parks have either park lodges or cabins for rent, and there are several "adventure resorts" in the area that offer different accommodation options, too.
A few to check out include:
ACE Adventure Resort – The company we went rafting with has a whole facility in Oak Hill with cabin rentals, a full waterpark, plus lots of activities like zip lining and ropes courses.
Adventures on the Gorge – Similar to ACE, Adventures on the Gorge in Lansing offers lots of cabin rentals, along with glamping tents, RV sites, and regular campsites. They also offer adventure activities you can book.
River Expeditions – This resort in Oak Hill offers everything from luxury cabins to cozy bungalows, and also has traditional camping and RV sites. You can also do activities here like horseback riding, canopy tours, and more.
3. Vacation rentals
Cabin rentals and other vacation rentals are really popular throughout the New River Gorge, and you can find a lot on sites like Airbnb and Vrbo.
Elliot and I stayed in a beautiful apartment rental in Fayetteville, and found it to be the perfect base for exploring the New River Gorge.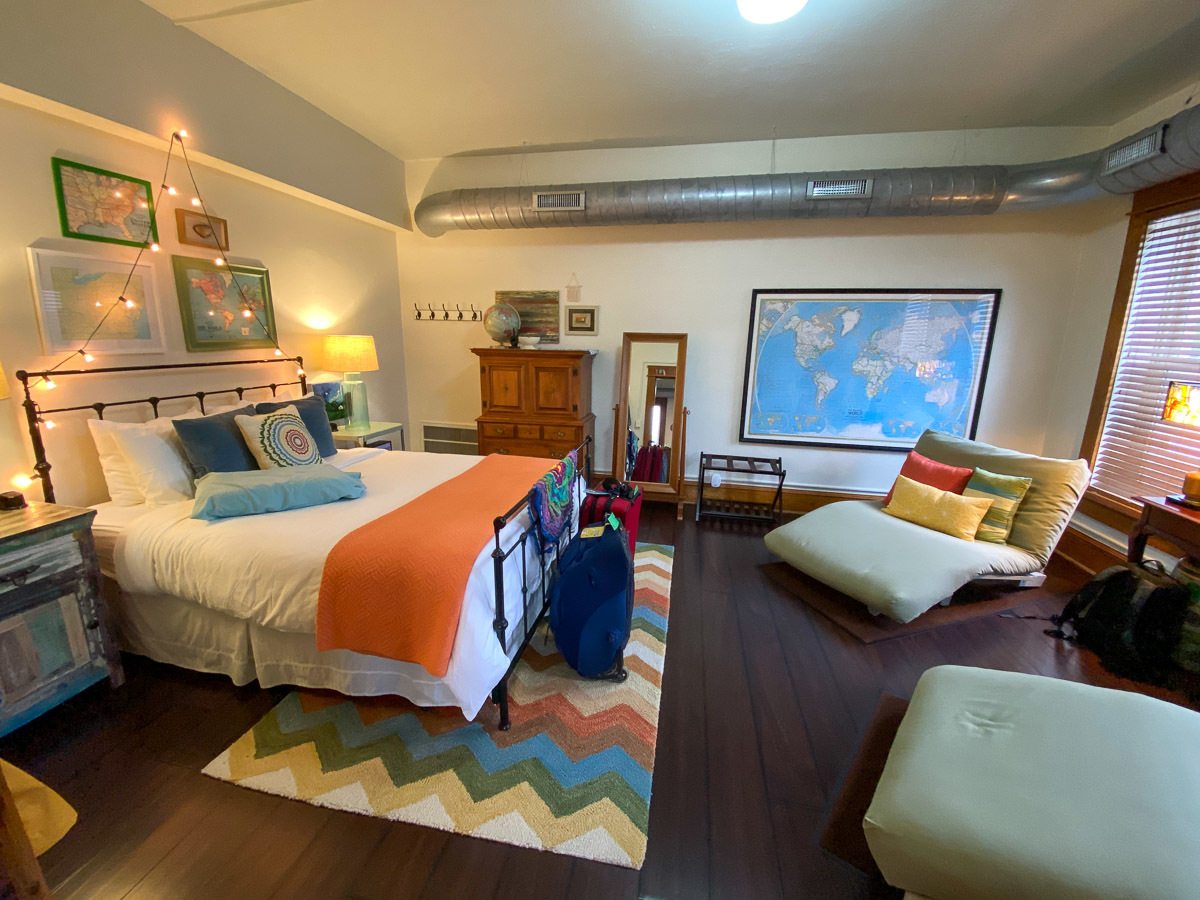 We stayed at the Lafayette Flats, which offers four modern apartments in a historic bank building. The apartments are all filled with artwork by (mostly) local West Virginia artists, and come with all the creature comforts you need whether you're staying for one night or one week.
We stayed in the Nuttall apartment, which has a spacious bedroom, cozy living room, small kitchen, and a huge bathroom complete with soaking tub. The apartment is within walking distance to all the great local restaurants and shops in Fayetteville, and I would definitely stay here again!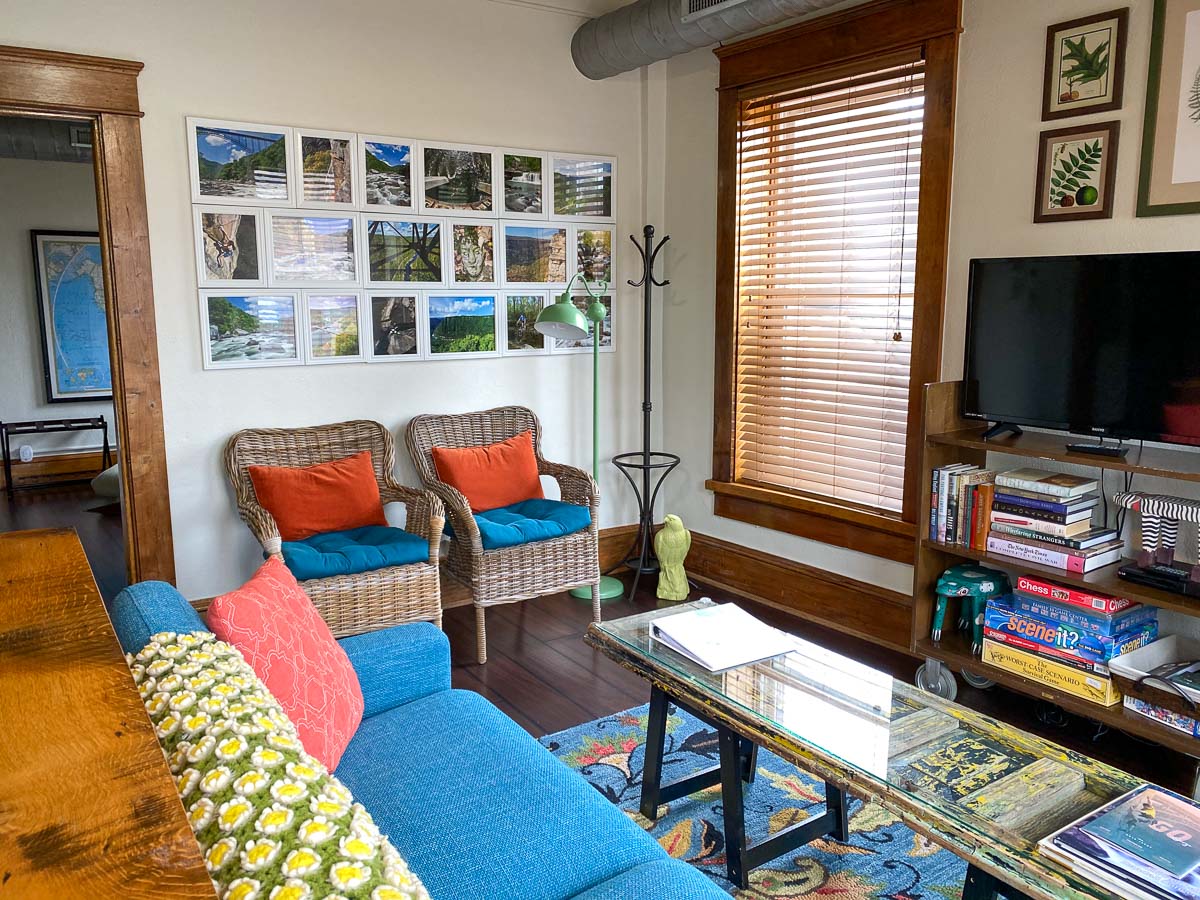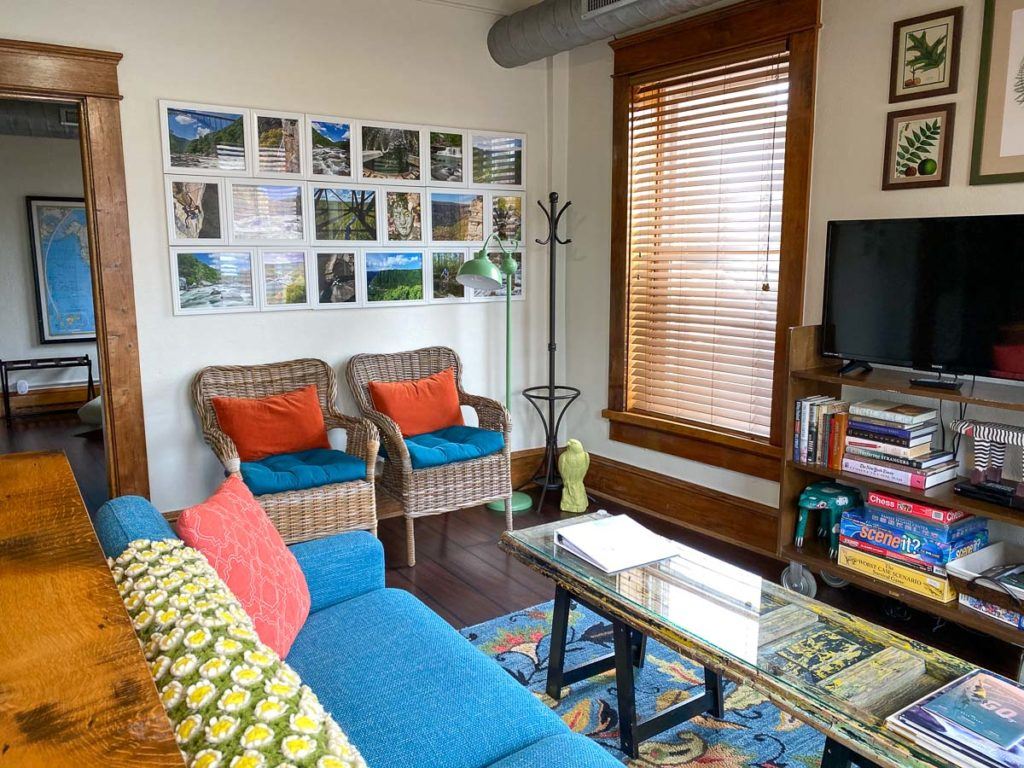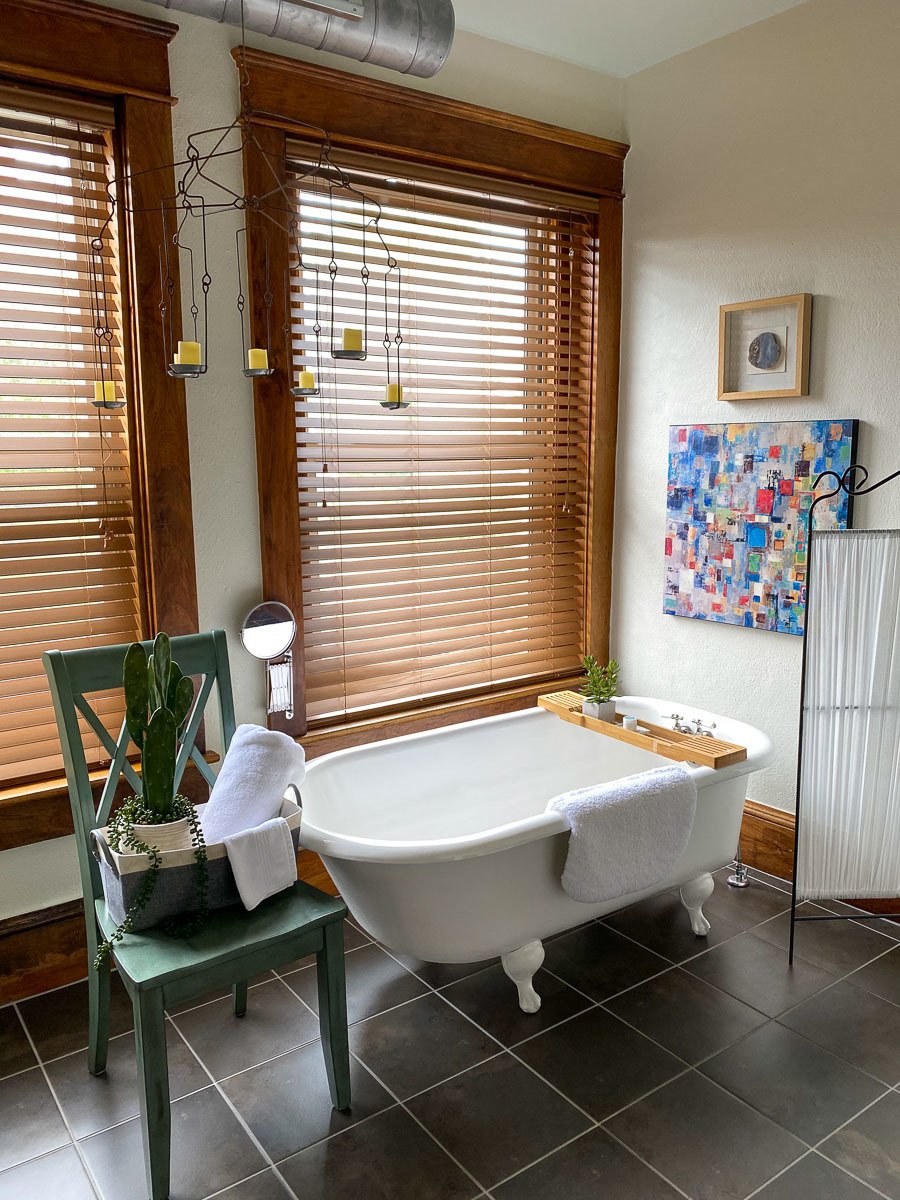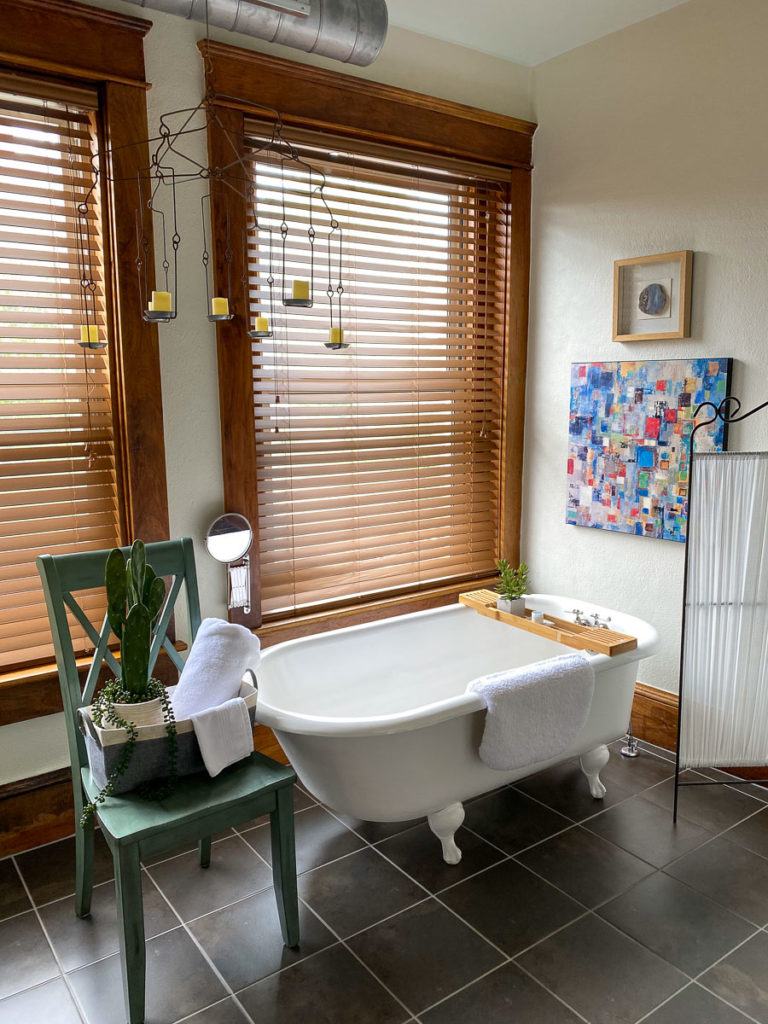 Book this apartment for yourself.
The other Lafayette Flats apartments are the Quinnimont, the Corten, and the Eddy. Any of these would make a great base for exploring the New River Gorge, as they are only minutes away from hiking trails, the Canyon Rim Visitor Center, and more.
If you'd prefer a cabin rental in the area, here are a few that look great:
Romantic cabin – This cozy cabin at Opossum Creek is perfect for a couple and comes complete with a private hot tub on a screened-in porch.
Chalet with hot tub – This mountain chalet-style cabin can sleep up to 6 and has a private hot tub on a wrap-around deck with great views.
Cozy treehouse – Yup, you can find treehouse-style cabins here, too!
4. Hotels/motels
If you'd prefer a standard hotel stay near the New River Gorge, then your best bet is to stay in the town of Beckley, about 25 minutes to the south of the New River Gorge Bridge.
In Beckley, you'll find familiar chain hotels, including a Hampton Inn (the top-rated hotel here), a Courtyard by Marriott, and a Country Inn & Suites, among others.
Where to eat in the New River Gorge
The New River Gorge is dotted with a bunch of small mountain towns, and you can actually find some great food in many of them!
We stayed in Fayetteville, which has a large number of local restaurants. Our favorite spots included:
Cathedral Cafe – A super cute cafe inside an old converted church. The food is great here!
Wood Iron Eatery – A trendy cafe serving up good coffee and breakfast dishes.
Pies & Pints – A local go-to for pizza and beer.
The Handle Bar + Kitchen – Located at Arrowhead Bike Farm, this beer garden is a fun outdoor option.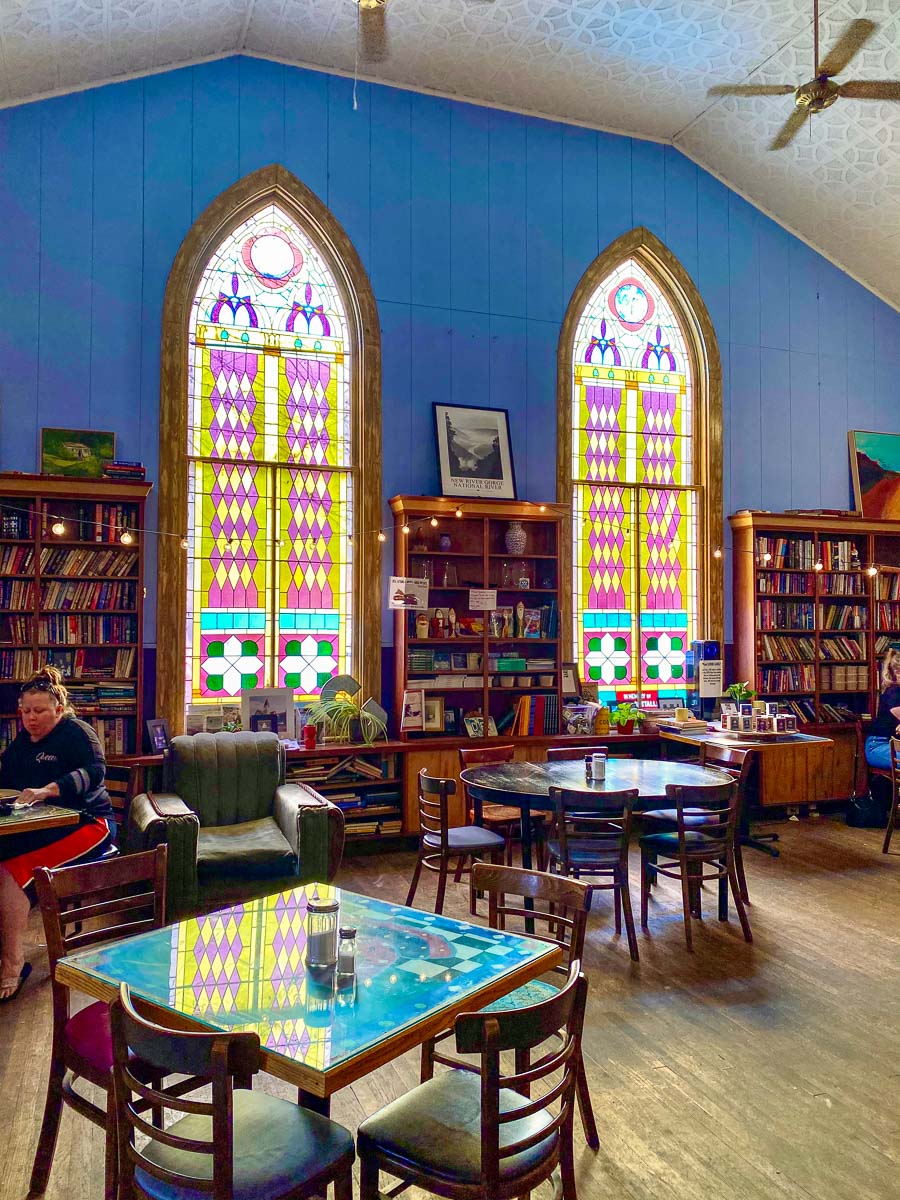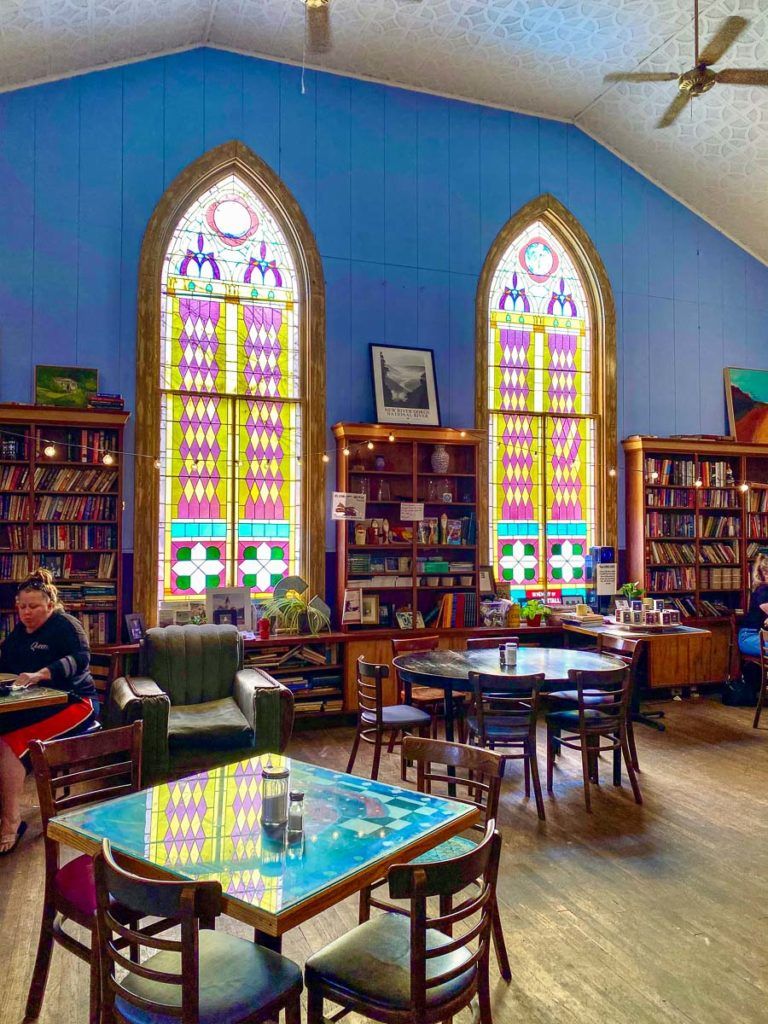 New River Gorge National Park info
We've covered almost everything there is to know about visiting the New River Gorge National Park and Preserve, but here are a few last bits of essential info:
How much does it cost to visit New River Gorge National Park?
New River Gorge National Park is FREE to visit; there are no entrance fees charged to enter the park.
When is New River Gorge National Park open?
The park itself is open 24 hours a day, 365 days a year. The visitor centers are open almost every day of the year from 9 a.m. to 5 p.m.
Are dogs allowed at New River Gorge?
Yes, dogs (and other pets) are allowed on all trails at the New River Gorge. They must be kept on a leash, and it goes without saying that you should bring water for them and clean up after them! We saw lots of doggos hiking with their owners when we were there.
READ NEXT: The Perfect One Week West Virginia Road Trip Itinerary for the Outdoors Lover
---
Who's ready to plan a trip to New River Gorge National Park and Preserve now?