Some posts on this site contain affiliate links, meaning if you book or buy something through one of these links, I may earn a small commission. Read the full disclosure policy
here
.
---
Ka mate! Ka mate! Ka ora! Ka ora!
I die! I die! I live! I live!
Tenei te tangata puhuru huru
This is the hairy man
Nana nei i tiki mai
Who fetched the Sun
Whakawhiti te ra
And caused it to shine again
A upa … ne! ka upa … ne!
One upward step! Another upward step!
A upane kaupane whiti te ra!
An upward step, another.. the Sun shines!!
Hi !!!
This chant, known as a haka, has become one of the most well-known in New Zealand (and perhaps even around the world), thanks to the NZ national rugby team, the All Blacks. The "Ka Mate" haka – also known as Te Rauparaha's haka – is a native Maori chant with accompanying movement that the All Blacks have performed before international rugby matches for decades. This haka, with its intense movements and facial expressions, is meant to challenge and intimidate opposing teams.
But hakas have existed since long before the New Zealand team was making faces on the rugby pitch.
Here's a little hostory:
Haka is actually the general term for Maori dance, and has existed as far back as records can show. Ever since Europeans first came in contact with the Maori people in 1642, hakas have been observed and recorded. All Maori tribes have certain hakas performed only by themselves within their tribal boundaries, and these sorts are rarely seen by outsiders. There exist, however, numerous other forms of haka that are performed in all manner of public settings.
While most forms of haka have war-related roots – being at first dances and movements used to intimidate potential aggressors – they eventually became integrated into all facets of Maori life. From ceremonies to meetings to funerals, hakas were used to protect, challenge, welcome, and explain through song and formal movement.
Some are performed only by men, others only by women, and still others by both sexes. Some are used purely for entertainment purposes, others for welcoming guests, and others for certain rituals and ceremonies.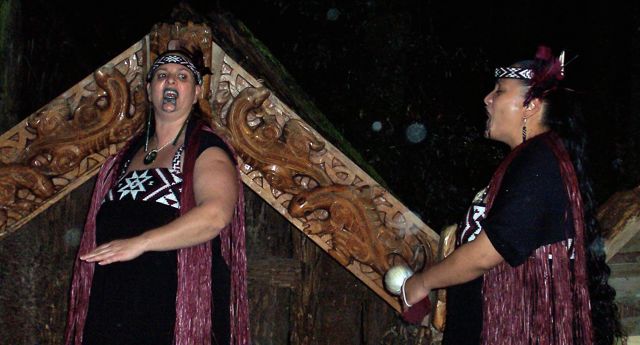 If you've never seen a haka performed before, it's slightly difficult to picture. Where the men are involved, there's plenty of chest thumping, leg slapping, quivering hands and fingers (a skill known as kakapa), bulging eyes, and protruding tongues (whetero). Many are downright scary. Others will give you the chills.
If you're going to New Zealand, be sure to go to a traditional Maori haka performance – often coupled with a hangi dinner, where delicious food is smoked in earthen ovens. At these performances, men and women dressed in traditional clothing and face decoration perform all sorts of hakas – not just war chants.
Rotorua has at least three Maori "villages" you can visit for these dinner performances.
At such performances, you're likely to see a wide range of hakas and hear some Maori singing, in which the women often have very powerful, quavering voices.
There are three main types of hakas you may see, with further subdivisions within each. Here's a quick run-down:
Haka taparahi — a ceremonial haka performed without weapons and used to express any public or private sentiment. Under this category would fall welcoming hakas, waka (canoe) hauling hakas, funeral hakas, etc. These hakas are performed generally by men, with women adding musical accompaniment in the rear.
Haka peruperu — war dances; the ones performed with weapons and meant to be frightening displays of rage. As of old, they were performed while getting troops ready for battle, during battle, and after victories. Peruperu hakas are characterized by the use of weapons, and facial contortions, rolling, protruding eyes, thrusts of the tongue, and high leaps off the ground. Males often danced them naked and tattooed as further forms of intimidation.
Hakas performed solely by women.

Haka powhiri — performed to welcome guests, usually presented before the men do their haka taparahi.
Poi dance — women sing and twirl long balls made of leaves in intricate patterns.
The really interesting thing about hakas is that they have not changed much in form over the centuries. And yet, they are still evolving.
In 2005, the New Zealand All Blacks consulted with Maori tribal elders to create a new haka that would be unique to the national rugby team. What they came up with was the Kapa o Pango — a very intense, fierce haka that ended with the thumb being drawn across the throat. Many observers were offended by this haka (taking the last gesture to imply throat slitting), and there were calls for the rugby union to ban the All Blacks from using it.
After a hiatus and then a change to the final gesture, the All Blacks eventually went back to using the original version of Kapa o Pango despite complaints that it was too violent. These days, they save this intimidating haka for special occasions. For example, when I saw the All Blacks play Australia in August 2008 (a huge rivalry), they performed the Kapa o Pango before the match.
(This is the video from the match I was at!)
Other New Zealand sports teams have imitated the All Blacks in performing hakas before games and matches. Other rugby teams perform Ka Mate, and the NZ hockey team (the Ice Blacks) even gave it a try before a few big games. Unfortunately, I think there's something about slipping around on ice that takes away a lot of the ferocity of this particular type of haka.
Still, no matter where or when it's performed, there's just something about a haka that moves me. Whether it's ferocious or more subdued, I'm glad this Maori tradition has endured throughout the centuries.
Have you seen any hakas performed in New Zealand?