Some posts on this site contain affiliate links, meaning if you book or buy something through one of these links, I may earn a small commission. Read the full disclosure policy
here
.
---
You have 36 hours to spend in Sydney, Australia.
I know, I know — "That's it?" you say, "That's not enough time!" But you're only stopping over in Sydney on your way from Wellington to Perth to visit your uncle, whom you haven't seen in 5 or 6 years. You decide an overnight stay in Sydney could be fun, and have no idea you'll end up loving it so much. Hindsight is 20/20, so they say.
So, back to these 36 hours. With such a limited amount of time to explore Australia's flag city, what do you do?
Sydney, Australia in 36 Hours
Stay somewhere central
Sydney has a pretty good public transportation center, but you want to make sure to choose accommodation that will allow you to properly utilize it.
When I visited Sydney for my one singular night, I booked at bed at YHA Railway Square. The hostel is right around the corner from Central Station, meaning you're in a prime spot to get anywhere else in the city (there's a handy tunnel right outside that will get you to the trains in less than 5 minutes). The hostel was friendly, clean, and I even got to stay in an old train carriage that had been remodeled into a 4-bed dorm room.
Another popular hostel downtown is YHA Sydney Harbor. Located in The Rocks near Circular Quay, this hostel is the place to stay if you're looking for those iconic Sydney landmarks. It has rooftop views of both the Sydney Harbor Bridge and Opera House, and proximity to some great nightlife.
Buy a day pass
While in Sydney, I purchased a Day Tripper transport pass for each day I was in the city. The pass cost around $16 and gave me unlimited rides on Sydney trains, buses and ferries. These passes have since been renamed the "MyMulti Day Pass," and now cost $20. But, if you're planning to be using a lot of public transportation while in Sydney, these become invaluable. Australia is great, but it's not cheap.
Visit Circular Quay
This is probably the most-visited area of Sydney. You have the impressive Harbor Bridge on one side, and the iconic Opera House on the other. Not to mention you're close to The Rocks (the oldest area of Sydney), and have your pick of cafes, gelato stands and more. After taking my fill of pictures, I grabbed some mango gelato and watched a duo of Aboriginal men playing didgeridoos near the wharf.
I was on a budget in Sydney (and strict time constraints), but, if you aren't, two popular things to do in Circular Quay are to take a tour of the Opera House, and to do the Harbor Bridge Climb.
Take the ferry to Manly
Hop on a ferry boat at Circular Quay bound for Manly. The half-hour ride will sail you past the Opera House and into one of Sydney's most popular suburbs. Once in Manly, you can rent a bike to explore the area, or do what I did and stroll down The Corso to Manly Beach. The Corso is a quaint, beach-y strip of cafes and souvenir shops that still manages to be charming, despite its level of kitsch.
Once at Manly Beach, consider walking along one of the many coastal tracks for a bit, or simply grab a seat and do some quality people-watching.
Try to time your ferry ride back to Circular Quay to coincide with sunset. The views of the sun setting behind the Harbor Bridge, casting an orange glow over the Opera House, are well worth it.
Explore Darling Harbor
Hop a ferry to Darling Harbor from Circular Quay. They're not very far apart, but the ferry ride is worth it — you'll glide under the Harbor Bridge and past Luna Park, Sydney's amusement park.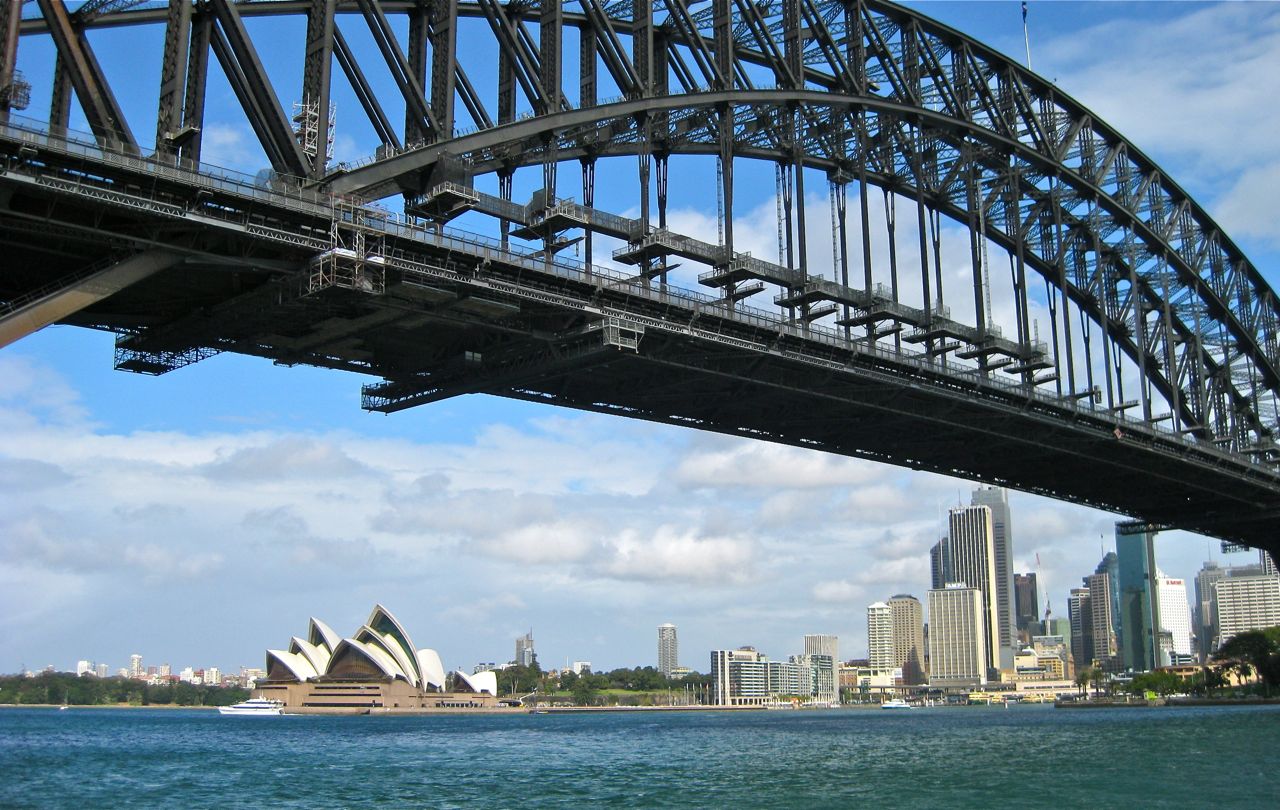 Once you get to Darling Harbor, there's a ton to do and see:
Check out the Australian National Maritime Museum.
Take a stroll across the Pyrmont Bridge, which is solely for pedestrians and cyclists.
Grab lunch at a café at Cockle Bay Wharf (but watch out for the bold seagulls, intent on stealing your food…).
Walk through the Palm Grove and Tumbalong Park.
Go shopping, or see a movie on the largest IMAX screen in the world.
Visit the Chinese Garden of Friendship.
Explore Sydney Wildlife World, or the Sydney Aquarium.
Obviously, doing all of these things would take up far more than just a couple of hours. I didn't even have time to do half of them while in Sydney, but was impressed at the variety and number of things on offer at Darling Harbor.
Hit the beach at Bondi
No trip to Sydney is complete without visiting Bondi Beach — one of the most popular beaches in Australia. Getting to Bondi involves taking a train to Bondi Junction, and then hopping on a bus to the beach.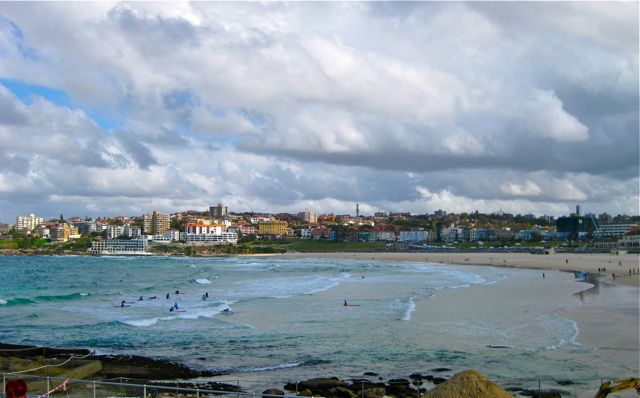 The long, curving beach is popular with tourists, and with surfers. If you have the time (and desire to swallow lots of water), sign up for a 2-hour surf lesson with Let's Go Surfing.
Take a stroll through the Royal Botanic Gardens and Domain
Just across from the Opera House near Circular Quay sits Sydney's Royal Botanic Gardens and Domain. Allow yourself some time to walk through the sprawling gardens, keeping an eye out for the flying foxes that call the area home.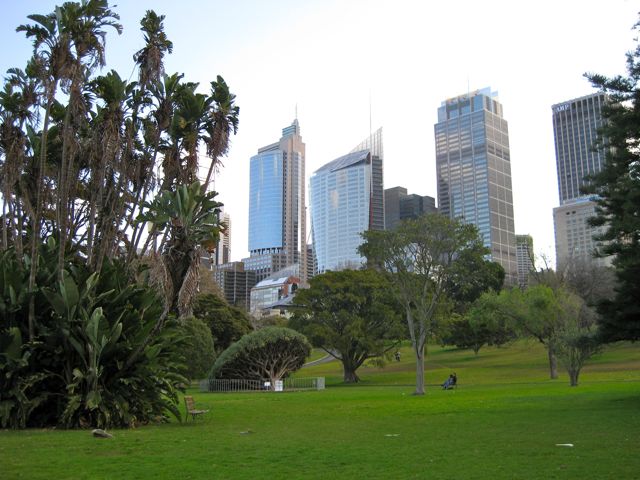 Walk along the edge of Farm Cove to the Fleet Steps and Mrs. Macquarie's Point and Chair. Mrs. Macquarie was the wife of Mr. Macquarie, who was Governor of Sydney for a time back in the early 1800s. Her "chair" is a bit of carved rock in which she'd sit to watch ships coming in and out of the harbor. Today, all three sites are great vantage points from which to see both the Harbor Bridge and Opera House (and fit them both into one photo like on all the postcards).
My camera battery died before I could make it to the Fleet Steps (naturally), but I would still recommend the walk through this quiet bit of Sydney.
Get up close with koalas at Taronga Zoo
The one thing I didn't do in Sydney that I wish I had was visiting Taronga Zoo. The zoo is kind of on its own little island, so the preferred way to get there is by ferry. Once at the zoo, you can take a gondola to one of the entrances, allowing for great views of Sydney Harbor. I imagine the zoo isn't much different from many zoos I've already visited… though I would have loved to see koalas in Australia!
Next time.
Have you visited Sydney with only a short amount of time to devote to the city? What are some of your must-see suggestions for travelers?