Some posts on this site contain affiliate links, meaning if you book or buy something through one of these links, I may earn a small commission. Read the full disclosure policy
here
.
---
Today's guest post comes from Cat Gaa of Sunshine and Siestas. Cat left her native Chicago after graduating college to teach English in Spain for an academic year. Four years, a work visa and a husband later, she blogs about her adventures in preschool and how to overstep Spanish bureacracy.
5 Steps to Survive Seville's Holy Week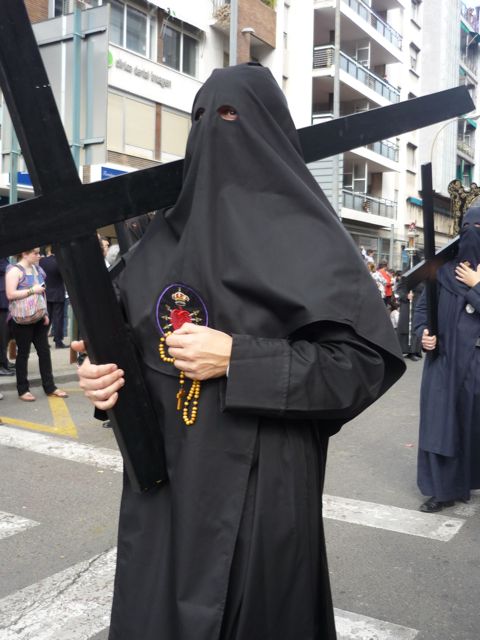 Having made it to Cat's house, I could finally use the toilet, something I needed to do since our plane took off from Amsterdam. It was Holy Week in Seville, and since the airport bus had cease to run, we had to take a taxi. Cat lived in a refurbished monastery in the city center, so we were let off a dozen blocks from her place and had to hoof it with suitcases, past thousands of revelers and countless snack stands.
"Ugh, Semana Santa," I groaned to her amazement.
I ducked into her house in an alleyway and left not two minutes later, only to be trapped by over 1,200 pointed hats, black tunics and sorrowful trumpet ballads. The bullfighter brotherhood, one of the oldest and largest, was passing through.
Whether I wanted to or not, I was watching this procession.
Love it or hate it, you have to hand it to the people of Seville. They love their crying Virgin Marys, their martyred Christs and the amplified life in the street that only lasts but a mere week and a half during Semana Santa. In such a homogenous place, much attention is paid to the detail of each procession, thousands of euros to the upkeep of their Holy Family floats.
The faithful flock from every corner of Spain to witness the last week of Jesus Christ paraded through Seville's narrow, cobblestone streets, adorned with flowers and accompanied by candles. It's painfully beautiful.
If you chose to visit Seville during Holy Week, here are five tips to help you experience La Pasión.
Five Indispensable Vocabulary Words
Semana Santa has its own set of vocabulary, so prove you've done your research by knowing a few of them.
Pasos (pah-sohz) are the processions which characterize Holy Week. In Seville, there are over 60 of them, and they march from the Friday of Sorrows all week up through Easter Sunday. Pasos are conducted by hermandades (air-mahn-dah-daze), also known as cofrades (coh-frah-daze). The brotherhoods are in charge of the upkeep of the pasos throughout the year, as well as preparing them for their stroll around Seville.
Thousands of people accompany the paso floats, from children dressed like priests handing out candy to cross and candle bearers, but some are hidden to public view, save their shoes. Up to 25 men, called costaleros, are in charge of carrying the pasos throughout the city for up to 14 hours at a time. This coveted position comes with a lot of practice throughout the months leading up to Holy Week.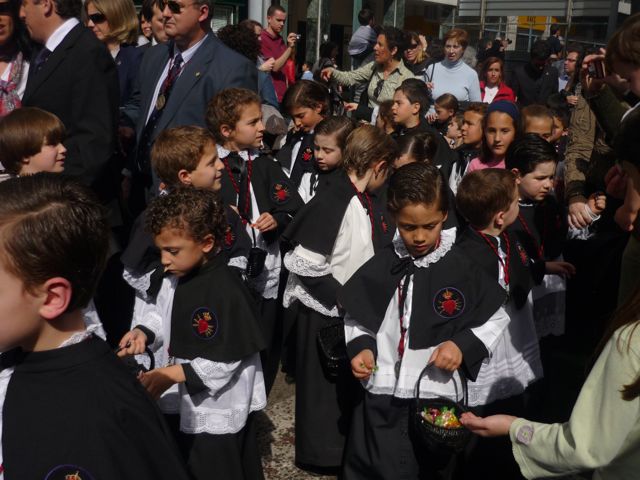 Oh, and those things that look like Klan members? Those are the nazarenos (nah-zah-ray-noz), whose hats are all made the same height so as to disguise their identity. Each hermandad has its own color and crest, and nazarenos's tunics, which often cost over 1,000 euros, reflect this tradition. Some of the most famous brotherhoods have over 2,000 nazarenos.
Typical Semana Santa fare is anything fried, anything alcoholic, and especially torrijas (thor-ee-hahz), a dish similar to French toast made of honey, eggs and white wine. While the homemade ones are the best, most confiterias will have them in the weeks leading up to Easter. Try Horno San Buenaventura (Avda. de la Constitución, across from the cathedral) or La Campana (Plaza de la Campana).
Four Etiquette Rules
From mantillas to mantones, Semana Santa is a well-worn tradition that has been celebrated in Spain for centuries. Sevilla even boasts its own minister of Popular Celebrations, so knowing how to act during the festivities will help you enjoy the spectacle, as well as keep stuffy sevillanos off your back.
Treat Holy Week like a formal Sunday Mass, just on the streets. For this reason, everyone dresses up, so do as the Sevillians and wear something nice.
Respect the order of arrival. People camp out on the streets for the pasos for hours, so standing in front of someone perched on a sidewalk curb doesn't cut it. People push, so get there early if you want a good view.
That said, be careful of pick-pockets. Crowds are plentiful during the day, so keep your belongings close.
And, really, just be respectful. Even if you're not religious, keep in mind that some of the nazarenos walk barefoot, that some of the pasos are meant to be viewed in silence, and that thousands of euros are spent on the upkeep of these processions. Don't touch them!
Three Holy Week Bars with Ambience
Bar Garlochi has got to be one of the most kitchy bars in all of Seville, which is why it garners guidebook recs again and again. The place is chock-full of life-sized Virgins and suffering Christs, and the owner looks as old as the Virgen de la Macarena. Though it's over-priced and smells of mold, this bar can't be missed for its Sangre de Cristo drink, served in a chalice and meant to represent Christ's blood (C/Boteros, 26 in the Alfalfa neighborhood).
For bullfighting, Holy Week trumpet ballads and weepy Virgins, the beloved Santa Ana bar, located between the temples of the Divine Shepherdess and the Virgin of Triana, serves up typical tapas and a lot of ambience (Plaza Santa Ana, s/n, in Triana).
Though it's in the crux of processions, La Fresquita, located in the shadow of the Giralda tower, has a long history (and a long line). This is the place to refresh during the processions, as they serve cold beer and finger foods, and all under the watchful eyes of dozen of Virgens (C/Mateos Gago, 29, near the Cathedral).
Two Places to Watch the Processions
People from around Spain come to Seville to watch the processions (TIP: Book accommodation early!), so be prepared to plan a route and leave enough time to arrive, as the streets will be clogged with people. The faithful pay for seats in La Campana, Plaza San Francisco, Calle Sierpes and Avenida de la Constitución near the Cathedral, so don't expect to see any there.
Try Plaza del Triunfo, between the Cathedral and Alcázar palace, as the floats pass through it to enter the Cathedral. The plaza is big, so you won't feel overwhelmed, and there are often people selling drinks and food for the long waits.
Another top pick is either on or just beneath the Isabel II bridge, also known as the Triana bridge. Up until 20 years ago, this was the only bridge over the Guadalquivir River, so the five brotherhoods in the Triana neighborhood have used this route for centuries. During the Madrugá, the bridge lights are turned off and it's truly lovely to see the precious diamond tiers lit up by candles.
One Night When it's Worth it to be out Till Dawn
When I traveled to the Basque Country with a friend a few years ago, she made one request on our itinerary: to not miss the madrugá processions. Beginning just after midnight, six of the most anticipated — as well as the oldest and most important — processions leave their churches en route for the cathedral, only to return during the early morning hours. These pasos are best viewed leaving their temples, as a woman sings a sorrowful saeta.
The images of Christ and the Virgin are the most grief-evoking, as Christ is on the eve of his death, but many, including the two most famous Virgins, the Esperanza de Triana and the Esperanza de la Macarena (remember that 90s song? While not the exact inspiration, this name is popular for Sevillana girls) play upbeat music.
Not into staying up late? Look up the parade route and try to catch them coming back into their temples in the morning.
For parade routes, times and information about the history and symbols of the brotherhoods, check out Sevilla's Catholic newspaper, El Diario de Sevilla, and their section on Semana Santa.
Where to stay in Seville
Anywhere within Seville's Old Town would be ideal for seeing all the best sites AND seeing the Semana Santa celebrations. My picks would be:
Special thanks to SevillaClick.com for up-to-date information about this year's salidas, and my favorite capillita, Kelly Skibiski, for her Semana Santa expertise.
Have you ever experienced Holy Week in Seville?