Some posts on this site contain affiliate links, meaning if you book or buy something through one of these links, I may earn a small commission. Read the full disclosure policy
here
.
---
Of all the Greek Islands — and there are thousands of them — Santorini is probably the one most people have heard of. And also probably the one that most people dream of visiting. Santorini is where you will find the red cliffs, black beaches, white windmills, and blue domes that adorn so many postcards.
Yes, this is Greece's "postcard island."
Because Santorini is such a popular destination (including with cruise ships), however, I was a bit apprehensive about visiting. I wanted so badly to see all those windmills and churches and beaches — but I didn't relish in the thought of competing with hordes of other tourists in order to do so.
Thankfully, Santorini did not disappoint. It is just as stunningly beautiful as the photos and postcards lead you to believe — and you can easily avoid the cruise ship crowds if you time things right.
And, bonus: Santorini isn't *just* about blue domes and sunsets. There are lots of cool things to do in Santorini, too!
Fun facts about Santorini
Santorini's official name is actually Thira.
The island sits in the water-filled caldera of a massive volcano that is thought to have ended Minoan civilization on Crete.
Before it was called Santorini, the island was known as Kallístē, meaning "the most beautiful one."
Due to its volcanic past, Santorini has white, black, AND red beaches.
Despite a harsh, dry climate, Santorini has a flourishing wine industry.
Things to do in Santorini
It would be very easy to simply find a terrace with a view on Santorini and never leave it. Sip wine, eat sweet cherry tomatoes, and watch the sun set into the Aegean each evening… But in case you actually DO want to get out and do something, here are some suggestions for the best things to do in Santorini:
Shopping in Fira
Fira is the capital and main city on Santorini. It is where most of the cruise ships dock, and also where the ferries arrive/depart. It has a host of accommodation options, and also some of the best shopping on the island. Especially if you're looking for souvenirs, jewelry, or artwork, the narrow streets on the cliffs of Fira are where you want to be.
Sightseeing in Oia
A must-see while on Santorini is the village of Oia (pronounced "ee-uh"). Here you'll find those red cliffs, white windmills, and blue-domed churches from the postcards. I went to Oia twice in 2.5 days on Santorini — once for sunset, and once to explore the town in the afternoon. And I fell in love. Oia is absolutely stunning, and is worth a few hours of your time at the very least.
You can easily catch a bus here from Fira — and do it in the afternoon so you catch the best light AND avoid the cruise ship crowd at sunset time.
Head out on the water
Along with visiting Oia at least once, I also highly recommend somehow getting out on the water in Santorini's volcanic caldera. I was exploring the Greek Islands with Intrepid Travel, and my group (with the help of our tour leader) decided to pitch in to charter a traditional Greek boat and captain for a few hours one evening.
Captain George took us out into the caldera to swim, snorkel, drink wine, and even cover ourselves in mud from a volcanic hot spring. This was one of the highlights of my entire trip, and I would highly suggest doing something similar if you can. (Here's a caldera cruise to check out.)
Watch the sun set
Our boat charter ended with watching the sun set opposite Oia. Watching the sunset on this end of Santorini is incredibly popular. You can book places on sunset cruises, as well, if you'd like to kill two birds with one stone. (Though, as I mention in another post, sunsets from other parts of the island are just as pretty as the ones in Oia.)
>> Book a sunset catamaran cruise here.
Try a fish spa
I've heard of "fish spas" before — but mostly in Asia. On Santorini, however, I saw no less than 3 in Fira alone. If you've never heard of a fish spa before, basically you stick your feet in some water and have tiny fish nibble all the dead skin off. I convinced two other girls from my tour group to join me in this adventure. None of us left our 30-minute session convinced that our feet were any smoother or healthier, but it was a fun, giggle-filled experience nonetheless.
Go on a hike
Lastly, if you are up for it, it's quite popular to hike along the caldera all the way from Fira to Oia on Santorini. I opted out of said hike since it can take anywhere from 3 to 5 hours and offers little to no shade, but I know others who have done it and absolutely loved it. You can also climb to the site of Ancient Thira on top of the island.
One thing I DON'T recommend in Santorini: A donkey ride
Many people (probably those who have watched movies set in Greece) dream of riding a donkey up a steep trail on a Greek island. And there are indeed donkey trails in Santorini, in both Fira and Oia that overlook the caldera.
I urge you to forego these rides, though. After walking the donkey trail in Oia from bottom to top myself, I feel truly terrible for any animal who has to carry a human up it. While none of the donkeys I saw looked blatantly mistreated on Santorini, they didn't appear to have access to drinking water, and they certain did not look very happy.
Beaches in Santorini
Santorini is most well-known for its cute villages, but it has some pretty incredible beaches, too. I personally didn't spend much time beach-hopping, but here are some suggestions for you anyway:
Perissa Beach
With fine black sand and crystal-clear water that is the perfect shade of blue, Perissa may have been my favorite beach in Greece. Yes, it's an organized beach — you'll pay 5 Euro for 2 sun beds and an umbrella, and there are restaurants and taverns nearby — but the sand and water were just perfection (though, beware that black sand gets HOT in the sun!).
Others
Other popular Santorini beaches include Kamari Beach (another organized beach, this time with pebbles), Monolithos Beach (a kid-friendly beach), and Red Beach (an isolated red-pebble beach that requires hiking to reach).
What makes Santorini special
Yes, Santorini is touristy. And yes, Santorini CAN get crowded. But what makes Santorini really special is that it is still able to live up to your expectations of a Greek island paradise if you let it.
The practical stuff
Where to stay in Santorini
There are plenty of Santorini hotels and guest houses to choose from. Many people want to stay in Oia for its pretty views, but you can almost certainly find better prices staying in Fira. Fira is also the site of Santorini's main ferry port — so look for a hotel that offers a shuttle service to/from the port. This will save you trying to catch a cab (nearly impossible during high season), cramming into a cable car, or schlepping your things up 500+ steep steps on the donkey trail.
I stayed at Pension Petros, which is a small, family-run hotel close to Fira's main square but away from most of the noise.
Another great option in Fira is the Evgenia Villas & Suites, which is often rated as one of the best-value hotels in Santorini.
If a luxury hotel in Oia IS what you're looking for, check out Katikies Hotel (often named the best hotel in Santorini) or the Astra Suites.
Where to eat in Santorini
Believe it or not, food on Santorini is actually affordable — less expensive than on Mykonos, in fact! Some Santorini specialties include cherry tomatoes and white eggplant, along with fresh seafood. For breakfast, check out Corner Crepes and Waffles (near Pension Petros in Fira) for delicious crepes, waffles, and fresh orange juice. If you head to Oia and want a meal with a view, visit Seagull for fresh salads and seafood — and a killer view of the Aegean and one of those blue-domed churches. If it's cheap you're looking for, go for gyros at Nick's in Fira's main square.
Getting around Santorini
Santorini has a fairly decent bus system that will get you to/from Fira and Oia and also to the most popular beaches. Frequency of buses depends on the season and where you're going, so simply stop at the bus station to grab a timetable (they always had them in Fira) before you plan your outings. Bus tickets cost 1.60-2.20 Euro.
You can also rent cars on Santorini, though renting ATVs (quad bikes) is probably more popular. I would warn you, however, that the roads on Santorini can be twisty and narrow and kind of terrifying.
How to avoid the crowds in Santorini
I won't sugarcoat it: Santorini CAN get crowded. If you want to avoid the cruise ship crowds, explore Fira early in the morning or evening. If you want to go to Oia, go in the afternoon; most people turn up for sunset, but the afternoon hours are best for photography anyway. And, of course, you can always head to quieter parts of the island if the crowds get to be too much.
The best tours in Santorini
Check out these popular Santorini tours:
Is Santorini on YOUR travel wish list? What would you most like to see there?
Pin it for later: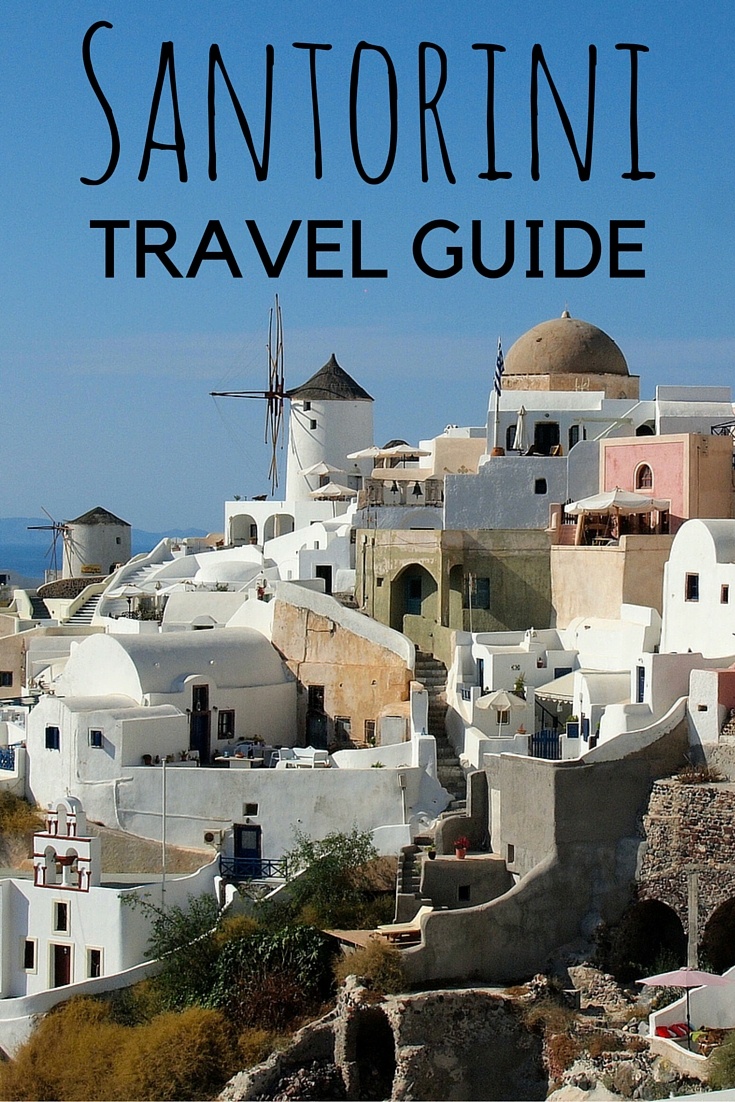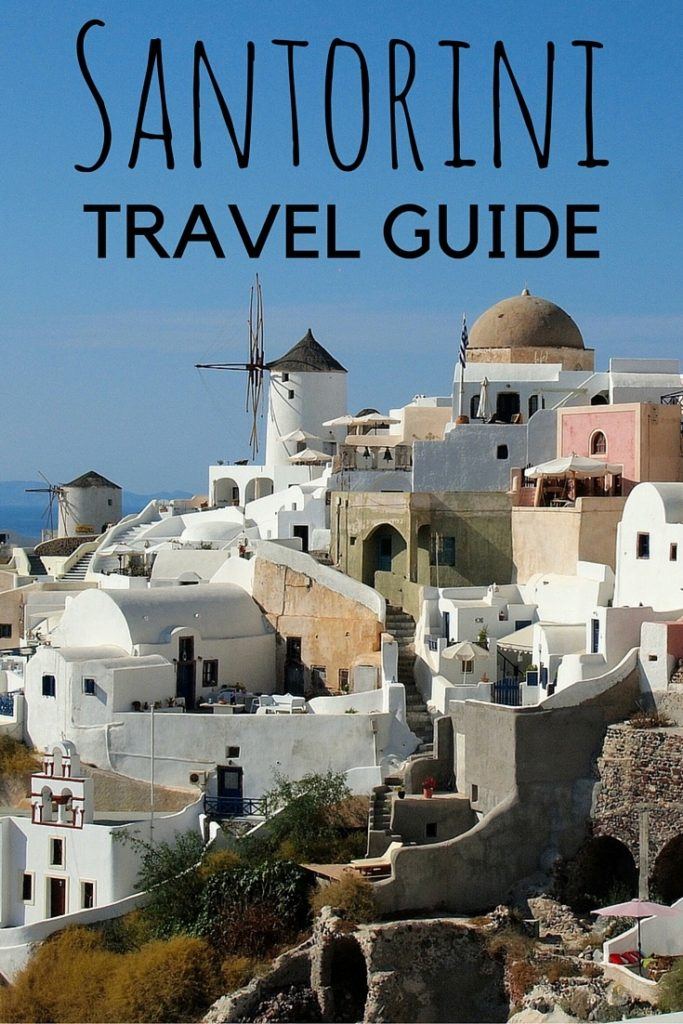 *Note: I received a complimentary Greek Islands tour from Intrepid Travel through my partnership with them, which included my visit to Santorini. All opinions, as always, are entirely my own.