Some posts on this site contain affiliate links, meaning if you book or buy something through one of these links, I may earn a small commission. Read the full disclosure policy
here
.
---
As a frequent traveler, I've flown all sorts of airlines (and airplanes) in all different parts of the world. I've flown in everything from huge planes over oceans to tiny prop planes over mountains.
And I'm well versed when it comes to budget airlines all around the world.
But I know that, for most Americans, the concept of the "budget airline" is a relatively new one. While these low-cost carriers have been flying to and fro for years in Europe and Asia, it's only within the last few years that they've really gained a foothold in the U.S.
Many people assume that these budget airlines are inferior to their "major" counterparts. But you know what? That really hasn't been the case in my experience.
The problem is that many Americans, used to what you get when you buy a ticket on a major airline, don't always know what to expect from a budget airline – and therefore get frustrated when things work a little differently.
So I'm here to (hopefully) demystify some things by sharing some tips for flying budget airlines in the United States.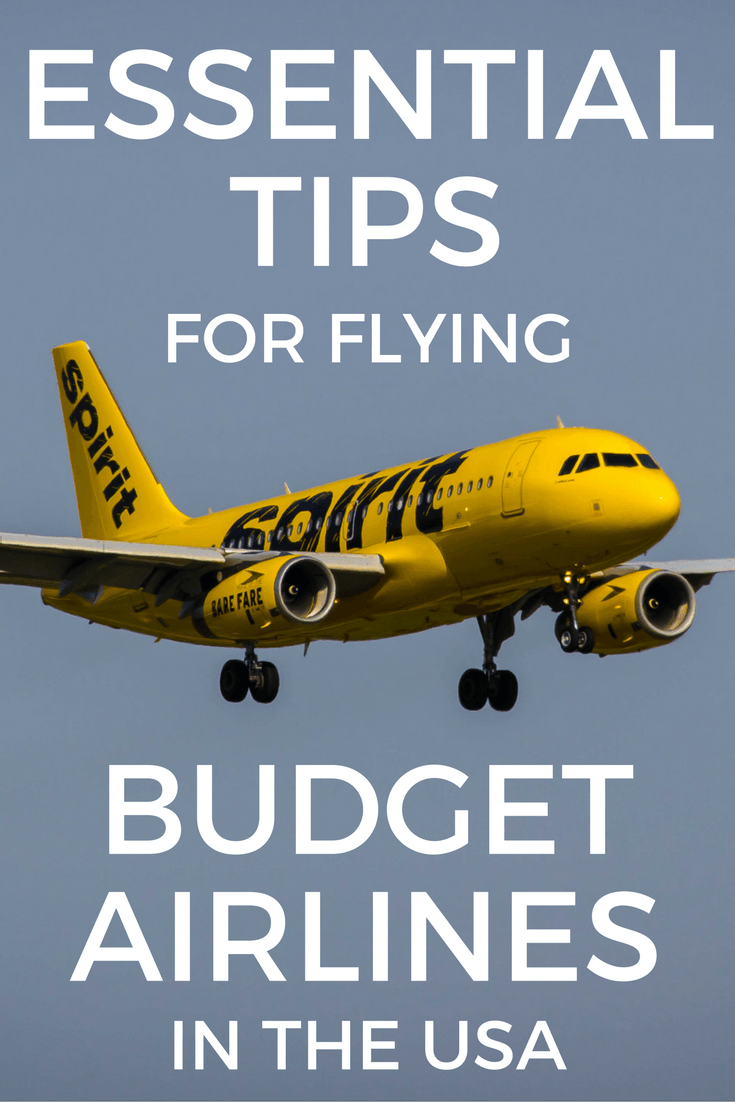 Here are all my tips for flying budget airlines in the US:
1. Pay attention to how the fares work
Even the "big guys" in the airline industry in the U.S. are doing this now – charging extra for things that you used to get for free. When booking a flight with ANY airline (and especially the budget ones), be sure you know what you get for the fare you're paying.
Spirit Airlines, for example, offers a "Bare Fare," which is exactly what it sounds like. It even says right on their site that "A ticket with us gets you and a personal item from A to B." This means no free checked bag, no freedom to choose a seat, no free snack or drink, and just a small purse or laptop bag allowed on board. You can, of course, pay extra for all those extra things – but the lowest fares won't include any of it automatically.
This also means that many of those ridiculously low fare deals you see advertised online may not reflect what you'll actually pay if you want to check a bag, choose your own seat, etc. You need to look into all the extras before booking anything.
2. Compare prices with other airlines
Even though no one likes to feel like they're being nickeled and dimed, the truth is that even WITH paying extra for baggage and seat assignments and food, your ticket may still be a good deal cheaper than what you'd find on a larger airline. I once flew across the country on a budget airline (with a paid carry-on and paid seat assignment both ways) for $200 less than the next-cheapest fare – and it was a nonstop flight, too!
So before you click that "book" button, be sure to shop around a bit. There's more competition than ever when it comes to budget airlines in the U.S., meaning you can sometimes find some extra-great deals.
3. Be smart about packing
A feature of *nearly* every budget airline in the U.S. is that you have to pay not only for check-in baggage, but ALSO for carry-on baggage that's larger than the accepted "personal item" size. This means you'll be paying for that overstuffed rolly suitcase, no matter how artfully you packed it.
So when you're booking your ticket, think carefully about how you'll be packing. On some airlines, it's actually cheaper to purchase a checked bag than it is to add on a carry-on suitcase. So if you can survive on the plane without all of your possessions sitting in the overhead bin above you, you may save a few dollars.
Whatever you do, DON'T show up to check-in or the boarding gate with more carry-on items than your ticket says you've paid for. You won't be able to sneak on an extra bag, and they WILL make you pay for it (and pay MORE for it) at the desk or gate. Don't be that person who holds up boarding for everyone else because you thought the baggage policy wouldn't apply to you.
4. Come prepared with your own snacks
No free food on budget airlines, remember? And this usually applies to cross-country flights, too.
But, let's be honest here: Who actually *enjoys* airplane food these days anyway? Other than the little bags of pretzels you sometimes get, it's overall pretty awful. I prefer to bring my own snacks and food anyway. And you CAN do this! While you can't bring outside liquids past airport security in the U.S., you usually won't have an issue bringing in food, especially if it's wrapped or packaged.
5. Print your tickets at home
Controversial as the practice has become, many budget airlines will charge you extra if you want to check in with an agent at the airport. To avoid this extra fee, all you have to do is print your ticket at home before you go to the airport. I usually do this anyway because it means even less unnecessary time spent standing in a line at the airport.
And for the return journey when you won't BE at home? Almost every hotel I've ever stayed at has either had a business center with a printer for guests to use, or the front desk was able to print out my boarding pass for me.
6. Read the fine print
As with any large purchase you make, be sure to read the fine print! How much extra will you pay if you decide to pay for a checked bag at the airport instead of online when you book your ticket? Will paying for a carry-on bag ahead of time net you priority boarding? Are you able to get a refund under any circumstances?
The best way to ensure you aren't surprised by any extra fees is to read everything carefully and know exactly what you're getting for the price you pay.
7. Get travel insurance
Lastly, I'm always a big advocate of purchasing travel insurance, especially for big trips and expensive flights. Many airlines (even the budget ones) offer flight insurance when you purchase your ticket. Some of these options just cover you if you have to cancel your flight, while others allow you modify your itinerary, too. (Spirit Airlines, for example, offers both general flight insurance and Flight Flex, which lets you change your plans once for free up to 24 hours before your flight.)
Whether you purchase this flight-specific insurance or not is up to you. But I DO suggest getting overall travel insurance for any trip that you're spending a significant amount of money on. For basic and affordable coverage anywhere in the world, I always get insurance through World Nomads. I've (thankfully) never had to use it, but knowing that it's there in any emergency – from something as small as having my luggage lost to something as huge as getting into an accident and needing medical care – gives me peace of mind.
How US budget airlines differ from budget airlines elsewhere:
Now, if you're from outside the US, you may have a preconceived notion about our budget airlines based on similar airlines you've flown elsewhere in the world. But the truth is that budget airlines in the United States differ from their counterparts abroad.
The planes aren't that much different
I've flown both "regular" and budget airlines in Europe, and at times you definitely can tell the difference based on the planes you fly on. But, in the US, *most* budget airlines actually fly newer planes. And, with almost all of the big airlines in America re-fitting their planes with smaller, more uncomfortable seats lately, you don't notice much of a difference flying on a budget ticket any more.
Budget carriers in the US actually do fly into major airports
In Europe, a big complaint (and the butt of many jokes) about low cost carriers is that they often fly into smaller alternative airports that are usually far outside large city centers. In the US, though, you'll usually find the budget carriers sitting at gates of major airports right alongside their big airline counterparts.
Want to fly to Las Vegas on a budget airline? You'll fly right into McCarran International. Want to take the family to Disney? You can fly right into Orlando International.
And, in many cases, when budget airlines in the US do fly into smaller, alternative airports, these airports are actually WAY better and preferable to bigger hubs. For example, I'm really excited that Spirit Airlines is now going to be flying routes from Akron/Canton to several new destinations, including Las Vegas and Myrtle Beach in 2017, and Orlando, Fort Lauderdale, Fort Myers, and Tampa later this month. Akron/Canton is a nice little airport that I like SO much better than Cleveland, so this is great news for me!
(And even though a couple of these routes aren't starting up until 2017, you can start booking travel on Spirit.com now.)
(Check out everywhere Spirit Airlines flies, too – you may be surprised by where you can go.)
So, in conclusion, here are the things you need to remember about budget airlines in the US:
Fares are often cheaper, but you need to pay attention to exactly what you're getting.
You'll pay extra for most things, and you just have to accept this.
You should probably learn to pack light to avoid extra baggage fees.
Get travel insurance. Just do it.
If you keep all these tips in mind, you should have no problem successfully saving money AND getting from Point A to Point B without any issues!
So what do you think? Have you flown with budget airlines in the US or abroad?
*Note: This post was brought to you in partnership with Spirit Airlines. As always, though, all opinions and tips are 100% my own (and I am genuinely stoked to have more flight offerings from Akron/Canton soon!!).