Some posts on this site contain affiliate links, meaning if you book or buy something through one of these links, I may earn a small commission. Read the full disclosure policy
here
.
---
Every couple of days, I get an email or Facebook message or text from a college friend I haven't talked to in years asking me for travel advice. Advice on where to go, how to get around, what to pack. And, increasingly, advice on the best way to book travel.
And, I get it.
The Internet is great and has made travel SO much easier than it used to be. But it can also make travel (and travel planning, especially) a daunting task. When you go to Google and get literally MILLIONS of results from a search query, it can all start to feel rather overwhelming.
To help combat the information overload, I thought I'd take you behind the scenes today for a glimpse into how I plan some of MY travel.
The first thing to tell you about is a website called KAYAK.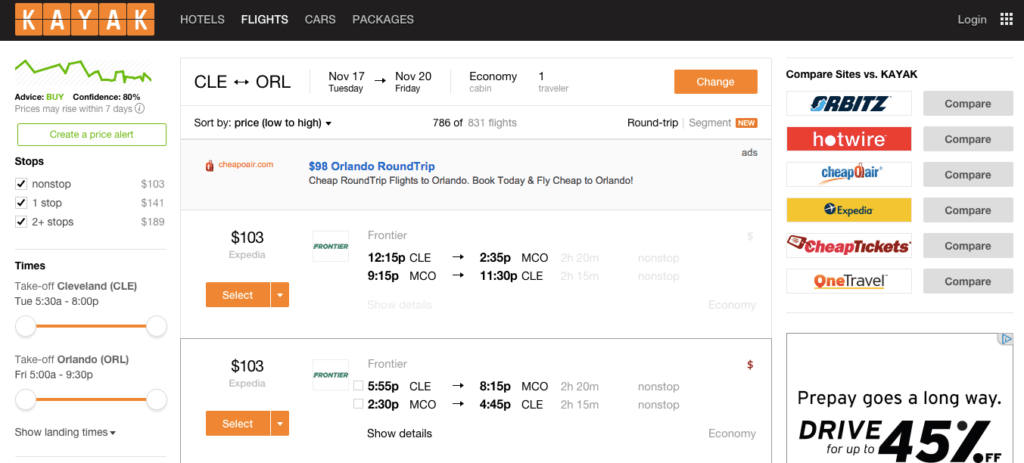 (And, full disclosure, yes, I'm writing this post because KAYAK approached me, but I hand-to-heart, honest-to-God actually use them ALL. THE. TIME.)
KAYAK is one of the leading travel search engines out there, and I love it because a.) it's ridiculously easy to use and b.) they had these funny commercials a while back where people's fingers fell off (which made me dissolve into giggles every time).
These days, KAYAK is the first site I go to whenever I'm searching for a flight or hotel room – and they've recently added some really cool features to the site that make travel planning even easier.
Travel Problem Solved
KAYAK is in the business of solving problems for people, and recently launched a new section of its website that addresses a lot of the common questions/concerns that people have when planning a trip. Things like "Where can I fly on my limited budget?" or "I only want to go to warm weather destinations." In the "Travel Problem Solved" section, KAYAK links to helpful parts of its website that take some of the stress out of planning a trip.
Some of my favorites include:
"I don't know whether to book my flight now or wait."
KAYAK offers a nifty price forecast feature on a lot of its searches. It will tell you whether you should buy now or wait a while, based on what it predicts the price for your flight search will do in the next 7 days.
"I want the best price on a hotel."
KAYAK doesn't actually SELL anything – it searches hundreds of sites for you, and then presents the best prices. When you go to book, you're taken to the site currently offering that price. So if you usually book your hotels through Agoda or Booking.com, no worries – KAYAK searches those sites, too, and you can click over from KAYAK to make your booking.
"I want to know direct flights from my home airport."
I totally get this sentiment (especially after an awful flying experience last weekend that included an 8-hour delay, getting shafted out of a free hotel room, and having my bag lost on the way home). If you just want to see where you can go with a direct flight, KAYAK has an entire page for that.
"I want to go somewhere that's cheaper than it was last year."
KAYAK also has a cool "Travel Hacking" section of its site, which offers lots of interesting info, such as what the hottest destinations are this year, what you'll find the best deals on, and more. It even shows you the most popular hotels in each popular/trending destination. (For example, some of the "trending" destinations right now include Milan, Rio, and Portland, Oregon.)
"Where can I fly on my limited budget?" or "I only want to go to warm weather destinations."
One of my favorite features KAYAK offers is its "Explore" tab. It's a little bit hidden away, but once you find it you'll never look back! (Hint, get to it by clicking the tiles in the upper right corner of the site.) The Explore feature lets you set your home airport and the month/season you want to travel, and then you can search the entire world for flights based on price, region, and even average temperature! SUCH a cool feature – and a fun one, too, if you're not entirely sure where you want to go.
(This winter, it looks like I should look to Mexico or the Caribbean for warm weather and flights under $600!)
You can see some of these features (as well as some others that I like) in action in this walkthrough video that I made:
KAYAK also stands out to me on Twitter. I do social from time to time for another brand that has a real personality on Twitter, and I can say from experience that it's not always easy! So when I see it done *right* I can really appreciate it.
First of all, they do some great social customer service, even occasionally stepping in out of the blue to surprise someone with booking help or even a flight!
.@TriciaRansom Thanks for your loyalty, enjoy the expo 🙂 #TravelProblemSolved http://t.co/LliBpUUmwQ

— KAYAK (@KAYAK) September 28, 2015
LOVE that. And they just have a sense of humor, too, which is often sorely missing from big brands on social:
.@jshrapnelc Working on our Mars filter, until then #Explore http://t.co/4qGbFjUMVL #MarsAnnouncement http://t.co/4ZpXBzqjDc — KAYAK (@KAYAK) September 28, 2015
If you're not currently following Kayak, check out their Twitter feed.
KAYAK definitely isn't the only site out there for travel planning – but it's one of the best, in my opinion, and if you haven't tried it before, give it a go!
What sites do YOU use to plan your trips?
Full disclosure: As mentioned earlier, this post was written by me but brought to you by KAYAK. As always, though, opinions are 100% my own. I love KAYAK!