Some posts on this site contain affiliate links, meaning if you book or buy something through one of these links, I may earn a small commission. Read the full disclosure policy
here
.
---
If you would have asked me five years ago if I ever envisioned myself willingly soaking in a tub full of beer, I would have said HELL NO.
I don't really like alcohol, and am not much of a drinker in general. But I have the biggest aversion to beer. Beyond the slight carbonation in beer, I kind of hate everything about it. I don't like the taste, and I especially don't like the smell; I'm exceedingly glad my husband prefers whisky, because beer breath? BLECH.
So imagine my surprise, then, that I'm writing this post telling you all about a beer spa experience in Prague that I LOVED.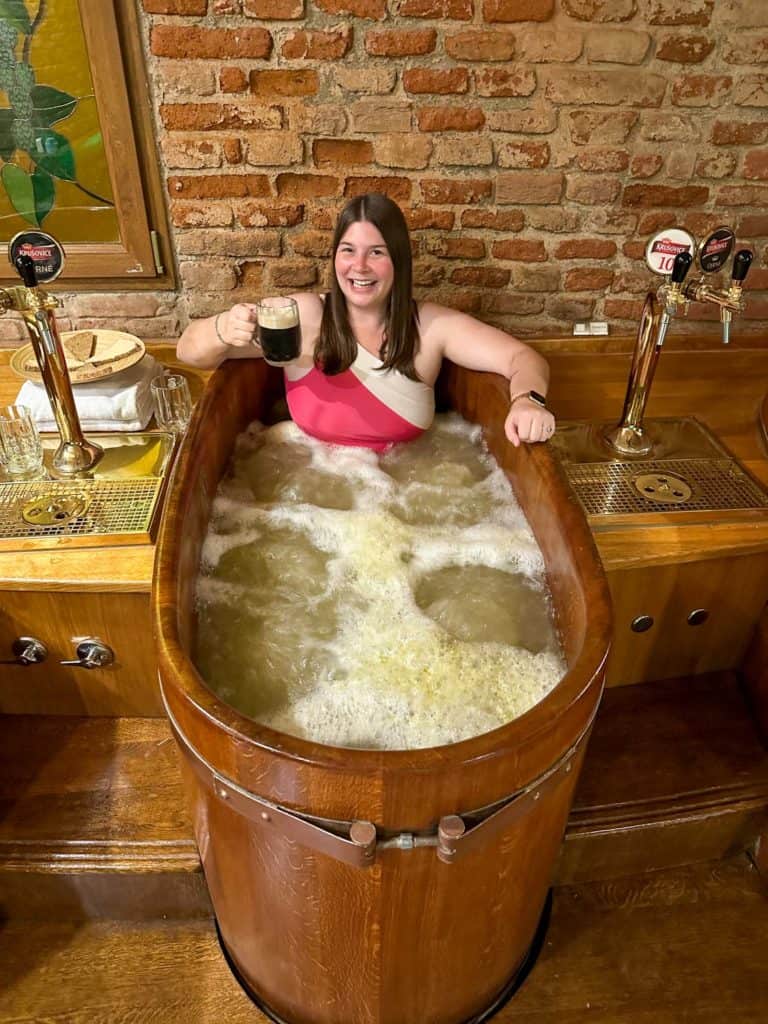 What is a beer spa?
First of all, what the heck is a beer spa? Well, a beer spa is similar to any other kind of spa that people go to for relaxation and treatments – except that a beer spa includes beer! Lots of beer.
Most beer spas around the world have a similar set-up: you reserve a time to visit, and get to enjoy a private treatment room that includes a bath or small hot tub that is partially filled with beer and beer ingredients along with hot water.
Soaking in these things – like hops and barley and brewers yeast – is supposed to be great for your skin (and perhaps even your overall health).
And of course every beer spa comes an unlimited amount of beer for you to drink while you soak!
The history of beer spas
According to several beer spa websites, the tradition of soaking in a beer bath (or a bath including beer ingredients) is not a new one, and originated in Central Europe. It's said that beer baths date back to at least the 900s, when King Wenceslas, the Duke of Bohemia, would take baths in wort (the byproduct of the mashing process during beer brewing).
The first commercial beer spa claims to be The First Beer Spa Beerland in the spa town of Karlovy Vary in the Czech Republic, which first opened in 1981.
The Czech Republic consumes more beer per capita than any other country in the world, and gave the world the pilsner. So while the beer spa concept has spread far and wide now around the world, it's still the most popular in the Czech Republic where it all began.
When Elliot and I were planning our 3 days in Prague, I decided we should test out one of these beer spas for ourselves. (Honestly I'm still surprised I was the one to suggest this, but I'm willing to do a lot of seemingly weird things for a good story!)
Beer spa options in Prague
If you're curious about going to a beer spa, Prague is absolutely the spot to try one for the first time. Prague is not only an excellent beer city (famous for having "beer cheaper than water" – which is actually true if you're comparing it to bottled water), but it also has quite a few different beer spas to choose from.
The 4 main beer spa chains in Prague are:
All of the beer spas in Prague offer really similar experiences. You can count on a treatment room that resembles a cozy cellar, large oak hot tubs to soak in, beer on tap, and straw beds to relax on after your soak. Some offer additional extras like saunas, but the basic experience won't vary too much!
Elliot and I booked the Original Beer Spa on Žitná street in the New Town, which was within a short walk from our hotel.
Who goes to a beer spa?
Let me be clear: beer spas in Prague exist almost 100% for tourists. You aren't likely to find many locals here, and if you're simply looking to drink cheap beer in Prague, a beer spa isn't the place to do it.
Otherwise, it's ideal for couples or small groups of friends. Some beer spas do allow children under 18 (18 is the legal drinking age in the Czech Republic); you just need to check FAQs, or contact them to ask (Bernard Beer Spa and Beer Spa Beerland definitely allow kids).
Elliot and I did this as a couples activity, and it was so much fun!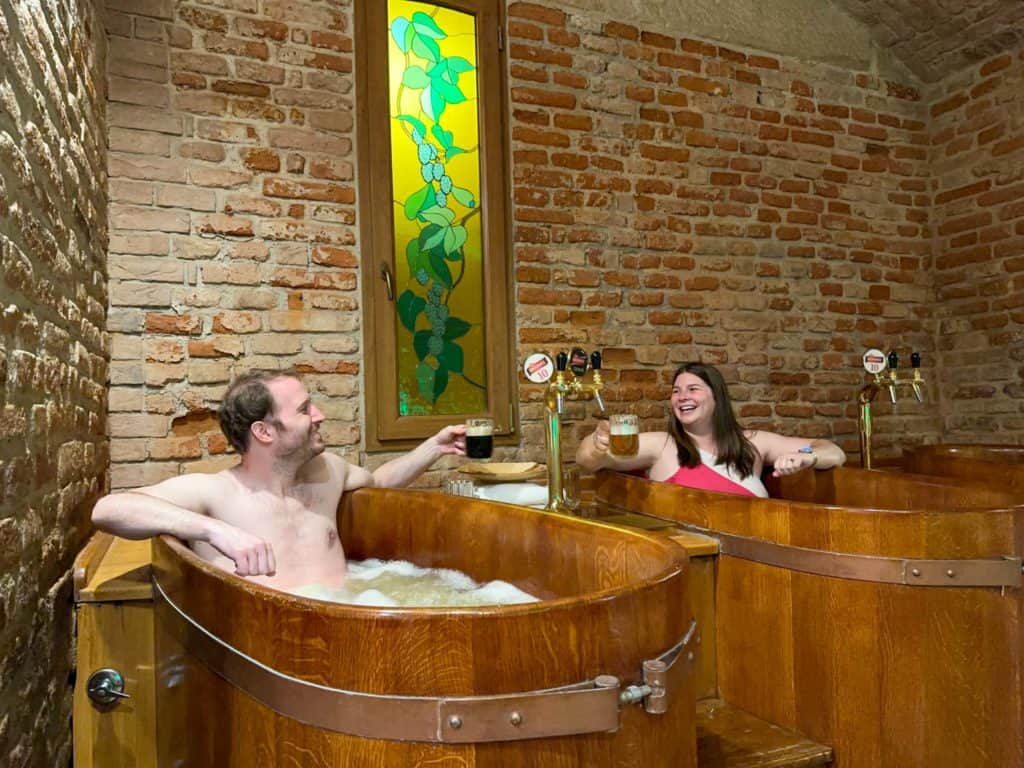 Going to a Prague beer spa: What to expect
Okay, now to the beer spa experience itself! Here's everything you need to know about what to expect:
Booking a beer spa
You can book all of the beer spas listed above online in advance – and you definitely DO want to book in advance, as most spas only have a handful of treatment rooms, and they often sell out. I booked our beer spa about 2 days in advance, but you can of course book further out.
How much does a beer spa cost?
Prices vary depending on the spa and what kind of room and tub setup you book (for example, it's cheaper if you share one tub between two people). You're definitely paying for the whole experience at a beer spa, though, and it's not cheap!
Some sample prices (these are totals for 2 people):
2 people sharing 1 tub for 1 hour in a basic room: 2700 CZK ($120 USD)
2 people in 2 tubs for 1 hour in a basic room: 3300 CZK ($145 USD)
2 people sharing 1 tub in an upgraded room: 3400 CZK ($150 USD)
2 people in 2 tubs in an upgraded room: CZK 4,000 ($175 USD)
Prices include time to soak in the beer tubs, unlimited beer to drink straight from your own private tap(s), usually some sort of snack like beer bread, and a straw bed to relax on afterwards.
Elliot and I booked the "Beerland" room at the Original Beer spa, which had 3 wooden tubs it in (we only used 2 of them) along with a private hops sauna and large double shower area. Our total cost was around $185 for an hour at the beer spa.
Arrival at the beer spa
Arrival to a beer spa is like arriving at most any other spa. You'll check in at some sort of front desk in a lobby area that usually has some beer-related skincare products for sale. Most will also have an open tap in case you arrive early and want to get started drinking straight away!
Once you're all checked in, you'll then be led to your private treatment room. (Because yes, all the tub rooms are private; you won't have to share the space with anyone outside your group.)
The attendant who takes you to your room will explain the timing of everything, and will prep your hot tubs for you. Then they'll set a timer so you can keep track of your time, and leave you to get changed and start your spa experience.
Soaking in a beer hot tub
So do you really soak in beer? Yes and no. The hot tubs are filled mostly with hot water. And then a mixture of a little bit of beer, hops, and brewer's yeast is added into the water before the jets are turned on.
Most beer spas use oblong oak tubs with wooden seats inside that can fit 2 people, and each hot tub is within arm's reach of the beer taps – meaning you don't have to get out of your tub, even to refill your beer mug!
Do I have to wear a swimsuit?
Since you're in a private treatment room with just others in your party, clothing/swimwear is optional in the beer hot tubs. I choose to wear a swimsuit mostly because I knew we'd be taking some photos so I could write this post, but most of the spas actually recommend bathing nude to fully get all the skin benefits.
After your beer spa
Once the hot tub jets stop running (usually 20-30 minutes into your appointment), you can continue sitting in the tub, or you can get out to enjoy any of the other amenities in your treatment room.
One of these amenities is a bed frame (usually large enough for 2 people) filled with loose straw.
I honestly can't find any explanation of WHY beer spas offer straw beds, or whether people actually tend to lay on them. To me, this was just odd and not at all inviting (though the Original Beer Spa does at least provide sheets to lay on on top of the straw if you want).
Since we had paid for an upgraded room, we also had access to a private hop sauna, and a large double shower space that had oak buckets filled with cold water hanging from the ceiling in case you wanted some cold immersion after your hot soak (but the showers also had regular hot water).
It's actually recommended that you not shower with soap for at least 12 hours after this treatment for all the skin benefits – but you'll definitely at least want to rinse the hops and malt residue off before you get changed.
And of course, the beer taps remain on throughout your whole session.
Am I going to smell like beer?
Remember how I said I don't even like the smell of beer? My biggest fear before this experience was that the room was going to smell like beer, and that I'd leave smelling like beer. But guess what? Neither of those things happened!
Because you're mostly soaking in water and beer *ingredients,* there's really no strong beer smell in the treatment rooms. (It also helps that beer spas are not located at breweries, so there's no permeating smell of fermentation around.)
There's obviously beer involved in this experience since you can drink as much as you want, but I was so pleasantly surprised to find that nothing smelled too strongly of beer. (Even my swimsuit didn't smell bad, though I did rinse it out throughly with some shampoo.)
Is a beer spa for me?
If you've read this far and still are unsure whether this is an activity that you'd enjoy… then maybe it isn't. But I'll be honest: I went into my beer spa expecting to just get some content for a blog post (and that maybe that blog post would be about how I really didn't enjoy it), but I ended up having so much fun!
Going to a beer spa is definitely a unique experience. It's not cheap (especially in a place like Prague where beer IS really cheap), but I personally would still recommend it!
What if I don't drink beer?
Listen, I don't drink beer. At all. Any photo you see of me holding a beer is just that: a photo of me holding a beer. (Don't worry, though; Elliot drank all the beer we poured!)
You don't HAVE to drink beer to enjoy going to a beer spa. Sure, you'll get value for money if you do drink beer, but it's not a requirement for enjoyment.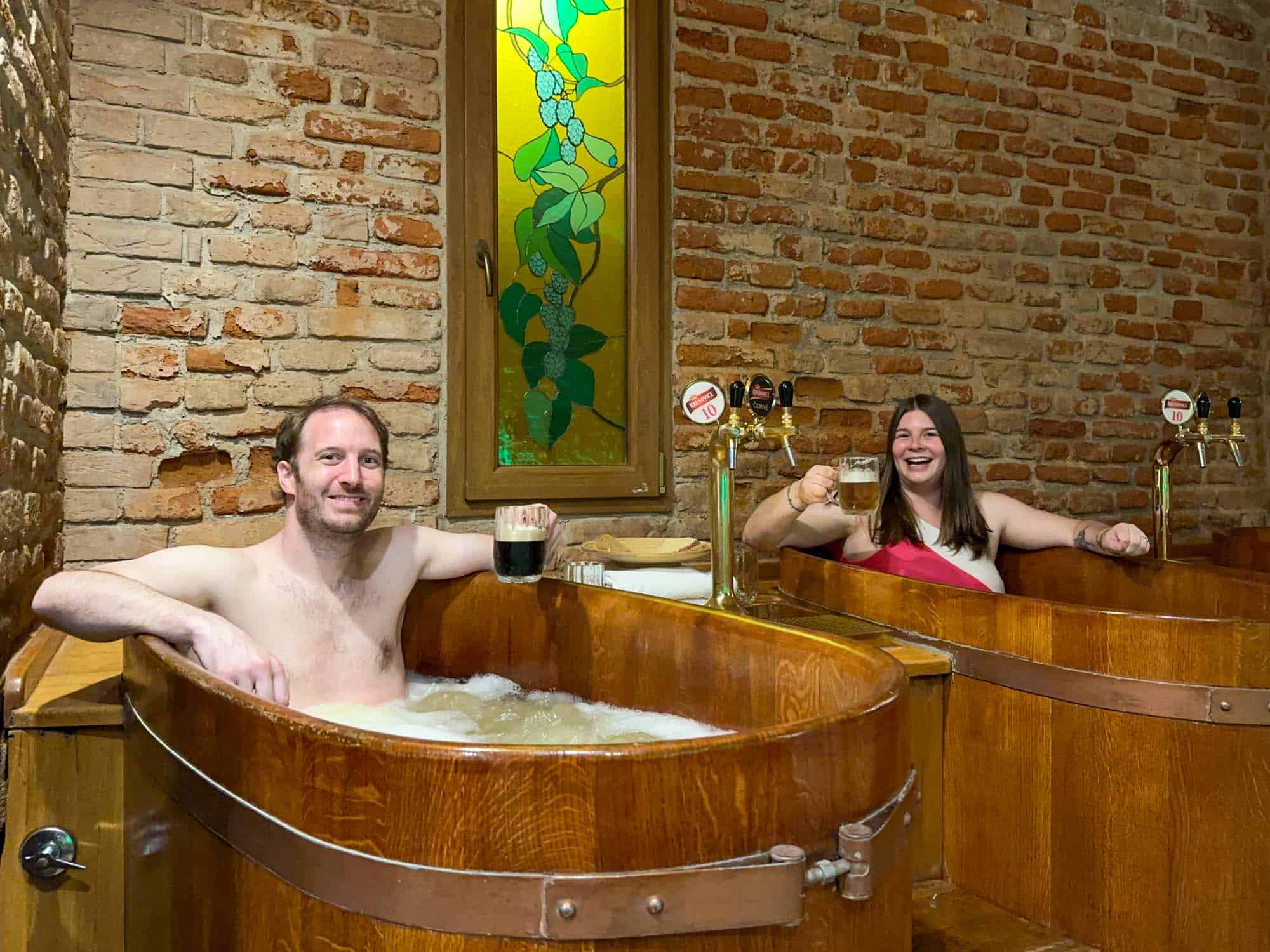 At least one beer spa in Prague actually offers a combo beer spa + wine spa, where you can soak in (and drink) wine instead of beer. This option includes one beer tub and one wine tub, which could be good for a couple where one of you doesn't love beer! (Book this option here)
---
So what do you think? Would you try out a beer spa in Prague?