Travel looks very different right now depending on where you're from and where you're going. Be sure to check local restrictions and be willing to adhere to any and all safety regulations before planning a trip to any of the places you may read about on this site. Also, some posts on this site contain affiliate links, meaning if you book or buy something through one of these links, I may earn a small commission (at no extra cost to you!). Read the full disclosure policy
here
.
---
What do you know about Ocala, Florida?
Chances are you probably don't know much. Unless you spend a lot of time in this part of northern Florida, or unless you really like horses, Ocala probably has never been on your radar.
But, after visiting Ocala and Marion County for the first time, I think it should be.
Here are three things you probably didn't know about Ocala, but that I think makes it a really cool part of Florida:
1. Horse Capital of the World
In the 1940s, horse breeding farms began popping up all throughout Marion County. Today, there are more than 70,000 acres of thoroughbred breeding and training farms around Ocala. The area has bred everything from world-champion show jumpers to Triple Crown winners (Affirmed, who won the Triple Crown in 1978 was bred and raised in Marion County).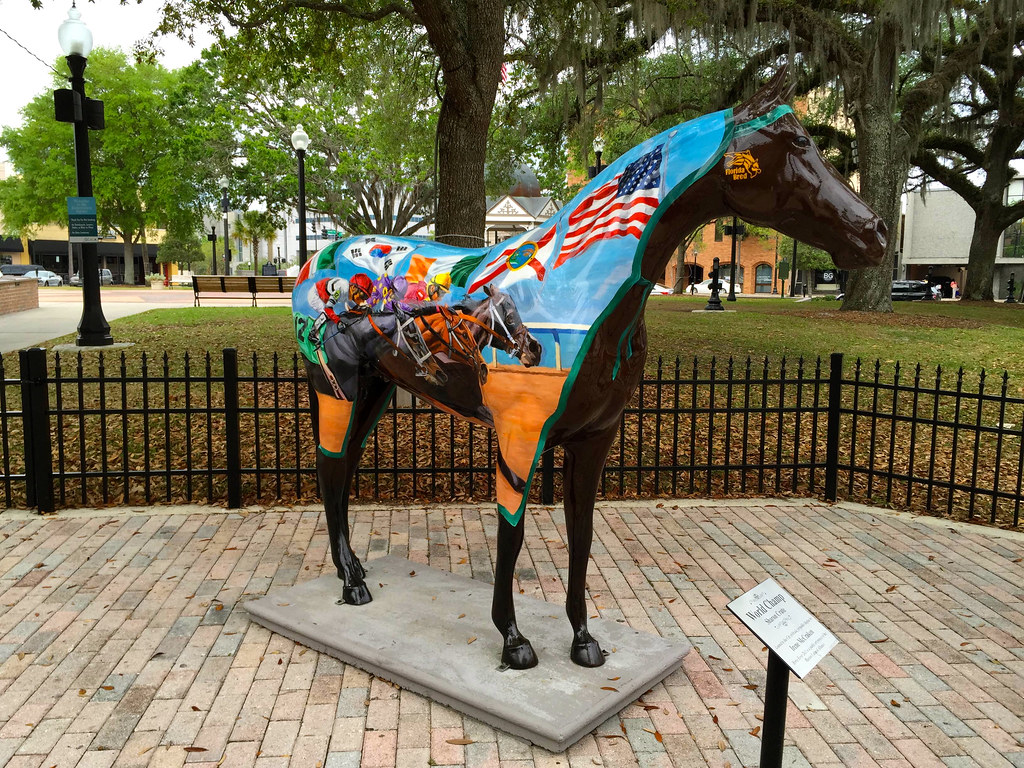 If you're a horse lover, this is the place for you — even the Ocala international airport serves horses!
2. First tourist attraction in Florida
One of Florida's earliest tourist attractions was Silver Springs — one of the largest artesian springs in the world on the Silver River. People have been visiting the springs and taking glass-bottom boat rides for more than 100 years.
The story goes that, due to the fact that it was already a popular destination in Florida, Walt Disney originally wanted to build Disney World near Silver Springs.
3. "Old South" feel
When you think "Florida," you probably don't picture Gothic Victorian architecture or towering oak trees draped in Spanish moss — but that's exactly what you'll find in Ocala's Historic District. Many preserved homes and buildings can be found along Fort Kind Street. Roaming around this part of Ocala reminded me a bit of Savannah with all the mossy trees and old homes.
Today, Ocala isn't the tourist hot spot that it once was. BUT, that doesn't mean that it's not worth a visit. Especially if you're driving to southern Florida from the midwest or the Carolinas, Ocala actually makes a perfect stop for a day or two.
Things to do in Ocala
Here were some of my favorite things to do in Ocala:
The Canyons Zip Line
Built over an old limestone rock quarry, the Canyons is probably one of the coolest zip line courses I've ever done. If you go for the full course, you do 9 zip lines (including many over the water-filled quarry and one that's over 600 feet long), and 2 rope bridges in about 3 hours. I had two really awesome guides and had a ton of fun.
Glass-bottom boat tour at Silver Springs
Not too long ago, Silver Springs was basically like a zoo or mini amusement park. But the state took over the springs and incorporated it into Silver Springs State Park a few years ago. Some of the locals complain that the park isn't "fun" any more without the zoo-like atmosphere, but I absolutely loved it.
The park has a slightly retro feel to it, along with plenty of walking tracks and places to sit and relax. A popular activity at Silver Springs is to take a 30-minute glass-bottom boat tour over top of the springs (which I did), or to rent a kayak and paddle on the river.
HITS horse show
Seeing as how Ocala is the Horse Capital of the World (and considering how much I love horses), I wanted to make sure to do something horse-related. There are plenty of options, from horseback riding to farm tours — but I happened to be there during the last weekend of HITS, a show jumping circuit that bases itself in Ocala for two months each winter.
HITS draws thousands of show jumpers and hunter/jumpers each year. Everyone from kids to world-class competitors bring their horses to compete. The whole thing ends with the Great American $1 Million Grand Prix.
The best part about HITS (other than the gorgeous setting and even more gorgeous horses) is that it's free to the public. Pop down for an afternoon, or spend a whole weekend watching jumpers in various classes and rings. The only part you'll spend money on are the grandstand competitions on Sundays.
For me, HITS showcased the horse-y spirit of Ocala better than anything else.
Where to stay in Ocala
There are plenty of hotels in and around Ocala, but if you want a truly unique experience, you have to stay at the Seven Sisters Inn.
Located in Ocala's Historic District, the Inn is housed in a Gothic Victorian home that dates back to about 1890. There are tons of beautiful, historic touches in the Inn, and each room has an international theme — you can travel from Beijing to Egypt to Morocco just by changing rooms. I stayed in the "Paris Apartment" and did not ever want to leave.
Bob, the main innkeeper, was happy to give recommendations on things to see and do in Ocala, and cooked up a mean 3-course breakfast in the mornings. I regret having a rather full schedule in Ocala, because I would have loved to just spend a morning and afternoon lounging around the Inn.
The Inn is also listed as one of the most "haunted" buildings in Florida, but I'm happy to report that I had no spectral visitors overnight.
So have I convinced you yet to visit Ocala?