Some posts on this site contain affiliate links, meaning if you book or buy something through one of these links, I may earn a small commission. Read the full disclosure policy
here
.
---
Portugal is by far one of the best-value destinations in Europe. And on top of its affordability, Portugal is also just an awesome place to travel. It's a small country, but packs a big punch when it comes to history, architecture, and incredible food.
Most people will tell you to do a road trip in Portugal in order to see it all, but I spent 10 days in Portugal, and was able to get around just fine using trains, buses, and my own two feet. In fact, if it's your first visit to Portugal, I would recommend seeing it just like I did.
If you're interested in copying my 10-day Portugal itinerary, read on for all the details (or get a printable version here)! It covers Lisbon and Porto, plus several day trips to places like Sintra and Braga.
The best time to visit Portugal
First of all, let's talk about when to go to Portugal. The good news is that you can visit this part of Europe pretty much year-round; the weather here is much milder than on other parts of the continent in the winter.
But for decent weather and fewer crowds, you'll want to visit in March-April or October-November. May and September are good months, too, though you're likely to run into higher temperatures and more people.
Months to avoid in Portugal are December and January (rainy season) and the height of summer (late June through August, when it's super hot and generally pretty crowded).
I've been to Portugal twice in March (in 2019 and 2023), and thought it was a great time to be there. It was already starting to get warm and busy in Lisbon (Lisbon's "low season" gets shorter and shorter every year), but was only just starting to feel like spring further north in Porto. I had mostly sunny days, and it was the perfect temperature to be out exploring.
How many days in Portugal do you need?
You could easily spend weeks exploring this amazing country, but since my audience (that's you!) typically doesn't have weeks to spend on one trip, I'm giving you suggestions for a 10 day Portugal itinerary. In 10 days you can see a lot of the highlights, including Lisbon, Sintra, Porto, the Douro Valley, and more.
If you want to see even more (including the Algarve or any of Portugal's islands), you'll need at least 2 weeks.
10 days in Portugal: My itinerary
I opted not to rent a car in Portugal. I don't really love driving alone in countries I've never been to before, plus it seemed pretty easy to get everywhere I wanted to go in Portugal without a car – and it was.
I also decided to just focus on two main cities on this trip (Lisbon and Porto), rather than try to cover every corner of the country in less than two weeks. The good news is that there are some easy day trips from both these cities, so you can still see most of the highlights in just 10 days.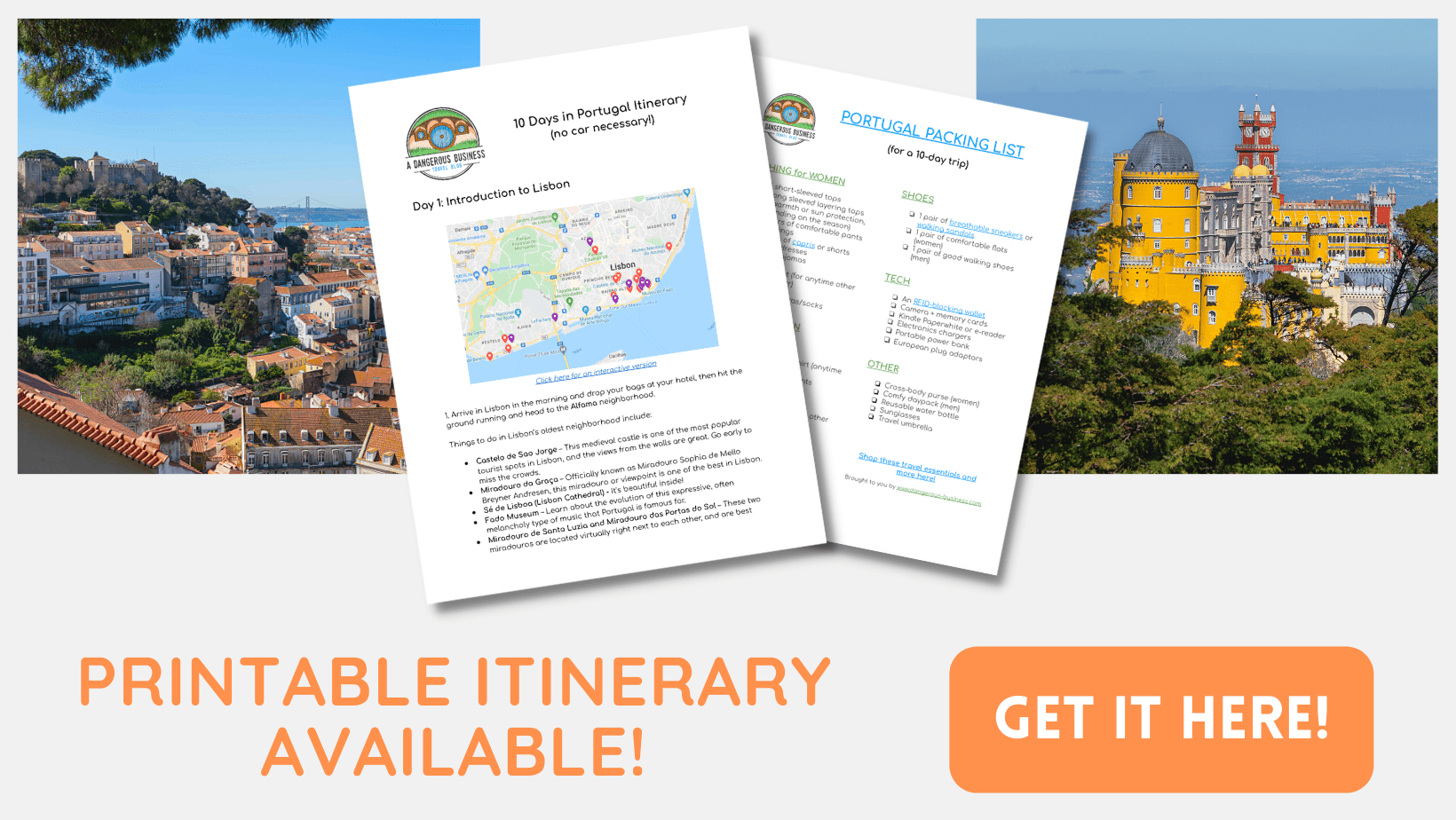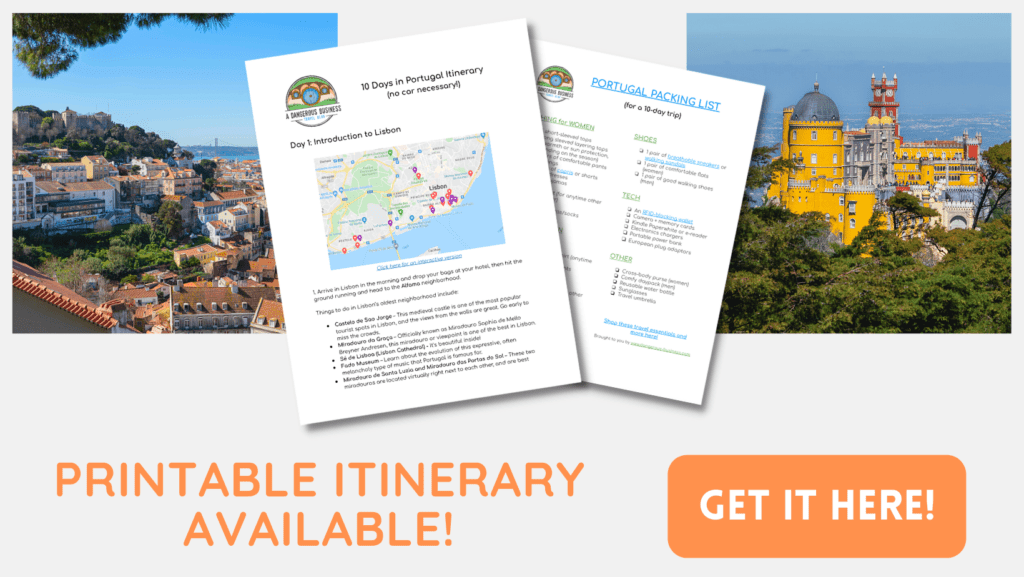 Without further ado, here's my Portugal 10 day itinerary that you can use to help plan your own trip!
---
10 days in Portugal quick guide
---
Day 1: Introduction to Lisbon
This itinerary will start and end in Lisbon, as it's the easiest city to fly into from any international destination. There are direct flights to Lisbon from several US cities (I flew direct from New York), and well as quick (and cheap) flights from most major European hubs.
You'll most likely arrive in Lisbon in the morning, so I recommend you hit the ground running! After you drop your bags at your hotel (if you're too early to check in, your hotel will be able to hold your luggage for you), make your way over to the Alfama neighborhood.
Alfama is the oldest part of Lisbon, where tiled buildings are perched along steep cobbled streets that stretch from the Sao Jorge castle to the Tagus River.
Most people will tell you to ride the touristy Tram 28 here, but I actually wouldn't suggest doing this; Tram 28 is usually extremely crowded and is one of the places you're most likely to get pickpocketed in Lisbon. Instead, either walk the hills of the neighborhood, or use a ride share app like Uber if you need to.
There are a few major sites worth seeing in Alfama:
Castelo de Sao Jorge – You can't miss this medieval castle at the top of the neighborhood. I personally don't think visiting is essential (it feels a bit overpriced to me), but go for it if you haven't visited a castle like this before. The views from the walls are pretty nice.
Miradouro da Graça – Officially known as Miradouro Sophia de Mello Breyner Andresen, this miradouro or viewpoint was my favorite one in Lisbon.
Sé de Lisboa (Lisbon Cathedral) – This is the oldest church in the city, and is very pretty inside.
Fado Museum – Learn about the evolution of this expressive, often melancholy type of music that Portugal is famous for.
Miradouro de Santa Luzia and Miradouro das Portas do Sol – These two miradouros are located virtually right next to each other, and are best visited in the late afternoon/early evening, when the sun will be shining on Lisbon's orange-hued rooftops.
You can also of course just wander the streets of this colorful and historic neighborhood. If you're looking for a good Alfama walking tour, this 3-hour one covers all the highlights, and this one combines a walking tour with an evening Fado show.
Where to eat today:
Lunch at Le Petit Cafe
Drinks at Portas do Sol
Dinner at Farol de Santa Luzia OR consider going to a Fado dinner show at a place like Parreirinha de Alfama or Tasca do Chico
Where to stay in Lisbon: I spent my time in Lisbon at the BE Poet Baixa Hotel, which is a boutique hotel right on Rua Augusta in Baixa. Other good hotel options include Memmo Alfama Hotel in Alfama, and the Corpo Santo Lisbon.
Day 2: Lisbon
Start your morning at Parque Eduardo VII, to the north of the Avenida da Liberdade and Marques de Pombal Square. Walk to the very top of the expansive park, where you'll find incredible views back down the manicured lawns toward the Tagus River.
Next, I recommend heading to another of Lisbon's most popular neighborhoods: Baixa-Chiado.
To get to the Baixa-Chiado neighborhood from the park, you have two options: hop on the metro to Rossio station, or walk straight down the Avenida da Liberdade. Walking to Rossio Square will take you about 30 minutes.
From Rossio Square, you can walk down the pedestrian-friendly Rua Augusta, which is lined with shops and restaurants. On your walk, you can stop to see the Santa Justa Lift (an outdoor elevator), and stop into a bakery to try some pastéis de nata, the delicious Portuguese custard tarts.
You'll end up in the Praça do Comércio, or Commerce Square, which is massive and great for people- and tram-watching.
Pro tip: There are LOTS of restaurants lining Rua Augusta, and several in the Praça do Comércio; many will have people outside with menus who will try to lure you inside for a meal. These are going to be your typical touristy spots: usually overpriced, and serving up mediocre food. Give these a miss!
Once you've had your fill, head back up past Rossio Square (you can either walk, or hop on the metro at Baixa-Chiado and ride the blue line one stop to Restauradores station). At the corner of the Avenida da Liberdade and Calçada da Glória, you'll find the lower station of the Ascensor da Glória, one of Lisbon's famous funiculars.
Locals and tourists alike use Lisbon's historic funiculars to navigate the city's steep streets. I recommend riding at least one while you're in town.
You can start with the Ascensor da Glória (also sometimes called Elevador do Gloria), which connects Restauradores Square with the Bairro Alto, another of Lisbon's oldest neighborhoods. This funicular lets you off right next to the Miradouro de São Pedro de Alcântara, which offers some nice views.
Pro tip: The Ascensor da Glória runs from Restauradores Square to the top station without making any stops, so if you want to get photos OF the funicular, you'll have to walk up/down the hill a bit.
From there, you can walk downhill a bit through Bairro Alto. Consider stopping to see the Ascensor da Bica (Lisbon's most-photographed funicular), which connects Rua de São Paulo and Largo do Calhariz, traversing one of Lisbon's steepest hills.
You can either take the funicular down (it runs roughly every 15 minutes), or walk down alongside it to snap some photos. At the bottom, you'll be in the Cais do Sodré neighborhood, which puts you in the perfect position to hit up the Time Out Market (an artisan food court) for dinner.
Where to eat today:
Coffee at Linha d'Água
Lunch at BEHER LISBOA
Gelato at Amorino Baixa
Dinner at Time Out Market
Where to stay in Lisbon: I spent my time in Lisbon at the BE Poet Baixa Hotel, which is a boutique hotel right on Rua Augusta in Baixa. Other good hotel options include Memmo Alfama Hotel in Alfama, and the Corpo Santo Lisbon.
Day 3: Day trip to Sintra
Today it's time to take a break from Lisbon and head to Sintra for the day. Sintra is a mountain town about an hour northwest of Lisbon. The region is hilly, forested, and dotted with fairytale-like palaces and villas – making it a must-see for most visitors to Portugal.
You can book a day tour to Sintra like this one, or you can do the trip on your own.
To visit Sintra on your own, you'll want to catch a train from Lisbon's Rossio Station to Sintra (and leave as early as possible to beat the crowds – Sintra is one of the most popular places to visit in Portugal!).
Once you arrive in Sintra, you'll want to snag a ticket for the 434 bus that runs in a loop to most of Sintra's top attractions.
In Sintra, you can visit:
The historic centre of Sintra (Sintra Vila)
Sintra National Palace
Castelo dos Mouros
Palácio Nacional da Pena (requires a timed ticket if you want to go inside the palace)
Quinta da Regaleira
Monserrate Palace
You can visit the first 4 spots using the 434 bus. You'll need to take another bus to Monserrate Palace and Quinta da Regaleira – or you can walk to Quinta da Regaleira from Sintra town.
Pro tip: You probably won't fit everything in to one day, so I would pick the top 3 things you want to see in Sintra and prioritize those first.
My recommendation for your day in Sintra is to skip past Sintra town center and the Castelo dos Mouros and make straight for the Palácio Nacional da Pena (Pena Palace) from the train station.
This brightly-painted palace is regarded as one of the very best in all of Europe, and it's definitely the most popular spot to visit in Sintra. You now need to book a timed ticket in advance if you want to enter the palace itself. (Book direct here.)
After visiting Pena Palace, spend some time walking through Parque de Pena (the grounds surrounding the palace) before heading back to Sintra town for lunch and to visit Sintra National Palace.
From the national palace, it's only about a 15-20 minute walk to the Quinta da Regaleira, a fancy villa with fairy tale-like gardens that is my favorite place in Sintra. You can easily spend a couple hours here exploring the gardens.
Then it's just a 1-hour train ride back to Lisbon.
For a more complete guide to taking a day trip to Sintra, check out this post: How to Plan an Epic Day Trip to Sintra in Portugal. Or you can book a guided day tour here.
Where to eat today:
Lunch at Bacalhau na Vila or Romaria de Baco in Sintra
Pastries at Piriquita in Sintra
Dinner at Saudade, Incomum by Luis Santos, or Restaurante Metamorphosis in Sintra
Where to stay in Lisbon: I spent my time in Lisbon at the BE Poet Baixa Hotel, which is a boutique hotel right on Rua Augusta in Baixa. Other good hotel options include Memmo Alfama Hotel in Alfama, and the Corpo Santo Lisbon.
Day 4: Lisbon and Belem
Back in Lisbon today, you can either have a chilled out morning, or you can go check out the National Azulejo Museum. This museum is dedicated to the art of tilework in Portugal. The museum only costs 5 Euro to enter, and is housed in the former Convent of Madre Deus, which dates back to 1509.
It's worth visiting if you want to learn more about the beautiful azulejo (tiles) you see all around Portugal.
In the afternoon, I recommend heading out to Belém. Belém is technically part of Lisbon, but really feels like a different town. It lies to the west of central Lisbon on the Tagus River; you can get there by Uber, tram, or by taking a train from Cais do Sodré.
If you remember anything about your early world history classes in school, you might remember that Portugal used to be known for its explorers. To get to know this part of Portugal's fascinating history, you need to spend some time in Belém.
Must-see sights in Belém include:
Mosteiro dos Jerónimos (Jerónimos Monastery) – A UNESCO World Heritage Site that dates back to the 16th century.
Padrão dos Descobrimentos (Monument of the Discoveries) – A monument that celebrates the Portuguese Age of Exploration during the 15th and 16th centuries.
Torre de Belem (Belém Tower) – This tower used to guard the entrance to Lisbon's harbor, and would have been the last part of Portugal many sailors and navigators saw as they set out on their voyages of discovery.
Quake – Lisbon Earthquake Centre – An interactive museum where you can learn about the famous 1755 Lisbon earthquake that had devastating effects on many parts of Europe and even North Africa.
You'll also probably want to stop at Pastéis de Belém, a historic bakery that makes custard tarts by the same name. This is one of the most famous places in Lisbon, so expect to have to wait in line – but I promise the line moves fact, and the tarts are worth it!
I took a guided tour of Belém that I really loved – this one – which is super affordable and covered all the interesting history of the area.
Where to eat today:
Pastries at Pastéis de Belém
Dinner at LX Factory
Where to stay in Lisbon: I spent my time in Lisbon at the BE Poet Baixa Hotel, which is a boutique hotel right on Rua Augusta in Baixa. Other good hotel options include Memmo Alfama Hotel in Alfama, and the Corpo Santo Lisbon.
Day 5: Half-day trip to Óbidos
You've been busy in Lisbon, so take it easy today! If there are any additional spots in the city you wanted to see (or maybe some you want to revisit), do that this morning. Then, in the late morning or early afternoon, I recommend heading to the town of Óbidos.
The easiest way to get to Óbidos is by bus. The Rodotejo bus company runs its Rapida Verde (Green Express) service to Óbidos from outside Lisbon's Campo Grande Station at least once per hour (check timetables here).
The bus to Obidos leaves from Terminal 2, and has the town of Caldas da Rainha as the final destination. Tickets are 8 Euro one-way, and you buy your ticket from the driver when you get on the bus. The ride to Óbidos takes an hour.
Pro tip: Arrive at the bus stop early, as the bus can sometimes fill up!
Óbidos itself is an incredibly cute and historic town famous for being surrounded by a fortified wall. I spent a few hours wandering the streets of Óbidos and walking along sections of its old wall.
You can also do a bit of shopping here, and try the strong cherry liqueur drink Ginja – many places serve it in little edible chocolate cups!
You can also see the old medieval castle (which today is a private hotel), visit a church or two, and just enjoy getting a little lost in the narrow streets and alleyways.
If you visit in spring, you'll likely see lots of flowers in bloom.
After exploring (I'd say 2-4 hours is plenty of time in Óbidos), you can catch the bus back to Lisbon.
(And if you don't want to go to Obidos on your own? You can also book a full-day tour from Lisbon to Fatima, Obidos, Batalha and Nazaré.)
Where to stay in Lisbon: I spent my time in Lisbon at the BE Poet Baixa Hotel, which is a boutique hotel right on Rua Augusta in Baixa. Other good hotel options include Memmo Alfama Hotel in Alfama, and the Corpo Santo Lisbon.
Day 6: Train to Porto
It's time to bid Lisbon farewell today and head north to Porto. While Lisbon is a great city, many people love Porto's vibe even more; it's smaller than Lisbon, and generally less busy.
You can travel to Porto via bus or train, but train travel is usually my preferred method of travel. Train travel in Portugal is comfortable, efficient, and pretty affordable. (Search for train ticket options here.)
Traveling from Lisbon to Porto by train takes about 2 hours and 50 minutes on the Alfa Pendular express, and tickets are usually around 20-30 Euro per person. (There's a slightly cheaper intercity train, too, but I recommend going with the Alfa Pendular as it's a really nice train and gets you there faster – when you search for train options, look for the ones marked "AF" instead of "IC".)
You can catch the train at Lisboa Oriente station, and it will arrive at Porto Campanhã. For getting to/from the stations with your luggage, I recommend a taxi or ride share.
Pro tip: Catch a train in the morning so you'll have some time to explore Porto a bit today.
Once you arrive in Porto, make your way to your hotel and check in, and then spend some time exploring some of Porto's main sites.
For an afternoon in Porto, I recommend a walk along the Cais da Ribeira, or the waterfront right along the Douro River in the oldest part of the city. This is where much of Porto's trade used to happen, though today the old warehouses have been transformed into cafes and shops.
Take a stroll here to admire the colorful buildings, and stop at one of the waterfront cafes for a coffee or glass of wine.
From the Ribeira, make your way to the Dom Luís I Bridge, the grand iron bridge spanning the Douro River that was designed by a student of Gustave Eiffel. Cross the bridge over to Vila Nova de Gaia, which has some of the best views of Porto and is home to the city's best port lodges (cellars).
If you have time, pop in for a port tasting or two. Cálem and Sandeman are two of the most famous cellars in the area, but you can also try Taylor's or Graham's for a tour or tasting.
Finally, head over to the Jardim do Morro or fortress-like Monastery of Serra do Pilar for the best sunset views over the river. From this vantage point, you can watch the sun set and the twinkling lights of Porto come on at dusk.
Where to eat today:
Bacalhau for seafood (go for lunch for a better chance of getting a table)
Lado B or Cafe Santiago to try a Francesinha sandwich
Where to stay in Porto: I stayed at Pestana Porto – A Brasileira, a luxury hotel in a historic building in the heart of Porto. I loved everything about this hotel, and it was really affordable during the off-season despite being a 5-star property. Other good options in Porto include Hotel Infante Sagres (mid-range), or The Yeatman across the Douro River in Gaia (luxury).
Day 7: Porto
Get ready, because today's going to be a very full day of exploration in Porto! Porto is a fairly small and compact city, meaning you can pack a lot into just one day.
If you're into either Harry Potter or unique architecture, I recommend starting your day at Livraria Lello. This bookstore from the 1800s is said to have *maybe* inspired author JK Rowling while she was living in Porto in the early 1990s. The bookstore certainly looks like something that belongs in Hogwarts or Diagon Alley, and the crowds each day reflect this tenuous tie to the Boy Who Lived.
Entry to Livraria Lello is now ticketed, and you should book a timed ticket (€5) online. I would book the first time slot of the day and arrive at least 15-30 minutes before the shop opens in order to be one of the first ones inside to admire the shop's striking red staircase and Art Nouveau/Art Deco design.
From Livraria Lello, I recommend making your way down to the Palacio da Bolsa to continue your architectural tour of Porto. The Neoclassical Palacio da Bolsa was built in the 19th century to be the seat of Porto's Commercial Association. It's name translates to "Stock Exchange Palace" – but don't be fooled into thinking this is just a boring financial building.
Inside, it really does look like a royal palace. Highlights inside the Palacio da Bolsa include the glass-domed Pátio das Nações (Hall of Nations), and the Arab Room, which is decorated in a lavish Arabic Revival style.
In order to visit, you need to book a spot on a tour (€10). They offer tours in multiple languages, but the language a tour is offered in is based on the first person who books. (Book in advance here.)
From the Palacio da Bolsa, you might want to visit one of Porto's grand cathedrals. The Igreja Monumento de São Francisco is right next to the Palacio da Bolsa, and the Sé do Porto (Porto Cathedral) is a short walk away.
If the weather is nice, you might want to head back down to the Ribeira and hop on an hour-long cruise on the Douro River to see the Six Bridges of Porto. Seeing the city from the water will give you yet another set of amazing views. (Book a cruise here; they run hourly.)
This evening, I recommend taking a food tour in Porto. I went on a "Vintage Food Tour" with Taste Porto Food Tours, which is a 3.5-hour journey through Porto's evolving food scene. The tour includes tastings of everything from coffee to canned fish to a bifana (pork) sandwich, and ends with a thorough Port wine tasting.
I love doing food tours on my travels, and this one is a great introduction to Porto's food scene. (Plus, you get more than enough tastings to cover dinner!)
Where to stay in Porto: I stayed at Pestana Porto – A Brasileira, a luxury hotel in a historic building in the heart of Porto. Other good options in Porto include Hotel Infante Sagres (mid-range), or The Yeatman across the Douro River in Gaia (luxury).
Day 8: Day trip to Braga
You really only need two days to see all the highlights in Porto. So today I recommend taking a day trip. My pick is the city of Braga, located to the northeast of Porto. This city is known for the Bom Jesus do Monte religious complex, which I've wanted to visit ever since seeing photos of it a few years ago.
I did this day trip independently, which began with buying a train ticket at the São Bento train station in Porto.
Pro tip: Get to São Bento a little early so you can admire the painted tile walls before you have to catch your train.
To get to Braga, you'll take a suburban train from Porto. You can buy tickets from a machine when you're ready to leave (no need to pre-book). They cost 3.75 Euro one-way, and the machines do offer an English language option (just look for the metal button with a British flag over it).
Before getting on the train, you'll need to validate your ticket using a machine on the platform.
The train to Braga takes a little over an hour, and the station you're listening for is just called Braga. When you arrive, it's a 5-10 minute walk from the station to the historic center.
Pro tip: You'll likely be able to follow others out of the station and into town, but it's not a bad idea to pull up a map of the city before you leave. Google Maps does allow you to save maps to your phone for offline use, or you can download an app like Maps.me that offers offline maps.
There are several pretty buildings and squares to see in Braga, which you might want to stop and do on your way through town. Some highlights include Paços do Concelho de Braga (Braga City Hall), Sé de Braga (Braga Cathedral), São Marcos Church, Antigo Paço Arquiepiscopal (Archbishops's Court), Palácio do Raio, and Praça da República.
But of course the goal is to get to Bom Jesus do Monte, a UNESCO World Heritage Site as of 2019, which is located just outside of Braga.
To get to Bom Jesus do Monte, you can either call an Uber/taxi, or you can take a bus.
You catch the local #2 bus on Avenue da Liberdade in Braga. The bus stop is on Avenida da Liberdade (the main street that starts at the Praça da República) just after it intersects with the Rua do Raio, diagonal from the post office. Buses leave roughly every 30 minutes at :10 and :40 past the hour, and you buy the 1.65 Euro ticket from the driver when you get on.
The bus ride to Bom Jesus do Monte takes 15-20 minutes, and Bom Jesus is the final stop. The bus drops you off near the Antique Funicular and the bottom of the famous "Sacred Way" staircase and its 577 steps.
I recommend taking the funicular on the way up. The funicular dates back to 1880 and is the oldest funicular in the world moved by water counterbalancing. The funicular runs more or less in conjunction with the buses, so head straight there to buy your ticket (which costs 1.50 Euro) when you get off the bus.
Once at the top, you can explore the grounds of the sanctuary complex, which includes gardens, a small grotto, the double-towered Bom Jesus church, and even a cafe.
The best part about visiting Bom Jesus do Monte is that it's completely free, so take your time soaking in the tranquil atmosphere.
The highlight of this sanctuary, though, is undoubtedly the staircase, which I purposefully saved for last. There are 577 steps leading up towards the church, with the last couple hundred built in an incredible Baroque pattern that zig-zags upward.
The staircase design includes statues, dioramas depicting the Stations of the Cross, as well as fountains that represent each of the five senses (touch, smell, taste, sight, sound).
Bom Jesus do Monte has been a site of pilgrimage since it was built, and the idea is that as pilgrims climbed the stairs (preferably on their knees), they would encounter a theological program that touched on all the senses.
I recommend walking all the way down the steps to fully appreciate them.
Once you get back down to the bottom of the staircase, you can catch the bus either back to central Braga if you want to explore more, or head straight to the train station to take the train back to Porto (the #2 bus goes to the train station, too).
Don't want to navigate Braga on your own? You can also book a day trip from Porto that includes both Braga and nearby Guimarães. Book here.
Where to eat today:
Coffee and/or lunch at Cafe A Brasileira in Braga (the most famous coffee shop in Braga with beautiful architecture)
Dinner at Tapabento in Porto (near São Bento train station; making a reservation ahead of time is highly recommended)
Where to stay in Porto: I stayed at Pestana Porto – A Brasileira, a luxury hotel in a historic building in the heart of Porto. Other good options in Porto include Hotel Infante Sagres (mid-range), or The Yeatman across the Douro River in Gaia (luxury).
Day 9: Douro Valley tour
You can't visit northern Portugal and not visit the famous Douro Valley.
The Douro Valley is a special wine grape-producing region in Portugal. It's where the famous Port wine comes from – and the ONLY place port wine comes from. It's like the Champagne region in France; under Protected Designation of Origin laws in the EU, only fortified wine made with grapes from the Douro wine region can be called port.
People will tell you that the best way to explore the Douro Valley is by car, but if you're like me and don't want to rent a car solo in Portugal, you can easily visit the hilly wine region on a day trip from Porto.
I booked a day trip that included a tour and port tasting at one vineyard, lunch and another port tasting at another vineyard, and an hourlong cruise on the Douro River. (It was this tour, and it was great!)
The Douro is know for its steep vineyards – so steep that the grape-picking can't be automated by machines; in this part of the world, nearly everything is still done by hand. Getting up close to the vineyards and learning about the port-making process from locals was definitely a highlight.
Plus, the scenery is just stunning!
A day tour to the Douro Valley will last 8-9 hours, but it's absolutely worth it to get a feel for this unique region.
Check out the tour I did: Douro Valley Day Tour Review
The tour includes pick up/drop off at your hotel in Porto, so you'll return in time to grab one last dinner in the city.
Where to stay in Porto: I stayed at Pestana Porto – A Brasileira, a luxury hotel in a historic building in the heart of Porto. Other good options in Porto include Hotel Infante Sagres (mid-range), or The Yeatman across the Douro River in Gaia (luxury).
Day 10: Train back to Lisbon
Today is sadly the last day of this itinerary. If you're flying home from Lisbon, then you'll want to catch a train back to the Portuguese capital this morning or afternoon.
If you're not flying out today, enjoy another evening in Lisbon! This is your chance to try out any restaurants you missed, or to maybe see another Fado show.
If your flight is tomorrow morning, I can recommend Melia Lisboa Aeroporto Hotel as a good hotel option near the Lisbon airport. This hotel is clean, affordable, and within walking distance to both the airport and the airport metro station (though they also offer a free shuttle). I stayed here in Lisbon twice!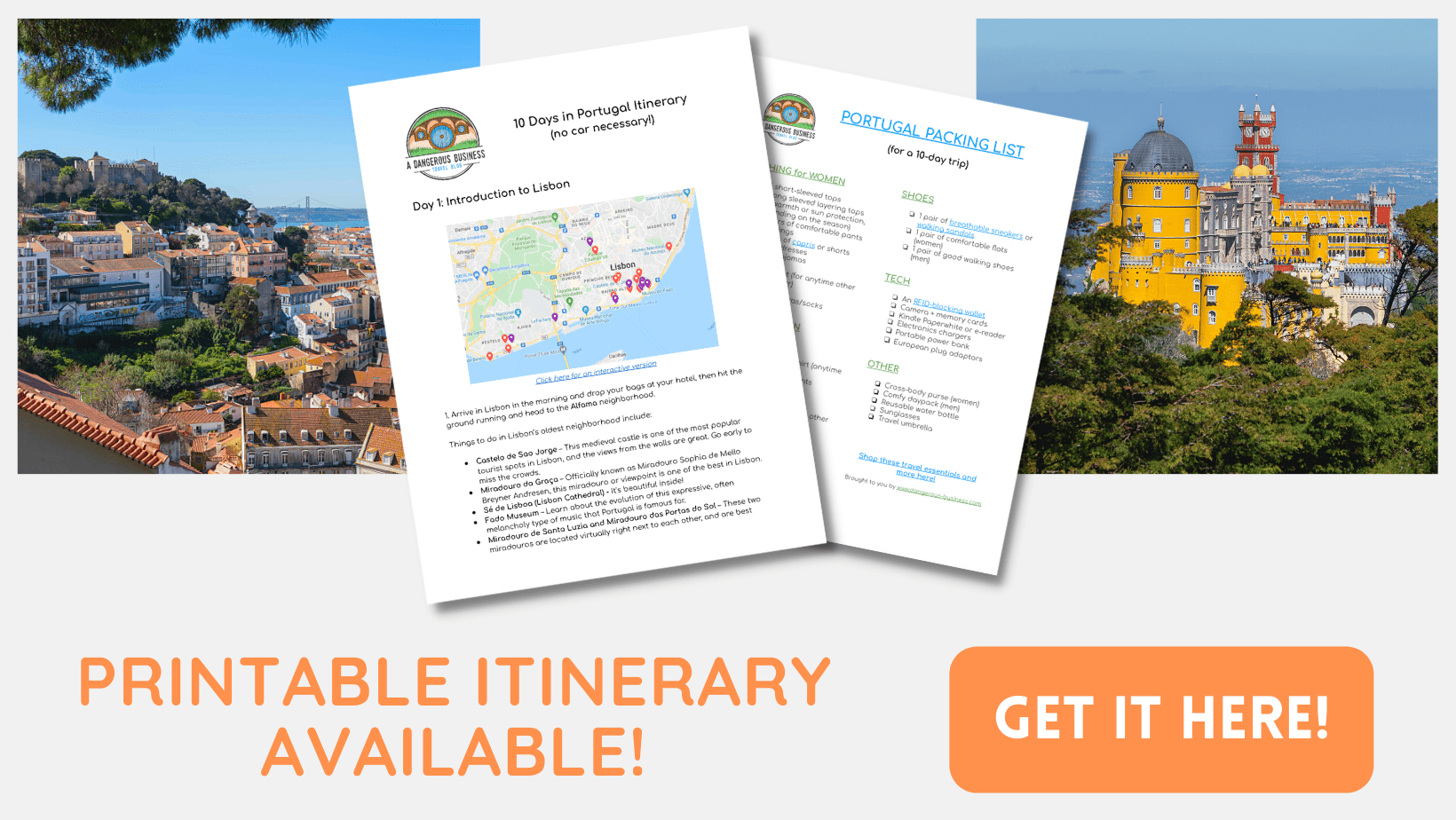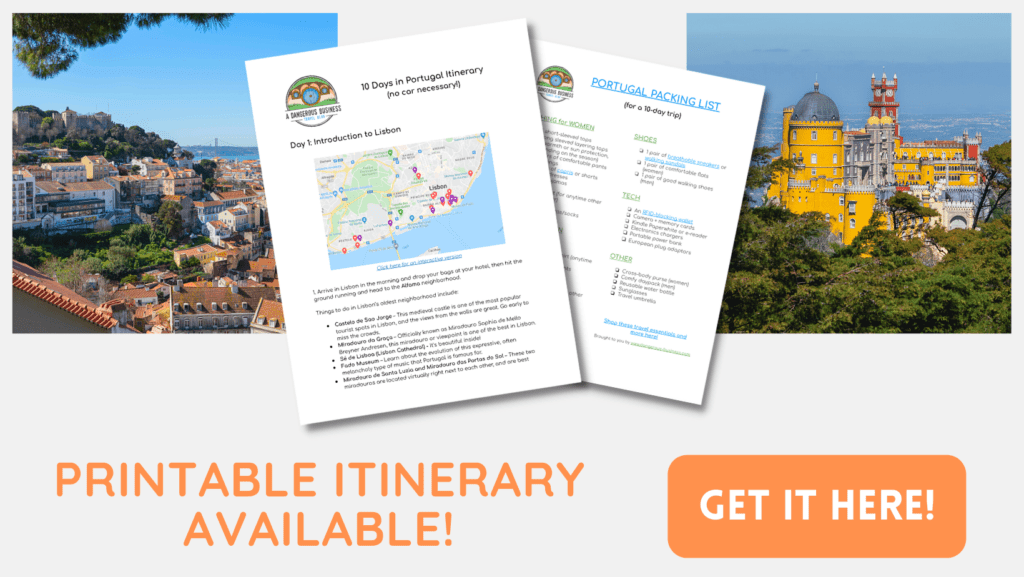 If you have more time…
If you want to add even more day trips to your Portugal itinerary, there are a few more I would recommend (but didn't get around to myself). These include:
A trip to Cascais (beach resort-type town) from Lisbon
A day trip (or overnight trip) to Evora from Lisbon (like this one)
A day trip to Aveiro/Costa Nova from Porto (you can even take a tour)
A stop in the university city of Coimbra between Lisbon and Porto
What about the Algarve?
One notable omission from my 10-day Portugal itinerary is the Algarve, the southern coastal region famous for its craggy cliffs and sandy beaches.
While I really wanted to squeeze the Algarve in, the reality is that you can't possibly see it all in just a 10 day Portugal trip. If you have another few days to spend in the country, then I would indeed look into heading down to Faro, Albufeira, or Lagos (Lagos would be my pick) for a few days of beach time.
(Read my itinerary for 3 days in Lagos for more info!)
You can get to Lagos or any other city in the Algarve by train or bus from Lisbon; it usually takes about 4 hours. Once there, some of the most popular things to do (other than visit beaches) are to hike along the Ponta da Piedade sea cliffs and go on a boat tour or kayaking tour through the sea caves.
---
Have you been to Portugal yet? If not, what would you most like to see?
Pin it for later: