Some posts on this site contain affiliate links, meaning if you book or buy something through one of these links, I may earn a small commission. Read the full disclosure policy
here
.
---
It doesn't really matter how many times I've been to moody Glencoe or seen the shores of Loch Ness or taken photos of Eilean Donan Castle – there's just something about the Scottish Highlands that keeps drawing me back.
So when I convinced my mom to travel to the UK with me this summer, I KNEW I had to take her into the Highlands. (I'm starting to think that this part of the world really IS magical; it certainly has me under its spell.)
The trip that made me fall in love with the Highlands was a 5-day tour with Haggis Adventures back in 2012. But that tour is definitely more for backpackers than moms, so I was on the hunt for a Highlands tour that wouldn't include drinking games or sleeping in hostels.
I came across Highland Explorer Tours, which, as it turns out, is actually a sister company to Haggis! YES! I had such a great experience with Haggis 3 years ago that I didn't hesitate to book us onto a 3-Day Isle of Skye and the Highlands tour with Highland Explorer.
And, yet again, I was not disappointed.
Based in Edinburgh, Haggis and Highland Explorer share the same great, knowledgable guides and use a fleet of brightly-colored mini buses (yellow for Haggis and blue for Highland Explorer) to transport visitors all over Scotland. Just as when I traveled with Haggis, my experience with Highland Explorer was one of beautiful scenery and great guiding.
The one major difference? This trip into the Highlands was full of SUN and warmer temperatures!
What will you do?
Of course now you're probably wondering what exactly we did in the Highlands for three whole days. And the answer is: a lot! Here's a look at some of the highlights:
Day 1
We set off from Edinburgh in the morning, stopping for second breakfast in Dunkeld where we also had time to visit a ruined cathedral. We stopped at a war memorial within sight of Ben Nevis (Scotland's tallest mountain), and had time to grab lunch on the shores of Loch Ness.
In the afternoon, we stopped at Eilean Donan Castle, the most-photographed castle in Scotland. We had enough time to tour the inside of the castle, but my mom and I skipped it since I'd already been before. (Entry is 7 GBP if you do want to go in.) Instead, we walked along the lake shore to take photos!
Then we headed over the bridge to the Isle of Skye, arriving in the capital of Portree in time for dinner and some beautiful evening light. I climbed up a watch tower for a better view out over the harbor – I still can't BELIEVE we had weather this nice!
Day 2
Day 2 was ALL about the Isle of Skye. We saw the Old Man of Storr (which was cool because the last time I was on Skye it was too cloudy/misty to see it), the Fairy Falls, Kilt Rock, and also Lealt Falls.
We stopped at Dunvegan Castle for lunch, and had time to tour the home of Clan MacLeod and its gardens. My mom really enjoyed this part, and for good reason – the castle was gorgeous inside!
This was probably my favorite day of the tour, simply because the Isle of Skye is so stunning. Stay tuned, because I'll be writing more about this island soon!
Day 3
Our final day of the tour was no less jam-packed than the first two. We started off with a visit to the museum at the Clan Donald Centre and ruined Armadale Castle, which for a long time was home to the Macdonald family.
We then headed for the ferry terminal and hopped on a boat that took us from the Isle of Skye back to the mainland. The trip from Armadale to Mallaig was GORGEOUS – once again, the sun followed us on our journey.
Once in Mallaig, we all boarded the Jacobite Steam Train – the train that served as the Hogwarts Express in a few of the Harry Potter movies. This 2-hour train ride is an optional add-on to the tour, but every single person in our group signed up for it. It's kind of a no-brainer, though – the Jacobite's route is recognized as one of the best short train trips in the world. And, indeed, the Highland scenery did not disappoint! (Again, stay tuned because I'll write more about this later!)
After the Jacobite, we made our way back to Edinburgh with a few more stops – including one at Glencoe, where a sad massacre took place in the 1690s. Our guide was full of historical facts, and he told us stories about Glencoe, the Jacobite uprisings, and William Wallace on the way back to Edinburgh.
What's included?
When you go to book your tour, you'll be paying for your guide and transport, as well as your accommodation for two nights. Breakfast is included for two days, but you'll be responsible for the rest of your food/snacks. You'll also be responsible for paying for optional extras (in this case, like entry to Dunvegan Castle and the Jacobite Steam Train).
Who will you travel with?
Like I mentioned earlier, Haggis is geared towards backpackers. Highland Explorer, therefore, is aimed more at the non-backpacking crowd. Instead of hostels, you'll stay in hotels and B&Bs. The optional activities may be a little more low-impact. And you won't be guilted into drinking games or toga parties at night (though it was admittedly super fun when I was traveling solo three years ago).
I won't say that Highland Explorer is more for the older crowd, because we had everyone from families with teenagers to university friends to couples (young and older) traveling in our group. I thought it was the perfect type of tour for my mom and I to go on together.
Who is the guide?
We had a young Scottish guy named David as our guide. He went to university to study history, and was absolutely bursting at the seams with knowledge about Scotland and its history. He made our bus rides fascinating with his stories, and played lots of Scottish music in between.
I've now been on a handful of tours with both Haggis and Highland Explorer, and I'll say this about their guides: they're all FANTASTIC. They all have their different interests and their different ways of guiding, but they all have one major thing in common: they really, really love Scotland and love sharing it with other people.
How will you travel?
We traveled via mini-bus around Scotland. The bus was comfortable and we stopped every hour or two for breaks – but be aware that you WILL spend a few hours a day on a bus on this tour. That's mostly because you pack a lot in to just three days – plus, the first day includes getting to the Isle of Skye, which takes at least 6 hours.
Where will you stay?
This tour includes two nights in Portree on the Isle of Skye. My mom and I stayed at the Rosedale Hotel right down by the Portree harbor (which is one of the hotels Highland Explorer recommends). The hotel used to be a handful of fishermen's cottages, and retains a lot of that old maritime charm. It also has a great restaurant up on the second floor.
About half of our group stayed at the Rosedale, while the other half stayed at a locally-run B&B a little further away from the center of Portree.
One tip about Portree: If you want to eat at any of the seafood restaurants down by the harbor, you WILL probably need to book a table ahead of time! We had a tough time finding a place to eat the first night we were in town and ended up just getting takeaway fish and chips (which was delicious, BTW).
Would I recommend it?
Short answer: YES. Like I said before, I've had great experiences traveling with both Haggis and Highland Explorer, mostly thanks to their great guides and great itineraries.
Could you do a trip like this on your own? Sure, if you rented a car it would be easy to visit all the same places. But having a guide really can make a huge difference, and in this case I know my mom preferred riding in a bus to us driving ourselves around on Scotland's narrow roads.
If you want a great taste of the Highlands but don't have a lot of time, this tour is perfect. You see a lot of the highlights in just three days, and it doesn't cost a ton of money.
(If you have 5 days instead of 3, though, this tour would be even better!)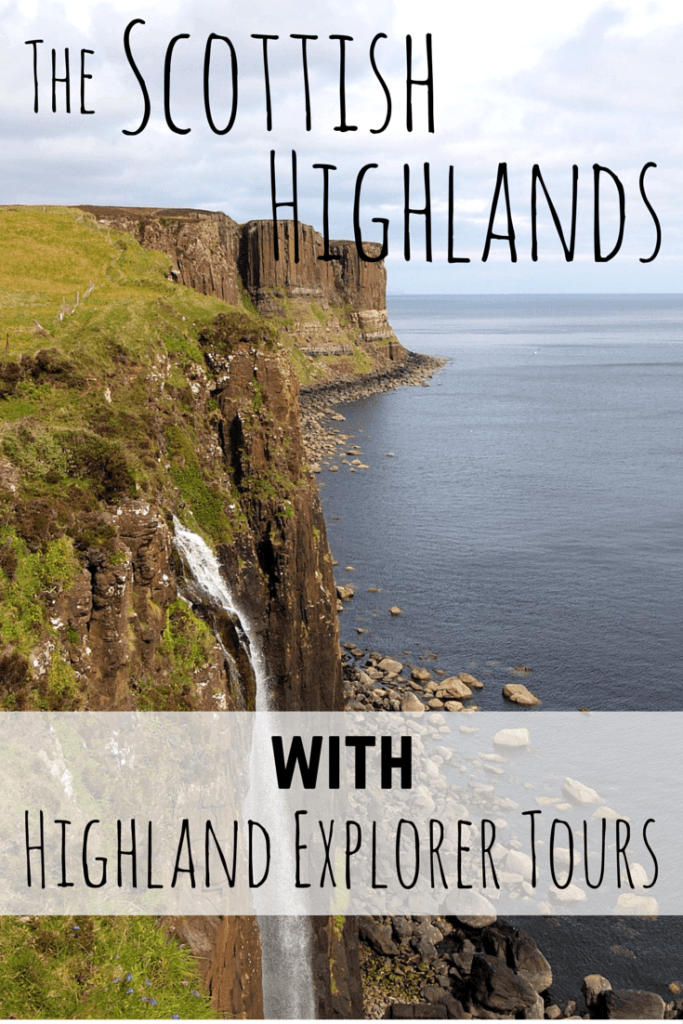 IF YOU GO
What: Isle of Skye & the Highlands 3-day tour with Highland Explorer Tours
How much: Twin shares start at $549 per person, which includes guiding, transport, accommodation for 2 nights, and 2 breakfasts. Optional extras include Dunvegan Castle ($19 per person) and the Jacobite Steam Train ($74 per person).
When: This tour runs from April-October, with various departure days depending on the month.
What to bring: They recommend a small bag weighing 15kg or less since the buses don't have a ton of storage space.
What to pack: Layers are always a good idea for Scotland. Even in the summer it can be wet/chilly, so you'll want to be prepared. Here are a few things you definitely want to have:
Have you ever been to the Scottish Highlands?
*Note: Big thanks to Highland Explorer Tours for covering the cost of our tour and accommodation on this trip. As always, though, all opinions are 100% my own!