Some posts on this site contain affiliate links, meaning if you book or buy something through one of these links, I may earn a small commission. Read the full disclosure policy
here
.
---
I've said it before but I'll say it again: there's no better way to see the United States than by taking to the road.
Road tripping is the ultimate way to explore America, and there's no shortage of options whether you want to travel for 10 days or 10 months.
Certain US road trip routes are more popular than others, though; we've all heard of Route 66 and California's Highway 1. You've maybe looked into driving through the American Southwest, or perhaps through New England in the fall.
But what about the states that tend to be overlooked? While Utah and California and even Florida have great road trip potential, the truth is that there's something to see in EVERY state in this union.
Which is why my sister and I decided to tackle a slightly less-popular road trip route: we decided we wanted to focus on the northern states that never seem to get enough love. States like Montana, Wyoming, North Dakota, and South Dakota.
These four states are some of the least-populated in the US, and yet they're home to some of the most stunning national parks, the quirkiest cities, and some of the nicest people.
If you're interested in a unique US road trip route this summer (or spring or fall, or whenever), consider one like this.
When to take a Northern USA road trip
This particular itinerary is written with summer road tripping in mind, as it's the most popular time of year to visit this part of the USA. BUT, you can absolutely visit Montana, Wyoming, and the Dakotas in a different season.
Summer season is the busiest season for traveling within the United States; July and August are by far the most crowded times in most national parks, and the months when hotel rooms are the most expensive.
If you want to save some money (and miss the worst of the crowds), consider traveling in the shoulder seasons, like April/May and September/October.
You can visit this part of the US in the winter, too, though winter does bring snow and closures to many of these destinations. If you're planning this trip in the winter months, be sure to do some research into what will/won't be open, especially when it comes to visiting national parks.
(Again, this particular itinerary is written with a May-September trip in mind!)
A 12-Day Road Trip Itinerary for Montana, Wyoming, and the Dakotas
Before we dive in here, it's important to note that this itinerary does include traversing through or near some Indigenous lands, mostly belonging to the Dakota, Lakota, and Nakota Sioux tribes. These include the Pine Ridge Reservation in South Dakota, the Wind River Reservation in Wyoming, and the Crow Reservation in Montana, as well as lands that traditionally belonged to these and other Indigenous peoples. Please be respectful when visiting and passing through these places.
You can technically start this northern road trip in a handful of different cities (my sister and I actually drove from where we live in Ohio), but in order to really get the most out of the time you have, I highly recommend starting/ending in either Minneapolis, Minnesota, or Sioux Falls, South Dakota.
Sioux Falls is ideal if you can find decent flights there since it will save you some uninspiring driving.
Highlights of this road trip route include:
Falls Park in Sioux Falls
Badlands National Park
A stop at Wall Drug
Custer State Park
Mount Rushmore and/or the Crazy Horse Memorial
Wind Cave National Park
Devils Tower National Monument
Grand Teton National Park
Yellowstone National Park
Billings, Montana
Theodore Roosevelt National Park
Fargo, ND
And more!
Total mileage for this trip (assuming you start/end in Sioux Falls) is right around 2500 miles.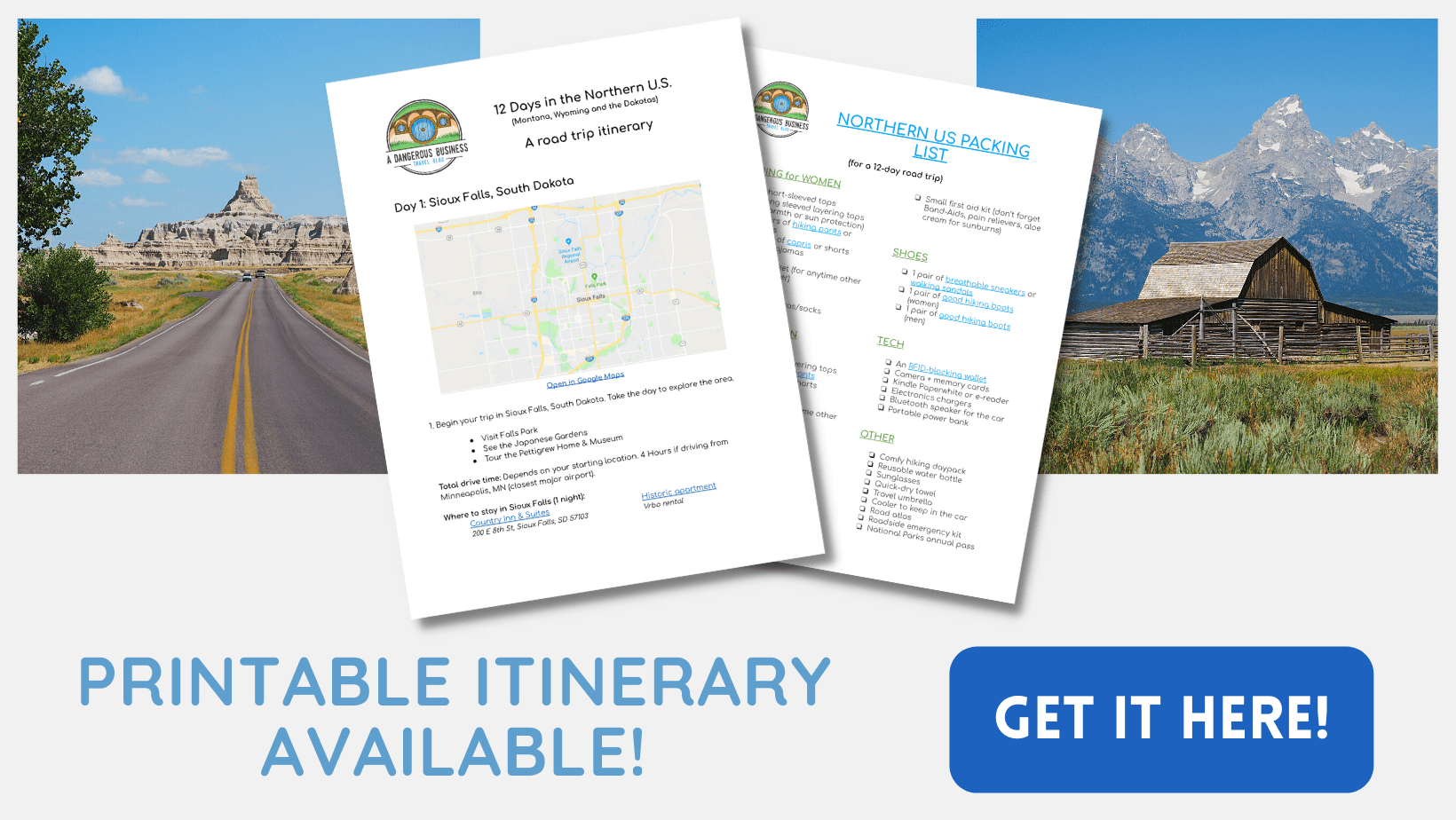 Need to rent a car for this road trip? You'll find more options in Minneapolis, but all the big brands like Enterprise, Avis, Budget, Hertz, and Alamo have offices in Sioux Falls, too. I always use Discover Cars to compare car rental prices in the US. Search for rental cars here.
Day 1: Sioux Falls
Sioux Falls is the largest city in South Dakota, making it a great starting point for a road trip through this part of the US. The city is known for the spot where the Big Sioux River cascades over huge slabs of pink quartz (in a place inventively named Falls Park), and has a history dating back thousands of years.
Various Indigenous American peoples called the area home centuries ago, and you can still find some of their burial mounds in Sherman Park.
If you have some time to explore today, start out with a walk along the Big Sioux River to Falls Park to admire the city's namesake waterfalls.
Afterwards, you could visit the Japanese Gardens, tour the Pettigrew Home & Museum if you like stately old houses, or perhaps visit a brewery or two since, yes, craft beer has taken off in South Dakota, too.
Total driving time: 4 hours if driving from Minneapolis; closer to 0 if flying in to Sioux Falls
Where to stay in Sioux Falls: My sister and I stayed at the Country Inn & Suites in Sioux Falls because of its close proximity to the river and Falls Park. If a vacation rental is more your speed, check out this downtown apartment, or this cute cottage.
Day 2: Badlands National Park
Hop on I-90 today after breakfast so you can get to Badlands National Park by lunchtime. In my opinion, this is one of the most underrated national parks in the United States!
Pro tip: You absolutely will want to get yourself a National Parks Pass for this trip. They cost $80 and are good for one year (you can buy them online, or at the first National Park site you visit). You'll save lots of money on this trip if you have one!
Stop for a quick lunch at Cedar Pass Lodge before entering the park (try the Frybread Tacos!), and then you can spend most of the afternoon/early evening exploring the Badlands.
The great thing about Badlands National Park is that there are lots of shorter walks/hikes that don't take a lot of time but do show you some of the best landscapes. I recommend the Door Trail and Window Trail (both less than a mile round-trip) to start with, and the short Cliff Shelf later in the park.
There's also the Loop Road to drive, with several overlooks, pull-outs, and prairie dog "cities" along the way. I also recommend stopping at the Ben Reifel Visitor Center to see the Fossil Prep Lab, where they work on the many fossils found in the Badlands.
Just one note: There's little shade in the Badlands, meaning it can get HOT during the summer. Be sure to bring plenty of water with you, even on the shorter walks! (I always travel with a refillable water bottle, and on trips like these buy big 2-gallon or even 5-gallon jugs of water to keep in the car to refill whenever I need to!)
RELATED: Visiting Badlands National Park
From the Badlands, you'll head back to I-90 in the direction of Rapid City. But there's one more stop you should make on the way, and that's at Wall Drug.
Wall Drug is the perfect example of the American can-do attitude. Thanks to shameless self-promotion, Wall Drug grew from a tiny drug store into a tourist attraction that now covers an entire city block.
Wall Drug became famous for its free ice water and 5-cent coffee (both of which you can still get there), and now is a must-visit roadside attraction for all sorts of kitschy Americana. If you're hungry, you could grab a quick bite here for dinner before continuing on to Rapid City for the night.
Total driving time: 6 hours (4 hours from Sioux Falls to the Badlands; 1 hour(ish) driving in the park; 1 hour to Rapid City)
Entry fees: Badlands National Park: $30 per car
Where to stay in Rapid City: The Comfort Suites Hotel is the top-rated one on TripAdvisor, but if you prefer your hotels with a little character and history, then I recommend checking out either the The Rushmore Hotel & Suites or the Hotel Alex Johnson, both of which have central locations in downtown Rapid City.
If you prefer a vacation rental, check out this stylish 2-bedroom apartment, or this luxurious bungalow with a great location.
Day 3: The Black Hills (Pahá Sápa)
While Rapid City is pretty cool in its own right, I promise you won't regret spending today seeing some of the other highlights in the Black Hills. I recommend packing a picnic lunch today.
You could start your day today with a visit to Mount Rushmore National Memorial, the famous rock carving dedicated to four influential US presidents.
I say "could" instead of "should" because Mount Rushmore is quite the controversial spot, and I wouldn't blame you if you didn't want to visit.
The carving is made directly into the Black Hills (Pahá Sápa), which are considered sacred land to the Lakota Sioux. There's been a land dispute over this area ever since the United States government granted it to the Sioux in a treaty, but then took most of it back once gold was discovered there.
There's also the fact that Mount Rushmore's sculptor, Guzton Borglum, had known ties to the Ku Klux Klan.
If you do decide to visit, the top things to do include watching the film at the Lincoln Borglum Visitor Center, walking the short Presidential Trail, and visiting the studio where Borglum worked from 1939 to 1941.
From Mount Rushmore (or instead of it), continue south to Custer State Park, my favorite part of the Black Hills! There is an entry fee to this park (it's not covered by a National Parks Pass), but it's well worth the cost.
Make for Sylvan Lake first, which is the perfect spot to stop for an early picnic lunch. (Or, if picnicking isn't your thing, you can also have lunch at the Sylvan Lake Lodge.)
After lunch, continue on to the Needles Highway (Route 87), which curves and winds through 14 miles of spindly rock formations called "Needles." Plan to go slow and stop at least a few times for photos.
If you have time after the Needles Highway, you can also drive the Wildlife Loop to look for some of the park's bison herds.
Or, continue south to the town of Hot Springs, South Dakota, where you'll find the Mammoth Site. This is a super cool active paleontological dig site containing the world's largest concentration of mammoth bones (actual bones, not fossils!).
The current visitor center/dig site sits atop what was a sink hole 26,000 years ago, and you can take a tour to learn more about mammoths and see what they've uncovered up close. This is one of my favorite things we did in South Dakota.
Total driving time: About 3 hours
Entry fees: Mount Rushmore parking: $10; Custer State Park fee: $20 per car; Mammoth Site tour: $12
Where to stay in Hot Springs: I recommend staying in Hot Springs tonight, simply for the sake of convenience. Check out the historic Red Rock River Resort, which is within walking distance of restaurants and some other sites in Hot Springs, or give glamping a go at this really cool bell tent complete with real bed and private hot tub.
Day 4: The Black Hills
Roughly 10 minutes north of Hot Springs sits Wind Cave National Park, home to one of the longest caves in the world. Wind Cave is one of the oldest national parks in the US – and also the first cave to be designated as a national park anywhere in the world.
You'll probably want to take a ranger-guided cave tour here, and while some tour tickets are sold on a first-come, first-served basis each day, you can reserve cave tour tickets up to 120 days in advance. Tours vary in length and level of difficulty, but the majority last for 1-1.5 hours. (More info here.)
After your cave tour, head back north through the Black Hills and Custer State Park (the pass you bought on Day 3 is good for 7 days). If you didn't have time to drive the Wildlife Loop to look for bison on Day 3, make sure to have a look today!
Make a stop at the Crazy Horse Memorial on your way north on Highway 385. The Memorial was begun in 1948 by sculptor Korczak Ziolkowski, and his children are still working on the larger-than-life sculpture of Lakota leader Crazy Horse.
Even though the sculpture is still a work in progress, you can visit the Crazy Horse Memorial Welcome Center, the Indian Museum of North America, the Native American Educational & Cultural Center, and the the sculptor's workshop. This is also a good place to see/purchase Indigenous artwork and crafts, especially during the summer months.
Spend another night back in Rapid City tonight; if you get in early enough, take some time to stop by Art Alley (a street art-filled alley between 6th and 7th streets downtown), or maybe visit Firehouse Brewing Co. (South Dakota's oldest brewery, which is housed inside a historic firehouse).
Total driving time: 1.5-2 hours
Entry fees: Wind Cave National Park: $14-$16 for a cave tour; Crazy Horse Memorial: $30
Where to stay in Rapid City: Again, I recommend checking out either the The Rushmore Hotel & Suites or the Hotel Alex Johnson, both of which have central locations in downtown Rapid City. Or you can look at this stylish 2-bedroom apartment, or this luxurious bungalow if you prefer a rental.
Day 5: Devils Tower (Bear Lodge)
Today it's time to bid farewell to South Dakota and head over the state line into Wyoming. The main stop today will be at Devils Tower National Monument, which was the very first National Monument in the United States.
You can't miss this incredible rock formation – literally, it rises up higher than anything else for miles, so there's no doubt once you see it.
Stop in the visitor center to learn about the tower's formation (it's still a bit of a geological mystery!), and about the Native American stories and legends that surround it. The tower of igneous rock has been a sacred spot for the Northern Plains Tribes for centuries – they refer to it as Bear Lodge.
Then hit the 1.3-mile Tower Trail, which loops around the base of the tower and is a nice, easy walk.
If you're up for some more hiking, there are other trails that offer views of both the tower and the Belle Fourche River valley.
From Devils Tower, continue on to the town of Casper for the night. If you arrive early enough, consider visiting the National Historic Trails Interpretive Center to learn about the area's pioneer history. If you don't get in early enough, take a stroll through the city's historic downtown before dinner.
Total driving time: 4.5-5 hours
Entry fees: Devils Tower: $25 per car
Where to stay in Casper: The Best Western Plus Casper Inn & Suites is the top-rated Casper hotel on TripAdvisor.
Day 6: Grand Teton National Park
Today will be one of your longer driving days, so have a big breakfast and get an early start.
If you're a history nerd like me, take the southwestern route out of Casper on Route 220 so you can make a quick stop at Independence Rock. For those who played Oregon Trail as a kid, this is THE Independence Rock! Many early pioneers stopped at this landmark, carving their names into the granite.
From there, head back to Route 26, which will lead you straight into Grand Teton National Park.
You can spend the second half of the afternoon and early evening exploring the park. Hop onto Teton Park Road, headed south towards Jenny Lake Lodge. Take the one-way loop off the main road to visit Jenny Lake, or to do one of the shorter hikes to Leigh Lake (1.8 miles RT) or String Lake (3.7 miles RT).
Later, make your way south, stopping at as many viewpoints as your heart desires.
Stay in Jackson tonight so you can see the rest of Grand Teton National Park tomorrow morning.
Total driving time: 5.5-6 hours
Entry fees: Grand Teton National Park: $35 per car
Where to stay in Jackson: Jackson is a resort town, meaning there are lots of accommodation options. The downside is that it's super popular in the summer months – meaning you'll want to book as far ahead as possible and plan to splurge. If you're going to splurge anyway, check out Huff House Inn and Cabins (#1 on TripAdvisor), Rusty Parrot Lodge and Spa (re-opening in spring 2023), or the Wyoming Inn of Jackson Hole. For rentals, this 2-bedroom townhome is a good option.
Day 7: To Yellowstone!
Another early start today would be smart so you can see a little more of the Grand Tetons before you head up to Yellowstone.
Start your morning with a stop at Mormon Row, just past Moose Junction on Highway 191 in Grand Teton National Park. Mormon Row is a collection of old homesteads and barns along Antelope Flats Road that once belonged to early settlers of this region. The old wooden barns especially look great in the morning hours, with the jagged mountains illuminated behind them.
On your way north, you can visit a couple of the viewpoints you missed yesterday, like Snake River Overlook (made famous by photographer Ansel Adams). Further north, Oxbow Bend and Willow Flats are also worth a stop, and are spots where you may be able to see wildlife like moose and bear.
You'll then skirt along Jackson Lake, and will eventually reach the south entrance to Yellowstone National Park.
Today, I would make your focus in Yellowstone the geyser basins and Old Faithful area in the southwest corner of the park. There's a LOT to see and do here depending on how much walking you do/don't want to do.
Stop first at the Old Faithful Visitor Center to learn about the area's geological history, and find out when the famous geyser is predicted to erupt next (they can usually predict it within about 10 minutes). There will be a lot of people waiting to see the geyser, but the viewing area outside is huge, so it's worth sticking around for.
There are short walks around the Old Faithful area you can do, too, to see more geysers in the Upper Geyser Basin.
From Old Faithful, head up to the Midway Geyser Basin, home to the famous Grand Prismatic Spring.
If you want the BEST view of this geothermal wonder, pull off at the Fairy Falls trailhead *before* you reach the Midway Geyser Basin. Here, you can take an easy 15-minute walk up a hill to see Grand Prismatic Spring from above!
Then head down to the Midway Geyser Basin proper to walk the boardwalks around the Excelsior Geyser Crater and Grand Prismatic Spring. This is one of the most popular parts of Yellowstone, so you'll probably need some patience to find parking here.
It's worth it, though, I promise.
Once you've had your fill of geysers, make your way through Madison and to the West Entrance of Yellowstone, where you'll stay tonight.
Total driving time: 3-4 hours (driving in the park can be slow!)
Entry fees: Yellowstone National Park: $35 per car
Where to stay in West Yellowstone: West Yellowstone is filled to the brim with motels and other accommodation options, but many are expensive and book up quickly during the summer months. As with Jackson, book early and be prepared to splurge a bit here! Good hotel/motel options include the Kelly Inn and the Explorer Cabins at Yellowstone.
If you want something a little more rustic (but still super cool), my sister and I stayed at Yellowstone Under Canvas, a glamping site where you can sleep in a tent (in a real bed) complete with s'mores around a campfire at night.
And there are vacation rental options here in West Yellowstone, too, including this small cabin, or this lodge-style home that can sleep 8.
Day 8: Yellowstone National Park
Note: Flash flooding in June 2022 severely damaged some of the roads within Yellowstone National Park, especially at the northern end. There may be some lingering construction delays in early 2023. Please refer to Yellowstone's page on Park Roads for the latest updates.
Get ready for a full day of exploring Yellowstone National Park today! Start your morning with a visit to Mammoth Hot Springs, the other major geothermal area in the park. Here, the Albright Visitor Center is worth checking out, and there's a cute general store in "town" where you might want to grab snacks for the day.
Park at the Upper Terraces and walk the boardwalks over the hot springs and down to a viewpoint of the terraces and Canary Spring. Then you can also walk down to the Lower Terraces and around all the crazy, steaming formations if you have time.
From Mammoth Hot Springs, either retrace your route south through Norris, or head east to Tower-Roosevelt and then make your way to Canyon Village (the route through Norris Junction is faster, but you may want to take the longer route to see more). Check out the visitor center in Canyon Village to learn all about the Yellowstone Super Volcano, and grab a quick lunch at the Canyon Lodge Cafeteria.
Next, it's on to see the Grand Canyon of Yellowstone. There's a North Rim and a South Rim drive here, with several short hikes to overlooks. You can walk to the brink of both the Upper and Lower falls, and I also highly recommend driving out to Artist's Point, which has arguably the best view of the entire canyon.
After spending some time at the canyon, spend the remainder of your afternoon/evening looking for wildlife.
Head back north of Canyon Village to Tower-Roosevelt, where you'll turn east into the Lamar Valley. This is one of the best parts of Yellowstone for wildlife sightings, including the park's bison herds and wolf packs. And the early evening right before dusk is the best time of day to spot them.
After (hopefully) having some good wildlife sightings, continue to the Northeast Entrance of the park, where you'll stay in Cooke City, Montana.
Total driving time: 4(ish) hours (again, driving in the park is slow!)
Entry fees: None, since your entrance from yesterday is valid for 7 days
Where to stay in Cooke City: Motels and B&Bs are your choices here – check out hotels in Cooke City here. Or you can consider this super fancy cabin (complete with hot tub), or this cabin in the woods.
Day 9: Billings, Montana
Feel free to have a lie in this morning since you won't be driving too far – it's less than 3 hours to Billings, Montana.
Billings is the largest city in the state of Montana, and has been nicknamed "Montana's Trailhead" thanks to its proximity to nature and miles of scenic trails. And if you want to add something fun to your walk? Billings is also home to the only self–guided, walkable brewery trail in Montana. The city's unofficial "brewery district" is located downtown and includes six breweries, two distilleries, and a cider house, all within easy walking distance.
Another point of interest in Billings is the Moss Mansion, a stately home built in 1903 by local businessman Preston Boyd Moss. My sister and I love being nosy in old houses, and therefore added this to our itinerary in Billings.
RELATED: There's More to Montana Than its National Parks
Total driving time: 2.5 hours
Entry fees: Moss Mansion tour: $15 per person
Where to stay in Billings: It's gotta be the beautiful Northern Hotel, an upscale and modern hotel in downtown Billings. Fun fact: The hotel was originally opened in 1904 by Henry W Rowley and P.B. Moss (the Moss Mansion guy!). (Read reviews on TripAdvisor | Book a room here!)
Day 10: Theodore Roosevelt National Park
You may not think there's much to see between central Montana and, well, anywhere in North Dakota – but you would be wrong! I've got a couple goodies up my sleeve for Day 10 of your trip.
Head east out of Billings on I-94, and it's only about half an hour to your first stop: Pompeys Pillar National Monument.
Remember back in elementary or middle school when you learned about Lewis and Clark and Sacagawea and their expedition to explore and map the West? Well it just so happens that their party passed through this part of Montana, and William Clark carved his name in a rock.
This carving – made in 1806 – is the only remaining physical evidence of the entire Lewis and Clark Expedition.
The visitor center at Pompeys Pillar National Monument does a good job of walking you through Lewis and Clark's history and journey, and then you have the chance to climb some wooden steps to see the historic graffiti up close.
(I'm a big history nerd, so I actually thought this was really, really cool!)
From Pompey's Pillar, you're going to get on I-94 and just drive for a bit. You'll pass through Miles City and Glendive, and not far over the North Dakota border you'll reach the town of Medora. Here you'll find a national park that you've probably never heard of before: Theodore Roosevelt National Park.
One of the only national parks to be named after a person, this national park covers over 110,000 square miles in three different "units." The one just off I-94 is the South Unit, which is the largest of the three.
The park has a scenic drive and some great wildlife viewing – "great" mostly because there's little traffic, and you'll have a lot of wildlife sightings completely to yourself.
We visited Theodore Roosevelt National Park in the later afternoon and stayed until sunset, watching the sun go down from the Wind Canyon Trail.
There are several short hikes in the park, a couple prairie dog "towns," and animals like bison and even wild horses to look out for.
Total driving time: 4.5 hours
Entry fees: Pompey's Pillar: $7; Theodore Roosevelt National Park: $30 per car
Where to stay in Medora: Medora may look like a "blink and you'll miss it" sort of town, but it actually has a couple of hotels and the famous Medora Musical, an outdoor western-style musical show that runs all summer. For hotels, check out the Rough Riders Hotel, where rooms come complete with a Teddy Bear (in honor of Theodore "Teddy" Roosevelt).
Day 11: To Fargo
Today you'll make your way across North Dakota to Fargo, on the state's eastern border with Minnesota. Since you'll likely want to stop somewhere along the way, I recommend Jamestown, about halfway between Bismarck and Fargo. Here you'll find both the National Buffalo Museum and a recreated frontier village.
At the National Buffalo Museum, you can learn all about the great herds of bison that used to roam the prairies, and also may be lucky enough to see one of the albino bisons that live in the local herd. Then you can also stretch your legs in the pioneer town, which is really cute!
If you get to Fargo early, take some time to stroll through this historic downtown area, and perhaps visit the Plains Art Museum, which has everything from traditional American Indian and folk art to national and regional contemporary art.
Total driving time: 5 hours
Entry Fees: National Buffalo Museum: $8
Where to stay in Fargo: Homewood Suites by Hilton is top-rated in Fargo, but you know I don't like to recommend boring chain hotels if I can help it! For history and character in Fargo, check out The Hotel Donaldson, a boutique hotel right in the heart of the city.
Day 12: Back to the beginning
Today is the last day of your adventure. It's roughly 3.5 hours back to either Minneapolis or Sioux Falls, depending on where you wanted to start/end your road trip.
Chances are you'll already be dreaming about coming back to re-visit some of these iconic spots!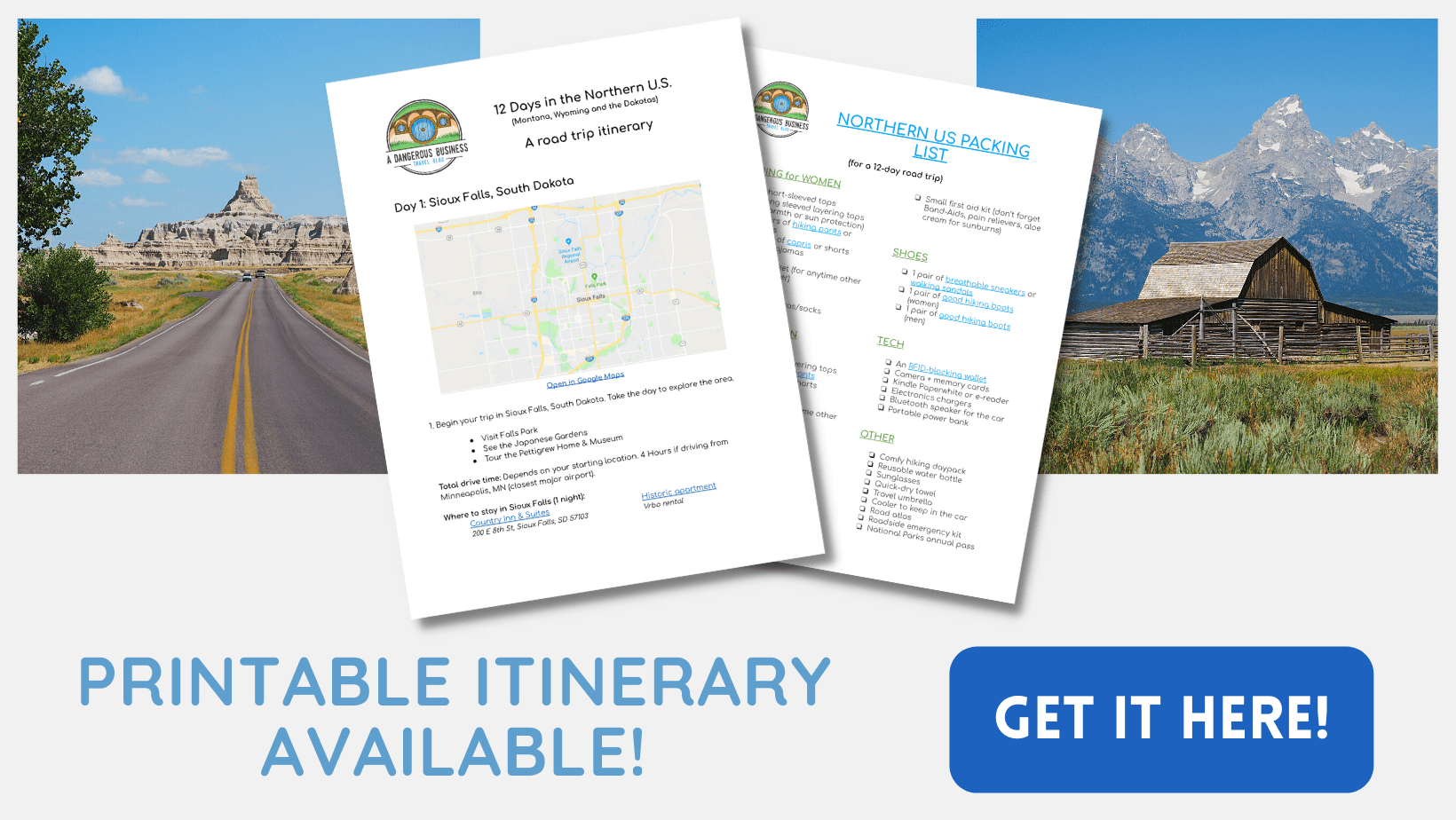 ---
Know before you go: Road trip tips
Check out my list of road trip tips for ALL my tricks for road tripping in the U.S.
But here are the tips that are most important for this trip through Montana, Wyoming, and the Dakotas:
Buy a National Parks Pass. This road trip itinerary has you visiting a bunch of national parks and monuments, all of which charge a per-car entrance fee. You can save some money by getting a National Parks Pass either before you leave or when you arrive at the Badlands. The pass costs $80, and then is good for an entire year at any NPS-managed site. Without a parks pass, you'll be spending roughly $150 on entry fees for this trip.
Make sure you have extra water. Dehydration is not a joke, and can be a very real threat if you're traveling out West during the summer. Always have extra water, because you never know when you might need it. Most national parks will have water bottle filling stations, but be sure to have a reusable water bottle (I love my Camelbak Chute) or a hydration pack with you – and fill up at every opportunity, as most tap water in the US is perfectly fine to drink.
Allow extra time. I've estimated driving times, but it's always best to assume drives will take you longer than Google Maps suggests. Photo stops, bathroom stops, and detours to check out random things will add more time to any drive!
Curious about what else to pack for this trip? Head over to this post: USA Road Trip Essentials: What to Pack for a US Road Trip
---
Who's ready to plan a road trip through Montana, Wyoming, and the Dakotas?
Pin it for later: