Some posts on this site contain affiliate links, meaning if you book or buy something through one of these links, I may earn a small commission. Read the full disclosure policy
here
.
---
It was like being in some sort of late-night-food-induced dream. You know, the kind where you're walking on the ceiling and people are climbing out of suitcases?
I was in the middle of a swirling world of fog and mist, the lapping of waves the only major sound to be heard. Out of the steam, two women with their faces covered in white goo materialized, laughing as they glided past, their hair arranged in odd piles atop their heads. From the other direction, a teen boy floated by, munching on an ice cream bar.
And everywhere I looked, I saw milky blue.
But this wasn't some weird dream — it was the famous Blue Lagoon in Iceland.
Located between Reykjavik and Keflavik International Airport, the Blue Lagoon is the perfect place to either begin or end your trip to Iceland — in fact, you're even encouraged to do so by several of the bus companies that run bus services between the airport and Reykjavik..
On my first trip to Iceland, I chose to end my time in the country with a few hours of relaxation at the Blue Lagoon. On my second (and third!) trips, I went straight to the Blue Lagoon as soon as I arrived.
Either way, it's kind of a must-visit in Iceland!
Visiting the Blue Lagoon: Arrival
The Blue Lagoon is one of the top tourist attractions in Iceland, but that thankfully means that everything there runs pretty efficiently. There's luggage storage available (for a fee) in a building next to the parking lot, so you can easily visit on your way to/from the airport.
Upon arrival to the Blue Lagoon, you walk along a lava path for a short while until you get to the spa building itself. If you want to take some photos of the unreal blue water, make a quick detour off to your left before going inside — this part of the Lagoon isn't used for swimming, so you can just marvel at the milky-blue water.
Yes, it's true that the Lagoon is not natural, but you'd be surprised at how unbothered by this you become when you actually see it up close.
After snapping some photos, head inside the building to check in. These days, booking your Blue Lagoon ticket in advance is pretty much mandatory. If you arrive early, there's a cafe and shop on the main floor where you can go to kill some time.
When you check in, you'll be given your towel, robe, and flip flops if you paid for them, along with a plastic bracelet that will serve as your locker key and bar/cafe tab all at once.
Then you head into the gender-specific changing rooms. Pick and empty locker (follow the directions posted on how to use your bracelet to claim a locker), and get changed.
For all my fellow Americans out there, be prepared that Iceland takes a very European approach to spas: everyone is expected to shower sans swimsuit before entering the pool, so it's not unusual for naked people to be wandering around the locker rooms.
Next, it's finally time to head out to the Lagoon itself. You can either walk straight outside and enter the water that way, or you can ease into the water indoors and then make your way outside via a huge, heavy wooden door.
Visiting the Blue Lagoon: In the lagoon
The water at the Blue Lagoon is always between 37°C and 40°C (98-104°F), meaning it's perfect for soaking no matter what the outdoor temperature is.
Once outside, you might be struck by just how BIG the lagoon is – I know I was on my first trip! There are various little pools everywhere, a cave, multiple bridges, a waterfall, saunas, a water massage area, and even a swim-up bar. Yes, a floating bar.
Grab a drink and maybe even an ice cream bar, and get to floating. (Most Blue Lagoon tickets include one free drink.)
The Blue Lagoon is renowned not only for its odd color, but also because the water is rich in silica and sulphur – both said to be fantastic for the skin.
Swim up to the Silica Bar to get your free handful of silica goo to put on your face. (If you get one of the Lagoon's more expensive packages, a second face mask will also be included; I recommend the algae mask!)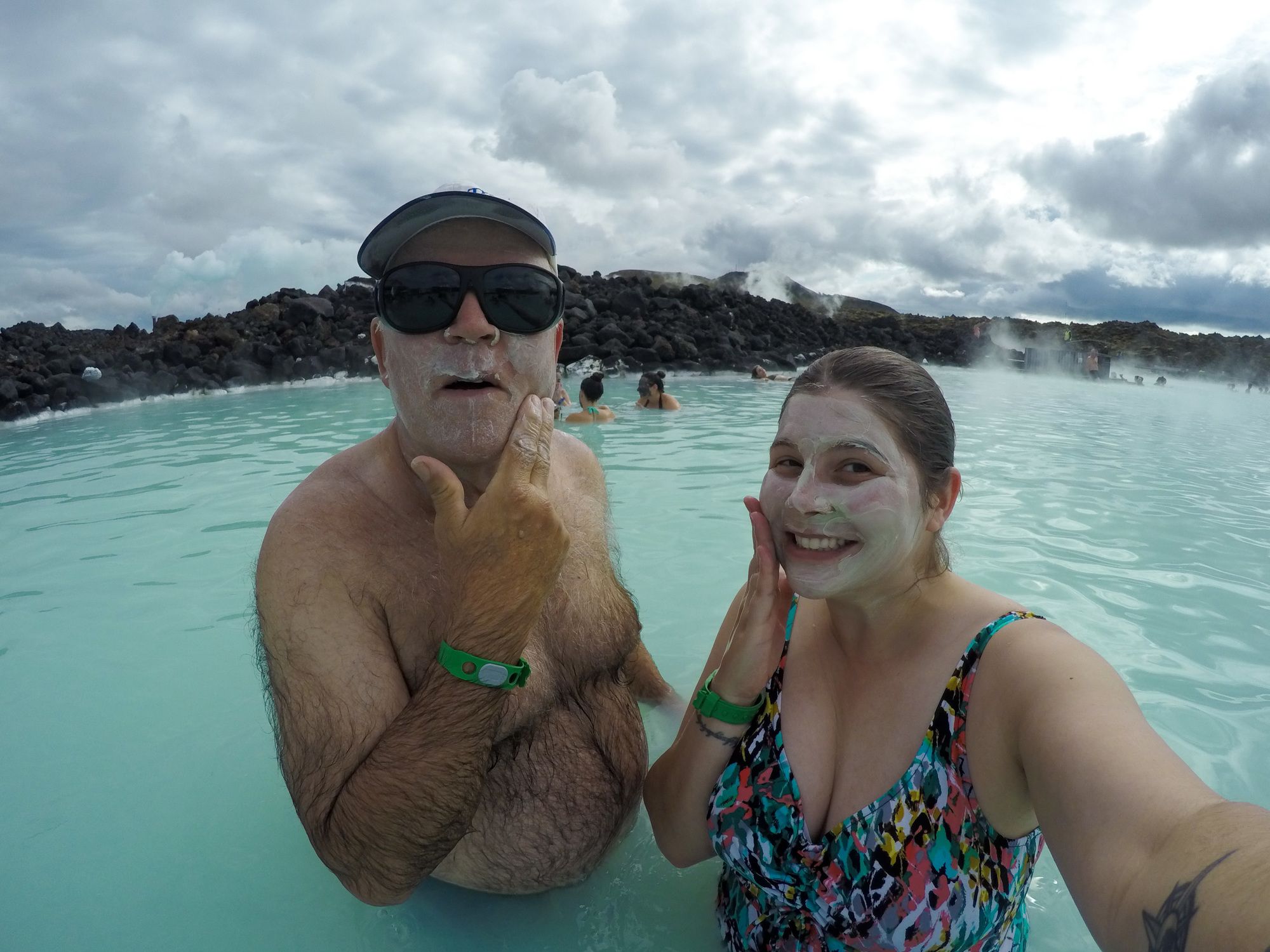 How long to spend at the Blue Lagoon
I was a bit skeptical on my first visit, and could not fathom how I would enjoy spending 4 hours floating around in a pool of blue wastewater (because that's what the Lagoon really is — wastewater from a nearby power plant; but don't worry, it's not toxic).
I'm not a spa person or a beach person. Honestly, I'm not any kind of person that is required to wear a bathing suit.
I don't like massages or any other activities that require strangers to touch me repeatedly, either. And on my first trip I didn't even have a travel buddy to chat with to keep my mind off feeling uncomfortable in such an atmosphere.
But the 4 hours I had to spend at the Lagoon actually flew by. I floated around for a while, seeking out the extra-hot spots in the water and watching goo-faced people glide through the steam.
I took a break and sat in the "relaxation area" inside with my fluffy robe and my Kindle for a while, and also grabbed some lunch before going to soak some more.
On subsequent trips with my husband and then my father, I still insisted on going to the Blue Lagoon.
Yes, the Blue Lagoon is touristy. And yes, it's expensive (just like everything else in Iceland).
But I love visiting the Blue Lagoon anyway. It's just so unique, and truly is relaxing no matter what time of year you visit.
And now…
Tips for visiting the Blue Lagoon
Here are some practical tips for visiting the Blue Lagoon:
Go early. Around noon or 1 p.m., the Blue Lagoon starts to get crowded. If you want to enjoy the warm water in peace, try to get there as early in the morning as possible (or later in the afternoon would probably also be less busy).
Leave the modesty behind. As mentioned above, forget about being self-conscious — no one else will be. And don't be surprised (or offended) when you meet stark-naked people in the changing rooms.
Beware your hair. The silica and sulphur in the water of the Blue Lagoon may be good for your skin, but it's definitely NOT good for you hair. Especially if you have long hair, apply conditioner liberally before going into the Lagoon, and don't rinse it out until you're ready to leave. Otherwise you'll be dealing with dry, brittle hair for days.
Pay for the extras. No, you don't need a fluffy robe or extra towel or drink from the floating bar… but they sure are nice to have. Just be aware that they do cost extra!
Relax. After all, this is what the Blue Lagoon is all about!
Best Blue Lagoon Tours
You don't really need to book a "tour" to the Blue Lagoon; but combining a visit with other tours in Iceland is sometimes a great idea!
Interested in a Blue Lagoon tour? Check some of these out:
Would you visit Iceland's Blue Lagoon?
Pin it for later:
Book your accommodation in Iceland: