Some posts on this site contain affiliate links, meaning if you book or buy something through one of these links, I may earn a small commission. Read the full disclosure policy
here
.
---
Today's guest post comes from Sara Wenger, an old friend of mine from high school. Sara is currently serving in the Peace Corps, and agreed to share her thoughts on the experience she's had so far. As she proves, the Peace Corps often does not match up to the picture many Americans paint of it. 
We've all been there. That day when one questions what the next step is or decides that a drastic change from an eight to five is needed. Peace Corps is often the Mad Lib phrase filler of choice for such momentary outbursts of discontent in popular media. It's like a playful threat used to gain compassion. Through this type of use in our society, Peace Corps is often misinterpreted as a do-gooder fairytale of intelligent hardworking Americans going to the bush and making everything better for the newly adopted community. I'm sure the audience reading this knows better, but as a current volunteer I'm still surprised from time to time when talking to people at home about the disconnect between what Americans think the Peace Corps is and what day to day life of a volunteer is truly like. I'd like to share my experience as a fellow travel lover.
Created during the Kennedy Administration, Peace Corps volunteers currently serve in over 70 countries in Africa, Asia, the Caribbean, Central and South America, Europe, and the Middle East. Peace Corps was founded with three goals in mind, which are to provide technical assistance and skill where requested, help people outside the United States understand American culture, and help Americans understand the culture of other countries. Peace Corps is a 27-month assignment (three months of training and two years of service). It is a two-year service because volunteers need at least one year at site to get to know the rhythm and culture before starting to have an impact. Common assignments are education, business, information technology, and environmental assistance.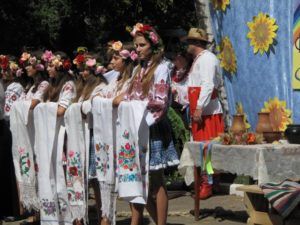 In the final year of college I was panicking; overwhelmed by cover letters, a tanking economy, and an unclear idea of how I could use the knowledge gained from my degree in a meaningful way. Having studied urban planning and post-Soviet studies, I wanted to continue my academic loves but was having trouble locating a job that I was qualified for without a Masters. I hastily applied to the Peace Corps as a backup in autumn, not entirely impressed with the college recruiter. To make a long story short, after reconsideration and seeking guidance from past volunteers, I ended up continuing the application process, accepting an assignment of teaching English as a foreign language in Ukraine nearly a year after first submitting my name. Currently I'm in my ninth month of service, eleventh in Ukraine. Am I happy with decision? Despite the occasional lonely and hard days, I'm thankful I'm here. I'm gaining invaluable experience learning how to read another culture and professional development by testing educational norms, reaching out to youth, and introducing my site to community development techniques.
Is Peace Corps a viable option for those who love to travel? It's a personal question that the individual needs to internally explore. Peace Corps isn't really travel. Sure, there's plenty of vacation time to sightsee but day-to-day it's living and working in an adopted community. The thing I love most about traveling is the escapism that it provides. When I travel, I can be a different person without a set routine. Peace Corps isn't escapism. Individualism and privacy have different cultural norms in Ukraine that make the sporadic if not impossible, harshly judged.
Every volunteer's experience is different, making direct answers to specific questions impossible. If you're seriously considering Peace Corps, I highly recommend that you be honest with yourself. Are you willing to live alone, away from home in a developing country for two years, especially one that doesn't have Western ideals? Can you withstand seeing and dealing with poverty and hunger on a daily basis? Do you have skills to share that are extremely valuable? If so, look at the Peace Corps website.
And consider the challenge.
Follow Sara on Twitter: @wengerse