Some posts on this site contain affiliate links, meaning if you book or buy something through one of these links, I may earn a small commission. Read the full disclosure policy
here
.
---
The small city of Brasov may not be well-known around the world. In fact, I'm sure many of you have never even heard of it. But in Romania, this little city of 230,000 is kind of a big deal.
Brasov is one of the larger cities in Romania, and also one of the country's top tourist destinations — for both domestic and foreign tourists. Its central location — roughly equidistant from the Black Sea and the wooden churches of Maramures — makes it a good base for exploring the rest of the country.
But of course Brasov has plenty of draws of its own, too.
Located in Transylvania, Brasov was settled by the German Saxons in the 1100s (much like Sighisoara) as a favor to King Geza II of Hungary. At that time, Transylvania bordered the Hungarian empire, and the Saxons were rewarded handsomely for settling the region and defending it in the name of the king.
Today, remnants of the Saxons' fortifications can be seen in the Old Town of Brasov, with its old stone walls, imposing watch towers, and orange-tiled roofs.
Brasov doesn't feel nearly as medieval as Sighisoara, however, even though both cities boast walls and a Saxon past. Brasov feels much more modern, with a lively cafe culture and more open space.
And there's also a bit more more to do and see in Brasov than in Sighisoara.
Having spent two days in Brasov, here are what I deem to be the "must-dos":
The top things to do in Brasov, Romania
The walls/towers
The Old Town of Brasov consists of what used to be the Saxons' fortified town. The walls and watch towers have been restored (partly using UNESCO funds) in recent years, and you should definitely find time to get up at least one of the towers. I can say from personal experience that the view from the Black Tower may well be the best view in the city.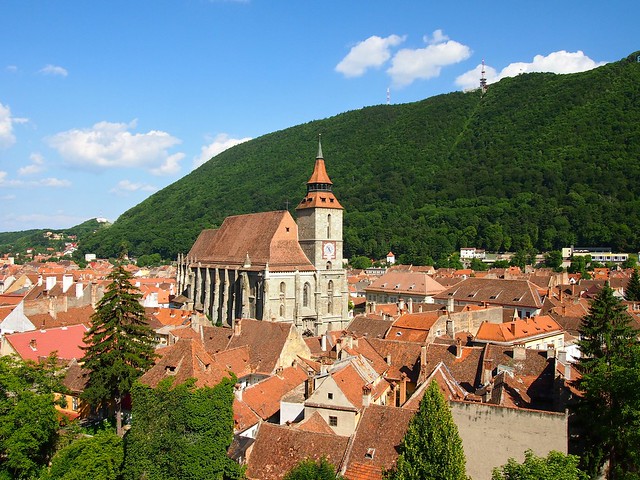 Visit the Black Church
The Biserica Neagra, or Black Church, dates back to the late 1470s, when it was built to replace a much older church that used to stand on the same site. It got its "Black" name after a fire in 1689 blackened its outer walls. Inside, the church holds an impressive collection of antique Turkish carpets, which have been a staple in the church for centuries.
Outside, a small detail worth noting is a statue of what appears to be a small boy on the roof of the church. One story goes that, during the church's construction, the best builder was actually a young boy of about 14. Some of the older men were jealous of the boy and his skills, and he "accidentally" fell off the roof before the church was finished.
Go up Mount Tampa
Rising 900 meters above Brasov is Mount Tampa, a small forested mountain with great views out over the city and surrounding region. You can hike up the mountain (it takes roughly an hour each way), or you can take the funicular up for a few dollars.
Either way, go up if the weather is nice. You can admire the city from behind the Hollywood-esque "Brasov" sign.
City Center (Piata Sfatului)
Piata Sfatului is the center of Brasov, where a huge open square is always filled to the brim on nice summer evenings. Cafes serving traditional Romanian dishes, ice cream vendors, street performers dressed up like Jack Sparrow… you'll find it all here.
Day trips from Brasov
Brasov is also quite close to a few other big attractions in Transylvania that are worth checking out:
Bran Castle
This former fortress on the border of Transylvania and Wallachia is often said to have been Bram Stoker's model for Dracula's castle in his 1897 novel. However this castle has no real connection to Stoker, or Vlad Tepes ("the Impaler") who supposedly was Stoker's inspiration for his blood-sucking main character. That doesn't stop it from being one of Romania's top tourist attractions, though. During peak season, this small "castle" can see thousands of visitors per day.
The castle was originally built as a fortress to defend the border, but in 1920 became a royal residence — mainly a mountain retreat for Romania's Queen Marie (yes, Romania had Kings and Queens!). Today, the small fortress/castle serves as a museum, and usually makes it onto everyone's Romania itinerary.
Rasnov Fortress
Not far from Bran Castle lies Rasnov Fortress, built atop a mountain that towers over the town of Rasnov. This fortress easily outshines Bran Castle, in my opinion.
A 13th-century Dacian fortress used to stand on the site, and then the current fortress was built atop its remains. The fortress sat empty and decaying for quite some time until some wealthy people and then eventually the Romanian government decided to spruce the place up and turn it into a tourist attraction. Today it's much less touristed than Bran Castle — and also quite a bit cheaper.
You can also easily reach some of the other castles in Transylvania, too, from Brasov, including Peles Castle near Sinaia.
Where to stay in Brasov
Here are some hotels to check out in Brasov:
Brasov tours
Definitely check out these day trips in/around Brasov, which are handy if you're not renting a car in Romania:
Have you been to Brasov? If not, is it a place you'd like to visit?
Pin it for later:
*Note: Intrepid Travel has graciously provided me with a complimentary "Explore Eastern Europe" tour. But all opinions, as always, are entirely my own.