Some posts on this site contain affiliate links, meaning if you book or buy something through one of these links, I may earn a small commission. Read the full disclosure policy
here
.
---
After spending two days at sea, docking in our final port was a welcome change. Not only was it nice to get back on solid ground, but I think that possibly the best was saved for last. We were in Victoria, British Columbia, which may possibly be one of the most beautiful cities I've ever been to.
The two days spent at sea had been cloud-laden, windy, and cool. But the weather apparently did not follow us into Canada, because Victoria was warm when my family stepped out onto the pier, and eventually became wonderfully sunny, too. This surprised us, until we learned that Victoria has one of the best climates in Canada; I had no idea. Palm trees actually grow there – yes, palm trees. In Canada. Who knew?
After disembarking, we made our way to a tour bus, on which a friendly Victorian (is that what you call them?) gave us a guided 2-hour tour of British Columbia's capital. Driving through the streets and neighborhoods of Victoria, we saw some of those Canadian palm trees, and also learned why Victoria is nicknamed "The Garden City." There were so many plants and flowers in bloom that it was difficult to know where to look first.
We learned a bit about Victoria and its inhabitants along the way. First, we were told that, next to being the seat of government for B.C., Victoria is also a big tourist destination. The city pulls in about $1 billion annually from tourists just like us. But, seeing how expensive the city was, this wasn't terribly hard to imagine. (A hot dog on the street, for example, set me back $4. Gas goes for over $1 a liter, meaning it would be well over $4 a gallon in the U.S.) Our guide also gave us an idea of typical home prices in Victoria: A small starter home sells for around $500,000; larger homes (especially ones with views) go for multiple millions. If ever I win the lottery, I'm heading back to Victoria.
The bus stopped at the lookout on Mount Tome, where you can look out over the (very green) city, all the way to the Cascade Mountains across the water in Washington.
We saw some beautiful Victorian homes on our way down the hill, many of them surrounded by flowers of all colors and varieties. Our next stop was at Cattle Point, near one of Victoria's most popular beaches. Large pieces of white driftwood littered the stony beach, and I was impressed by how clean it was. In fact, I was impressed by how clean the whole city of Victoria was.
After the tour, our driver dropped us off downtown near the harbor. As soon as I stepped onto the sidewalk, I knew I was in love. There's something about a vibrant harbor on a sunny day that makes me never want to go anywhere else.
And Victoria's harbor isn't just like any other around the world. It's not just a place to tether your sail boat or yacht. In fact, Victoria's harbor is exactly the opposite. People were milling all about the waterfront, buskers were performing, tiny water taxis were chugging in and out, Canadian flags were fluttering, and tourists like myself were busy snapping photographs in every direction.
The Victoria harbor has something to catch your eye no matter which way you turn. On one side, you have the boats and the blue water of the Pacific. On another you have the ornate, domed B.C. Parliament building. On another there's a section of Victoria's downtown. And on the other sits the ivy-covered Empress Hotel. The old Victorian hotel dominates the waterfront, and is one of the things Victoria is most proud of. I would love to stay in Victoria at a place like this!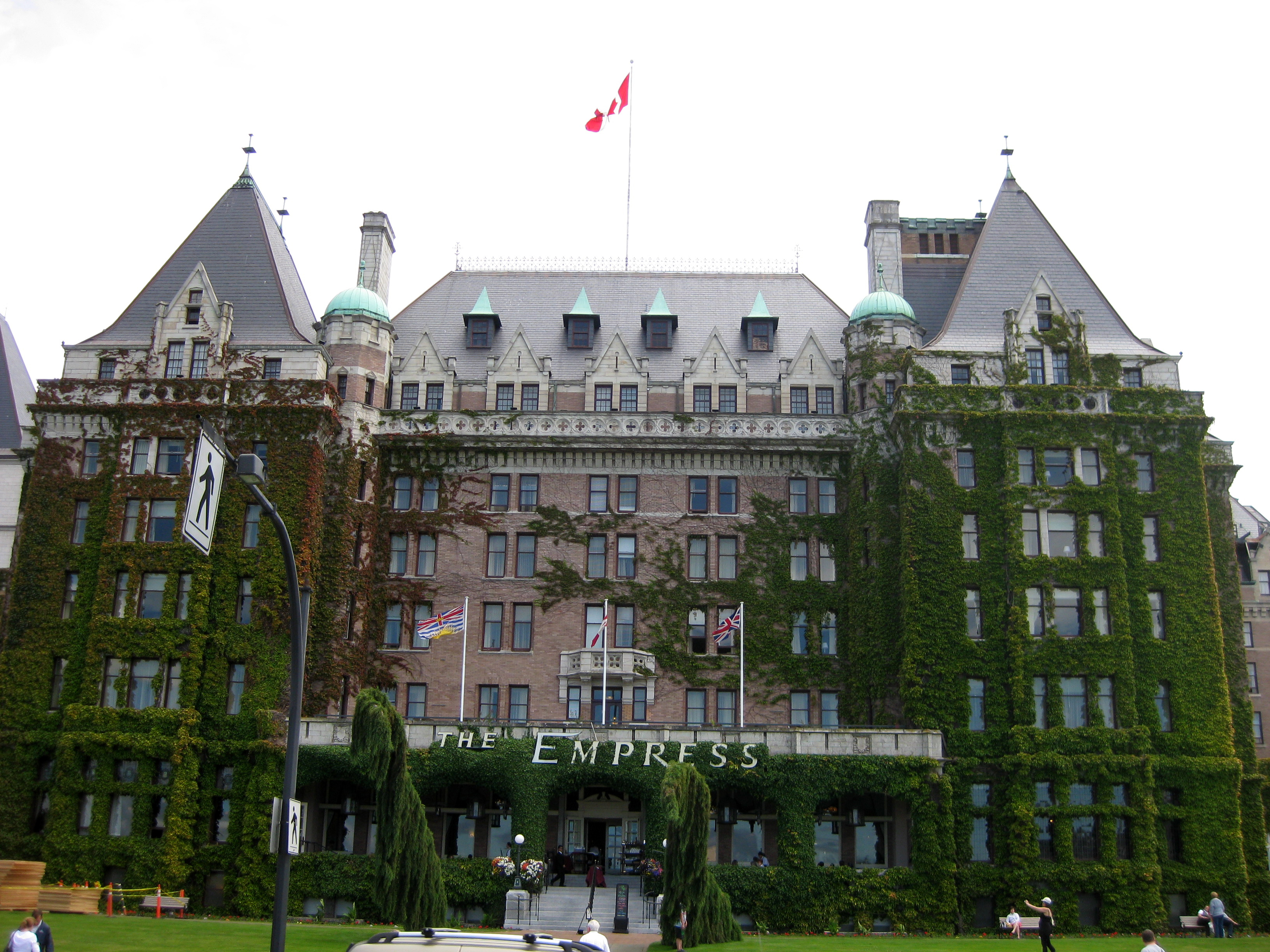 After walking along the waterfront for about an hour and watching numerous float planes land and take off (there are hundreds of these flights per day in Victoria), my family decided to split up. My dad went off to check out some of Victoria's pubs and cigar shops, and my mom, sister and I decided to explore the downtown area a little further.
We stopped to pick up some postcards, and to buy hot dogs from a vendor on a street corner. We listened to street performers, watched other tourists strolling up and down the streets, and even took some silly pictures with "the locals."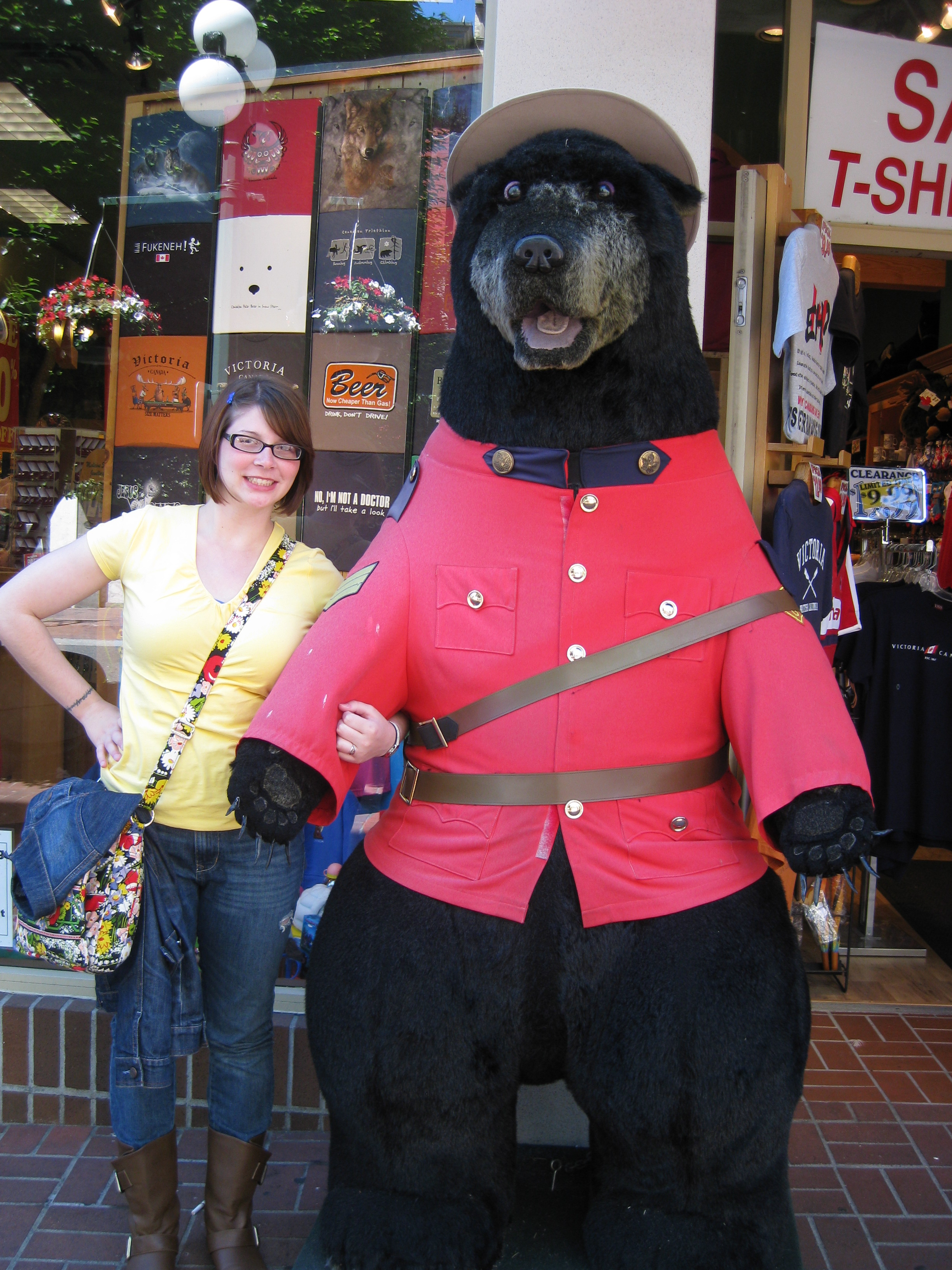 Eventually, we met back up with my dad at the harbor, where we hopped on one of the small green Victoria Harbour Ferries, bound for Fisherman's Wharf. As we chugged along, we got to see Victoria from the water; I think it was even prettier that way.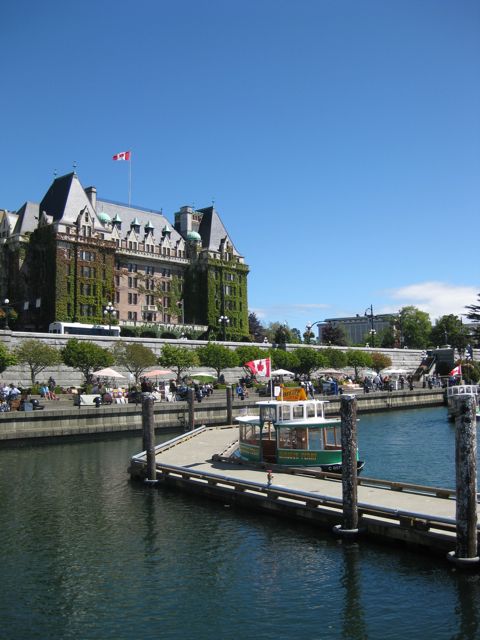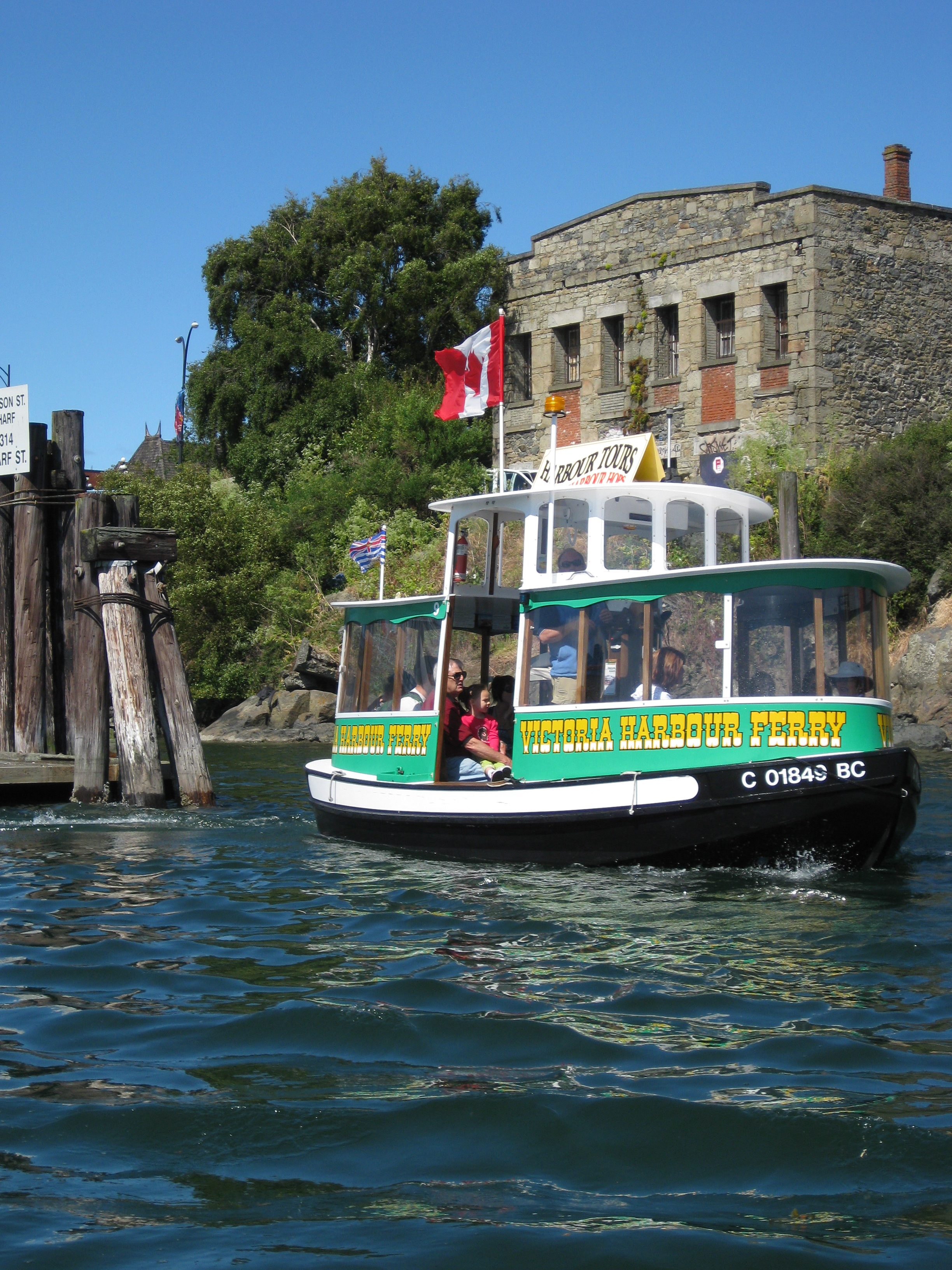 Our skipper/guide pointed out things along the way – the float plane docks, expensive condos (one penthouse has a glass floor with an aquarium built into it), and some of Victoria's first buildings. One was Victoria's first bank. The one next door housed the city's first jail, and first post office (the stone building in the photo above). Our guide joked that early Victoria had great planning – you could rob the bank, get sent to jail, and send mom a letter in the same hour. Canadian humor for you, eh?
We crossed the harbor, and even got a glimpse of our cruise ship docked outside of town along the way.
Our final destination was Fisherman's Wharf, where all the homes are of the floating variety. I can't imagine living in a house that's constantly rocking, but there were plenty of bobbing homes and houseboats to prove that not everybody sees things the way that I do.
Fisherman's Wharf was fun – and colorful. All of the houses were splashed with bright colors, and some were even decorated in themes. We spent about an hour walking up and down the docks, peering into little snippets of strangers' lives, as portrayed in the exteriors of their lively homes.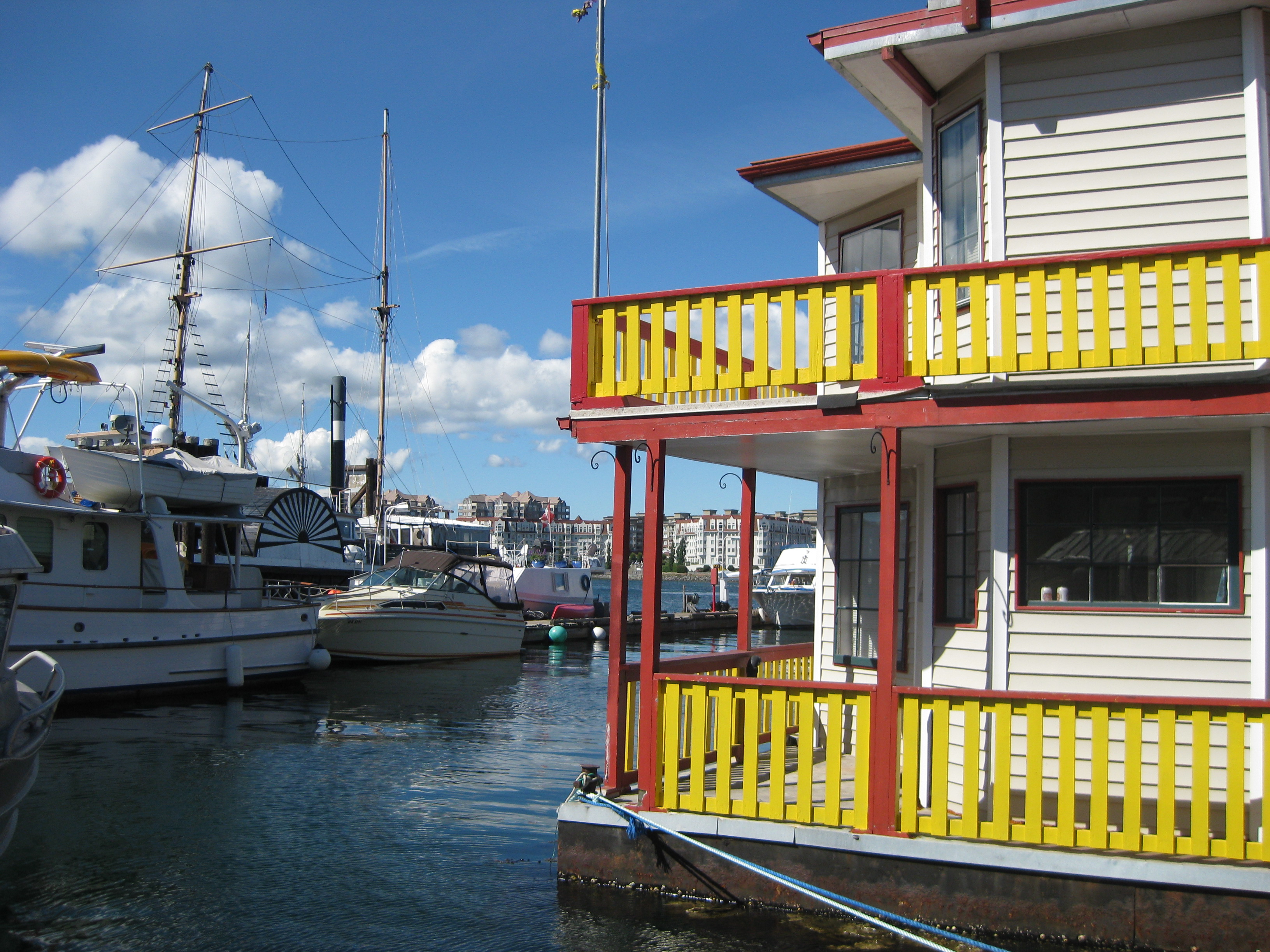 Before leaving the wharf and heading back to our cruise ship for the last time, we got acquainted with one of Fisherman's Wharf's aquatic inhabitants – an incredibly fat, spotted harbor seal. Right next to a stand on the docks that sold fresh fish, a whiskered seal would pop up every now and then to be hand-fed fish by giddy tourists. The seal, I will say, was adorable. Adorable, and in dire need of a diet from all the fish it inevitably eats each day. (While we were there, we saw at least four people feeding it about five or six fish each.) But how could you not throw some nibbles to a cute mug like that?
After getting our fill of fish and seals and floating houses, my family made a slow stroll back to the ship, passing through a children's park and a residential street along the way. Near the pier, we were reminded of the impact cruise tourists like ourselves make on the city of Victoria. Yes, we help bring in lots of money, but the large spray-painted "NO CRUISE SHIPS" on the sidewalk (some of the only graffiti we saw) indicated that some Victorians, at least, would rather get by without our contributions.
I'm sorry you feel that way, Victoria. Because I really fell in love with you. Hopefully someday I can return, not borne to you upon a large cruise ship.