Some posts on this site contain affiliate links, meaning if you book or buy something through one of these links, I may earn a small commission. Read the full disclosure policy
here
.
---
Lonely Planet has announced its Top 10 Cities for 2011, which will be featured in their Best in Travel 2011 book. Along with places like New York and Chiang Mai, a little South Pacific city is listed that absolutely made my heart soar to see it there: Wellington, New Zealand.
Lonely Planet calls Wellington "Cool-with-a-capital-C," naming it the "coolest little capital in the world." I would have to agree.
The cool little city comes in at number 4 on the Lonely Planet list – not too shabby at all! Positively Wellington Tourism, of course, is delighted with this recognition, and has launched a new feature on its website where it asks people to share the "little things" that they love about the city.
I couldn't possibly pick just one.
Instead, I've decided to compile an A-to-Z list of all the little things I love about Wellington – from the Bucket Fountain to the warning signs at the Zoo.
A is for…
Adventures with friends. I lived in Wellington for nearly 5 months in 2008, and there was no shortage of things to do with my newly-made friends and acquaintances. Whether it was simply going out to eat on Cuba Street, or hopping on the Interislander Ferry for a day trip to the Marlborough Sound, Wellington offered it all. Food. Entertainment. Easy-to-use transportation. Wellington really does make it easy.
Arts around the city. Wellington does market itself as New Zealand's political and cultural capital, and the cultural part is evidenced in the variety of unique arts and entertainment events around the city. I saw a play at the Opera House, a ballet at St. James Theater, and various movies at The Embassy and Reading theaters. Add to that live music in many pubs, a vibrant comedy and theater scene, and plenty of local artists, and Wellington has tons to offer.
B is for…
Bucket fountain on Cuba Mall. This colorful fountain adds extra character to an already character-filled Cuba Street. Watching the buckets fill with water and then empty into one another never gets old.
Boats bobbing in Lambton Harbour. On a sunny day especially, you can't beat the Wellington waterfront. I loved walking along the harbor and beach, watching all manner of boats bob along in the deep-blue South Pacific water.
C is for…
Colorful Courtenay Place. This strip of restaurants, bars and nightclubs is where it's at on the weekends. Courtenay Place has something for everyone, whether it's an Irish jig, smooth jazz, or club music that you're looking for on a Saturday night. Add to that two movie theaters, Internet cafes and plenty of eateries, and this street becomes even more lively.
City lights. I love just about any city lit up at night, though I'll admit to being a little biased toward Wellington. Seeing the city from above as dusk falls is gorgeous.
D is for…
Doing cartwheels in Karori. I visited Karori Wildlife Sanctuary (now known as ZEALANDIA) with the intention of seeing some wildlife. But what I remember most clearly is doing cartwheels and leaps in the unbelievably thick, green grass on our way to the sanctuary.
Diving into the candy bins at New World. New World supermarket is pretty much a staple for most Wellingtonians, seeing as everybody needs to eat. While I enjoyed shopping there for food, my favorite aisle in the store was the candy aisle, with bins filled with fruit snacks, chocolate-covered nuts, and an assorment of delicious "lollies." Some of my favorite candies in NZ turned out to be Starburst Babies – gummy candies shape like (can you guess?) babies. Disturbing, but delicious.
E is for…
Eating gelato at Kaffee Eis. What better way to end a hard day or a great meal than with some ice cream? My favorite came from Kaffee Eis, with shops all in a few places throughout the city. I most often visited the location on Courtenay Place. I think mango gelato was my favorite, though we also can't forget the Hokey Pokey!
Endangered species being conserved. From Karori to the zoo to nearby Kapiti Island, conservation is serious business in Wellington – from native birds to native plant life. New Zealand takes an active role in preserving its natural environment and species, which I think is great.
F is for…
Fireworks over the harbor on Guy Fawkes Day. Just before I left Wellington, I enjoyed the festival atmosphere and fireworks display in honor of Guy Fawkes Day on November 5. After watching fireworks burst over the harbor, I grabbed some Kaffee Eis and then went to watch "V For Vendetta" with friends. What a great holiday.
Fern ball sculpture suspended over Civic Square. This very well may be my favorite work of art ever. The sculpture, which is suspended by wires over artsy Civic Square, is just so… unique. My favorite is when you can catch it from the right angle, so that it looks like the orb is just floating there, in midair.
G is for…
Green beans at The Matterhorn. Some friends and I decided we had to eat at The Matterhorn on Cuba Street after the restaurant was named the best by Cuisine magazine in 2008. Everything was so expensive, though, so I just ordered an appetizer and a side of green beans. The beans, crisp and drenched in garlic butter with a sprinkling of almonds, were beyond delicious.
Getting blown away by the winds of "Windy Welly." True, Wellington's gale-force winds often aren't very endearing. In fact, flying into the Wellington International Airport can feel like a bit of a rollercoaster ride. But I enjoy a good, stiff breeze, especially on a sunny day when I'm tackling some of Welly's hills under a blue sky.
H is for…
Honking your horn while driving through the Mt. Vic Tunnel. Come on, you know you've done it! It's sort of a tradition. The best part is when other motorists respond by honking back.
Hiking to Sinclair Head to find seals. The Red Rocks Hike, or any other tramp out to Sinclair Head during the fur seal haul-out season (from May to October), is well-worth an afternoon. The seals may be smelly, but the hike along Wellington's rugged south coast is breathtaking. Hike on a clear day, and you'll probably see the Southern Alps piercing the sky across the Cook Strait.
I is for…
Island Bay. This southern Wellington neighborhood is one of my favorites. It sits basically on the Cook Strait, and is stunning on a sunny day, with families playing on the beach, fishermen out among the driftwood, and boats floating in ridiculously blue water.
Indulging in desserts at Strawberry Fare. Close to the Embassy Theatre, Strawberry Fare is known for its desserts. And for good reason – they are sinfully delicious.
J is for…
Jayne at Massey University. When I was studying abroad in Wellington, Jayne was the coordinator of the International Student Center at Massey's Wellington campus, and was kind of a combination best-friend-mother-figure-cruise-director for all of us foreign students there that year. She was always available if you had a problem, or if you just wanted to chat about travel or New Zealand or the weather. And she was tasked with planning outings for us, from trips to museums to overnighters to the South Island. She was great, and I'm glad to have met her.
Juicy kiwifruit. Yes, I'm aware that kiwifruit isn't actually native to New Zealand. But it sure does grow wonderfully there. I loved cutting into a juicy kiwi. Green is good, but golden is better!
K is for…
Kiwi birds at the Wellington Zoo. The first live kiwi birds I saw were shuffling around in the dark Kiwi House at the Wellington Zoo. I love them. I also got to "meet" Tahi, a special one-legged kiwi bird.
Kiwi slang. New Zealanders have some pretty fun slang words and phrases. In fact, I'd say kiwi slang is pretty "Sweet as, mate."
L is for…
The lighthouse slide in Frank Kitts Park. Yes, I realize this slide near Queen's Wharf is meant for children. But I secretly love it, too.
"Lord of the Rings" references all over the city. Being a huge "Lord of the Rings" fan, it was so exciting for me to be living in New Zealand's film capital, right along with Peter Jackson. I love the seemingly random references all around the city, from the "Mordor" pizza available at Hell Pizza to this sign I spotted outside a beauty parlor:
M is for…
Movies at The Embassy theater on Courtenay Place. This refurbished theater (saved so that it could host the world premiere of "Return of the King" in 2003) is a must-see in Wellington. The inside of the old building is gorgeous, and I love how the movie screen is covered with a velvety curtain. The best part? Often movies are cheaper here than at nearby Reading Cinema.
Mural inside the Green Parrot. This eatery on Taranaki Street pays homage to many New Zealanders and honorary New Zealanders, from members of parliament to Viggo Mortensen and a hobbit. The food's not bad, either.
N is for…
Naughty photos with this statue at the harbor. Enough said, really.
Nighttime at the shore. Walking along the waterfront was always a nice evening pasttime. Wellington never felt very dangerous to me, so taking a walk or building a sandcastle at Oriental Bay after dark with a friend was never out of the question.
O is for…
Oriental Bay. Nothing beats this part of Wellington on a nice day. It may be a small public beach, yes, but the views are amazing, and the people out and about even more so.
Ordering "Lust" at Hell Pizza. Greasy, delicious Hell Pizza was one of my favorite things to eat in Wellington, if simply for the fact that its irreverant marketing campaigns made me laugh. It's entire persona – from menus to decor – is devilishly-themed, and I love the names of all its pies (like the ones named after the seven deadly sins). "Lust" was my favorite pizza to order – cheese, venison pepperoni, salami, ham, bacon and your choice of sauce. Yum.
P is for…
Parliament buildings downtown. The New Zealand Parliament building is nicknamed "The Beehive," and for good reason. Even though I'm not really into politics, heading downtown to check this building out was fun.
People-watching on Cuba Street. Anything on Cuba Street is worth seeing or doing, I think, as it's such a vibrant, diverse part of downtown Wellington. One of the cheapest things to do in this part of town, though, is to simply park yourself on a bench and people-watch. From buskers to school kids to backpackers, you'll see (and hear) them all.
Q is for…
Quaint cafes. Again, these are abundant throughout the city. Whether it's coffee or pasta you're after, there's probably a cafe ready to serve it to you. One of my favorites was Caffe Italiano down on Cuba Street, where they made some delicious dishes, and even offered student discounts!
Quirky neighborhoods. Wellington certainly has plenty of these to take a stroll through.
R is for…
Riding the Cable Car to the Botanic Gardens. It was always a bit of an adventure to catch the historic red cable car from Lambton Quay and ride it to the station above Wellington at the Botanic Gardens. The cable car ride itself is fun (and not expensive), and the view from the top in itself is easily worth the return fare.
Rugby fans on game day. New Zealanders love their rugby. I'd even go so far as to say that rugby has become part of the culture there. So, therefore, game day is always exciting, especially when the national team, The All Blacks, are playing.
S is for…
Suburbs. Downtown Wellington itself is great, but so are some of the outlying areas. Catch a bus or train to places like Petone and Ngaio for the afternoon to get to know the Wellington Region a bit better.
Swing bridge in Kaitoke Park. Kaitoke Regional Park is actually about 45 minutes from downtown Wellington, but it's still a great spot to visit. Here you can swim, hike, take in some "Lord of the Rings" filming locations, and then be sure to have a walk over this swing bridge, suspended over the Hutt River.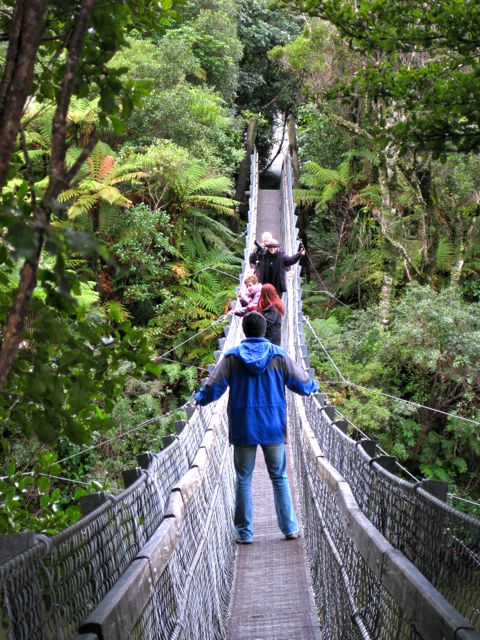 T is for…
Te Papa for the day. New Zealand's national museum – Te Papa Tongarewa – is located in downtown Wellington, right at the end of Taranaki Street near the waterfront. Not only can you learn all about New Zealand's history, but entry into the sleek, modern museum is free. I may be a bit biased, but this may be one of my favorite museums in the world, simply because of it's layout, displays, interactive features, and wide range of subjects.
Thinking of Wellington as "home." Even though I only lived in Wellington for about 5 months, I came to think of the city as a sort of "home away from home." Despite the wind and rain and hills that made my calves hurt, I loved Wellington. Correction, still love Wellington.
After a few months there, I started to feel like I was beginning to fit it. Yes, my accent still made me stick out as a non-kiwi, but I began to blend in in other ways. Carrying my groceries back from New World, hopping on a bus with my Snapper card, or even giving other people directions around the city, I actually felt like I knew Wellington pretty well. Maybe someday I'll be able to call it my real home.
U is for…
Upward-trajectory housing. Wellington is known for being a bit hilly, and reminds a lot of people of a mini San Francisco on the opposite side of the world. This hilliness and a growing population has meant that Wellingtonians desiring to live in prime locations – like overlooking Oriental Bay, for example – have gotten creative, building their homes into the hillsides. Driving the winding road up Mount Victoria, it's not uncommon to see homes built on stilts, hanging precariously over the edges of hills. I'm not sure if I'd want to live in any of these abodes, but I sure love looking at them.
Unfeigned thanks. Ride a Wellington city bus, head into a cafe or shop, or simply walk down the street, and you're likely to hear someone being friendly. People in New Zealand actually thank city bus drivers when exiting the bus, or a stranger who opens the door for them. It's so refreshing to hear that smile-laced "Cheers" all over the city.
V is for…
Visiting the Weta Cave. For a taste of "Wellywood," head over to the Miramar Peninsula, where New Zealand's burgeoning film industry calls home. Stop into the Weta Cave on Camperdown Road, where Weta Workshop and Weta Digital – a props and effects company, respectively – showcase their work in a little store tucked into a residential area. Here you can watch a 20-minute "show reel" of the companies' work in such films as "Lord of the Rings," "King Kong," and "The Chonrinicles of Narnia," purchase collectibles, and view various props and weapons.
Vehicles stopping at pedestrian crossings. There are many crossings throughout Wellington that don't have stoplights. They simply have zebra stripes, and poles with what look like big orange balloons on top of them. Amazingly, traffic WILL STOP at these pedestrian crossings. You rarely see this happening in a U.S. city.
W is for…
Window shopping on Lambton Quay. Wellington often suffers wet, windy days during the winter months (and during many other months, as well), so one of my favorite things to do in efforts to stay dry was to head down to Willis Street and Lambton Quay for some window shopping (or, sometimes, real shopping). The variety of stores was more than enough to occupy me for an afternoon.
Watching the sunset from Mount Victoria. Come sundown, the lookout atop Mount Victoria is often empty (or very nearly empty), especially once the weather starts to get chilly. Take advantage of this, and hop a bus to Mt. Vic in the early evening to watch the sun sink behind the hills overshadowing Wellington's harbor. If the temperatures are warm enough, perhaps even pack a picnic dinner.
X is for…
eXtra large, messy burgers at Burger Fuel. If you're really hungry, take on a gigantic burger at Burger Fuel, on Courtenay Place. These sandwiches are no joke! Also try their fries and delicious aioli dipping sauce, as well as a thick milkshake. The mammoth burgers are second only to Fergburger in Queenstown, in my opinion. My mouth is watering now…
eX-pats calling Wellington home. Wellington, being the diversified city that it is, has become home to a lot more nationalities than just New Zealanders. You can find ex-pats and immigrants from a number of countries throughout the city, often evidenced in the vast array of food options. This was really made evident to me when I attended the U.S. Embassy's 2008 Election Party downtown, where I met dozens of former Americans who now call Wellington home. If America is a melting pot, I think Wellington may be a melting vat!
Y is for…
Yellow Go Wellington buses. I loved seeing the Go Wellington trolley buses zipping up and down the city's streets. The slogans printed around the top (telling you what sorts of things to go and do around Wellington) were always fun to read. And, the Wellington bus lines are pretty great – at least, they seem to be to someone who grew up without any sort of public transportation. I loved being able to just hop on a bus anywhere downtown.
Young, friendly locals. I lived with 4 New Zealanders in Wellington, and met many other university-age students, as well. All were so much fun to be around. A little crazy at times, sure, but still fun. There's a certain attitude that New Zealanders have (a "no worries" attitude) that I hope rubbed off on me a bit.
Z is for…
Zephyrometer at Evan's Bay. This funky sculpture at Evan's Bay serves a dual purpose – it's fun to look at, and also acts as a wind needle.
Zoo warning signs. The Wellington Zoo is always a sure bet to while away an afternoon, but along with all the cute and furry animals, I also love the Zoo for its sense of humor in its warning signs to visitors. The warnings are standard ("Don't feed the animals," "Don't lean over the fence," "Don't try to hug the lions"), but the way they're illustrated cracks me up. I think this is just a testament to a pretty wicked New Zealand sense of humor.
So, there you have it. A few (okay, perhaps more than a few) of my favorite things in Wellington. This city, small though it may be, has so much character – it's bursting at the seams with character! But that's part of the reason I love it, and also, I'm sure, part of the reason that Wellington made Lonely Planet's Top 10 of 2011 list.
Have you been to Wellington? What are some of your favorite things in the "coolest little capital in the world?"