Best Blogs of the Week
I read a lot of travel blogs every week. Every day, even. And I've noticed that many of the authors of my favorite blogs take time out each week to highlight some of the best and most interesting posts, photos, videos and general blogging gems from all over the web that they've discovered.
Since imitation is supposed to be the highest form of flattery, I've decided to steal this idea for use here at A Dangerous Business. I'm going to pair these blog picks of mine along with my What in the World? news round-ups. I know I have roughly 5 readers that check in every week to read my news summaries, so I won't get rid of them. But I would like to enhance my Tuesday offerings slightly, and figured this new Best Blogs This Week feature is a good start. We'll see how it goes!
What I'm reading:
An Interview With Teresa Keller from Adventurous Kate
A while back, Kate posted about Teresa Keller, a woman traveling around the world with her kids (and one of their friends) with the goal of volunteering in more than 30 countries. The post was based off a news feature that said Keller and Co. was attempting to raise more than $100,000 to pay for their travels. The issue was that it sounded like they were marketing this fundraising as giving to charity. After some backlash on Kate's original post, Kate got in touch with Keller in order to get the full story.
How 9/11 Made Me A… from The World is My Jungle Gym
Brendan may be Canadian, but this great piece proves how the Sept. 11 attacks in American affected people all around the globe. For Brendan, the events changed the course of his life in a very surprising way. Find out how!
Che and Jack Agree. It's All About Movement from Nomadderwhere
Lindsay explores the concept of movement through two books: Motorcycle Diaries by Che Guevara and On The Road by Jack Kerouac, and at one point poses the question: "Are we that move the ones most lost or most in tune with the nomadic nature of man?" I found this post interesting, especially after writing my "What is travel and why do we do it?" post in which I suggest maybe we're all just meant to be nomads in the first place. Lindsay, however, does a much better job with the topic.
Vatican City Scavi Tour from Land Lopers
Matt gives us a glimpse into a little-known option in the Vatican: touring the Vatican Necropolis, or Scavi. Located underneath the immense St. Peter's Basilica, the Scavi contains things like papal tombs and Roman cities of the dead. Matt warns that getting on such a tour is tough — it basically requires an application process, in which only 250 people per day are allowed to participate. But, after reading Matt's description of the experience, it definitely sounds worth it.
And, last but not least, I'd like to share this amazing video from the folks over at ProjectExplorer.org. Finally released as another teaser to their upcoming Mucho Mexico educational series, this 6-minute history lesson is one of the best I've seen! And it's really cool, too.
Have a cool blog post you'd like me to check out or consider for next week? Let me know in the comments!
What in the World?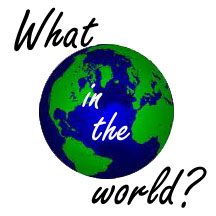 So what's going on around the world this week? Read on to find out.
The U.S.
Over the weekend, Americans marked the ninth anniversary of the Sept. 11 attacks. But, unlike in past years, this year's remembrance involved plenty of politics and lots of anger. Because of the raging debate over a proposed Islamic community center and mosque two blocks from ground zero, and a Florida pastor's threat to burn Qurans to mark the anniversary, people around the world were angry. Rallies were held in NYC after memorial services, and, in the Middle-East, people protested the Quran burning, even after the pastor called the whole thing off.
Poor Colorado — the area around Boudler, specifically — has been smoldering for days now. A large wildfire that briefly threatened downtown Boulder was contained just in time for another fire to break out 30 miles away. The second fire has so far consumed at least two homes, while the first destroyed at least 166.
Over the weekend, a natural gas pipeline in Illinois sprung a leak. And drivers across the country are noticing, thanks to dramatic price increases at the pump.
Oceania
Oprah Winfrey began her talk show's final season with a bang on Monday. Along with surprise appearances by celebs like John Travolta and Paul Simon, Winfrey also announced that her 300 audience members will be accompanying her on weeklong trip to Australia in December. Jealous.
The Middle-East
Iran has agreed to release one of the three American hikers its been holding in prison for more than 13 months. The lone female in the trio, Sarah Shourd, has been granted bail. Unfortunately, her family is having a difficult time raising the $500,000 necessary to buy her freedom. Shourd and her two companions have been indicted on spy-related charges. Iran claims the three Americans entered the country illegally last year with nefarious aims. The hikers' families, however, say the trio was hiking in Iraq, and that if they did cross the Iranian border, it was done inadvertently.
Just Plain Crazy
As trash was being unloaded from a plane that had just landed in Manila, Philippines, on Sunday, a security officer noticed that one of the trash bags was moving. Inside, he found a newborn baby boy. Apparently, a woman gave birth during the flight from Bahrain and left the baby for dead. This boggles me. It's one thing to have sex in an airplane bathroom. But to fully give birth without anyone noticing? That's just plain crazy. The airline is now trying to track down a Filipino woman they suspect to be the mother.
WTF Moment of the Week
Four words: Lady Gaga. Meat dress. Need I say more??