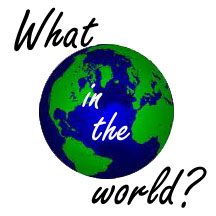 Here's what going on around the world this week.
The U.S.
The BP oil spill, while slowly getting under control (so it seems, at least), is likely to plague the Gulf well into fall, and maybe even longer. Engineers were finally able to fit a cap onto the gusher, which is allowing them to capture an increasing amount of oil and pump it up to a tanker on the surface (they're estimating they're getting close to 500,000 gallons a day now, anywhere from one-third to three-quarters of the total amount spewing from the broken pipe). Getting to this spot hasn't been easy, and officials are warning against too much optimism. Oil began washing up on beaches in Pensacola, Fla., over the weekend, threatening not only those who depend on fishing for a living, but also now those who depend on tourism. I was in Panama City Beach and Port St. Joe last summer, not far down the panhandle from Pensacola. The thought of big globs of goo washing up onto those white beaches makes me incredibly sad.
An EF3 classified tornado swept through my neck of the woods in northwest Ohio on Saturday evening — about 60 miles north of me, in fact. It killed five people, demolished a high school, and caused millions of dollars in damage. Nature is scary.
The Los Angeles International Airport is getting a $9 million makeover. About time. LAX is by far my least favorite airport of the dozens I've flown in and out of over the years. In its old carnation, it was too big, too loud, too bleak, and too unfriendly. The first of my two complaints will probably hold true no matter what sorts of renovations are made. But they're trying to work on the last two, adding lots of neat architecture, less hard edges, better restaurants, and innovations in areas like check-in and baggage check in attempts to make things run more smoothly. Here's to hoping they're successful. I'll let you know next time I fly through LAX.
Europe
Last week, the investigation into the fatal crash of a Polish plane carrying some of Poland's top officials (including its president) revealed that the cause was most likely pilot error. The black box recordings prove that the pilots were warned multiple times of poor, foggy landing conditions. But they decided to try the landing anyway, perhaps guilted into it by some of the president's posse who wanted to make sure he arrived on time to a memorial ceremony in Russia. Fail all around.
Odd Europe
In Britain on Monday, dozens of headless skeletons were excavated from a northern English building site. The bodies appear to be the remains of Roman gladiators — one even had bite marks from some sort of large animal. Most of the skeletons were male, and larger than your average Roman. This, combined with the bites and the beheading (which was common as an act of mercy for those who suffered horrific injuries during their fights) lead archaeologists to believe they were probably gladiators. I didn't even know gladiators existed in Britain, but apparently bands of them often toured the Roman Empire to put on shows. Kind of like a troupe of actors, except these ones fought animals and each other to the death.
Over the weekend, an elephant escaped from a circus in Switzerland and went for a stroll through Zurich's banking district. Can you picture a circus elephant wandering down Wall Street? Hilarious. The animal was recaptured safely.
Asia
Last week, Japan's prime minister Yukio Hatoyama stepped down from his post, over tensions and broken promises surrounding a U.S. military base on the island of Okinawa. He had promised to move the base off the island during his campaign, but then reneged. Japan's ruling party selected a fresh leadership lineup on Monday, paving the way for Naoto Kan to take over as PM. This will be the fifth change in Japan's leadership in the past four years.
The Middle-East
In response to the kerfuffle between Israel and the aid flotilla bound for the Gaza Strip over a week ago, Egypt has announced that it will now leave its border open indefinitely to the Palestinian territory for humanitarian and restricted travel. The move was due to building international pressure on Israel to ease its blockade, and now means some of Gaza's 1.5 million Palestinians have a link to the outside world again after three years.
Meanwhile, Iran has said it is planning to send three cargo ships and a plane with supplies to Gaza in cooperation with Turkey, who sent the first flotilla last week. If the ships make it past Egypt, Israel has promised to stop them — by force, if necessary.
Australia
An Australian surfer is one lucky guy after surviving a weekend shark attack. Michael Bedford was surfing with friends south of Perth, when he was bitten twice by a large shark. He managed to escape and catch a wave into shore, where his friends carried him to safety.
South America
Five years to the day of the disappearance of U.S. teen Natalee Holloway in Aruba, a young Peru woman was found murdered in a hotel room. And guess who the main suspect is? None other than Joran van der Sloot, the main suspect in Holloway's disappearance. Coincidence? Security video shows van der Sloot and the Peruvian woman entering van der Sloot's hotel room together, and then the Dutchman leaving alone four hours later. The woman was found dead in his room with a broken neck. Van der Sloot fled to Chile, and was apprehended three days later. Let's see him try to wriggle his way out of this one.
WTF Canada?
Canada is taking some flack for spending $2 million on an artificial lake inside a temporary media center in Toronto, complete with canoes, trees, deck chairs and a fake dock. The media center has been fashioned to resemble the small town where this month's G-8 summit will take place. Because Huntsville is so small, only a handful of media will attend the summit there. The rest will have to report from Toronto, where the G-20 summit will take place the same weekend. So now they can report from the artificial Huntsville and send proper "wish you were here" postcards? Silly Canada.